(Last updated on January 9th, 2023)
Sophos or Kaspersky, which software is a better option in 2023?
Read this ultimate Sophos vs. Kaspersky comparison to make a smart choice.
Nobody can deny the power of risk and discovery. They go hand in hand. Sometimes, in the same order. At other times, in reverse order. While the internet has enabled us to discover so much, it has also led us to some risky grounds.
It is because of our dependence on the internet in everyday life that we are more vulnerable against malware today than ever in the past. Cybercrimes like phishing attacks, ransomware attacks, IoT attacks, exploits, keep the cybersecurity industry on its toes.
And yet there is no sign of them slowing down.
In this situation, yours and your family's defense lies with premium antivirus protection. A premium software comes with many advanced features that add several layers of security to ensure complete peace of mind for you. This is not something you can get with a flimsy firewall or a free software.
You can find out more about premium antivirus products in this guide, in which we pit two popular cybersecurity brands, Sophos and Kaspersky, in a detailed, head-to-head comparison.
Best Antivirus Suite for 2021
60-day money-back guarantee
During the past few months, we have ranked, rated, and reviewed 40 premium antivirus suites from the biggest names in cybersecurity. We did this so you can confidently choose the best antivirus software to protect yourself and your family.
Right now, we think that
Norton
is the best antivirus software your money can buy. It regularly earns perfect or near-perfect scores from independent labs and has the least impact on system performance compared to rival products. Its products combine top-notch security with an array of excellent security features and, best of all, offer exceptional value for money.
Overall,
Norton 360 Deluxe
(currently at
70% off
) is our pick for the best antivirus suite in 2021. It is competitively priced and comes with almost everything you could possibly ask for, such as a firewall, a fully integrated VPN, dark web monitoring, cloud backup storage (50GB), a password manager, and parental controls. You can cover up to 5 PCs, Macs, smartphones or tablets with this suite.
If you want full-on identity protection and don't mind paying more,
Norton 360 with LifeLock Select
(currently at
35% off
) gives those in the US a full range of identity protection features, more backup space (100GB), as well as all the above.
Let's find out which one of these brands provides more advanced features, more security, better system performance, a higher value for money.
In a rush? Below is a quick summary of the comparison, and who comes out as the winner and for what reason.
A Quick Rundown of the Winners in Each Category
1. Features
Winner: Kaspersky. Kaspersky offers several more advanced features compared to Sophos.
2. Malware Protection
Winner: Kaspersky. Kaspersky gave a brilliant performance on both independent tests, whereas Sophos did not take part in them.
3. System Performance
Winner: Kaspersky. Once again, Kaspersky received excellent ratings from both testing organizations. But Sophos was nowhere to be seen in the independent assessments.
4. User-Friendliness
Winner: Both. Both interfaces are equally good and offer a similar level of usability.
5. Pricing
Winner: Sophos. Sophos provides a higher value for money compared to Kaspersky.
6. Customer Satisfaction
Winner: Kaspersky. Once again, Sophos lost this category to Kaspersky for its lack of rating on one of the review websites.
Short Verdict
Kaspersky is a better choice as it offers more protection-related features and utilities in its security products compared to Sophos. Also, independent tests prove that Kaspersky is better than Sophos in terms of both malware detection and the impact on system performance.
Let's get into details now.
1. Features
The feature-set holds a lot of importance for both customers and antivirus brands. Because it's by looking at the features that the customers get to weigh different products against each other.
So let's take a look at both Sophos and Kaspersky's products to see what feature-sets they offer.
Let's start with Sophos.
The first product from this company is a free-of-cost version called Sophos Home Free. The software doesn't provide much more than a basic level of protection against malware. It doesn't offer any advanced features that you'd expect from paid tiers.
Sophos Home Premium is a comprehensive, one-for-all package from this company that offers a complete security solution for all kinds of users. The advanced features included in this product are:
Complete protection from all types of malware and cyber threats with Real-Time Threat Prevention, including ransomware protection.
There's a Web Security tool that protects you against phishing attacks and harmful websites.
The software uses Artificial Intelligence aided Threat Detection, which allows it to identify and prevent even the unknown types of malware.
You can experience safe and Secure Online Banking since the software prevents hackers from accessing your banking and credit card details.
It provides you complete Identity Protection by preventing hackers from accessing your login information, passwords, and financial information.
A Web Filtering Tool allows parents to block any websites or apps they don't want their children to use online.
You can monitor and manage your connected devices from anywhere with the Remote Security Management utility.
Finally, you get Complete Privacy Protection as Sophos blocks external people or apps from connecting with your webcam and microphone. It even encrypts your keystrokes to keep hackers from finding out what you're typing.
This package covers up to 10 devices, including Mac devices.
Now let's look at the range of features from Kaspersky.
Kaspersky Free is the first offering from the company. Being a free software, it only provides a barebones level of protection against some malware types. But it isn't capable of securing you from advanced malware and cyber threats.
Kaspersky Anti-Virus is the first paid offering from the company. In addition to providing complete malware protection, this product also includes fother premium features:
A top-grade firewall protects you against all kinds of digital threats.
A Vulnerability Scanner safeguards your system against malware types that get transmitted via network routes.
The package also incorporates multi-layer ransomware protection against financial frauds.
You get to enjoy uninterrupted movie time or gaming sessions with the help of a Gamer Mode that temporary blocks unnecessary pop-ups.
The next product from this company is called Kaspersky Internet Security. This suite gets everything from the first product with the addition of some extra perks:
You can browse the internet anonymously and even access geo-restricted content with the help of a secure VPN.
A two-way firewall monitors incoming and outgoing requests and protects your device from malicious apps.
A Wi-Fi Network Securer monitors your home network and prevents it against malicious threats spread over network routes.
A hardened internet browser secures your personal and financial information during shopping or banking transactions.
This product covers protection for Windows, Mac, and Android devices.
The next tier of coverage comes with the flagship product of the company: The Kaspersky Total Security Suite. This product has everything from previous packages plus several extra features, such as:
A Password Manager provides complete security for your login information and encrypts your passwords preventing hackers or phishing sites from stealing this information.
The software also allows you to permanently delete any data that you don't want to leak out using the File Shredder feature.
Parental Controls let you supervise and restrict your kids' use of the internet. You can also block out any content or apps you don't want your kids to access on the internet.
You also get 2GB of cloud storage with this product.
Kaspersky Security Cloud is the extension of the Total Security Suite. It has the same features, but it includes:
An Adaptive Technology that automatically adjusts your software settings with a change in your online behavior.
Additionally, this technology uses the cloud platform to let you manage all your connected devices from any remote location.
This product is available in Personal and Family versions.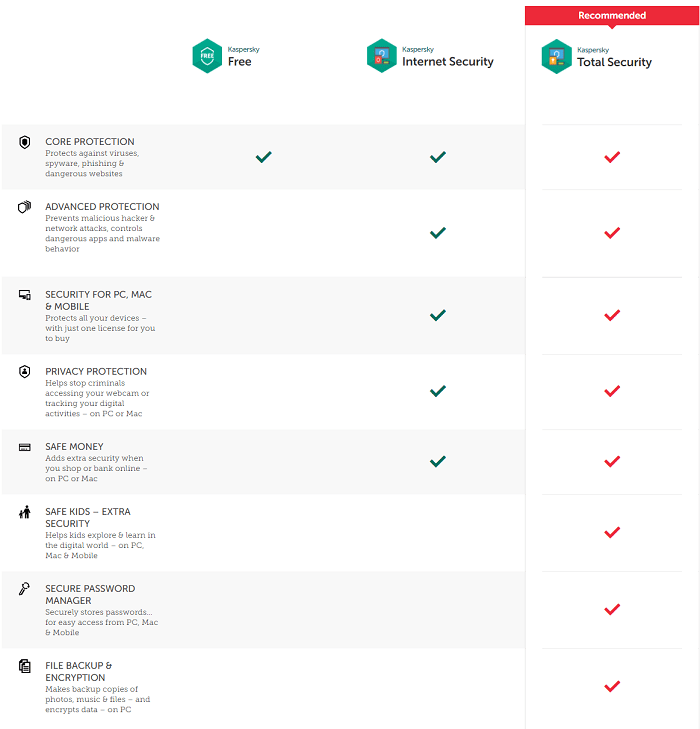 Business security solutions are not part of this guide, but you can check out this link if you are interested in Kaspersky's business security products.
Winner: Kaspersky. Both companies offer great feature-sets. But Kaspersky is a little ahead of Sophos since it provides a few more advanced features such as Vulnerability Scanner, Password Manager, File Shredder, etc.
2. Malware Protection
Independent tests are essential as most customers now review different products online before they make a purchase decision. That's why antivirus brands should always participate in independent protection tests.
Let's look at the malware protection tests from AV-test and AV-Comparatives and find out how our products performed in this criterion.
Sophos didn't take part in both evaluations.
AV-Test – that scores products on a scale from 1- 6 (6 being highest) – gave Kaspersky a full 6/6 points for its superior malware protection.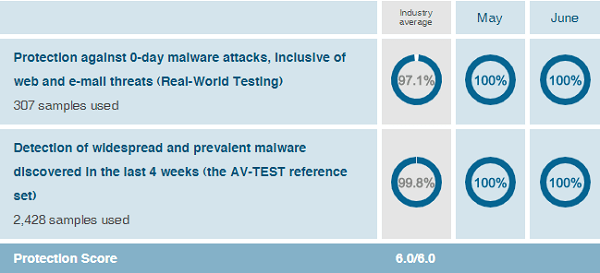 AV-Comparatives ranks products through awards. In their Real-World Protection Test, Kaspersky received the highest award once again, i.e., the ADVANCED+ award.
Winner: Kaspersky. Kaspersky scored the highest rating on both independent tests while Sophos didn't participate in both assessments.
3. System Performance
Now we are going to look at the independent tests for antivirus software's impact on system speed. Since Sophos was not available for any of these assessments, let's just see how Kaspersky performed in them.
In the Performance category as well, Kaspersky received the highest ranking from both AV-Test and AV-Comparatives, owning to excellent scores in the evaluations.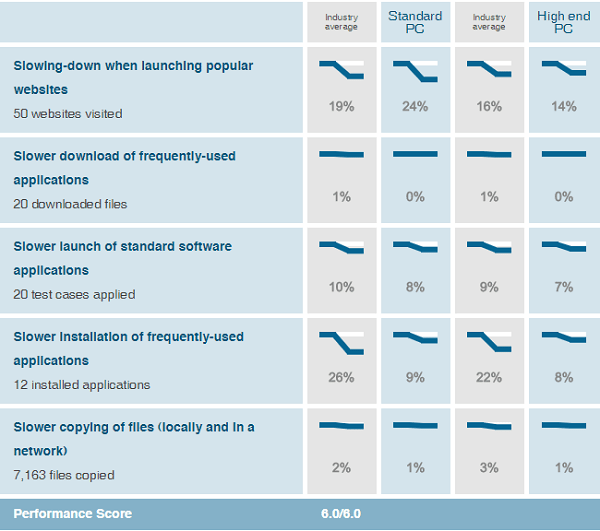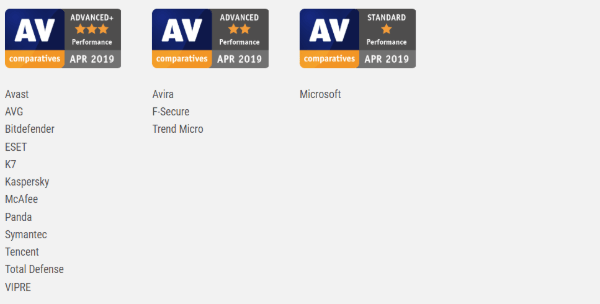 Winner: Kaspersky. Once again, Kaspersky nailed both assessments with the highest ratings, but Sophos wasn't a participant in both independent tests.
4. User-Friendliness
A user interface is something users regularly come in contact with. That's why the best interface is one that is both user-friendly and intuitive.
Let's first look at Sohpos' interface to see how user-friendly it is.
Sophos has two interfaces. One that gets installed on your device with the software. And another one that you can access online.
The interface on your device doesn't do much other than giving you security updates. For everything else, you have to sign into the online interface. You can access all the features and their settings from the Home Page and make changes as you like.
This interface has the look and functionality of a website and a smooth operation. It has a pretty streamlined design and is quite user-friendly.
Now let's see how Kaspersky's interface compares.
Kaspersky also has a streamlined interface, but it is also quite simple. All the major features and functions are accessible from the home page.
There are big blocks on the screen, each displays a separate function and the update about it. There's a drop-down menu within each block to access settings or further tasks.
Kaspersky interface offers smooth navigation and is quite unchallenging for even the most casual of users.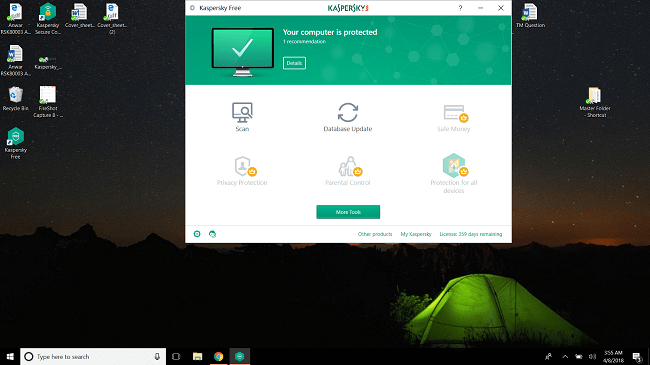 Winner: Both. Both interfaces provide a different user experience from each other, but both have their perks. That's why both companies win this category.
5. Pricing
Next, let's look at the pricing plans from both companies, starting with Sophos.
Sophos Home Premium costs $36 for 1 year/ $72 for two years and covers 10 devices. It is a pretty reasonable cost when compared to the value this product provides both in terms of features offered and devices covered.
| Sophos Products | Regular Price | Discounted Price |
| --- | --- | --- |
| Sophos Home Premium | $42.00/year | Check here |
| Sophos Business Antivirus | $63.25/year | Check here |
Now let's take a look at how Kaspersky prices its products.
Kaspersky Antivirus costs $29.99 per year for 3 PC-only licenses. Kaspersky Internet Security costs $39.99 per year also for 3 licenses.
Kaspersky Total Security, which compares to Sophos Home Premium, costs you $49.99 per year, also for 3 universal licenses. This price is much higher compared to Sophos. Even if it provides more features, it covers fewer devices.
Kaspersky Cloud Personal comes at $49.99 per year, whereas Family version at $149.99 per year.
The Family pack is quite expensive, but it covers up to 20 devices. This package is ideal for a big family where each member owns two or more devices.
| Kaspersky Products | Regular Price | Discounted Price |
| --- | --- | --- |
| Kaspersky Anti-Virus | $59.99/year | Check here |
| Kaspersky Internet Security | $79.99/year | Check here |
| Kaspersky Total Security | $99.99/year | Check here |
| Kaspersky Security Cloud (Personal) | $89.99/year | Check here |
| Kaspersky Security Cloud (Family) | $149.99/year | Check here |
| Kaspersky Small Office Security | $149.99/year | Check here |
| Kaspersky End Point Security Cloud | $300.00/year | Check here |
Winner: Sophos. Sophos wins here as it is much more affordable compared to Kaspersky.
6. Customer Satisfaction
Customer ratings are a crucial gauge of how well antivirus companies support their customers in an hour of need. So, let's look at some customer satisfaction ratings for both our products.
We'll go to two different review sites to get customer satisfaction ratings. One of these sites is Consumeraffairs.com that scores brands on a 5-star scale. G2 is the second website, which gives a rating based on a 1 – 5 points scale.
Consumeraffairs.com gave Kaspersky a modest 3-star rating while Sophos was not rated on this site.
On G2, Sophos received a decent 4.5 score. Kaspersky also earned a better rating on this site with the same 4.5 score.
Winner: Kaspersky. Both companies received the same customer satisfaction ratings from the second source. But Sophos lags behind owing to a lack of customer responses on the first website.
Final Thoughts
Kaspersky is a great antivirus brand and clearly the winner of today's guide. It won four categories, whereas Sophos only managed to get ahead in one and tie in another. Sophos needs to appear for independent tests regularly, so it does not have to face a setback for the absence of ratings on popular platforms.
Our recommendations: If you want to get the highest level of security and performance, there's no better choice than Norton, which protects over 50 million users worldwide.
After reviewing dozens of antivirus products from some of the biggest names in the cybersecurity realm, we believe that Norton 360 Deluxe is the best antivirus suite available on the market. It provides flawless anti-malware protection without slowing you down. Plus, you get almost all the advanced features you could ever want.
If you're willing to pay more for advanced identity protection features, we recommend Norton 360 with LifeLock select (only available in the US). It's a bit pricey but worth the price.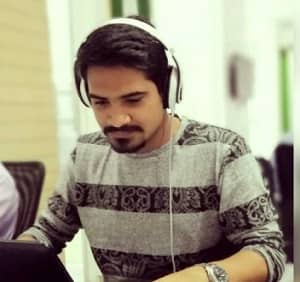 Anas Baig is a consumer privacy advocate and cybersecurity journalist by profession. Has has more than 7 years of professional experience under his belt. Anas has been featured on numerous media publications including The Guardian, Lifehacker, The Next Web, Infosecurity Magazine, Security Boulevard, Hacker Noon, CMS Wire, IAPP, SC Magazine, and many others. His interest includes Digital Privacy Rights, Information Security, Networking, Privacy, and Data Protection.
My Contributions: 
Hacker Noon | TheNextWeb | DevOps.com | GlobalSign | CMS Wire | CSO | Tech.co | Security Boulevard | ITProPortal | MuckRack | Crunchbase