(Last updated on January 9th, 2023)
Malwarebytes or Avast, which antivirus software is a better option in 2023?
Read this ultimate Malwarebytes versus Avast comparison to make a smart decision.
The proliferation of personal computers and smartphones and continued growth in the number of internet users have opened a treasure house of information and other possibilities.
We can now communicate with our loved ones from any part of the world, binge-watch movies and buy things with a tap of the finger. But this has a flip side as well: our personal data and privacy are at higher risk than ever before.
AV-Test, an independent IT security research organization, registers more than 350,000 malware samples every day. Similarly, individuals and organizations are expected to pay nearly $11.5 billion this year as a result of ransomware attacks.
In 2016, Yahoo was hit with one of the biggest breaches in history in which as many as 3 billion user accounts were compromised. During the same year, information of more than 57 million Uber riders and drivers was hacked.
Therefore, a solid antivirus program is necessary to protect your data and privacy from the bad guys, whose tactics are becoming more sophisticated and brazen with time.
Several antivirus programs are available on the Internet for free as well, but they are not good enough to give you the protection and peace of mind you deserve. Most of these free packages offer limited anti-malware security and lack advanced features and utilities that have become commonplace tools in modern antivirus suites.
So, a premium security program is the only reliable way to combat today's sophisticated malware – a collective term used for viruses, Trojans, worms, exploits, ransomware, etc. For just a few dollars a month, you are actually buying complete peace of mind.
Best Antivirus Suite for 2021
60-day money-back guarantee
During the past few months, we have ranked, rated, and reviewed 40 premium antivirus suites from the biggest names in cybersecurity. We did this so you can confidently choose the best antivirus software to protect yourself and your family.
Right now, we think that
Norton
is the best antivirus software your money can buy. It regularly earns perfect or near-perfect scores from independent labs and has the least impact on system performance compared to rival products. Its products combine top-notch security with an array of excellent security features and, best of all, offer exceptional value for money.
Overall,
Norton 360 Deluxe
(currently at
70% off
) is our pick for the best antivirus suite in 2021. It is competitively priced and comes with almost everything you could possibly ask for, such as a firewall, a fully integrated VPN, dark web monitoring, cloud backup storage (50GB), a password manager, and parental controls. You can cover up to 5 PCs, Macs, smartphones or tablets with this suite.
If you want full-on identity protection and don't mind paying more,
Norton 360 with LifeLock Select
(currently at
35% off
) gives those in the US a full range of identity protection features, more backup space (100GB), as well as all the above.
In this guide, we make a detailed comparison between Malwarebytes and Avast, two of the most reputable antivirus brands on the Internet. We take a comprehensive look at the features of both products, how well they defend you against malware, their impact on system performance, their pricing, etc.
In a rush? Below is a quick comparison to show which company wins in each category.
A Quick Rundown of Winners in Each Category
1. Features
Winner: Avast. Avast offers a more comprehensive feature set and a more extensive range of security suites than its competitor.
2. Malware Protection
Winner: Avast. Independent tests show that Avast performed better than Malwarebytes in terms of malware protection.
3. System Performance
Winner: Avast. Once against Avast earned a higher score in one of the two independent tests we considered, whereas Malwarebytes abstained from taking part in the other evaluation.
4. User-Friendliness
Winner: Tie. It's difficult to pick a winner here, as both antivirus companies offer a simple and intuitive user interface.
5. Pricing
Winner: Malwarebytes. In comparison to Avast, Malwarebytes provides better value for money as you can purchase more licenses at lower prices.
6. Customer Satisfaction
Winner: Malwarebytes. Ratings from independent customer review websites show that users are generally more satisfied with Malwarebytes.
Short Verdict
Malwarebytes is the overall winner as it offers more security-enhancing features and extra utilities in its security suites than Avast. Also, independent tests show that Avast is better than Malwarebytes in terms of both malware detection and system performance.
Best Antivirus for 2023
---
#1 (Excellent)

Robust feature-set
Excellent anti-malware security
Minimal system impact
Easy-to-use interface
Automatic updates
Trusted by 50 million users
100% virus protection promise
60-day money-back guarantee
70% off
#2 (Very Good)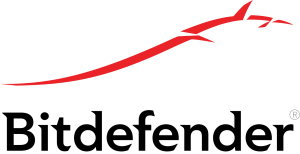 Exceptional malware protection
Little impact on performance
Trusted by millions of users
30-day money-back guarantee
User-friendly interface
50% off
#3 (Very Good)
Good malware protection
Trusted by big corporations
Minimal impact on performance
Good value for money
30-day risk-free guarantee
40% off
Let's delve into details for an in-depth comparison.
1. Features
The first thing potential customers look for in any antivirus program is the features and utilities it offers (or doesn't offer).
Let's start by examining the features of Malwarebytes.
The company offers a free antivirus tool called Malwarebytes Free. The freeware can help rid your PC of infections, but it doesn't provide real-time protection. It also lacks a firewall and other advanced protection tools needed to defend you against most malware attacks.
Malwarebytes Premium for You is the first paid offering by the company. Its features are given below:
An effective firewall protects you from malware, spyware and ransomware attacks.
You can schedule specific or individual scans to catch infections or eliminate viruses.
A secure web browser makes your Internet surfing safe and less vulnerable to malware attacks.
Automatic updates protect your computer from the latest digital threats.
The Malwarebytes Premium for You suite runs on PCs, Macs, and smartphones. Its single license covers only one device.
Malwarebytes Premium for Home is intended for users who want to protect multiple PCs.
It offers the same features as Malwarebytes Premium for You, but it comes with 10 licenses instead of one.
As all of these licenses are universal and you can mix and match devices by the manufacturer or operating system as well.
For information about Malwarebytes' business products, click right here.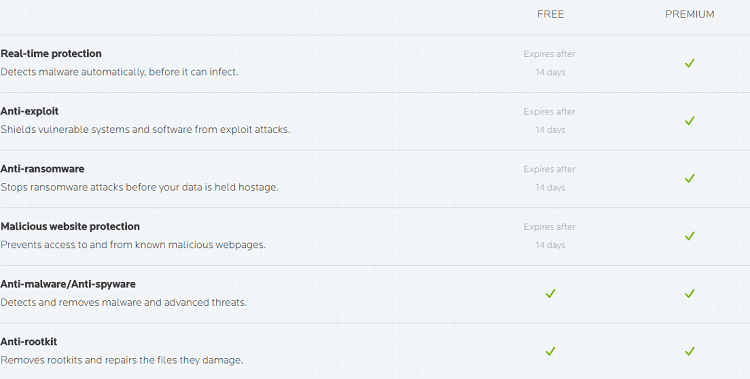 Let's see what Avast offers in comparison.
The company's antivirus packages start with a free offering called Avast Free Antivirus. Apart from basic malware defenses and a few useful features like a password manager, the freeware doesn't come with many advanced features and utilities, and you had better go for a paid version to protect you and your loved ones from sophisticated malware attacks.
The first paid offering by the company is Avast Internet Security. Its salient features are given below:
A two-way firewall that provides you with real-time protection.
An email filter that keeps your inbox clear of useless and harmful emails.
The Real Site feature protects you against DNS hijacking, preventing you from visiting fakes websites.
The Sandbox Mode included in the package enables you to open files and run apps in a secure environment, and thus prevents malware from infecting your computer.
Avast Premier is the next level of offering from the company. The suite is packed with all the features mentioned above, plus:
Anti-spying tool to stop others from watching you through webcam.
Data shredder that permanently deletes sensitive files to ensure hackers can't recover them.
A tool for keeping apps up to date.
Avast Ultimate is the company's full-blown security package. All the features of Avast Premier are jammed into the Ultimate package, in addition to:
Full-blown password manager and protector.
VPN tool for anonymously browsing.
Clean-up utility to boost your computer speed.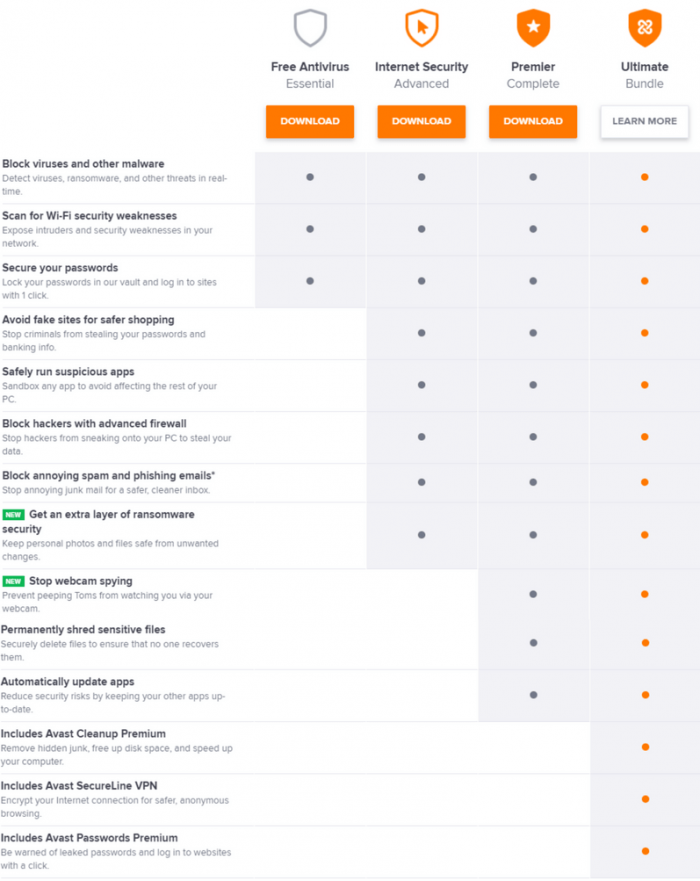 The company provides Mac users with a separate package called Avast Security for Mac. Its free version does protect against several malware threats, but it is nothing compared to the paid version, which provides:
Multi-layered ransomware protection.
Comprehensive firewall
Vulnerability Scanner
Interested in Avast's business packages? Click right here for more information.
Winner: Avast. Malwarebytes does provide some comprehensive features, but Avast comes with a more useful set of features and utilities with its products.
2. Malware Protection
Protection against malware is the most important feature of any security package you need to consider before opting for a paid program.
But how can we tell which of the two companies has better malware protection capabilities? Fortunately, we have two independent, unbiased organizations that regularly conduct tests to measure each software's defense and other capabilities.
In its latest Protection test, AV-Test gave Avast a near-perfect 5.5 out of 6 score, which suggests Avast offers exceptional malware defense.
In comparison, Malwarebytes eked out a score of only 2 out of 6.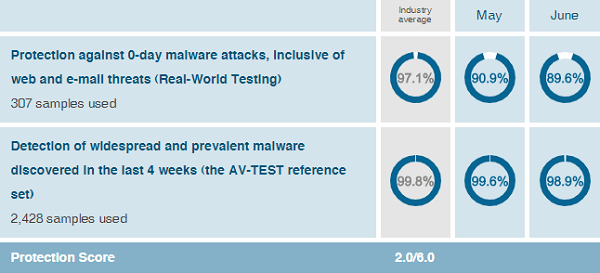 In the AV-Comparatives Real-World Protection test for June 2019, Avast earned the second-highest ADVANCED rating. In contrast, Malwarebytes abstained, showing a lack of readiness or faith in its product.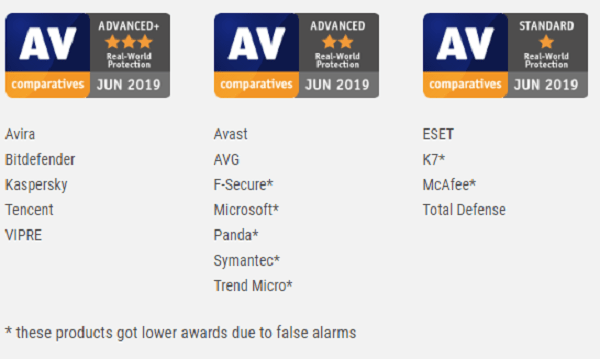 Winner: Avast. Malwarebytes did not participate in a key evaluation test while Avast performed exceptionally well in the other, which makes Avast the overall winner in this category.
3. System Performance
How an antivirus program affects your computer performance is another key aspect you should consider when buying a security product. If an antivirus program offers great malware protection but also slows down your computer, it's not worth your money.
Let's look at the same two testing organizations to find out which security package edges out the other in terms of system performance.
AV-Test published the results of its latest Performance test in June 2019. Avast clinched a perfect 6 out of 6 score, whereas Malwarebytes again trailed behind at 5/6.
Avast:
Malwarebytes:
As for AV-Comparatives, once again Malwarebytes did not participate in the April 2019 Performance test, whereas Avast bagged the highest three-star ADVANCED+ award.
Winner: Avast. Malwarebytes once again abstained from an important evaluation, leaving Avast as the overall winner.
4. User-Friendliness
The primary functions of a security suite, such as malware defense and useful features, are essential. But equally important is how easy it is to use and how well it looks on your PC or mobile because nobody wants to purchase an antivirus product having a clumsy and gaudy interface.
Let's see which among Malwarebytes and Avast offers a simpler and more intuitive interface.
Malwarebytes' interface comes with a large dashboard that shows some prominent icons and a few horizontal bars. The bars remain green if everything is in order. They turn to some other color if an issue needs to be sorted out.
The left pane shows primary functions, such as Scan, Quarantine, Reports, and Settings. You can also launch a scan with a single click from the big blue 'Scan Now' button on the dashboard.
The right side of the dashboard displays several protection modules like web protection, ransomware protection, when you conducted the last scan, malware detections, etc.
A banner on the top informs you about the status of your license and alerts you when the date of renewal is near.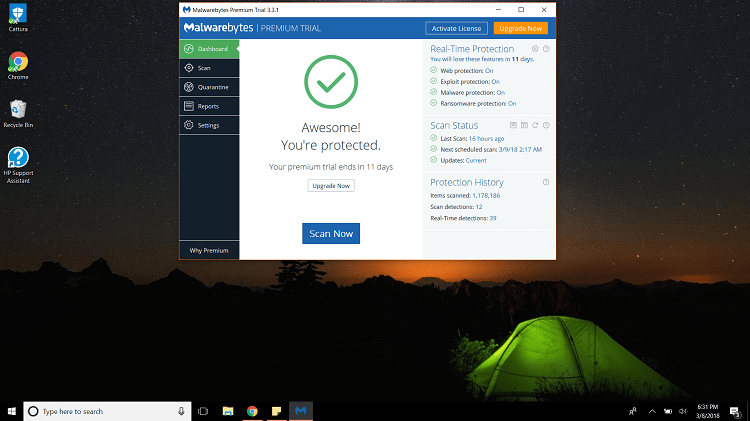 Let's now have a look at Avast's interface.
Avast's modern interface uses an intuitive control panel that you can access all the options. There's also a sidebar that comes in handy if you want to perform specific tasks.
The interface uses large and well-labeled buttons in a way that even those who are using an antivirus program for the first time won't find it difficult to find any option.
The downside is that while using the Avast's free version, you have to go through ads pretty frequently until you upgrade.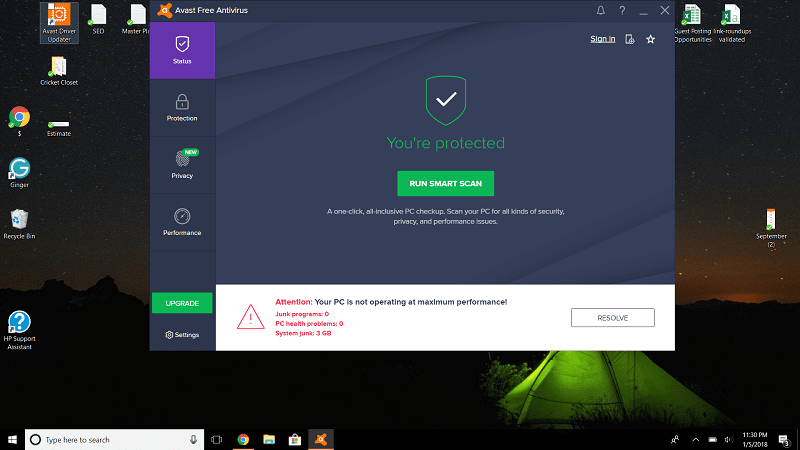 Winner: Tie. Both companies offer simple and easy-to-use interfaces, and you can access almost options with a few clicks.
5. Pricing
Pricing is always one of the key deciding factors before choosing a product. An antivirus package that offers the best value for money is mostly the one we end up purchasing.
Let's compare the pricing structure of both Malwarebytes and Avast.
The Malwarebytes Premium for You suite costs $39.99 per year. The license is suitable for all platforms – Windows, Mac and Android – but the downside is that you can run only one device with this package.
The next paid tier, Malwarebytes Premium for Home, costs $59.99 per year and covers 10 devices.
| Malwarebytes Products | Regular Price | Discounted Price |
| --- | --- | --- |
| Malwarebytes Premium for PCs | $39.99/year | Check here |
| Malwarebytes Premium for Mac | $39.99/year | Check here |
| Malwarebytes Business Products | Varies | Check here |
Avast first premium offering, Avast Internet Security, carries a price tag of $59.99 per year for one device. For Avast Premier and Ultimate, you will give $69.99 and $119.95, respectively, per year for one device.
Avast's product for Mac users – Avast Security for Mac – costs $59.99 per year for one device.
| Avast Products | Regular Price | Discounted Price |
| --- | --- | --- |
| Avast Internet Security | $47.99/year | Check here |
| Avast Premium Security (1 Device) | $69.99/year | Check here |
| Avast Premium Security (Multi-Device) | $89.99/year | Check here |
| Avast Ultimate | $99.99/year | Check here |
| Avast Business Antivirus | Varies | Check here |
Winner: Malwarebytes. Avast's entry-level suite is quite expensive when compared with Malwarebytes'.
6. Customer Satisfaction
Excellent customer service can significantly contribute to user experience, as it shows the company takes its users seriously.
Let's examine how independent review websites rate Malwarebytes and Kaspersky based on customer feedback.
According to review-collecting website Consumeraffairs.org, Malwarebytes holds a 4-star rating out of 5 stars, whereas Avast trails behind with a 3-star rating.
Another respected consumer feedback website is the Better Business Bureau, which gives a rating of A to F. Both Malwarebytes and Avast have an exceptional A+ rating from the BBB.
Winner: Malwarebytes. Malwarebytes holds a better rating than Avast from one of the two review-collecting sites.
Final Thoughts
Malwarebytes wins in terms of pricing and customer satisfaction, but Avast is our better overall pick in this comparison because of its more comprehensive feature spread, excellent anti-malware defense, and minimal negative impact on system performance.
Our recommendations: If you want to get the highest level of security and performance, there's no better choice than Norton, which protects over 50 million users worldwide.
After reviewing dozens of antivirus products from some of the biggest names in the cybersecurity realm, we believe that Norton 360 Deluxe is the best antivirus suite available on the market. It provides flawless anti-malware protection without slowing you down. Plus, you get almost all the advanced features you could ever want.
If you're willing to pay more for advanced identity protection features, we recommend Norton 360 with LifeLock select (only available in the US). It's a bit pricey but worth the price.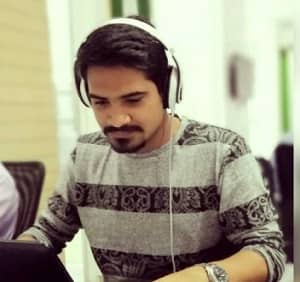 Anas Baig is a consumer privacy advocate and cybersecurity journalist by profession. Has has more than 7 years of professional experience under his belt. Anas has been featured on numerous media publications including The Guardian, Lifehacker, The Next Web, Infosecurity Magazine, Security Boulevard, Hacker Noon, CMS Wire, IAPP, SC Magazine, and many others. His interest includes Digital Privacy Rights, Information Security, Networking, Privacy, and Data Protection.
My Contributions: 
Hacker Noon | TheNextWeb | DevOps.com | GlobalSign | CMS Wire | CSO | Tech.co | Security Boulevard | ITProPortal | MuckRack | Crunchbase