(Last updated on January 9th, 2023)
Avast or AVG, which antivirus software is a better pick in 2023?
We hope that this comprehensive Avast versus AVG comparison will help you make a smart decision.
It's next to impossible to avoid a malware attack at some point in your life without the help of reliable antivirus software.
Millions and billions of malware attacks occur each year and hackers are coming up with sophisticated ways to deprive you and your loved ones of personal data, invade your privacy, steal banking details, and much more.
As many as 9.9 billion malware attacks were reported last year, according to the 2020 SonicWall Cyber Threat Report.
The report also reveals that nearly 188 million ransomware attacks were observed last year. Most of them were against high-profile targets such as government bodies, educational and medical institutions, etc.
But individuals are not spared either. There are many forms of malware that are aimed at stealing confidential data or credit card details of home users.
Therefore, it's not without reason that many people are in a state of fear. According to a PEW survey, nearly half of Americans believe that their personal information has become less safe over the past five years.
Besides, more than 70 percent Americans think that major cyberattacks targeting public infrastructure will occur in the coming years.
So, what should we do in such an environment of fear and anxiety? Say goodbye to the Internet for good? Avoid online banking? Stop using email?
We all know that we can't do any of this. We have to use these options and still fight cybercriminals.
How?
One way is to be vigilant all the time and keep abreast of all the latest developments in the world of cybersecurity. But we all have other things to do, like watching Netflix or going for a walk. Besides, you can't ensure complete protection by just being careful.
So, it's best to leave the hard work for experts at companies like Bitdefender, McAfee, Kaspersky and Avast, and put all our energies into other important tasks.
If you have never used an antivirus, you may start with free software offered by almost all major cybersecurity companies. However, keep in mind that freeware comes with only basic functionality and lacks many security-related features that have now become necessary for complete online protection.
For instance, you won't find tools like a password manager, VPN, microphone and webcam protection, parental controls, etc. in a free antivirus program. Only premium security suites from reputable brands can produce promising results and give you complete peace of mind.
In this in-depth article, we will compare strengths and weaknesses of two of the most renowned antivirus brands: Avast and AVG. We will examine each security product in detail, analyzing its feature set, malware protection and system performance capability, user-friendliness, pricing and user feedback.
In a rush? Check out the rundown below to see which software performs better in each category.
A Quick Rundown of Winners Antivirus in Each Category
1. Features
Winner: Avast. Compared to AVG, Avast offers a more comprehensive feature set as part of its premium suites.
2. Malware Protection
Winner: Tie. According to two independent tests, both Avast and AVG protect your computer against all sorts of malware.
3. System Performance
Winner: Avast. Avast received slightly better rating in an independent performance test.
4. User-Friendliness
Winner: Avast. Both programs have simple, intuitive user interfaces, but Avast's secondary screens are more easily reached than AVG's.
5. Pricing
Winner: AVG. AVG offers more bang for your buck, as you can protect more devices for less money through AVG.
6. Customer Satisfaction
Winner: AVG. AVG has slightly better customer satisfaction ratings than Avast.
Short Verdict
The main difference between Avast and AVG is that Avast is slightly cheaper compared to the latter. Also, Avast's products are more feature-rich compared to AVG's. Independent tests show that both software are equally good in terms of malware protection and system performance.
Best Antivirus for 2023
---
#1 (Excellent)

Robust feature-set
Excellent anti-malware security
Minimal system impact
Easy-to-use interface
Automatic updates
Trusted by 50 million users
100% virus protection promise
60-day money-back guarantee
70% off
#2 (Very Good)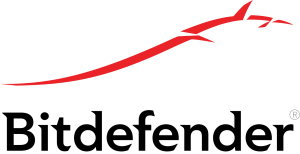 Exceptional malware protection
Little impact on performance
Trusted by millions of users
30-day money-back guarantee
User-friendly interface
50% off
#3 (Very Good)
Good malware protection
Trusted by big corporations
Minimal impact on performance
Good value for money
30-day risk-free guarantee
40% off
Now, we'll go into the details.
1. Features
Good antivirus software won't just defend you against malware. It will also come with a host of advanced features and extra utilities that enhance your security and promote extra value.
First, let's see what features Avast offers as part of its software packages.
Avast has different protection tiers for Windows and Mac computers.
Avast Free Antivirus is the company's freemium security product for PCs. It doesn't offer much in terms of advanced features and utilities, but it does protect against a host of malware types. As expected, the freeware is easily overshadowed by Avast's premium tiers of protection coverage.
Avast Internet Security is the company's first premium antivirus package. This suite offers excellent protection against all sorts of digital threats, along with several advanced features and add-ons. These include a smart two-way firewall that keeps an eye on your network traffic, an email filter that helps junk and malicious emails away from your inbox, and the Wi-Fi Inspector that checks for weakness in your home network.
The Real Site feature is also jammed into the suite; this prevents hackers from taking over your DNS and rerouting you to fake sites to steal your financial details. The Sandbox feature is another useful offering that lets you run suspicious files and programs in a secure environment, so there's no risk of malware infiltrating your computer.
Finally, there's also the Do Not Disturb Mode that minimizes disruptions and distractions while you're enjoying your favorite game, for example.
The company's next offering is Avast Premier. Everything that comes with the Internet Security suite is also part of this package, plus you get the Data Shredder utility that allows you to permanently delete your sensitive data so hackers can't recover them. Webcam protector (which prevents people from spying on you through your webcam) is also part of the suite, as well as an automatic software updater.
Avast Ultimate is the company's full-blown antivirus offering. This suite has all the advanced features and utilities you can expect to find in a high-end security package.
All the features we mentioned above are part of the Ultimate suite, plus there's a VPN that lets you surf the internet anonymously and can be used to access content that may be blocked in your geographic location. There's also a clean-up tool that removes junk files to free up disk space, optimizes computer operations to improve the speed of operations, and fixes annoying problems. Finally, there's an advanced password manager and protector that can store all your sensitive details in a secure, digital vault.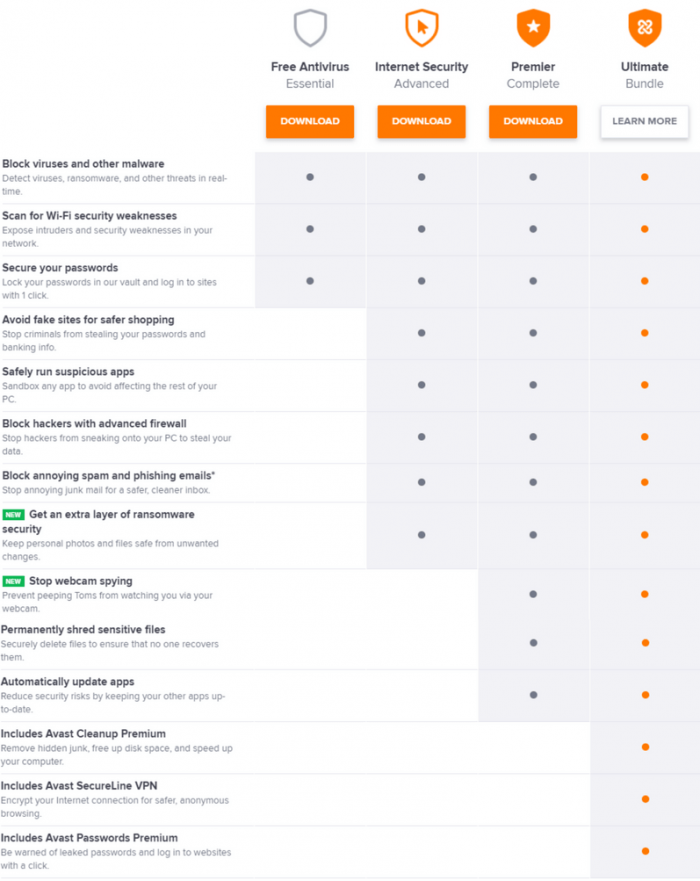 If you use a Mac user, there's Avast Security for Mac. There are two different versions of this software: Free and Pro. The free software is a lot like the Windows freemium option; it's not worth much in terms of advanced features and only provides barebones security. The Pro version offers several advanced features that make it worthwhile, such as a ransomware guard, and the Wi-Fi intruder alert feature.
If you're interested in Avast's business-specific security solutions, click here for more information.
Now let's see what AVG offers in terms of features.
AVG also offers a freemium solution, called AVG AntiVirus Free. As you'd guess, there aren't any advanced features or tools included into the freeware, but it does offer protection against different types of malware threats. The software also protects against malicious links and downloads.
AVG Internet Security (compatible with both Windows and macOS) is the company's mid-level premium offering. This suite offers excellent protection against all kinds of malware, plus you get a two-way firewall that defends your network, a file encryption utility that lets you secure your important data against ransomware, and a file shredder.
Webcam protection software that prevents surreptitious spying is also part of the suite, as well as an email filter (filters malicious emails and blocks dangerous links) and a fake website detector; this feature helps prevent financial information theft.
Next up is AVG Ultimate, the highest, full-blown tier of coverage offered by AVG. It can be used to protect PCs, Macs, or Android devices.
All the features and utilities that are part of the Internet Security suite are also found in this suite, plus you get a comprehensive computer performance optimization tool, called AVG Tune-up; this all-in-one utility automatically cleans up junk files, speeds up your system performance, and keeps your applications up-to-date.
The Ultimate license also gives you access to AVG's live phone or chat support at any time of day or night, as well as AVG's mobile antivirus and clean-up apps.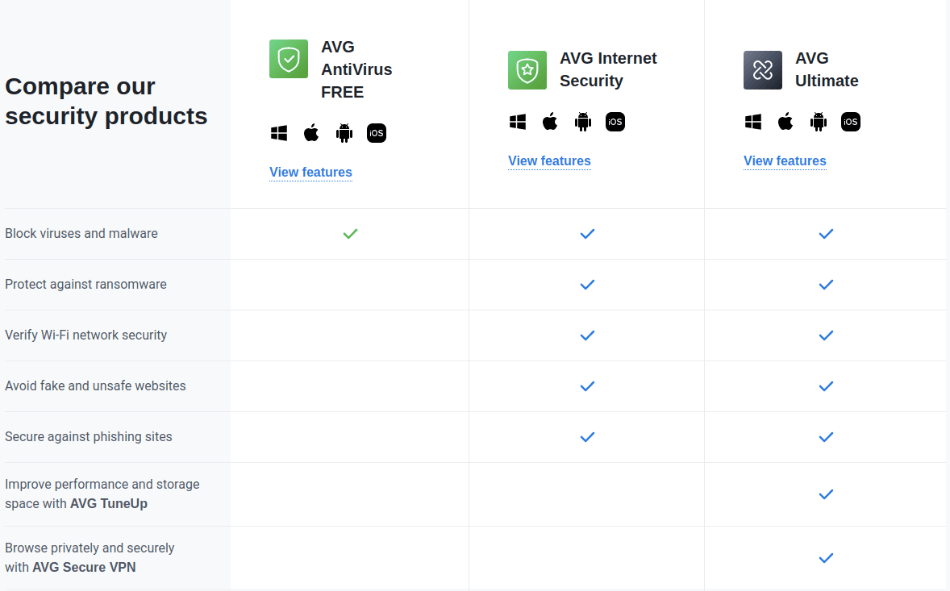 If you're interested in AVG's business-specific products, click here to see the full range.
Winner: Avast. AVG's products come with an impressive feature set, but Avast offers more security-enhancing features and tools in its security suites.
2. Malware Protection
An antivirus may have an enticing feature set and is still considered a mediocre product if it fails to offer strong malware defense. The reason is malware protection is at the heart of any security suite.
Let's see how Avast and AVG fare in this category.
In this and the next section, we are going to take a look at the latest evaluations conducted by reputable, independent testing labs like the AV-Test Institute and AV-Comparatives.
AV-Test evaluates all renowned antivirus brands for Protection, Performance and Usability, and give them a score out of 6 in each category. Participants that succeed in getting full marks (i.e. a score of 6 out of 6) in any two categories are considered the "top product".
According to AV-Test's most recent assessments, held in April 2020, both Avast and AVG failed to receive the "top product" badge, but their performance was still highly satisfactory.
In the AV-Test Protection evaluation for April 2020, both Avast and AVG secured a near-perfect score of 5.5 out of 6, suggesting that they offer excellent defense against both zero-day and prevalent malware attacks.
Avast: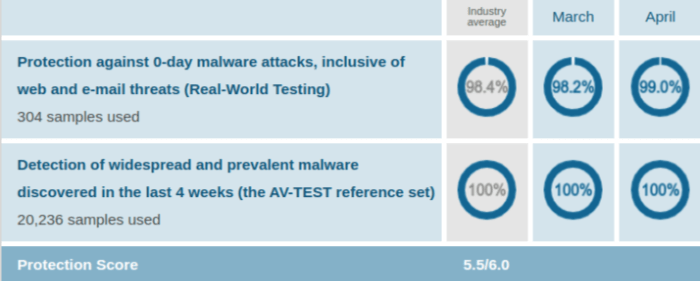 AVG:
AV-Comparatives, another renowned independent lab, conducted a similar test called the Real-World Protection Test, which tries to simulate real-world conditions as experienced by people in daily computer use.
In its February-May 2020 Real-World Protection Test, AV-Comparatives gave its highest award (ADVANCED+) to both Avast and AVG based on their excellent performance.
Of the 754 testcases, both antivirus products successfully protected the PC against 99.7% of the samples.
Winner: Both. Both Avast and AVG received identical scores in both independent evaluations.
3. System Performance
The amount of influence an antivirus product has on a system also tells a lot about its usefulness. It's obvious that you don't like to have a program on your computer that results in crashes and freezes every once in a while.
As a general rule of thumb, excellent antivirus programs don't eat up system resources. So, let's get back to the two testing labs and see how they rate Avast and AVG in their latest evaluations.
In the April 2020 Performance assessment by the AV-Test Institute, Avast once again shied away from the perfect score and received 5.5 points of 6.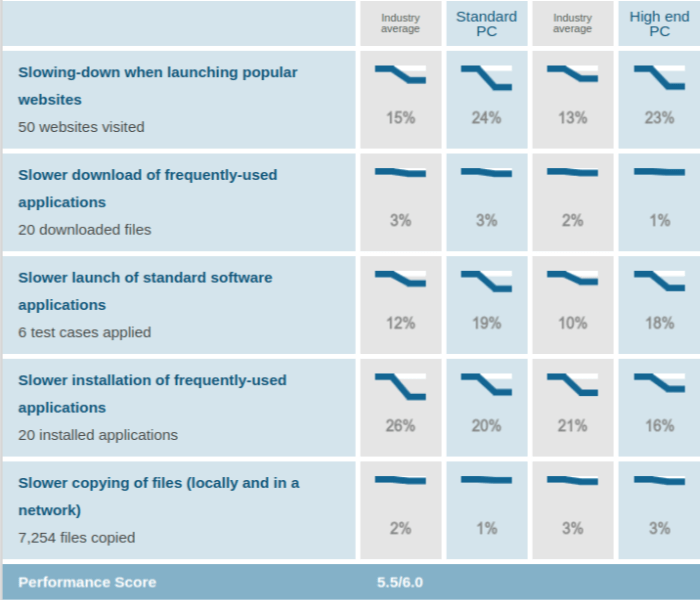 AVG was trailing behind with a score of 5 out of 6, indicating that it does affect common computing tasks like launching popular websites and standard software applications, copying files, installing frequently used applications, etc.
In the AV-Comparatives' Performance test conducted in April 2020, Avast and AVG landed on the second spot (the ADVANCED award). The test results showed that both antivirus products put some impact on system performance while launching applications and downloading files.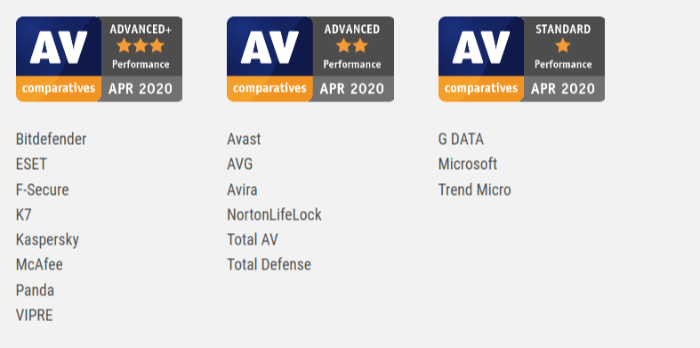 Winner: Avast. Although both antivirus suites were neck and neck during performance evaluations, Avast does get a benefit of an additional half a point it received in the AV-Test assessment.
4. User-Friendliness
The interface of a security product should be simple and easy to use, even for those who aren't very computer literate.
Let's take a look at the user interface of both software to see which one is more user-friendly.
Avast's interface is intuitive and straightforward, dominated by dark colors. There's a left-hand bar with four main categories, including Status, Protection, Privacy, and Performance.
The Status screen is the default view. When everything is okay, you will see a green checkmark in the center with a reassuring "you're protected" message. You can begin a quick scan right from this screen at the click of a button.
You can customize the controls to a reasonable extent, either by turning tools off or adjusting their usage. You can also reduce the amount of scanning and monitoring the software undergoes if it's putting too much of a strain on your computer. The software also lets you schedule scans, allowing you to make the software work around your personal schedule.
Links to Notifications, Settings, and Help are in the top bar.
Now, let's examine AVG's interface.
AVG's dark, intuitive interface uses green and white as its primary colors. On the main screen, there's a large circle at the top which will show a green checkmark if everything is fine. At the bottom, there's the prominent Scan Computer button that allows you to initiate a scan with just one click.
There're five modules on the main screen: Computer, Web & Email, Hacker Alerts, Privacy Data, and Payments. Each module has relevant features and their settings. All the advanced features and functions of the software can be easily reached with a few clicks.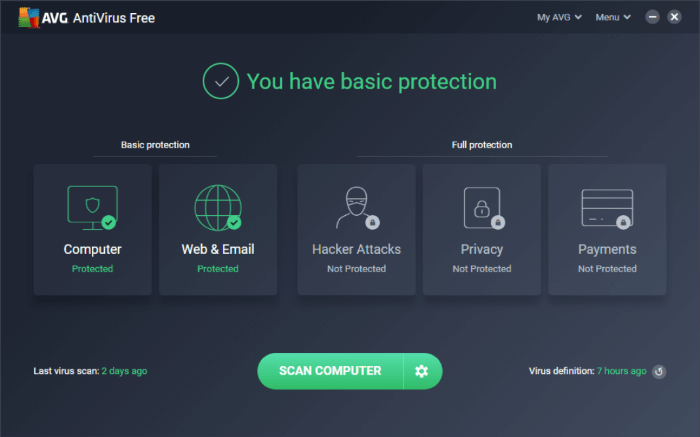 Winner: Avast. Overall, Avast's interface is simpler, more straightforward than AVG's.
5. Pricing
Now, let's look at the pricing structure of both companies to see which software gives more bang for your buck.
Avast Internet Security protects 1 device for $59.99 per year. Avast Premier costs $69.99 per year for a single PC.
Finally, Avast Ultimate, which is the highest package offered by the company, costs $119.99 per year for 1 PC.
Avast Security for Mac, which is the company's offering for macOS, costs $59.99 per year for 1 Mac.
| Avast Products | Regular Price | Discounted Price |
| --- | --- | --- |
| Avast Internet Security | $47.99/year | Check here |
| Avast Premium Security (1 Device) | $69.99/year | Check here |
| Avast Premium Security (Multi-Device) | $89.99/year | Check here |
| Avast Ultimate | $99.99/year | Check here |
| Avast Business Antivirus | Varies | Check here |
Let's compare what AVG costs.
AVG Internet Security, which works on both PCs and Macs, protects up to 10 devices for $79.99 per.
AVG Ultimate, the highest tier of coverage from AVG, actually gives you an unlimited number of licenses for $99.99 per year; it represents excellent value for money, especially in comparison to Avast's top-of-the-line product.
| AVG Products | Regular Price | Discounted Price |
| --- | --- | --- |
| AVG Internet Security | $89.99/year | Check here |
| AVG Ultimate | $119.99/year | Check here |
| AVG Business Products | Varies | Check here |
Winner: AVG. It's a close call, but you can protect more devices for less money with AVG. Also, AVG is a better pick if you'd like to get antivirus protection for all your family devices.
6. Customer Satisfaction
Before we render our final verdict, let's look at the overall customer satisfaction ratings for companies.
The Better Business Bureau (BBB) combines company reputation and user reviews and awards a single letter rating from A to F to each company. Avast has an excellent A+ rating from the BBB, showing great company reputation and exceptional customer service. AVG has an A+ rating as well, meaning they too have a good company reputation and high levels of customer satisfaction.
Winner: Tie. Both companies score equally well in this category.
Final Thoughts
Avast is the overall winners as it won more rounds of the competition, although AVG puts up a good fight. Both companies are neck and neck in terms of anti-malware security and system performance. Avast wins in terms of features and user interface, while AVG offers a better pricing structure.
Our recommendations: If you want to get the highest level of security and performance, there's no better choice than Norton, which protects over 50 million users worldwide.
After reviewing dozens of antivirus products from some of the biggest names in the cybersecurity realm, we believe that Norton 360 Deluxe is the best antivirus suite available on the market. It provides flawless anti-malware protection without slowing you down. Plus, you get almost all the advanced features you could ever want.
If you're willing to pay more for advanced identity protection features, we recommend Norton 360 with LifeLock select (only available in the US). It's a bit pricey but worth the price.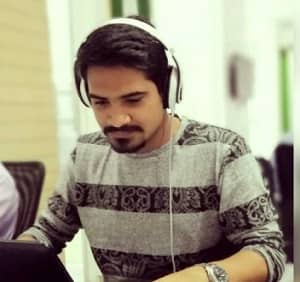 Anas Baig is a consumer privacy advocate and cybersecurity journalist by profession. Has has more than 7 years of professional experience under his belt. Anas has been featured on numerous media publications including The Guardian, Lifehacker, The Next Web, Infosecurity Magazine, Security Boulevard, Hacker Noon, CMS Wire, IAPP, SC Magazine, and many others. His interest includes Digital Privacy Rights, Information Security, Networking, Privacy, and Data Protection.
My Contributions: 
Hacker Noon | TheNextWeb | DevOps.com | GlobalSign | CMS Wire | CSO | Tech.co | Security Boulevard | ITProPortal | MuckRack | Crunchbase