Avast vs AVG | The Ultimate Comparison (2018 Update)
Avast or AVG? Read this ultimate comparison between Avast and AVG to find out which of two antivirus software is better in terms of performance, protection, user interface, and more.
The great thing about technology is that it continues to evolve, and that means more products (and tools) continue to come up every day — improving our lives for good.
The competition has gone up too, which leaves us with lots of options to choose from and freedom to choose the product that meets our needs the best.
Today, you can get a top-notch antivirus software for your computer without spending a dime. In fact, we have so many free and paid antivirus solutions available at our disposal these days that it has become hard to decide which one to pick for our computer's security.
In this guide, you'll see an in-depth comparison between Avast and AVG antivirus solutions — two well-known and respected security software in the market — in great depth. I will focus on the free antivirus software offered by both brands whilst also giving you an overview of what you'll get in the premium plans.
Both antivirus software will be judged on the following six categories: features, protection, system impact, user interface, cost, and popularity.
Note: If you're in a rush and only want to see the summary of this ultimate Avast vs AVG showdown, see the infographic below.
Avast vs AVG: Which Product Packs More Features?
Avast acquired AVG in 2016, and now both software belong to the same company. Despite the acquisition, both software have continued their separate existence, but — as you'd expect — they have a lot of features in common.
Both Avast and AVG's free products have the following shields to protect your computer from all the sorts of known and unknown malware:
File Shield (checks any file you add to or open on your computer)

Behavior Shield (checks applications for malicious activities)

Web shield (checks for fake websites, web attacks, and virus-infected downloads)

Email shield (scans email attachments for malware)
Both free software will allow you run a full scan of your system, a boot-time scan where it checks for potential threats and viruses before windows loads up, and folder/file specific scans. Only Avast offers a 'quick/smart scan' option.
Avast offers a free trial of Cleanup Premium to help you clean your computer and fix performance-related issues, while AVG offers PC Tuneup for that matter.
It may seem like both software are identical in terms of features, but if you take a closer look, you'll notice that Avast is clearly ahead in this race. It offers several bonus features in its free edition that other antivirus makers charge for, like a WiFi Inspector (checks for security issues in your network and other vulnerabilities), a Driver Updater, a password vault, a Rescue Disk option, a Game Mode feature (for interruption-free gaming experience).
Avast also offers a browser security add-on which protects you while you surf the web and also blocks annoying ads. It also offers a SafePrice browser extension which checks for the price of the item you're purchasing at other places online to help you find the best deal.
But one handy feature that only AVG provides in its free plan is a File Shredder; it lets you permanently (and safely) delete your sensitive files so that no one can recover them. Avast only provides this feature in its premium plans.
Now, let's talk about what you'll get in terms of features if you opt for a paid upgrade. (We will only cover the Pro & Internet Security plans.)
With Avast Pro Antivirus 2018, you'll get everything in the free plan plus Sandbox technology (which lets you test suspicious files in a separate environment so they don't wreak havoc on your computer), a CyberCapture feature to automatically send suspicious files to Cloud for examination, and premium in-product support.
In Avast Internet Security 2018, you get everything that comes as part of the "pro" plan plus built-in firewall, ransomware protection to stop hackers from taking over your personal files, and security against the fake website.
AVG's sole premium product for home-based users is AVG Internet Security. It includes all the features get with the free plan plus an enhanced firewall, ransomware protection, webcam protection, and also safeguards against fake websites.
Avast vs AVG: Which Provides Better Protection?
Nearly all the modern antivirus software — including Avast and AVG — use signature-matching technology to detect all the sorts of viruses, spyware, rootkits, and Trojans.
 In simple terms, they employ different methods to check and compare your files against a huge database of virus definition files, which contain data on known/unknown malware threats and even potentially dangerous files. Any file that matches an existing definition file is either removed or marked as suspicious and is added to cloud servers for examination.
AV-Test, Germany's IT security institute, regularly conducts independent lab tests to thoroughly examine the performance of different antivirus products on different operating systems.
In their recent tests, which were conducted in September and October 2017, Avast and AVG both had identical results; they both detected 100% of the previously unseen and widespread malware when tested on Windows 10 — scoring a perfect 6 out of 6 rating in protection. (See this and this for detailed reports.)
In tests conducted on Windows 7 in July-August 2017, Avast and AVG again came up with the exact same results; the both provided protection against 99% of the zero-day malware in July and 100% in August, and 99.9% and 100% protection against widespread malware in both months respectively.  (See this and this for detailed reports.)
Australian independent lab AV-Comparatives also conducts various tests to check and compare the performance of various antivirus products.
In their Malware Protection Test Report, which published in September 2017, both Avast and AVG received "ADVANCED +" rating with 99.99% protection rate, and returned 9 false alarms (i.e. wrongly identifying clean software as malware).
In their Real-World Protection Test which took place in November 2017, both products again received an excellent "ADVANCED +" rating courtesy their 99.6% protection rate.
So, it's a tie in this category as both Avast and AVG provide an excellent level of protection.
Now, let's talk about which software is less resource-hungry.
Avast vs AVG: Which Puts Less Impact on System?
All modern antivirus products continuously run the background to provide real-time protection against malware threats, and that means they use some percentage of system resources.
An application that takes too much of system resources will degrade your computer's performance. So, it is imperative that not only antivirus software provides comprehensive protection, but also that it doesn't cause any significant impact on system performance and speed.
Both Avast and AVG both are super-lightweight antivirus products and exert a minimal impact on system resources.
In September-October 2017, AV-Test conducted a study to measure the influence of Avast and AVG on system speed (system performance) by carrying out typical actions like launching popular websites, downloading and installing, commonly used applications, copying of files, and more.  
Here's how much Avast slowed down the system when performing different tasks on a standard and high-end PC, expressed in terms of percentage slowdown.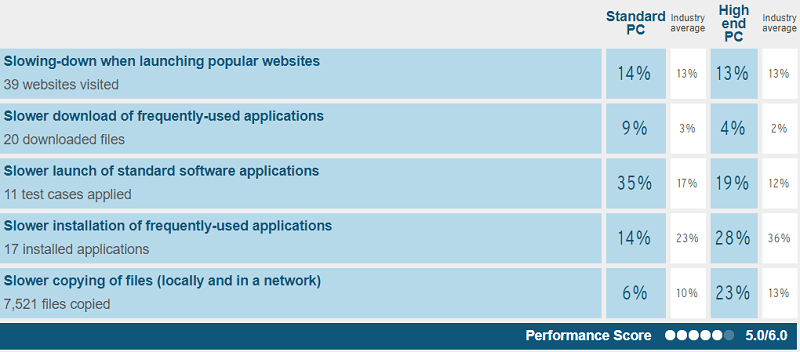 And here the results of performance tests with AVG installed.
Both Avast and AVG received a rating of 5 stars out of 6, an acceptable performance score.
In AV-Comparatives' performance test, they tested the performance of a system by carrying out the following tasks: file copying,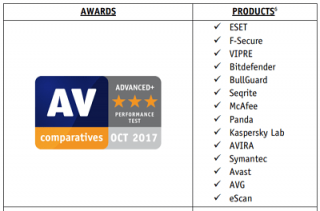 archiving/unarchiving, installing/uninstalling applications, launching applications, downloading files, and browsing websites.
Both software received an "ADVANCED +" rating, with an impact score of 8.9.
So, it's clear that Avast and AVG use system resources in a similar way and — more importantly — neither of them will significantly slowdown your computer.
Avast vs AVG: Which Offers a Cleaner Interface?
Nobody likes using a piece of software that doesn't offer clean user experience and easy-to-use navigation. Avast and AVG both will not disappoint you if that is your preference too.
Avast's dark interface sits nicely on Windows/Mac and cannot be resized or run full screen. It has a vertical menu on the left which has four main items: Status, Protection, Privacy, and Performance. Each of those menu items — when clicked — elegantly opens sub-menu items, which contain all its features. There's also a promotional banner at the bottom for getting you to upgrade to the premium version.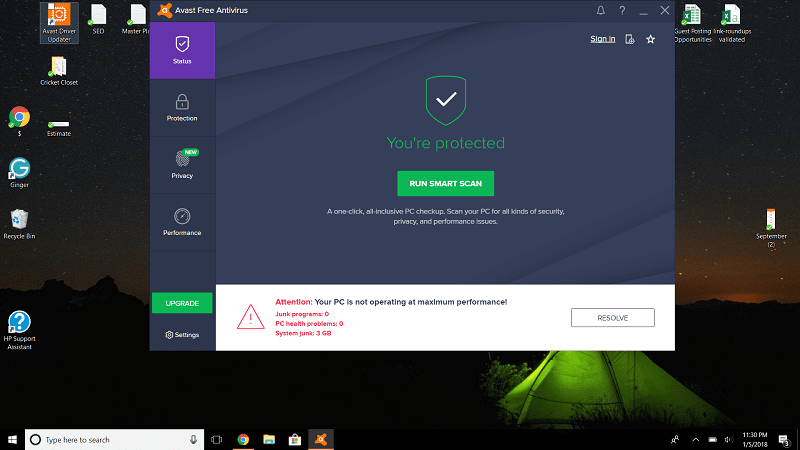 At the bottom-left edge, there's a button which takes you to the settings.
The red color signals a problem, while green represents "everything is okay."
On the other hand, AVG's interface looks a bit overwhelming at first, but when you get used to it, you'll see it's very easy to navigate, too. Unlike Avast, there a horizontal menu with the following components: Computer, Web & Email, Hacker Attacks, Privacy, and Payments.
If you're using the free version, you'll get basic protection, and much of what is on the interface will not be useful to you.
There's a 'Scan Computer' button in the middle and next to it, there's a button which takes to all the different type of scans you can run with AVG. Also, there's a promotional banner at the bottom.
The green color represents that everything is okay and no further action is needed, while the red color signals a problem.
Overall, Avast's interface provides a better user experience and navigation, but AVG's interface is not far behind.
Avast vs AVG: Which Will Cost You More?
First, let's look at the Avast plans.
| | |
| --- | --- |
| Avast Security Suite | Price |
| Avast Free Antivirus | Free |
| Avast Pro Antivirus | $49.99/year (1 device) |
| Avast Internet Security | $59.99/year (1 device) |
Now, let's see the pricing of AVG's plans.
| | |
| --- | --- |
| AVG Security Suites | Price |
| AVG Free Antivirus | Free |
| AVG Internet Security | 69.99$/year (unlimited devices) |
Avast vs AVG: Which is More Popular Solution?
Avast and AVG belong to the same company and together they capture a huge market share. To determine which among them is more popular is not an easy task.
Avast claims to have a user base of 400 million (that includes AVG users, too). AVG, on the other hand, no longer shares its numbers publically. So it becomes difficult to decide which one has a bigger market share based on what we see on their official websites.
However, if you look at other sources, you'll notice that Avast is clearly ahead in this race.
According to OPSWAT, a company which regularly releases reports about the market share captured by different antivirus solutions, says – as of 4th Jan 2018 — that Avast is the leading antivirus software with 18.88% market share, followed by ESET (13.88%) and Malwarebytes (11.57%).
AVG doesn't quite make it to OPSWAT's list of top 10 antivirus products.
According to Download.com by CNET, AVG has over 565 million downloads while Avast has been downloaded 411 million times. But Avast's editor rating' is 4/5, which means "excellent", while AVG has 3.5 stars out of 5 (meaning "very good"). Avast also has a better average user rating of 4.5/5 stars as opposed to AVG, which has 4 stars.
If you look at social numbers, Avast's Facebook community totals to 4.1 million while AVG has over 3 million Facebook fans. On Twitter, though, AVG leads the way with 215k followers as opposed to Avast's 182k.
Final Thoughts
Avast and AVG's antivirus software use the same technology and are similar in a lot of ways. Both provide an excellent (and same) level of protection against all the kinds of malware threats and also put a little impact on system performance.
However, it must be said Avast offers more in terms of features in both 'free' and 'Internet Security' plans when compared with AVG's respective products and also boasts a slightly better user interface. Its paid upgrade is more affordable than AVG's premium plan too.
Additional Notes
If you believe I have stated something incorrectly or missed something that I should add to this ultimate Avast vs AVG showdown, let me know in the comments.
Related Comparisons
Related: Avira vs Avast — Everything You Need to Know
Related: Bitdefender vs Avast | The Ultimate Comparison
Related: Malwarebytes vs Avast | The Definitive Guide (2018)
Related: McAfee vs Avast | The BEST Comparison On the Internet (2018)
Related: Windows Defender vs Avast | All You Need to Know in 2018
Related: Norton vs Avast | The Only Comparison You Should Read