Avira vs Avast | The Only Comparison You Should Read in 2018
Avira or Avast? Read this comprehensive guide that will help you make an informed decision about which product to choose for your computer's security.
Note: In this guide, I will make a thorough, in-depth comparison between the free antivirus solutions offered by Avast and Avira whilst also giving you an overview of what you'll find in the "pro" and "internet security" plans.
In today's world, you need to be extra vigilant about protecting your personal computer against various kinds of malware threats (like viruses, Trojans, rootkits, spyware, etc.) because — needless to say — hackers have gotten a lot smarter with time, and are constantly in search of new ways to sneak into your computer.
Once malware-infected programs get into your computer, they can do a lot of terrible things like stealing your sensitive data (like your credit card information and passwords), causing your computer to crash or slow down, deleting your personal data or photographs, and more.
Luckily, there are several free and paid-for antivirus software you can use to protect your computer against these malware attacks. Avira and Avast are two of the respected security software in the market that will get the job done.
Before delving into details it is important that you get a quick overview of how an antivirus software detects and eliminates malware threats to keep your computer safe and secure.
How Does Antivirus Software Work?
The core of any antivirus software's operation is its detection mechanism. It employs different methods of detection to check and compare your program files against a huge, robust library of virus definition files, which contain data on all the sorts of known/unknown malware threats.
Any file that matches an existing definition file from the library is either removed by the software with no delay or flagged as suspicious, urging the user to take an appropriate action.
How do antivirus solutions detect new malware? Well, they use Heuristic monitoring to detect not only the unseen malware but also the new versions of already-discovered malware.
All antivirus programs continuously run in the background, checking every file you open or download from the internet, providing real-time protection.
Now that you know how antivirus software function, let get down to bottom of this Avira vs Avast comparison.
If you're in a hurry and only want to see the final verdict, see this infographic that breaks down the whole comparison in great detail.
Avira vs Avast: Which Product Packs More Features?
Both Avira and Avast are feature-rich software but it has to be said Avast has gone a step or two further by adding several extra tools in its free versions that most of the other antivirus makers charge for, such as Wi-Fi inspector (checks for security issues in your home network), silent/gaming mode, email client protection, and browser clean-up option.
Both free solutions will allow you to create a bootable rescue disk, run quick/full/custom scans at will, enable web browsing protection, save passwords in your browser via extension, and figure out which of the other software are out-of-date.
Also, both software offer a limited free VPN in their freeware to protect your online privacy; Avast offers a free 30-day trial of its SecureLine VPN, while Avira's Phantom VPN gives you a free data volume of 500 MB every month. A limited system cleanup/optimizer is also included in both software.
The two extensions that Avira offers are SafeSearch Plus (integrates with Chrome and Firefox) and Safe Shopping (integrates with Chrome only). SafeSearch Plus lets you surf the web while filtering out unsafe, dangerous websites, while the latter one shows you the best deals from around the web and also blocks annoying ads and offers from fake websites known to be involved in phishing practices. Avast's SafePrice and SafeZone extensions do similar jobs.
Now, let's talk about what you'll get in terms of features if you opt for a premium plan. (I will only cover "Pro" and "Internet Security" plans.)
With Avira Pro Antivirus 2018, you'll get everything that is included in the free plan plus email & network protection, premium customer support, device control (scans devices connected to your USB ports for malware), secure banking feature, and an ad-free experience. Avira's Internet Security Suite adds a firewall manager, which makes the most of built-in Windows 10 firewall and prevents external connections from accessing your computer.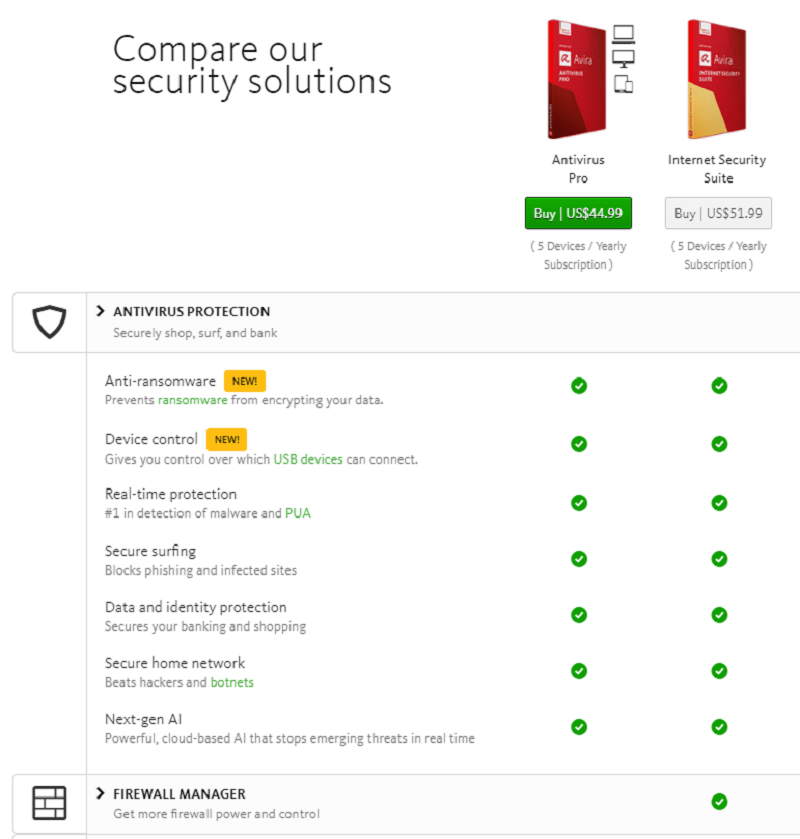 You will get a similar set of features with Avast Pro Antivirus 2018. It includes everything you get in the free plan plus Sandbox, which enables you to run suspicious files in an environment separate from your computer, Real Site (prevents hackers from taking over your computer and provides a safer online experience), and premium in-product help. Avast's Internet Security suite adds an advanced firewall and a ransomware shield.
Avira vs Avast: Which Software Provides Better Protection?
Both Avira and Avast's free antivirus software are great at identifying and crushing malware and use more or less the same signature-matching detection and heuristic monitoring technology to detect all the different types of malware threats.
To see which of the two software provides better protection, I'll look at the most recent tests conducted by the AV-Test, Germany's well-known IT security institute, and AV-Comparatives.
According to AV-Test's most recent results of the tests which were held in September and October 2017 on Windows 10, both Avira and Avast detected 100% of the previously unseen malware (also called zero-day malware) when tested against 202 samples.
But Avira was slightly less effective when tested against 9,797 samples of 'widespread malware' as it detected 99.9% and 99.8% of it in September and October respectively. Avast scored a perfect 100% in both months.
However, both software received a "perfect" 6 out 6 rating. (See this and this for detailed reports.)
In similar tests which were conducted on Window 7 in July and August 2017, Avira detected 100% of the zero-day malware attacks in both months when tested against 198 samples. Avast was slightly behind in August as it protected against 99% of zero-day malware, but scored a perfect 100% in August.
Against widespread malware, however, the results were the same for both products as they caught 99.9% of it in July and 100% in August when tested against 10,793 samples.
Again, both security solutions got a "perfect" 6-star rating. (See this and this for detailed reports.)
AV-Comparatives also publishes comprehensive reports on different aspects of various antivirus products.
In their recent "Malware Protection Test" which was held in September 2017, Avast received "ADVANCED +" award as it exhibited 99.99% protection rate and only returned 9 false positive (i.e. misidentifying harmless file/application as a malware). On the other hand, Avira's protection rate was 99.97% and returned 12 false alarms — earning "ADVANCED" award.

In AV-Comparatives' recent "Real-World Protection Test" which took place in November last year, Avira and Avast both received "ADVANCED +" award with protection rates of 99.7% and 99.6% respectively.
While it is true that Avast boasts slightly better results in both tests, Avira is not far behind.
Avira vs Avast: Which Software Uses Less System Resources?
To provide real-time protection against malware threats, antivirus programs have to continuously run in the background, which means they consume some percentage of system's resources.
Both Avira and Avast are extremely lightweight software and account for minimal system resources.
In AV-Test's "performance" category, they checked the influence of different antivirus products on system performance by carrying out typical tasks, such as visiting popular websites, downloading/installing few commonly used software, and copying of files.
Interestingly, Avira outperformed Avast in this category as it received a 5.5/6 star rating. Here's how much Avira slowed down the standard and high-end computer while carrying different tasks, expressed in terms of percentage slowdown.
And here're the results with Avast installed: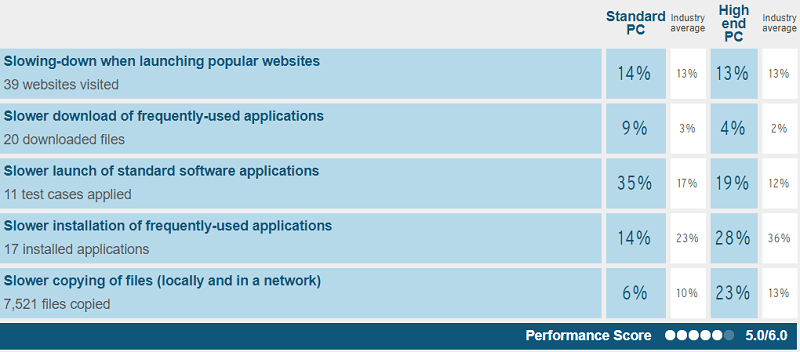 AV-Comparatives did a similar study; they gauged the impact of different security products on system speed (system performance) by
carrying out the following tasks: file copying, archiving/unarchiving, installing and removing applications, launching applications, downloading files, and browsing different websites.
Avira's impact score was 8.5, slightly better than Avast who scored 8.7. However, both software came out of the study with "ADVANCED +" awards.
So, Avira is the winner in this category, but Avast is pretty close too. Needless to say, neither of them will greatly slow down your computer, even if your hardware is a bit behind the times.
Avira vs Avast: Which Offers Cleaner User Interface?
An attractive visual appearance and a clean navigation is something everyone loves, and both Avira and Avira won't disappoint you if that is what you prefer too.
Avast's modern-style dark interface sits nicely on just about any operating system, and has a vertical menu on the left that consists of four tabs – status, protection, p, ivacy and performance – that contain all its features. At the bottom, there is an unobtrusive banner that asks you to upgrade to the premium version for added protection.
The green color shows that everything is fine and no further action is needed on your part while red signals a problem.
Avira, which previously used to be slightly outdated, has significantly improved its user experience in its latest 2018 version but is still a bit overwhelming.
From Avira Connect dashboard, you have the option to access any tool with just one click.
Its Antivirus interface looks like a typical Windows application, with five tabs (status, scan, modules, quarantine, and activity) on the left that is arranged in a vertical menu. You can access settings using the button that is placed at the bottom left.
The color scheme is bright, with green representing that your device is up-to-date and orange for premium options.
So, Avast clearly leads the way in this Avira vs Avast competition category.
Avira vs Avast: Which will cost you more?
Avast and Avira both offer limited free versions that you can use forever, for free.
Avira's Pro Antivirus 2018 license costs$ 44.99/year, and you can use it to protect 5 devices. It works on macOS , Windows, and Android. On the flip side, Avast Pro 2018 Antivirus subscription is slightly more expensive; it will cost you $49.99/year for a single PC, and $84.99 for 5 devices.
Avira Internet Security Suite's subscription is $52/year, and you can use a single license to protect five devices. Avast Internet Security plan is slightly more expensive; $60/year for a single device and $105 for 5 devices.
So, if you're slightly low on budget and want to protect multiple devices, Avira might be the best option for you.
Avira vs Avast: Which Is The Most Popular Solution?
To figure out which of the two products is the most popular choice all over the world is not an easy task. Both Avira and Avast claim that their product is the most downloaded free antivirus solution on the internet. However, if you take a deep look at the numbers, you'll see that one is clearly ahead of the other.
OPSWAT, which releases reports about the market share captured by different antivirus companies, says in its latest report that Avast is leading the overall market with 19.11%, followed by ESET (14.49%) and McAfee (9.57%). Avira is fifth on the list with only 7.32 percent market share. 
On CNET's download.com, which is the World's most popular software download portal, Avast has 406 million downloads as opposed to Avira's only 147 million. It also boasts a better average user rating of 4.5 stars out of 5 and has also received over 27,000 votes – nearly six times the votes Avira has accumulated.
Avast also has a bigger following on social media to this date, where it boasts over 4 million Facebook fans and 181k Twitter followers. On the other hand, Avira's Facebook tally is just over 1.5 million and Twitter's nearly 19k.
Overall, it can be safely said that Avast is the most downloaded (and popular) antivirus solution, and it massively beats Avira in the 'popularity' category of this Avira vs Avast comparison.
Final Thoughts
While it is true that Avira's lightweight free antivirus product packs a punch (and also includes several extra utility tools that are pretty handy too), Avast's solution is much more comprehensive in terms of protection and also offers great features on the side that are usually found in the premium plans.
Related: Avast vs AVG | The Ultimate Comparison
Related: Windows Defender vs Avast | All You Need to Know in 2018