(Last updated on April 4th, 2021)
Windows Defender or Avast, which antivirus software is a better pick in 2021?
Read this data-driven Windows Defender versus Avast comparison to make a smart decision.
Today's internet is far from the safe playground you might expect it to be. These days, we are putting more sensitive data out there than ever before, which means you need a sturdy antivirus program to protect your devices and data.
New research from a well-known security firm has revealed that over 10.52 billion malware attacks happened last year. Ransomware, which is the most dreaded form of malware, saw a 117% year-by-year increase, and mobile malware attacks also rose by almost 100% during the same period.
The threats don't always come in the form you expect. For instance, Microsoft Office extensions are the most common method that hackers use to hack into emails. Talk about wolves in sheep's clothing!
The statistics convey a clear message: you need premium antivirus protection for yourself and your family. But the question is, which security software should you get?
In this day and age, free or low-end security products aren't going to cut it. Their defenses aren't strong enough to resist sophisticated malware attacks, and their definitions (or signatures) aren't updated frequently enough. In fact, most free solutions out there don't even offer real-time malware monitoring, which means they are only useful if you want to get rid of malware that has already done the damage.
So, it's clear that you should invest in a premium security software for robust anti-malware protection and complete peace of mind. Also, premium suites come with a slew of advanced features and utilities that bolster your security and safeguard your privacy.
Best Antivirus Suite for 2020
60-day money-back guarantee
During the past few months, we have ranked, rated, and reviewed 40 premium antivirus suites from the biggest names in cybersecurity. We did this so you can confidently choose the best antivirus software to protect yourself and your family.
Right now, we think that
Norton
is the best antivirus software your money can buy. It regularly earns perfect or near-perfect scores from independent labs and has the least impact on system performance compared to rival products. Its products combine top-notch security with an array of excellent security features and, best of all, offer exceptional value for money.
Overall,
Norton 360 Deluxe
(currently at
70% off
) is our pick for the best antivirus suite in 2020. It is competitively priced and comes with almost everything you could possibly ask for, such as a firewall, a fully integrated VPN, dark web monitoring, cloud backup storage (50GB), a password manager, and parental controls. You can cover up to 5 PCs, Macs, smartphones or tablets with this suite.
If you want full-on identity protection and don't mind paying more,
Norton 360 with LifeLock Select
(currently at
35% off
) gives those in the US a full range of identity protection features, more backup space (100GB), as well as all the above.
In this guide, we'll compare Windows Defender and Avast in a head-to-head battle. We'll examine the strengths and weaknesses of both software and show you which software is a better option.
In a rush? Check out the rundown below to find out which software wins in each category.
A Quick Rundown of Winners in Each Category
1. Features
Winner: Avast. Windows Defender comes with all the essential features, but Avast's security products – especially the high-end ones – have all the advanced features and utilities you can expect to find in modern antivirus suites.
2. Malware Protection
Winner: Tie. Both software are neck and neck in terms of malware protection, as evidenced by two different independent evaluations.
3. System Performance
Winner: Avast. Independent tests show that Avast is exceptional in terms of impact on system performance, whereas Windows Defender failed one key performance test.
4. User-Friendliness
Winner: Avast. Avast's interface is intuitive and straightforward; everything can be accomplished with just a few clicks. Windows Defender's interface could be improved.
5. Pricing
Winner: N/A. Since Windows Defender doesn't have a paid upgrade, so there's no comparison between both software in this category.
Short Verdict
Independent tests prove that both software provide excellent anti-malware security, but Avast is better than Windows Defender in terms of the impact on system performance. Avast is the overall winner as it offers more security-enhancing features and utilities in its security suites than Windows Defender.
Best Antivirus for 2021
---
#1 (Excellent)

Robust feature-set
Excellent anti-malware security
Minimal system impact
Easy-to-use interface
Automatic updates
Trusted by 50 million users
100% virus protection promise
60-day money-back guarantee
70% off
#2 (Very Good)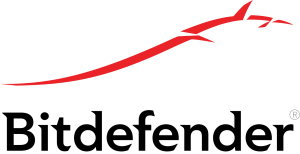 Exceptional malware protection
Little impact on performance
Trusted by millions of users
30-day money-back guarantee
User-friendly interface
50% off
#3 (Very Good)
Good malware protection
Trusted by big corporations
Minimal impact on performance
Good value for money
30-day risk-free guarantee
40% off
Now, let's go into the details.
1. Features
One of the best ways that we can distinguish antivirus software from each other is by looking at the features and utilities included with each package on offer.
First, let's see what's included in Windows Defender.
Windows Defender comes built-in on almost all PCs that run on Windows operating system. You can't uninstall or remove the software, unfortunately, but it automatically turns off when you install a third-party antivirus program.
The best feature included in Windows Defender is the firewall that keeps your computer secure against malicious traffic. It maintains a watchful eye on all the incoming and outgoing network connections and denies unauthorized access.
Like most antivirus software, the software has a signature-based scanner that regularly checks for all sorts of digital threats. The software's definitions (or signatures) are routinely updated to provide immediate protection against new and emerging threats — thanks to Microsoft's cloud-based malware database.
Also, there's the Find My Device function that lets you track down your computer if it's been lost or stolen; this is particularly useful for laptops. You can also erase your data or lock your computer if you think that your sensitive data is in danger of being stolen.
Further included with Windows Defender is a suite of parental controls. You can use it to monitor the web activity of your children, restrict screen time with automatic timers, and block your kids from visiting certain sites or apps that are not appropriate for their age.
Now, let's take a look at what Avast offers.
Avast offers different products for Windows and macOS. We'll cover the Windows-only products first.
Avast Free Antivirus is the first product offered by the company. This suite protects against different types of digital threats, but you will not find any advanced security-enhancing features or utilities jammed into the suite. The freeware is better than having no protection at all, but Avast's premium options are far more superior.
Next up is Avast Internet Security, the company's first premium offering. This suite offers comprehensive anti-malware protection, plus an excellent firewall that is capable of protecting you from all sorts of threats and a junk email filter; this will keep your inbox neat and tidy and help you avoid having to wade through annoying spam and phishing emails.
Another useful addition in the Internet Security package is the Sandbox Mode. This feature allows you to run suspicious files or apps in a secure environment, without putting the health of your computer in jeopardy. The Real Site feature that prevents fake DNS routing from taking place is there as well.
Another level up is Avast Premier. This package includes everything that's jammed into the Internet Security suite, plus you get a file shredder utility; this allows you to permanently delete any sensitive files that you don't want to risk being taken by a hacker. Webcam protection software that stops people from spying on you through your webcam is also part of this suite.
Finally, there's Avast Ultimate – the all-inclusive premium offering from the company. This comes with everything found in the previous suites, plus a full-blown password manager that allows you to store all your passwords in a digital vault, a VPN utility that lets you anonymously access content that is restricted in your geographic area.
The Ultimate suite also comes with the useful Cleanup Premium utility that cleans junk files, optimizes the performance of your PC, and fix annoying problems.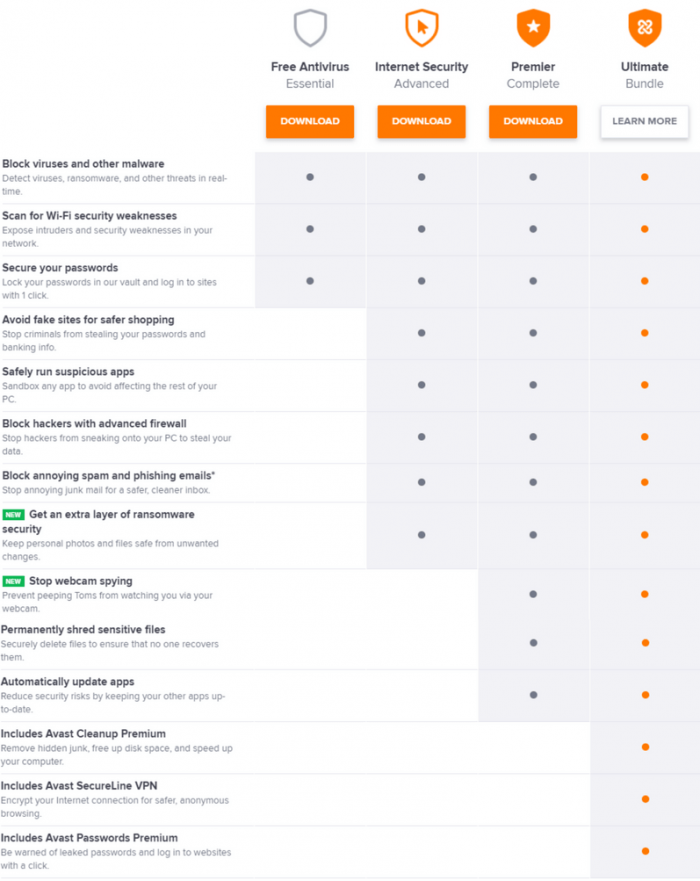 For macOS, the company offers Avast Security for Mac. It comes in two versions: Free and Premium. The freeware provides anti-malware protection, along with web and email protection and WiFi network protection, while the Premium version takes things to another level by adding several advanced features and tools, such as multi-layered ransomware protection and the WiFi intruder alert feature.
If you're interested in Avast's business-specific products, click here for more information.
Winner: Avast. Avast offers more security-enhancing features and utilities than Windows Defender.
2. Malware Protection
Malware defense is critical when it comes to antivirus software. After all, it's the reason why antivirus software exists!
Let's examine the recent lab evaluations conducted by AV-Test and AV-Comparatives to see which software has better anti-malware capabilities.
AV-Test's recent evaluations were held in April 2019. During the evaluations, all antivirus software were tested in three different categories: Protection, Performance, and Usability.
In the Protection test, Windows Defender scored a perfect 6 out of 6, showing excellent anti-malware capabilities.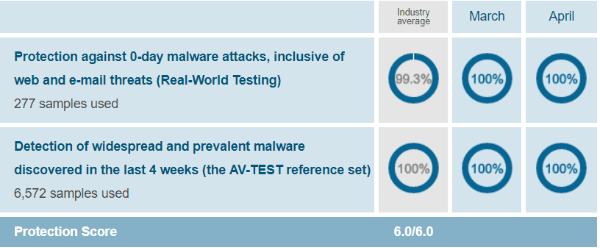 Avast scored a 5.5 out of 6 in the test, which is still a good score.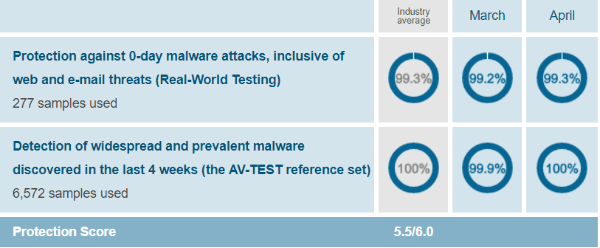 AV-Comparatives is another independent organization that regularly run several excellent tests to evaluate the performance of different antivirus software. In their recent Real-World tests, both Windows Defender and Avast earned the second-best ADVANCED award, which represents good overall performance against all sorts of malware. Bitdefender and Kaspersky were among the products that got the highest ADVANCED+ award in the test.
Winner: Tie. It's a tie in this category as both software have comparable results from two independent sources.
3. System Performance
Any antivirus software that slows your computer down isn't worth your money. Good antivirus software provide excellent malware protection without putting a significant impact on system performance.
Again, we'll examine the recent lab tests conducted by independent labs to see how much impact both Windows Defender and Avast put on system performance.
In the AV-Test's April 2019 evaluations, Windows Defender scored a 5.5 out of 6 in the Performance category.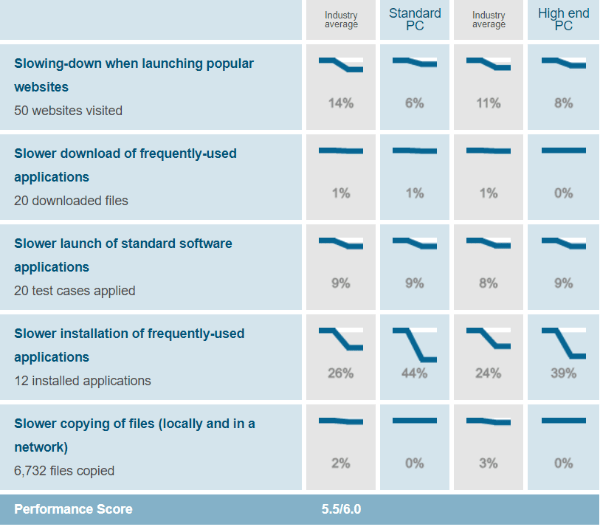 Avast scored a perfect 6 out of 6 score in the same evaluation.
In the recent performance evaluation conducted by AV-Comparatives, Avast earned the highest ADVANCED+ award, due to its exceptional impact score. On the other hand, Windows Defender's performance was extremely disappointing; it came last among the 16 products that participated in the test and received the STANDARD award, which is the lowest possible award offered by the company.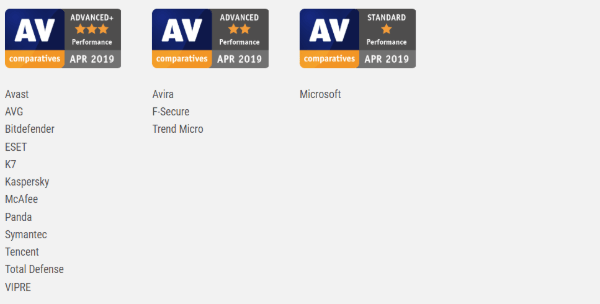 Winner: Avast. Independent evaluations confirm that Avast is better than Windows Defender in terms of the impact on system performance.
4. User-Friendliness
Another important aspect that we can look at is user-friendliness. Let's directly compare both software's user interfaces and see which one is better.
Windows Defender has a simple, minimalistic visual aesthetic. Opening the software requires several clicks; you have to jump through several hoops before you can reach the Windows Security Center, which is the primary dashboard for controlling the software's features and operations.
The interface is neat and clean, and everything is laid out well. The left-hand grouping allows you to reach various modules and operations.
There's no option to schedule scans, which may be frustrating for some people, but you can run different types of scans.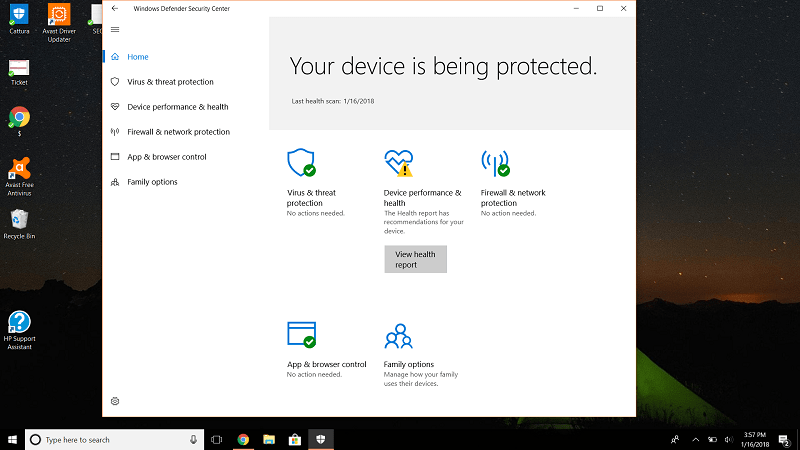 Avast's interface is simple and intuitive, dominated by dark colors. Even those who aren't computer literate will be able to effectively utilize everything that Avast has to offer.
When you open the software, you'll probably see a large green checkmark in the center, which indicates that everything is okay. The checkmark will change to a red exclamation point if there's something wrong. Beneath the indicator icon is a quick scan button that allows you to immediately begin a smart scan of your computer.
The left-hand rail organizes all the major features and into four self-explanatory categories: Status, Privacy, Protection, and Performance. All the major features of the software are just a few clicks away from the main screen.
In addition, there are customization options available if you like to fine-tune your experience. For instance, you can schedule scans to work around your schedule or lower the number of automatic scans to free up processing speed for other tasks.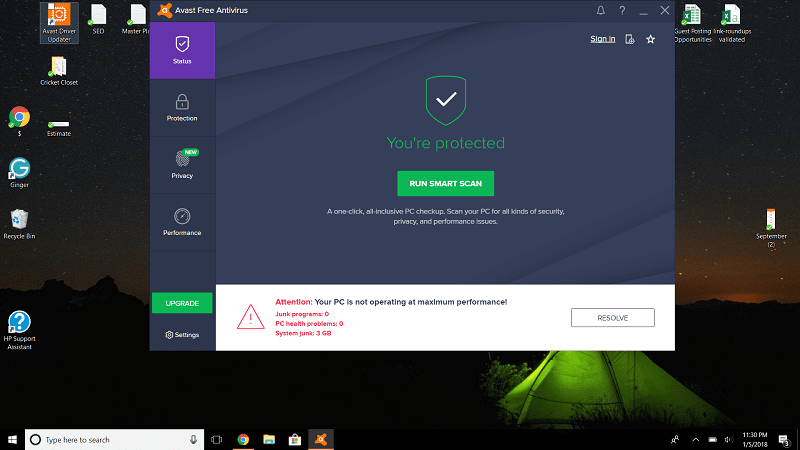 Winner: Avast. Overall, Avast's interface provides a better user experience than Windows Defender's.
5. Pricing
Avast offers a full suite of antivirus products, including a limited freemium option, while Windows Defender is a free program with no paid-for upgrades. So, there's no real comparison between both software in this category.
Avast Free antivirus is just like Windows Defender in that it doesn't cost you a penny. However, this freemium software offers minimal value. Avast Internet Security, the company's first premium offering, costs $59.99 per year for one PC. Avast Premium, the next step up, costs $69.99 per year for one PC license. Avast Ultimate, the highest tier of protection from Avast, also gives you one PC license for $119.99 per year.
| Avast Products | Regular Price | Discounted Price |
| --- | --- | --- |
| Avast Internet Security | $47.99/year | Check here |
| Avast Premium Security (1 Device) | $69.99/year | Check here |
| Avast Premium Security (Multi-Device) | $89.99/year | Check here |
| Avast Ultimate | $99.99/year | Check here |
| Avast Business Antivirus | Varies | Check here |
Winner: N/A. There's no comparison between both Avast and Windows Defender in this category.
The Verdict
The main difference is that Avast offers better malware protection than Windows Defender — without putting a burden on system performance. Avast offers a free antivirus product as well as several premium products at different price points whereas Windows Defender is completely free.
Our recommendations: If you want to get the highest level of security and performance, there's no better choice than Norton, which protects over 50 million users worldwide.
After reviewing dozens of antivirus products from some of the biggest names in the cybersecurity realm, we believe that Norton 360 Deluxe is the best antivirus suite available on the market. It provides flawless anti-malware protection without slowing you down. Plus, you get almost all the advanced features you could ever want.
If you're willing to pay more for advanced identity protection features, we recommend Norton 360 with LifeLock select (only available in the US). It's a bit pricey but worth the price.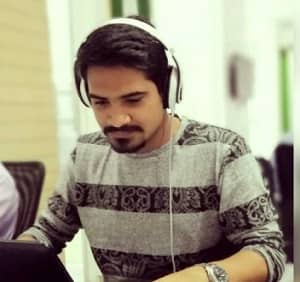 Anas Baig is a consumer privacy advocate and cybersecurity journalist by profession. Has has more than 7 years of professional experience under his belt. Anas has been featured on numerous media publications including The Guardian, Lifehacker, The Next Web, Infosecurity Magazine, Security Boulevard, Hacker Noon, CMS Wire, IAPP, SC Magazine, and many others. His interest includes Digital Privacy Rights, Information Security, Networking, Privacy, and Data Protection.
My Contributions: 
Hacker Noon | TheNextWeb | DevOps.com | GlobalSign | CMS Wire | CSO | Tech.co | Security Boulevard | ITProPortal | MuckRack | Crunchbase