(Last updated on January 8th, 2021)
Norton or Avast, which antivirus software is a better choice in 2021?
Read this data-driven Norton versus Avast comparison to make a smart decision.
Malicious threats are on the rise, infecting more devices than ever before. Cybersecurity Ventures predicts that cybercrime damages will cost the world $6 trillion annually by 2021 – more than the damage inflicted from natural disasters in a year, and more profitable than the global trade of all major illegal drugs combined.
Similarly, the Malwarebytes' 2020 State of Malware Report reveals that the sophistication of threat capabilities increased in 2019, with many using exploits, credential-stealing tools, and multi-stage attacks involving mass infections of a target.
These stats imply that your online data is worth more than illegal drugs, and you can't secure it if your devices are not well protected.
The good news is that antivirus companies are introducing new products with advanced features and tools to deal with newly emerging cybersecurity issues.
For instance, features like AI threat detection, ransomware protection, microphone and webcam protection, parental controls, password manager, VPN and file shredder are some of the tools that help you give round-the-clock protection.
However, features like these only come with premium antivirus suites. Free antivirus programs are good for basic malware protection, but with their limited feature sets they can only deal with the tip of the iceberg.
Therefore, going for a paid security suite can save you from a lot of trouble and give you complete peace of mind.
So now that you are aware of the importance of a reliable antivirus program, the question is: Which antivirus is best for PCs, Macs and mobile phones?
In our in-depth comparisons, we try to answer exactly the same question. We compare famous antivirus brands like Bitdefender, McAfee, Kaspersky, Avast, Norton, etc. and lets you know which of them is better than the rest in different categories, such as features, malware protection and pricing.
Best Antivirus Suite for 2020
60-day money-back guarantee
During the past few months, we have ranked, rated, and reviewed 40 premium antivirus suites from the biggest names in cybersecurity. We did this so you can confidently choose the best antivirus software to protect yourself and your family.
Right now, we think that
Norton
is the best antivirus software your money can buy. It regularly earns perfect or near-perfect scores from independent labs and has the least impact on system performance compared to rival products. Its products combine top-notch security with an array of excellent security features and, best of all, offer exceptional value for money.
Overall,
Norton 360 Deluxe
(currently at
70% off
) is our pick for the best antivirus suite in 2020. It is competitively priced and comes with almost everything you could possibly ask for, such as a firewall, a fully integrated VPN, dark web monitoring, cloud backup storage (50GB), a password manager, and parental controls. You can cover up to 5 PCs, Macs, smartphones or tablets with this suite.
If you want full-on identity protection and don't mind paying more,
Norton 360 with LifeLock Select
(currently at
35% off
) gives those in the US a full range of identity protection features, more backup space (100GB), as well as all the above.
In this comprehensive guide, we are going to compare two big names in the world of antivirus, i.e. Norton and Avast.
In a rush? Take a look at the rundown below to find out which software wins in each category..
A Quick Rundown of Winners in Each Category
1. Features
Winner: Norton. Both Avast and Norton offer impressive feature-sets as part of their security suites, but Norton has an edge in this category.
2. Malware Protection
Winner: Tie. Norton performed slightly better than Avast in recent independent anti-malware tests.
3. System Performance
Winner: Tie. Both companies performed equally well when it came to the impact they put on computer performance; both software received perfect scores in two different performance evaluations.
4. User-Friendliness
Winner: Tie. Both software's interfaces are user-friendly and intuitive.
5. Pricing
Winner: Norton. You can get more licenses for less money through Norton.
6. Customer Satisfaction
Winner: Tie. Both antivirus products have comparable customer satisfaction ratings.
The Verdict
The bottom line is that both Norton and Avast are excellent antivirus software, but when you consider price, interface, performance, and protection we're putting Norton ahead of Avast. The latter is great for extra features, and protection is equal to Norton, but the price makes it less of a value.
Best Antivirus for 2021
---
#1 (Excellent)

Robust feature-set
Excellent anti-malware security
Minimal system impact
Easy-to-use interface
Automatic updates
Trusted by 50 million users
100% virus protection promise
60-day money-back guarantee
70% off
#2 (Very Good)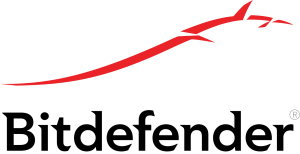 Exceptional malware protection
Little impact on performance
Trusted by millions of users
30-day money-back guarantee
User-friendly interface
50% off
#3 (Very Good)
Good malware protection
Trusted by big corporations
Minimal impact on performance
Good value for money
30-day risk-free guarantee
40% off
1. Features
The best antivirus suites come with all advanced features and utilities that not only bolster your digital security but also promote extra value.
First, let's see what features Norton offer in its security suites.
Norton AntiVirus Plus is the entry-level suite offered by the company. This software provides excellent protection against all sorts of malware, plus there's a smart firewall that protects your computer against unauthorized access and monitors your network against intrusions.
A full-blown password manager is also jammed into the suite; this allows you to store and organize your passwords, credit card details, and securely store other confidential information.
This suite allows you to protect 1 device (either a PC or a Mac), but you can add more devices.
Next up is Norton 360 Standard. It's the company's flagship product and offers one universal license that can be used to protect 1 PC and 1 Mac or mobile or tablet.
The 360 Standard suite offers everything that comes with the previous suite, along with 10 gigabytes of cloud data storage and the SecureVPN tool that protects your sensitive information when you are on public or shared WiFi networks. The SafeCam utility is also jammed into the suite; this utility blocks unauthorized webcam access and prevents hackers from spying on you.
Dark web monitoring features are included in the suite as well; these module monitors your personal information and alerts you if it is being used by someone else.
Next up is Norton 360 Deluxe. This suite has everything that comes with the previous suites, plus you get 50 gigabytes of cloud storage and protection for up to 5 PCs, Mac, and smartphones with a single license. There's also a parental control module that could be very useful if you have children. It's a good product if you want to get protection for all your family devices.
Finally, there's Norton 360 Deluxe with LifeLock Select – the company's top-tier antivirus suite. This package includes all the advanced features and utilities we discussed above, plus you get a full suite of identity & theft protection tools. These include dark web monitoring features, a finance protection scanner, a credit monitoring suite, and the LifeLock Identity Alert System.
These features will tell you if your personal information is being used in ways or patterns that don't match up with your previous actions; this is a great way to know if you're information is potentially being stolen by an identity thief. The credit monitoring tool keeps track of your credit score and lets you know if it suddenly drops, as this is a common sign of identity theft.
As part of this suite, you also get the Million Dollar Protection Package from Norton; if you become a victim of identity theft, you will be covered for the expenses you incur and money stolen as a result of the crime, but only up to a specific limit.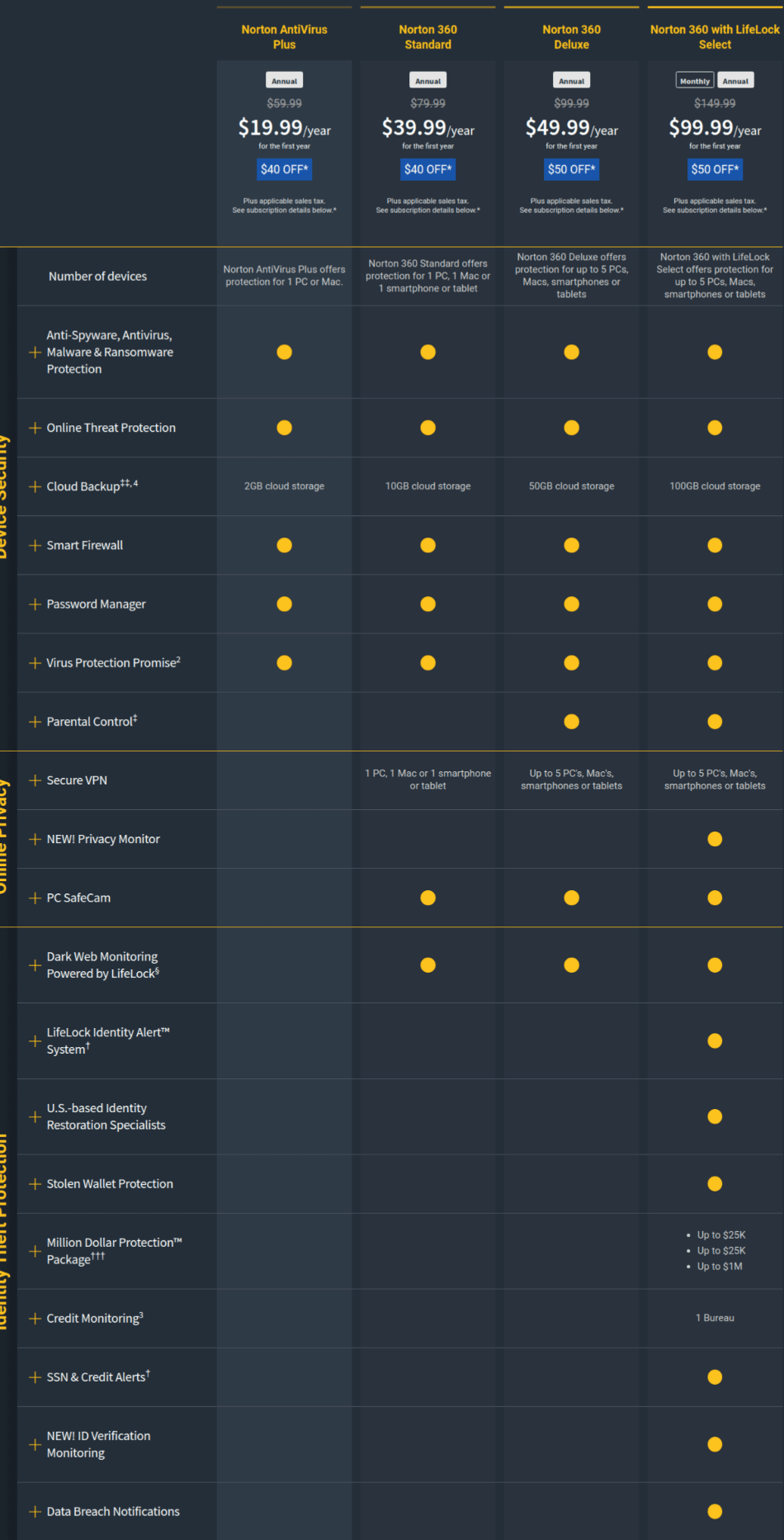 If you're interested in Norton's business-specific security products, click here for more details.
Now, let's see how Avast compares to Norton in terms of features.
Unlike Norton, Avast offers separate products for Windows and macOS. First, we'll cover the Windows-only products.
Avast Free Antivirus is the first security software that you can get from the company. You don't have to pay anything to use it, of course, but it doesn't offer much value in terms of advanced features and utilities; all advanced features and options are locked in the software. But the freeware does offer protection against different types of digital threats.
Next up is Avast Internet Security, another Windows-only suite. This suite offers excellent protection against all sorts of malware, along with a bunch of advanced features and tools that make it worthwhile. These include a smart firewall, the Anti-Spam utility, and the WiFi Inspector utility (protects your network against hackers and intruders).
The Sandbox mode feature allows you to run potentially dangerous files in a secure environment, without having to risk the rest of your computer to a malware infection.
The Real Site utility that guards against DNS hijacking and rerouting is also part of the software, along with a password manager and an email filter.
Another level up is Avast Premier. This suite offers all the features and utilities that come with the previous suites, plus some extra perks. These perks include a webcam shield that prevents hackers from spying on you, the Data Shredder utility that permanently shreds any sensitive files that you don't want to be recovered after deletion, and the Software Updater tool (automatically updates all the software and makes you less vulnerable to attacks).
Finally, there's Avast Ultimate — the top-tier package offered by Avast. It comes with everything that comes with the Premier suite, plus you get the useful SecureLine VPN tool that lets you surf the Internet anonymously and access restricted content. Avast Cleanup utility, which is a great tool that will significantly improve the performance of your PC, is also part of the Ultimate suite.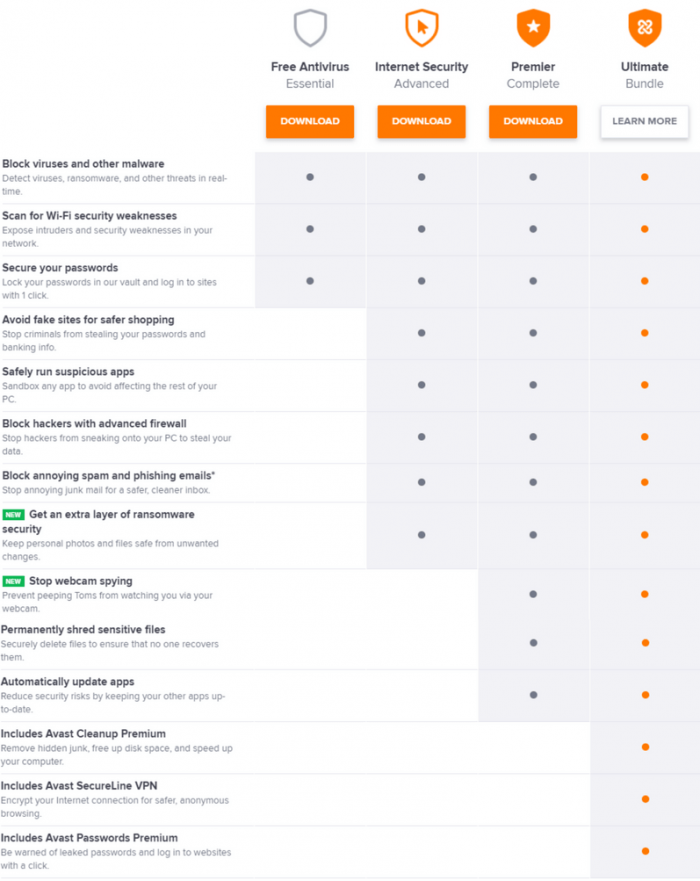 For Macs, there's Avast Security for Mac. It comes in two versions, Free and Premium. The freeware only offers essential malware protection, while the Premium version has several advanced features and utilities that make it a worthwhile option, such as the WiFi Inspector and multi-layered ransomware protection.
Winner: Norton. Both Norton and Avast offer a comprehensive lineup of features as part of their security suites, but Norton's offerings are more useful in today's day and age.
2. Malware Protection
Protecting your device against all sorts of malware attacks is one of the primary responsibilities of an antivirus suite.
Let's see which among Norton and Avast takes a lead in this department. In this regard, we are going to gather findings from the two best testing organizations: AV-Test and AV-Comparatives.
Germany-based AV-Test Institute conducts its malware protection test every two months and evaluates how well an antivirus suite actually protects against real malware threats, such as viruses, worms and Trojan horses.
In the latest Protection test conducted in March-April 2020, the AV-Test lab awarded Norton with a perfect 6 out of 6 score, which shows Norton's powerful malware protection capabilities.
Avast was not far behind with a score of 5.5 out of 6.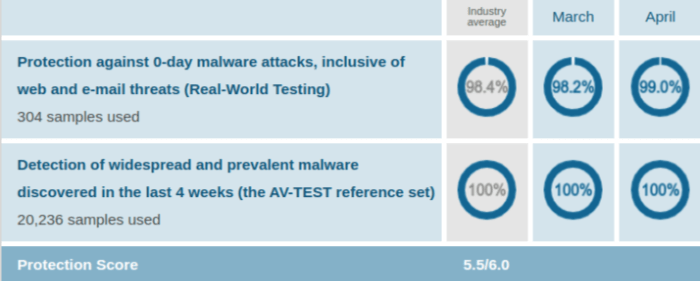 Similarly, we have also collected results from Austria-based lab AV-Comparatives, which conducts two kinds of malware tests, including the Real-World Protection Test (web-based) and Malware Protection Test (system-based).
AV-Comparative conducted its Real-World Protection Test recently in February-May 2020. According to the results, Avast notched the maximum ADVANCED+ (3-star) award, whereas Norton received the ADVANCED (2-star) award.
However, in the Malware Protection Test, which was carried out in March 2020, both Norton and Avast received the ADVANCED (2-star) award owing to false alarms.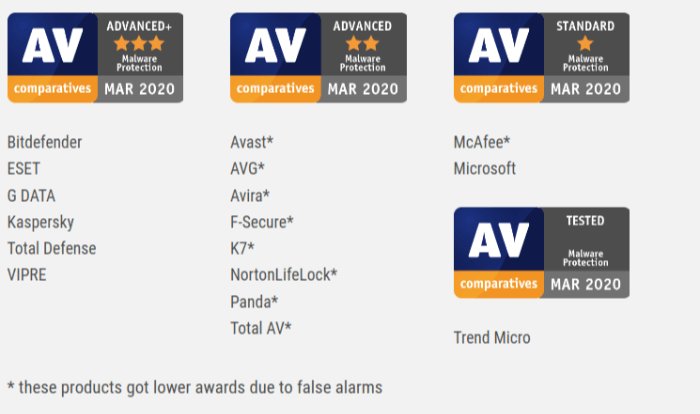 Winner: Tie. It's a close call and it's difficult to declare a winner in this category, as both Norton and Avast achieved the highest possible score in at least one test while the third test ended in a tie.
3. System Performance
A good antivirus program doesn't slow down your computer while performing scan and other functions. Let's see which among the two brands puts less impact on system performance.
Again, we will take help from AV-Test and AV-Comparatives to find out the winner.
In the AV-Test's April 2020 Performance Test, both Norton and Avast received a score of 5.5 out of 6, indicating that both companies offer products that put a minimal impact on your devices.
Norton: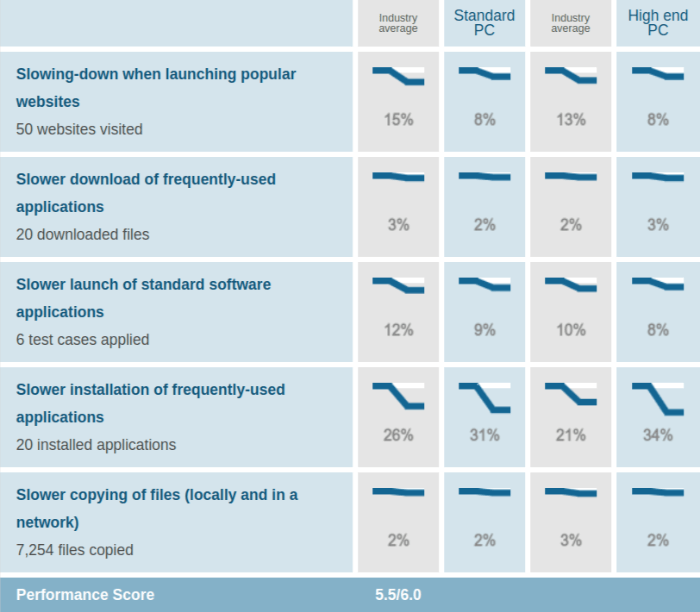 Avast: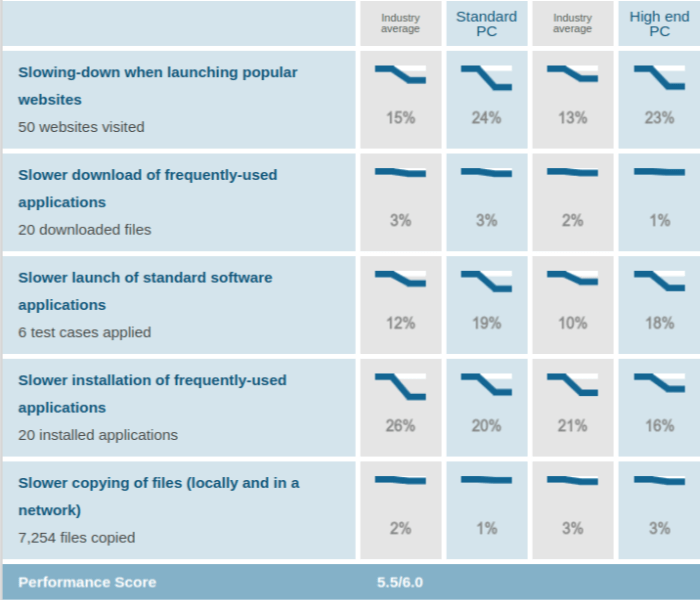 Now take a look at AV-Comparatives' Performance Test, conducted in April 2020. Here, both Norton and Avast got the second-highest ADVANCED award (2 stars).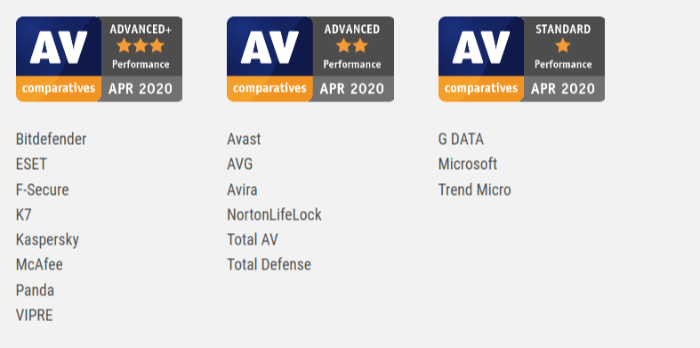 Winner: Tie. Both companies performed equally well in the first independent performance evaluation, but their scores were not up to the mark in the second test. It's safe to assume that both antivirus products do put some influence on system performance.
4. User-Friendliness
The user interface of an antivirus program should be intuitive and easy-to-use for everyone, including people who aren't proficient in computer use.
First, let's examine Norton's user interface.
Norton's user interface is sleek and simple; it's also universal in nature, so there isn't much difference between the desktop and mobile views. On the main view, there's a big green check mark that lets you know if everything is okay. The checkmark will turn into a warning sign if there's an issue and your attention is required.
The Quick Scan button on the main window allows you to initiate a scan with just one click. The time and date of your last scan is also there on the screen, as well as information regarding licenses and software updates.
At the bottom, there're five rectangular tiles that can be used to access all the advanced features and options of the software. The links to Settings and Help pages are placed in the top bar.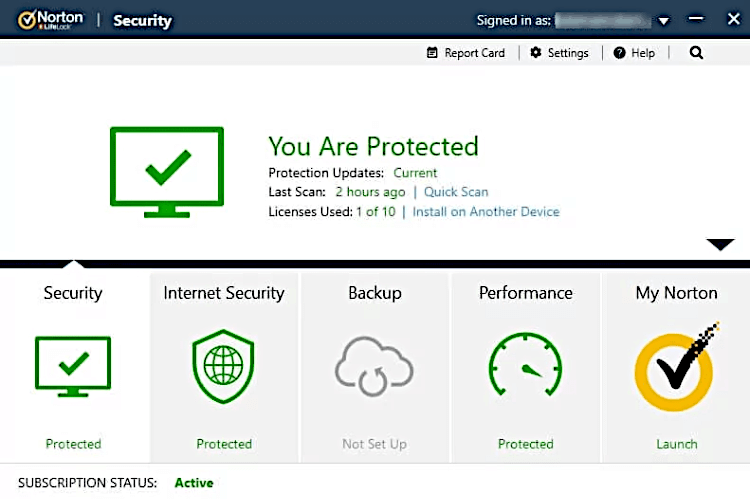 Now, let's see what Avast's interface looks like in comparison.
Avast's dark, modern-styled interface is intuitive and straightforward. If everything is okay, there will be a green checkmark in the center of the main. The checkmark will change to warning sign if there's something wrong with your security. There's also a button that lets you run a smart scan.
On the left side, there are four main categories that contain all the features and tools of the software. You can access all the major features and functions with just a few clicks.
Winner: Tie. Both user interfaces are intuitive and user-friendly.
5. Pricing
Pricing has the power to generate good results for the company in the marketplace. Let's see which among the Norton and Avast has a more convincing pricing structure.
Let's begin with Norton pricing.
Norton Antivirus Plus, the company's initial paid product, comes at $19.99/year and protects 1 PC or Mac. The comprehensive product Norton 360 Standard costs $39.99/year, which safeguards 1 PC, 1 Mac or 1 smartphone or tablet, while Norton 360 Deluxe costs $49.99 per year for 5 devices and Norton 360 Premium charges $59.99 per year and protects up to 10 devices.
Another best-selling product of the company is Norton 360 with LifeLock, which has three packages: Norton 360 with LifeLock Select costs $99.99 per year for up to 5 devices, Norton 360 with LifeLock Advantage costs $199.99 per year for up to 10 devices and Norton 360 with LifeLock Ultimate Plus costs $299.99 per year and offers protection for unlimited devices.
| Norton Products | Regular Price | Discounted Price |
| --- | --- | --- |
| Norton Antivirus Plus | $59.99/year | Check here |
| Norton 360 Standard | $79.99/year | Check here |
| Norton 360 Deluxe | $99.99/year | Check here |
| Norton 360 with Lifelock Select | $149.99/year | Check here |
| Norton 360 with Utimate Plus | $349.99/year | Check here |
| Norton Small Business Security | Varies | Check here |
Now, let's see how Avast pricing compares.
The company's paid products start with Avast Internet Security, which costs $30 per year for 1 device and $179.99 per year for 10 devices. Similarly, Avast Premier costs $35 per year for 1 device and $219.99 for 10 devices.
Avast Premium Security (single-device) comes at $69.99 per year for single license, whereas Avast Premium Security (multiple-device) prices $89.99 per year for 10 devices.
Avast Ultimate, the company's all-in-one product, costs $99.99/year for one device and $119.99 for 10 devices.
Winner: Norton. Norton has a better pricing structure and gives you more licenses for less money, providing great value for money.
6. Customer Satisfaction
One final aspect we will consider is customer satisfaction.
Consumeraffairs.org is a great resource to see what the actual customers of both companies think of their products and services. The site collects genuine user reviews and averages them out into a 1 to 5-star score. Norton has a 1-star rating from this resource, indicating low levels of user satisfaction and poor customer service. Avast has a 3-star rating, which is an average score.
Let's also check out the Better Business Bureau (BBB), which is another well-known review collection site. Both Norton and Avast have an A+ rating on the BBB, which is an excellent score.
Winner: Tie. Both Avast and Norton have comparable scores in this category.
Final Thoughts
Our recommendations: If you want to get the highest level of security and performance, there's no better choice than Norton, which protects over 50 million users worldwide.
After reviewing dozens of antivirus products from some of the biggest names in the cybersecurity realm, we believe that Norton 360 Deluxe is the best antivirus suite available on the market. It provides flawless anti-malware protection without slowing you down. Plus, you get almost all the advanced features you could ever want.
If you're willing to pay more for advanced identity protection features, we recommend Norton 360 with LifeLock select (only available in the US). It's a bit pricey but worth the price.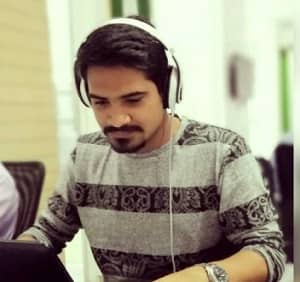 Anas Baig is a consumer privacy advocate and cybersecurity journalist by profession. Has has more than 7 years of professional experience under his belt. Anas has been featured on numerous media publications including The Guardian, Lifehacker, The Next Web, Infosecurity Magazine, Security Boulevard, Hacker Noon, CMS Wire, IAPP, SC Magazine, and many others. His interest includes Digital Privacy Rights, Information Security, Networking, Privacy, and Data Protection.
My Contributions: 
Hacker Noon | TheNextWeb | DevOps.com | GlobalSign | CMS Wire | CSO | Tech.co | Security Boulevard | ITProPortal | MuckRack | Crunchbase