(Last updated on January 9th, 2023)
Sophos or Norton, which antivirus software is a better option in 2023?
Read this ultimate Sophos versus Norton comparison to make a smart decision.
As the number of malware threats continues to go north with each passing day, everyone wants to safeguard their personal information and financial data. However, the harsh reality is that you can't do this on your own.
To protect your data, you must need safe hands that deal with bad guys to keep them away from accessing your confidential information and invading privacy.
Today, we are more vulnerable than ever as we continue to give our personal information and stuff like photos, bank details, sensitive documents, credit card numbers, etc. to dozens of websites. If hackers somehow lay their hands on this private information of ours, we will be in serious trouble.
According to SonicWall's latest mid-year report, the global malware volume was recorded at nearly 4.8 billion during the first six months of 2019.
Apart from this, 2 trillion intrusion attempts, 110.9 million ransomware attacks and 13.5 million attacks targeting Internet of Things (IoT) devices were also registered.
These stats might leave you in a state of shock, and you may now be thinking that it's impossible to keep yourself safe from digital threats these days. Well, you would be right if antivirus programs didn't exist.
An excellent antivirus suite not only protects your data and privacy, but it also comes with many advanced tools and utilities.
When it comes to choosing a security product for your PC, there are a lot of companies that offer free antivirus packages. However, such freeware lacks advanced features – such as a password manager, VPN, parental controls, file encryption, etc. – that go beyond malware protection.
Only a premium antivirus program can give you peace of mind by protecting your private data and financial details.
Best Antivirus Suite for 2021
60-day money-back guarantee
During the past few months, we have ranked, rated, and reviewed 40 premium antivirus suites from the biggest names in cybersecurity. We did this so you can confidently choose the best antivirus software to protect yourself and your family.
Right now, we think that
Norton
is the best antivirus software your money can buy. It regularly earns perfect or near-perfect scores from independent labs and has the least impact on system performance compared to rival products. Its products combine top-notch security with an array of excellent security features and, best of all, offer exceptional value for money.
Overall,
Norton 360 Deluxe
(currently at
70% off
) is our pick for the best antivirus suite in 2021. It is competitively priced and comes with almost everything you could possibly ask for, such as a firewall, a fully integrated VPN, dark web monitoring, cloud backup storage (50GB), a password manager, and parental controls. You can cover up to 5 PCs, Macs, smartphones or tablets with this suite.
If you want full-on identity protection and don't mind paying more,
Norton 360 with LifeLock Select
(currently at
35% off
) gives those in the US a full range of identity protection features, more backup space (100GB), as well as all the above.
In this comprehensive article, we are going to compare Sophos and Norton in six different categories to see which of them gives more bang for your buck.
In a hurry? Take a quick look at the section below that summarizes the whole comparison.
A Quick Rundown of Winners in Each Category
1. Features
Winner: Norton. A diverse range of features helps Norton emerge as the victor in this category.
2. Malware Protection
Winner: Norton. Norton put in an excellent performance in independent lab tests, whereas Sophos didn't participate.
3. System Performance
Winner: Norton. Norton achieved perfect scores in independent antivirus evaluations.
4. User-Friendliness
Winner: Norton. Norton's intuitive and user-friendly interface makes it the winner of this category.
5. Pricing
Winner: Sophos. Sophos flagship premium package for home users is quite reasonably priced when compared with Norton's antivirus suites.
6. Customer Satisfaction
Winner: Norton. Norton wins this category by achieving a perfect rating by one of the two independent sources.
Short Verdict
Norton is the overall winner as it offers more security-enhancing features and utilities in its security products than Sophos. Also, independent tests show that Norton is better than Sophos in terms of both malware detection and the impact on system performance.
1. Features
The best antivirus program is one that offers all necessary and advanced features. It's kind of obvious that you will prefer a security product that offers advanced features and fulfills all your modern-day protection needs. Let's see how Sophos and Norton fare in this category.
First, let's see what Sophos brings to the table.
The company's free edition, the Sophos Home Free suite, offers real-time malware protection and web protection, but it lacks some handy features that are required for complete protection of your data and privacy.
Therefore, if you want to go for Sophos, you should try Sophos Home Premium, which is the company's only paid offering for home users. The suite's salient features are given below:
Real-time protection to block all kinds of malware threats.
Ransomware protection that stops hackers from encrypting your personal information and stuff like photos and videos and then demanding ransom for unlocking these files.
A tool that offers protection against webcam and keystrokes hijacking.
A safe browsing tool that protects you from phishing websites.
A scanner that detects and removes any sorts of malware and spyware.
Premium customer support.
Let's see what Norton has in comparison.
The company's first product is Norton AntiVirus Plus, which comes with the following features:
A protection tool that prevents ransomware, spyware, viruses and other types of malware from affecting your PC.
Online threat protection that keeps away bad guys from stealing your personal information.
2GB automatic cloud backup.
A smart firewall that protects your data by keeping an eye on network traffic.
Norton LifeLock offers a money-back guarantee in case your antivirus suite can't remove a virus.
A single license covers 1 PC or Mac.
The company's next tier is Norton 360 Standard. Besides all the features mentioned above, this antivirus package further includes:
A password manager that keeps all your passwords safe and lets you manage all your logins through a single master password.
Norton's SafeCam protection to prevent anyone from taking control of your webcam.
10GB automatic cloud backup.
A limited VPN that encrypts your Internet connection, thus protecting you from attacks when you use public or shared Wi-Fi network.
A single license covers 1 PC, 1 Mac or 1 smartphone or tablet.
Next up is the Norton 360 Deluxe suite, which offers everything mentioned above along with some additional features like:
Norton Family Premier, a parental control suite that keeps tracking your kids' online activities.
The antivirus suite package includes 50GB cloud storage.
A secure VPN for up to 5 PCs, Macs, smartphones or tablets.
Next up is the company's most comprehensive tier, Norton 360 Deluxe with LifeLock Select, which comes with useful advanced features, including:
The Identity Alert System that notifies you (via text, phone, email or mobile app) in case someone is using your identity.
The Lost Wallet Protection feature that helps you cancel or replace valuable belongings like credit cards and driver's license in case your wallet is lost or stolen.
A Million Dollar Protection Package that provides cover for up to $1 million (in lawyers' and experts' fees) to help recover your stolen funds.
Data breach notifications that alert you if an organization that stores your private data faces a large-scale data breach.
100GB automatic cloud backup.
If you — by any chance — are interested in Norton's business antivirus solutions, click here to check out these products.
Winner: Norton. Sophos does offer an excellent feature set, but they pale in comparison to Norton's extensive and diverse range of tools and utilities.
2. Malware Protection
An antivirus program has to provide excellent protection against all sorts of malware attacks, including viruses, Trojan horses, worms, ransomware, rootkits, spyware, etc.
But how can we tell which suite offers better malware protection? Thankfully, there are reputable independent organizations that regularly evaluate security products on different key metrics.
One such organization is the AV-Test Institute, which rates antivirus suites on a scale of 1 to 6 (with 6 being the highest score) based on three aspects: protection, performance and usability.
The German lab conducts tests every two months. In the latest AV-Test Protection evaluation, conducted in September-October 2019, Norton received a perfect 6 out of 6 score, indicating excellent anti-malware capabilities, whereas Sophos didn't participate in the test.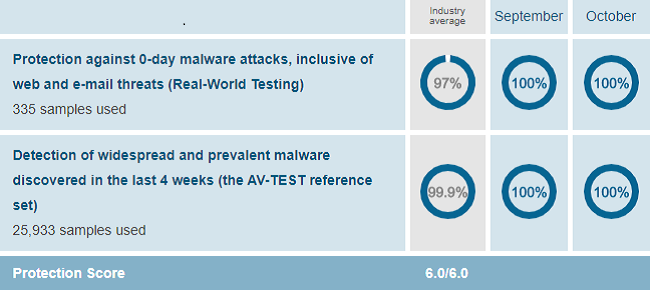 On the other hand, in the AV-Comparatives' Real-World Protection test, Norton received the second-highest 2-star ADVANCED award. Once again, Sophos didn't participate in the evaluation.
Winner: Norton. Sophos' absence from crucial independent evaluations and Norton's excellent performance indicate that Norton is far ahead of its competitor in the malware protection category.
3. System Performance
Apart from handy features and excellent malware protection, reliable antivirus software should not affect system performance while performing its operations in the background.
Let's check the same two independent security labs mentioned above – AV-Test and AV-Comparatives – to find out which antivirus suite has no or minimal impact on your computer.
According to AV-Test's latest Performance evaluation, Norton clinched 6 out of 6 score.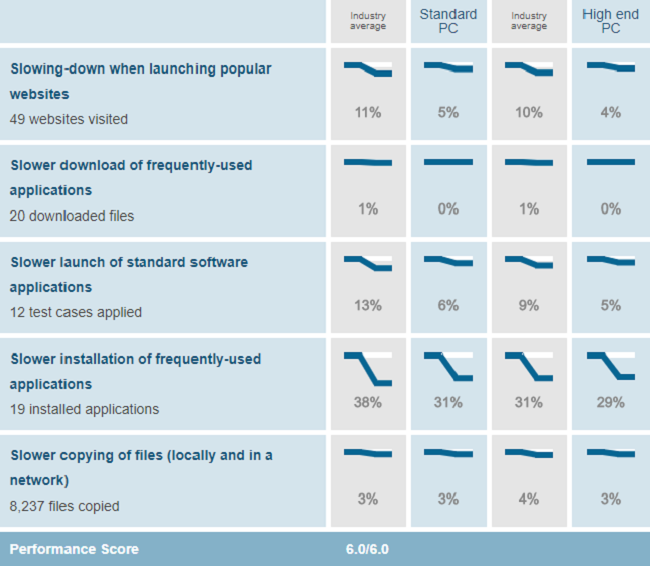 In the performance test conducted by AV-Comparatives, Norton once got the perfect result, i.e. a 3-star ADVANCED+ award, the highest rating bestowed by the testing organization.
Sophos wasn't among participants in both evaluations due to unclear reasons.
Winner: Norton. Sophos remained absent in the performance tests as well, losing ground to Norton, which notched perfect scores in both key evaluations.
4. User-Friendliness
An antivirus program having a set of useful features with excellent protection and performance capabilities also requires a friendly interface because it significantly affects the way we interact with computer software.
Let's compare the interface of Sophos and Norton to see which one is more user-friendly and easily accessible.
Let's have a look at the Sophos interface.
Sophos' interface uses blue, grey and white as its primary colors, which is both simple and pleasing to the eyes.
The dashboard displays only two options, i.e. Scan Computer and My Activity, while all other operations take place through a web-based interface.
You can access the web-based window after you type in your login credentials.
The web-based interface is extremely helpful if you want to manage the devices of your family members remotely.
Now, let's have a look at Norton's interface.
Norton uses a straightforward interface that displays all major options on your home screen.
The main dashboard shows your computer's protection status, and lets you run scans, see your license information, etc.
If you see a big green checkmark at the top of the window, it means your system is protected.
Other significant features include Identity, Backup, Performance and More Norton, whose tabs are given towards the bottom of the screen and can be expanded.
You can click on any of the above-mentioned tabs to see its options. For example, if you open the Performance feature, it will display a live count of overall Norton CPU usage and CPU system usage.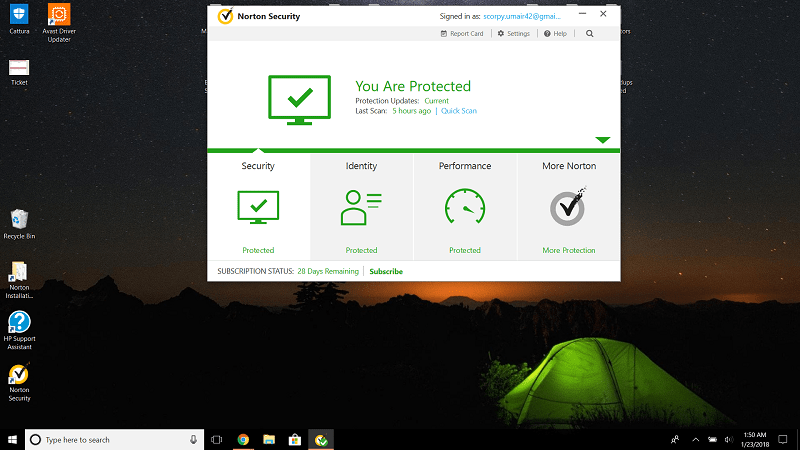 Winner: Both. Sophos' interface is sleek and straightforward, but Norton wins the battle because of its more intuitive and user-friendly interface.
5. Pricing
Pricing is considered as one of the major deal-breakers when it comes to purchasing an antivirus program. People may avoid buying an antivirus suite that has a high price, even if it offers advanced features.
Therefore, an antivirus program offering advanced features at reasonable prices attracts more people.
Let's see how Sophos and Norton fare in this category.
Sophos Home Premium comes with a price tag of $36. The best part of Sophos' only home security product is that its single license covers as many as 10 devices, which means you can protect the data and privacy of all your family members.
| Sophos Products | Regular Price | Discounted Price |
| --- | --- | --- |
| Sophos Home Premium | $42.00/year | Check here |
| Sophos Business Antivirus | $63.25/year | Check here |
Now, let's see what Norton has in comparison.
Norton Antivirus Plus, the company's entry-level package, comes in at $59.99 per year for 1 PC or Mac.
Norton 360 Standard is priced at $79.99 per year for 1 device (PC, Mac, smartphone or tablet), whereas Norton 360 Deluxe carries an annual price tag of $99.99 and covers 5 devices.
Norton 360 Deluxe with LifeLock Select costs $149.99 and gives protection to 5 devices.
| Norton Products | Regular Price | Discounted Price |
| --- | --- | --- |
| Norton Antivirus Plus | $59.99/year | Check here |
| Norton 360 Standard | $79.99/year | Check here |
| Norton 360 Deluxe | $99.99/year | Check here |
| Norton 360 with Lifelock Select | $149.99/year | Check here |
| Norton 360 with Utimate Plus | $349.99/year | Check here |
| Norton Small Business Security | Varies | Check here |
Winner: Sophos. With its only premium product costing $36 and coming with all the necessary features, Sophos clearly has the edge over Norton in the pricing section.
6. Customer Satisfaction
Before buying any antivirus program, it is necessary to find out how the company responds to consumers' complaints and how much the users are satisfied with the product.
In order to make a fair comparison, let's see how known independent user review websites rate Sophos and Norton.
The Better Business Bureau (BBB) is a reputable organization that uses an A+ to F- scale to rate antivirus vendors based on customer feedback. The BBB gives Norton an excellent A+ rating while Sophos gets an average C+ rating.
Another organization that tracks customer reviews is Consumeraffairs.org, which uses a 1- to 5-star scale to rate products. On this site, Norton gets a poor 1-star rating, whereas Sophos rating is not available, possibly due to a fewer number of reviews.
Winner: Norton. Although Norton has a poor rating from one of the two reliable sources, it does hold a perfect rating from the other source, which is why it is our winner in this category.
Final Thoughts
Norton is the overall winner of this in-depth comparison because of its exceptional performance in almost all categories. Sophos is also a good product, but its absence from key independent protection and performance evaluations does raise questions over its overall performance. The only category where Sophos is ahead of Norton is the pricing section, but again Sophos doesn't offer a lot of options to home users.
Our recommendations: If you want to get the highest level of security and performance, there's no better choice than Norton, which protects over 50 million users worldwide.
After reviewing dozens of antivirus products from some of the biggest names in the cybersecurity realm, we believe that Norton 360 Deluxe is the best antivirus suite available on the market. It provides flawless anti-malware protection without slowing you down. Plus, you get almost all the advanced features you could ever want.
If you're willing to pay more for advanced identity protection features, we recommend Norton 360 with LifeLock select (only available in the US). It's a bit pricey but worth the price.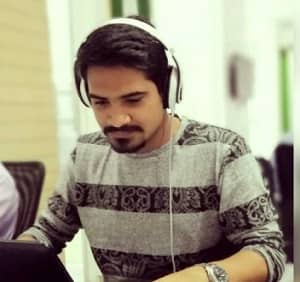 Anas Baig is a consumer privacy advocate and cybersecurity journalist by profession. Has has more than 7 years of professional experience under his belt. Anas has been featured on numerous media publications including The Guardian, Lifehacker, The Next Web, Infosecurity Magazine, Security Boulevard, Hacker Noon, CMS Wire, IAPP, SC Magazine, and many others. His interest includes Digital Privacy Rights, Information Security, Networking, Privacy, and Data Protection.
My Contributions: 
Hacker Noon | TheNextWeb | DevOps.com | GlobalSign | CMS Wire | CSO | Tech.co | Security Boulevard | ITProPortal | MuckRack | Crunchbase