(Last updated on January 9th, 2023)
Bitdefender or Norton, which antivirus program should you choose in 2023?
Read this in-depth Bitdefender versus Norton comparison to make a smart decision.
Today's digital world isn't a simple one. It's a labyrinth filled with wolves (read hackers and cybercriminals) in sheep's clothing.
Numerous threats are lurking just below the seemingly calm online surface. A careless mistake or rotten luck can land you into trouble – a really big one sometimes.
Do you know that as much as $7.5 billion was lost to ransomware attacks in 2019 in the United States alone?
More worryingly, the number of ransomware attacks jumped 62 percent to 305 million during the previous year, according to the 2021 SonicWall Cyber Threat Report.
Overall, the number of global malware volume shrank in 2020. Still, a whopping 5.6 billion malware attacks were registered during the year.
The stats clearly show that cybercriminals are churning out hundreds and thousands of digital threats by the minute. You may be lucky today, but who knows you fall victim to one of such threats in the future and end up losing important data or a lot of money.
Best Antivirus Suite for 2021
60-day money-back guarantee
During the past few months, we have ranked, rated, and reviewed 40 premium antivirus suites from the biggest names in cybersecurity. We did this so you can confidently choose the best antivirus software to protect yourself and your family.
Right now, we think that
Norton
is the best antivirus software your money can buy. It regularly earns perfect or near-perfect scores from independent labs and has the least impact on system performance compared to rival products. Its products combine top-notch security with an array of excellent security features and, best of all, offer exceptional value for money.
Overall,
Norton 360 Deluxe
(currently at
70% off
) is our pick for the best antivirus suite in 2021. It is competitively priced and comes with almost everything you could possibly ask for, such as a firewall, a fully integrated VPN, dark web monitoring, cloud backup storage (50GB), a password manager, and parental controls. You can cover up to 5 PCs, Macs, smartphones or tablets with this suite.
If you want full-on identity protection and don't mind paying more,
Norton 360 with LifeLock Select
(currently at
35% off
) gives those in the US a full range of identity protection features, more backup space (100GB), as well as all the above.
Therefore, a reliable antivirus program is no longer a luxury but a necessity. You may begin with installing a free antivirus app, which will give you a taste of online security.
However, you may soon want to go for a premium antivirus product because freeware lacks advanced features, such as ransomware protection, password manager, file shredder, anti-phishing and anti-fraud protection, parental controls, microphone and webcam protection, speed optimization, and many more tools.
We have reviewed and ranked several popular antivirus products to help you choose the best one. In this in-depth comparison, we will compare two of the top names in the industry – Bitdefender and Norton.
We will see how both antivirus suites fare in terms of features, malware protection, system performance, user-friendliness, pricing and popularity.
In a hurry? Take a look at the following section for a quick summary of the comparison and see which products wins in each category.
A Quick Rundown of the Winners in Each Category
1. Features
Winner: Norton. Bitdefender does have an impressive feature set, but Norton provides you with more advanced features with every package.
2. Malware Protection
Winner: Tie. Both Bitdefender and Norton showed excellent performance in independent malware protection evaluations.
3. System Performance
Winner: Norton. Norton performed slightly better than its competitor in recent independent performance tests.
4. User-Friendliness
Winner: Tie. Both products have straightforward and intuitive interfaces.
5. Pricing
Winner: Tie. Both antivirus brands offer equally excellent pricing options that cater to all users.
6. Customer Satisfaction
Winner: Norton. Norton enjoys a significantly larger market share than Bitdefender.
Short Verdict
Norton is the winner as it offers more security-related features and extra utilities in its products than Bitdefender. Independent lab tests prove that both software provides excellent malware protection, but Norton is slightly ahead of Bitdefender in terms of system performance.
Best Antivirus for 2023
---
#1 (Excellent)

Robust feature-set
Excellent anti-malware security
Minimal system impact
Easy-to-use interface
Automatic updates
Trusted by 50 million users
100% virus protection promise
60-day money-back guarantee
70% off
#2 (Very Good)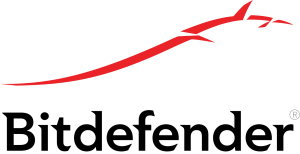 Exceptional malware protection
Little impact on performance
Trusted by millions of users
30-day money-back guarantee
User-friendly interface
50% off
#3 (Very Good)
Good malware protection
Trusted by big corporations
Minimal impact on performance
Good value for money
30-day risk-free guarantee
40% off
Let's begin with the detailed comparison…
1. Features
Bitdefender's product line starts from its free antivirus offering: Antivirus Free. The package includes real-time data protection, web attack prevention, and anti-phishing and anti-fraud protection.
However, it lacks many advanced tools that are necessary for all-round protection these days. Moreover, Bitdefender Antivirus Free only runs on Windows and doesn't support other platforms.
The first paid subscription from the company is Bitdefender Antivirus Plus 2023. This package offers excellent malware protection, a hardened browser for safe online banking, silent mode for interruption-free experience, file shredder, password manager, Wi-Fi Security Advisor, battery saver, and a vulnerability scanner to check outdated software.
Then we have Bitdefender Internet Security 2023. This offering includes all the features of the previous suite, plus a two-way firewall, microphone and webcam protection, and even parental controls. Still, the Internet Security suite doesn't support any other platform than Windows.
If you want to protect all your devices, the best option for you is Bitdefender Total Security 2023. This is not only Bitdefender's most popular security package, but it is also one of the best across the industry.
The Total Security suite protects five devices and supports all platforms, including Windows, Android, macOS and iOS. Besides, it offers some additional features like speed optimization and anti-theft tools.
If you want antivirus protection for the entire family, you can go for the Bitdefender Family Pack 2023 plan. It offers all the Total Security features and protects up to 15 devices per household.
If you want to settle for something less than the Total Security suite and owns a Mac, don't worry. Bitdefender also offers a separate product for Mac users, called Bitdefender Antivirus for Mac.
This package offers reliable malware protection and speeds up your Mac devices. It also comes with a VPN, adware blocker, ultra-fast scanning, cross-platform malware detection, etc.
Now, let's take a look at Norton's products and their features.
Unlike Bitdefender, Norton doesn't have a free version. But it does offer several premium antivirus plans.
The entry-level paid product from the company is Norton AntiVirus Plus. It offers excellent malware protection, a password manager, a smart firewall, and 2GB cloud storage. The plan protects one computer – either Windows PC or a Mac.
Next, we have Norton 360 Standard plan, which includes webcam protection, online threat protection, limited VPN, and dark web monitoring. Like its predecessor, the Standard plan protects one device, but it also supports Android besides Windows and macOS.
The Standard plan also comes with larger cloud storage (i.e. 10GB) and 100% Virus Protection Promise, under which NortonLifeLock will refund your money if your devices get infected with a virus that can't be removed.
If you want protection for more devices, you have Norton 360 Deluxe package. This plan not only covers up to five PCs, Macs, smartphones or tablets, but it also includes parental controls so that you keep an eye on your children's online activity. Another cool feature is School Time, which helps your kids focus on learning while using the internet.
Also part of the Deluxe plan is Norton's privacy monitor, which gives you greater control over your online privacy. The package also comes with 50GB cloud storage.
Next level up are Norton's LifeLock plans. These packages are unmatched for their highly advanced features, mainly focusing on identity theft protection.
The first plan in this series is Norton 360 with LifeLock Select. It is packed with all the features of previous plans, plus an identity alert system, access to US-based restoration specialists, credit monitoring, ID verification monitoring, and SSN and credit alerts. The plan covers five devices but offers 100GB cloud backup.
One of the strongest points of the plan is Norton's Million Dollar Protection Package. Under this facility, Norton will not only reimburse you for identity theft losses and expenses, but it will also provide lawyers and experts up to $1 million if need be.
Another level up is Norton 360 with LifeLock Advantage. Its additional features include phone takeover monitoring, court records scanning, fictitious identity monitoring, and bank and credit card activity alerts. You can cover 10 devices under this plan and enjoy 250GB cloud storage.
Still want more features? The Norton 360 with LifeLock Ultimate plan even offers 401(k) and investment activity alerts and home title monitoring. The suite lets you protect an unlimited number of devices.
If you are interested in Norton's business products, click here for more information.
Winner: Norton. It's clear that Norton offers more advanced features than Bitdefender, especially in its high-end products.
2. Malware Protection
Let's now take a look at malware protection capabilities of both antivirus products.
To see which among Norton and Bitdefender fares better in protecting your devices against malware threats, I'll look at the latest evaluations conducted by the AV-Test Institute, a reputable independent antivirus testing lab that regularly evaluates top antivirus brands.
AV-Test conducted its last evaluations during January-February 2021. All participating products were tested against 258 samples of zero-day malware (or new malware) and around 10,000 samples of widespread malware discovered in the four weeks leading to the test.
Both Bitdefender and Norton showed a success rate of 100%, receiving a perfect score of 6 out of 6 score in the protection category.
Bitdefender (January-February 2021):
Norton (January-February 2021):
Winner: Tie. So, it's evident that both antivirus products are reliable in the malware protection category.
3. System Performance
Besides protecting your computer and smartphone against all kinds of threats, an excellent antivirus program must be lightweight. If it slows down your computer every now and then, it may not be worth at all.
To see how much impact both Bitdefender and Norton put on computer performance, I will once again look at the latest evaluations conducted by the AV-Test Institute.
AV-Test's performance test gauges the influence of an antivirus product on system speed while carrying out common tasks like launching popular websites, launching applications, downloading/installing software, etc.
The influence of each product was measured in terms of system slowdown on a standard PC as well as on a high-end PC.
In the most recent AV-Test performance evaluation, Norton bagged a perfect 6/6 score, suggesting it has little to no impact on your computer while running in the background.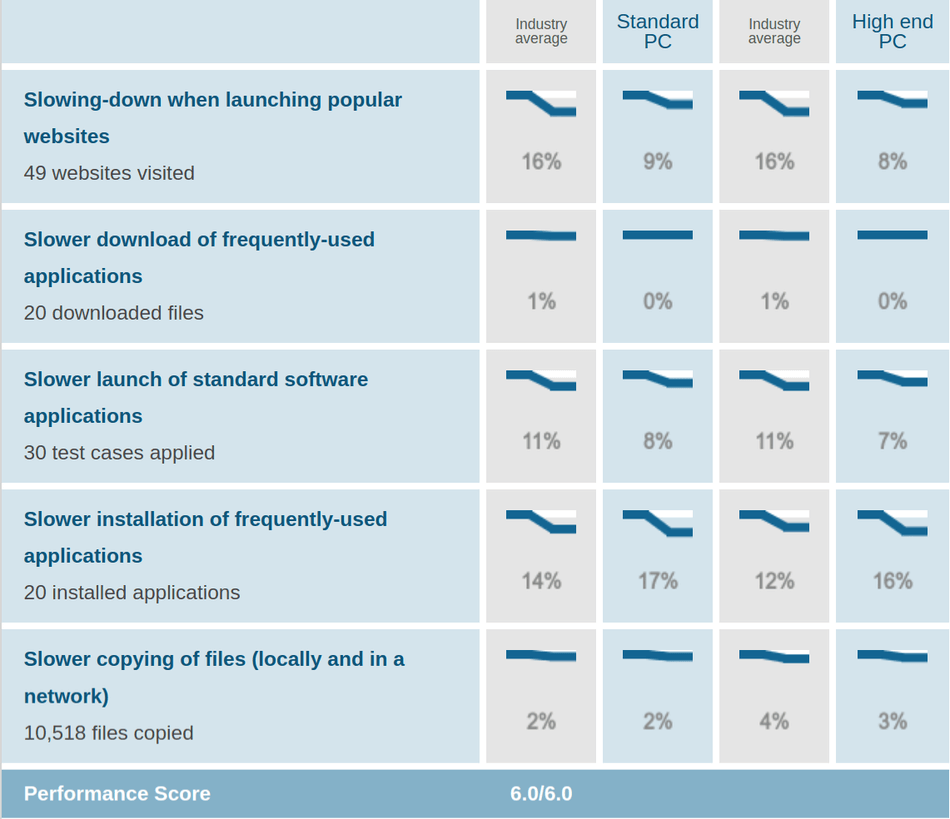 Bitdefender also performed well during the test but fell short of the perfect score and received a score of 5.5 out of 6.
Winner: Norton. Norton wins this category thanks to its perfect score, which shows the antivirus product is extremely lightweight.
4. User-Friendliness
Another important consideration is the user interface.
First, let's look at Bitdefender's interface…
Bitdefender interface is light and modern, in shades of light grey and black. There is a vertical menu on the left which consists of the following tabs: Protection, Privacy, Utilities, Notifications and Settings.
The first thing you can see on the main dashboard is your protection status. If everything is well, you will see a "You are safe" message beside a checkmark inside the protection shield icon.
Below you can see recommendations from Bitdefender so that you can take necessary actions in time.
The rest of the screen is covered by large white blocks showing common tasks like Quick Scan, System Scan, Vulnerability Scan, VPN and Safepay. You can also add a quick action button of your own.
If you want more tools, you can jump to the specific section using the left pane.
The name of your subscription – for example, Bitdefender Total Security – is displayed in the top bar.
Now, let's look at Norton's interface…
Norton's interface is simple and bright, in colors of white and green. The default screen shows your protection status, along with last scan time and a link to run a Quick Scan. There are four modules on the main page: Security, Identity, Performance, More Norton.
Security tab lets you run different types of scans, check error logs, manually update malware definitions, and more. Identity module contains privacy-related features, including Norton's password manager, while Performance window includes several computer performance improvement tools. Clicking More Norton tab takes you to Norton's online portal where you can manage protection for all your devices at one place.
The bottom bar shows your subscription status, while the bar at the top contains links to Settings and Help.
Winner: Tie. Overall, both Bitdefender and Norton offer a simple and easy-to-use interface.
5. Pricing
| Bitdefender Products | Regular Price | Discounted Price |
| --- | --- | --- |
| Bitdefender Antivirus Plus | $59.99/year | Check here |
| Bitdefender Internet Security | $79.99/year | Check here |
| Bitdefender Total Security | $89.99/year | Check here |
| Bitdefender Family Pack | $119.99/year | Check here |
| Bitdefender Antivirus for Mac | $59.99/year | Check here |
| Bitdefender Small Office Security | Varies | Check here |
| Bitdefender GravityZone Business AV | Varies | Check here |
| Norton Products | Regular Price | Discounted Price |
| --- | --- | --- |
| Norton Antivirus Plus | $59.99/year | Check here |
| Norton 360 Standard | $79.99/year | Check here |
| Norton 360 Deluxe | $99.99/year | Check here |
| Norton 360 with Lifelock Select | $149.99/year | Check here |
| Norton 360 with Utimate Plus | $349.99/year | Check here |
| Norton Small Business Security | Varies | Check here |
Winner: Tie. Both companies offer products at nearly the same price points.
6. Popularity
Both Bitdefender and Norton are well-known brands in the market. To see which of the two is more popular, I will look at the independent market share statistics and the number of followers of both software on social media.
OPSWAT is a company that regularly releases monthly reports on the market share of top antivirus products. According to their most recent report, Bitdefender stands 9th on the list of top antivirus products, with a market share of 4.27%. In contrast, Norton (Symantec) sits on top with a market share of 13.16%, followed by Avast (12.69%) and ESET (11.45%).
Winner: Norton. The stats are evident that Norton is far more popular than Bitdefender.
Final Thoughts
Independent studies have shown that Norton is better than Bitdefender in terms of malware protection and the impact on system performance. Also, Norton offers more security-enhancing features and extra utilities in its suites than Bitdefender.
Our recommendations: If you want to get the highest level of security and performance, there's no better choice than Norton, which protects over 50 million users worldwide.
After reviewing dozens of antivirus products from some of the biggest names in the cybersecurity realm, we believe that Norton 360 Deluxe is the best antivirus suite available on the market. It provides flawless anti-malware protection without slowing you down. Plus, you get almost all the advanced features you could ever want.
If you're willing to pay more for advanced identity protection features, we recommend Norton 360 with LifeLock select (only available in the US). It's a bit pricey but worth the price.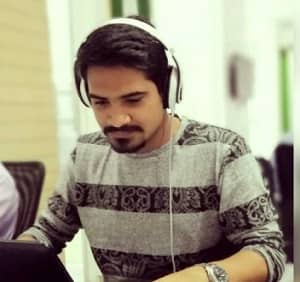 Anas Baig is a consumer privacy advocate and cybersecurity journalist by profession. Has has more than 7 years of professional experience under his belt. Anas has been featured on numerous media publications including The Guardian, Lifehacker, The Next Web, Infosecurity Magazine, Security Boulevard, Hacker Noon, CMS Wire, IAPP, SC Magazine, and many others. His interest includes Digital Privacy Rights, Information Security, Networking, Privacy, and Data Protection.
My Contributions: 
Hacker Noon | TheNextWeb | DevOps.com | GlobalSign | CMS Wire | CSO | Tech.co | Security Boulevard | ITProPortal | MuckRack | Crunchbase