(Last updated on May 2nd, 2020)
Bitdefender or Kaspersky, which software is a better option in 2020?
Read this ultimate Bitdefender versus Kaspersky comparison to make a smart choice.
It is such a cliché that prevention is better than cure. But there's no denying the wisdom of these words even in today's modern world. There's a raging battle going on between cybercrimes and cybersecurity technologies. And this battle is escalating at an alarming rate.
You are incredibly vulnerable the entire time you spend on the internet unprotected. Your personal and financial information faces a higher risk than ever before.
Did you know that the global cybercrime damages are predicted to cost up to $6 trillion annually by 2021? In fact, a ransomware attack takes place as frequently as every 14 seconds in 2019. The truth is that the malware industry is so lucrative that the situation isn't expected to improve in the future.
So how do you protect yourself and your family against rampant malware attacks?
If you think that free antivirus software (like Windows Defender) is enough to keep you safe, you're wrong! As per a Webroot Threat Report, 93% of malware observed in 2018 was polymorphic. In simple words, it had the ability to change its code frequently to avoid detection by security software.
Free software doesn't have the latest mechanisms and malware definitions to fight the risks out there. Only a premium antivirus software has the sophisticated technology required to provide real protection against these carefully designed cyber-attacks. The premium products may cost a few bucks, but in return, they ensure complete digital protection and give you peace of mind.
Best Antivirus Suite for 2020
(All the best security products examined)
Editors' Choice Award Winner
Special discount ends in...
30-day money-back guarantee
During the past few months, we examined and reviewed over 50 antivirus suites from the biggest names in cybersecurity. We did this so you can confidently choose the best antivirus software to protect yourself and those you love.
Overall,
Bitdefender
is our
#1 antivirus software
for 2020, because of its excellent, flawless performance in all the recent independent lab evaluations we considered, particularly those conducted by AV-Test and AV-Comparatives.
Right now, we think that
Bitdefender Total Security 2020
(currently at
60% off
) is the best antivirus package available in the market. Apart from providing excellent anti-malware protection, it offers all the advanced premium features and utilities that must be there in a high-end package -- and best of all, it offers excellent value for money. You can protect up to five devices (PCs, Macs, or smartphones) with just one subscription.
If you need protection for more than five devices, we highly recommend
Bitdefender Family Pack 2020
. It will cover all the internet-capable devices in your household with the Total Security suite, so your family will be protected no matter what goes wrong.
Now, there are several top-notch antivirus products you can choose from. But we have drafted many detailed comparisons for you to help you make a sound decision. Today we compare two big names: Bitdefender and Kaspersky.
We'll go through each company's different products and assess the value they provide for your money. We'll also look into some independent tests to see how well these products do their job.
In a rush? Below is a quick summary of the comparison. You can see which software won in each aspect and for what reason.
A Quick Rundown of the Winners in Each Category
1. Features
Winner: Bitdefender. Bitdefender offers a more comprehensive feature spread compared to Kaspersky. That's why this category belongs to Bitdefender.
2. Malware Protection
Winner: Bitdefender. Both companies are excellent at providing malware protection, but Bitdefender outshines Kaspersky on one of the two independent tests, winning the crown in this category as well.
3. System Performance
Winner: Tie. According to independent tests, both companies are equally good in terms of the impact on system performance.
4. User-Friendliness
Winner: Bitdefender. Both companies have great user interfaces. But the Bitdefender interface is more intuitive and customizable than Kaspersky's.
5. Pricing
Winner: Bitdefender. Most of their products are priced around the same range. However, Bitdefender provides better value for your dollar with the highest tier as opposed to Kaspersky.
6. Customer Satisfaction
Winner: Bitdefender. Overall, Bitdefender has better customer satisfaction ratings from independent sources compared to Kaspersky.
Short Verdict
Bitdefender is the better option as it offers more protection-related features and extra utilities in its security suites than Kaspersky. Independent lab tests prove that both security software are excellent in terms of both malware protection and the impact on system performance.
Our recommendations:
If you want to get the highest level of security and performance, there's no better choice than Bitdefender, which protects over 500 million devices worldwide.
We have reviewed, ranked, and rated all the best antivirus software products out there, and we think that
Bitdefender Total Security 2020
(currently at
50% off
) is the best antivirus package you can buy right now. You can protect up to five devices (PCs, Macs, or smartphones) with just a single subscription of this suite.
If you need protection for more than five devices,
Bitdefender Family Pack 2020
is the best option for you.
Looking for Mac-specific protection? Check out
Bitdefender Antivirus for Mac
for complete peace of mind.
Now, let's dig into the details.
1. Features
'The more, the better' applies to most good things in life, as it does to antivirus products. The more a product packs security intensive features into it, the more comprehensive the overall protection becomes. Let's see what features are jammed into different Bitdefender and Kaspersky security suites.
We'll start with Bitdefender.
The first offering from the company is Bitdefender Free Edition, which is a Windows-only product. The edition provides basic-level protection against different malware, but that's about it.
We'll move onto Bitdefender Antivirus Plus 2020, the entry-level premium product from the company. Also, a Windows-only software, it comes with features such as:
Comprehensive protection against all kinds of malware threats.
You also get the benefit of secure and anonymous browsing via a limited-use VPN, which prevents hackers from tracking you.
An Anti-Fraud module protects your financial information and provides you safe online shopping experience.
Also included is a File Shredder. This feature permanently deletes your confidential information so no one can access it.
A Vulnerability Scanner fixes network security gaps to keep you well protect from threats across this channel.
There's a password manager that secures your password and saves your information from being hacked.
This product covers protection for 3 PCs with the option to add more if required.
Get Bitdefender Antivirus Plus
Next comes Bitdefender Internet Security 2020, another Windows-only product covering up to 3 PCs. Apart from everything from the previous product, this package also includes:
A two-way firewall that protects your home network against any security weaknesses.
A Webcam shield and a Microphone Monitor prevents hackers from spying on you.
A Limited Parental Control module is also included, which helps to keep an eye on the online activities of your children and blocks unwanted content, so they are safe online.
A Fire Vault Feature comes with this suite. This feature secures your sensitive information and prevents its misuse.
Get Bitdefender Internet Security
Bitdefender Total Security 2020 suite is the full-blown antivirus package from the company. The product includes everything from previous offerings plus some additional features such as:
Performance optimization tools that help to speed up system and enhance performance.
There's an Anti-Theft utility that allows you to locate missing or stolen devices as long as they have this product installed on them.
This suite applies to Mac, Android, and iOS devices as well.
A single license of this product covers up to 5 devices.
Get Bitdefender Total Security
Bitdefender Family Pack 2020 is essentially the same product as Total Security, only this suite is meant for families. The only difference is that the Family pack includes:
Advanced parental controls to monitor, restrict, and supervise your kids' online activities.
Coverage for up to 15 devices (fair use policy applies).
For Mac devices, the company offers a separate product: Bitdefender Antivirus for Mac. This product includes features such as:
Comprehensive malware protection against all Mac-related cyber threats.
Multi-layer ransomware protection is also part of the suite.
The suite provides complete cross-platform protection. This feature blocks any viruses that might transfer from Windows devices.
A secure VPN that ensures a secure browsing experience for you without being discovered by hackers.
There's another similar but slightly different feature called Traffic Light browser extension. This utility allows you safe online shopping and banking experience.
The product also includes speed-enhancing features that augment system processing power, so you don't have any drags.
Get Bitdefender Antivirus for Mac
Superior 24/7 customer support is available for Bitdefender customers via different channels.
If you're interested in Bitdefender's business solutions? Click here for more information.
Now let's look at what Kaspersky has to offer in terms of a feature-set.
Kaspersky Free is the first software from the company. It has a firewall that provides some level of protection, but It is barely more than an introduction to the software interface and workings. So Let's move to the paid tiers.
Kaspersky Anti-Virus is the entry-level, Windows-only product from the company. It includes features like:
A firewall that protects you from all kinds of digital threats.
Multilayer Ransomware Protection saves you from becoming a victim to money-related fraud and viruses.
There's also a Gamer Mode that ensures distraction-free gaming or movie time by stopping pop-ups and notifications so you can enjoy your entertainment time.
A Vulnerability Scanner checks your security weaknesses and fixes them before you can fall prey to a hacker.
Kaspersky Internet Security comes next on the security spectrum. This suite includes everything from the previous product and some additional features:
A two-way firewall that provides you control over inbound and outbound connection requests and protects your system from connecting to unwanted apps.
There's a hardened internet browser that offers secure browsing for you.
The suite also provides a secure VPN allowing anonymous browsing.
Webcam protection is also part of this suite.
Also included in the suite is a Wi-Fi Network Securer so that you don't encounter any threats on your home network.
This product is compatible with all Windows, Mac, and Android devices.
Get Kaspersky Internet Security
The highest tier of protection comes with the Kaspersky Total Security suite. Along with everything from previous packages, this product also offers the following utilities:
An extensive Parental control module, called Safe Kids, monitors children's activity on the internet and blocks access to age-inappropriate websites. This utility ensures a safe browsing experience for your kids.
A password manager secures your sensitive information on your device restricting anyone accessing it.
A file shredder that permanently deletes any confidential information that you don't want to be discovered.
You also get 2GB of cloud data storage thanks to Dropbox.
Kaspersky Security Cloud is another high-end product that includes everything from Total Security suite as well as:
An innovative 'Adaptive Technology' that lets you import and update security settings across devices to guarantee a smooth transition for you from one device to another.
The technology also includes the functionality to adjust its automated settings according to a change in your online habits.
There are two versions available with this product: Personal and Family.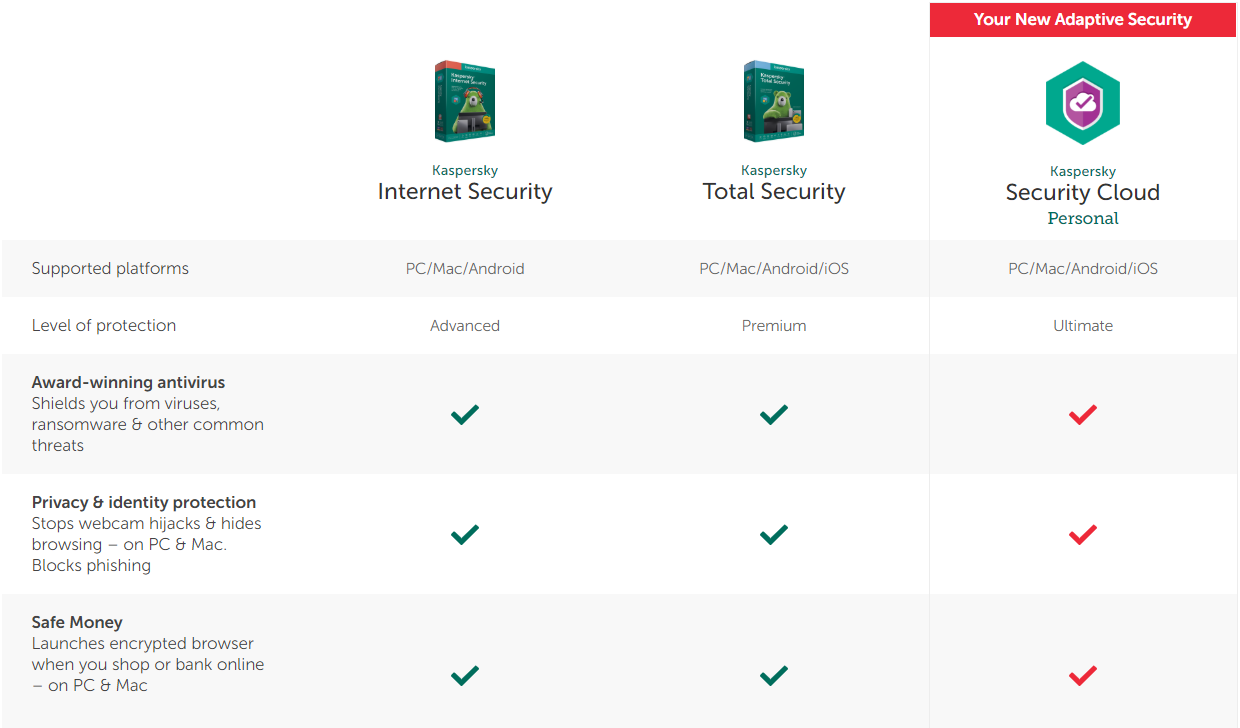 Kaspersky also offers several business-related antivirus products. Check out these products here.
Winner: Bitdefender. Kaspersky has a nice spread of features, but Bitdefender provides more features and much more functionality across its products.
2. Malware Protection
The entire purpose of a premium antivirus software is to provide top-notch security to your devices. Failing that there isn't much to a software. Let's see how Bitdefender and Kaspersky keep their devices safe from malware attacks.
We'll first look at the Protection Test results from AV-test.org. As per their April 2019 assessment of antivirus software products, Bitdefender received a perfect 6 out of 6 on this test.
Kaspersky also bagged itself the perfect score with a 6 out of 6.
Now let's look at how AV-Comparatives rate the two companies on their Malware Protection Test. Assessing the products on their performance against malware as well as the frequency of false alarms, the organization issued the recent results in March 2019. In this test, Bitdefender performed extremely well, receiving the highest ranking from AV-Comparatives: The ADVANCED+ award. Kaspersky, on the other hand, was a little behind with the second-place ADVANCED award as well as a bit high on the frequency of false alarms.
Winner: Bitdefender. Both companies scored exceptionally well on the first test, but Bitdefender outperformed Kaspersky in the second evaluation, proving its better malware protection capabilities. That's why this category belongs to Bitdefender.
3. System Performance
Nobody has the time to work around the scanning procedures of antivirus software, but full-time protection is also necessary. This is why the software should use minimal resources on a system so that the computer can carry on other operations unhampered. Let's see how our competing products score on independent performance tests.
AV-test.org issued their Performance Test results in April 2019. Both Bitdefender and Kaspersky tied on this test and received perfect ratings with 6 out of 6 scores.
Bitdefender
Kaspersky
AV-Comparatives also issued their Performance Test results in April 2019. Once again, Both Bitdefender and Kaspersky performed equally well on the test and received the highest ADVANCED+ award.
Winner: Tie. Bitdefender and Kaspersky both performed brilliantly on both tests; both software got the highest awards.
4. User-Friendliness
Just as an antivirus should be subtle in its impact on a computer system, the same idea should resonate in the design of its interface. For most of us, we don't want to have complex operations for something that is supposed to be running quietly in the background.
So let's review both our companies user interfaces and see how they fit with that concept.
Bitdefender uses sharp contrast to divide its interface into two prominent sections. One of these sections is the black rail on the left-hand side that displays buttons for different functions and features. You can expand these buttons to get into more specific tasks.
The white screen, on the other side of the interface, takes up almost eighty percent of space and houses large blocks that each signifies a different function. You can move or modify which utilities you want to see on the home screen in order of your liking. The interface is exceptionally intuitive and simplistic and yet hides detailed personalization functionality in its design. Basically, Bitdefender optimizes its design for both casual and skilled users in this way.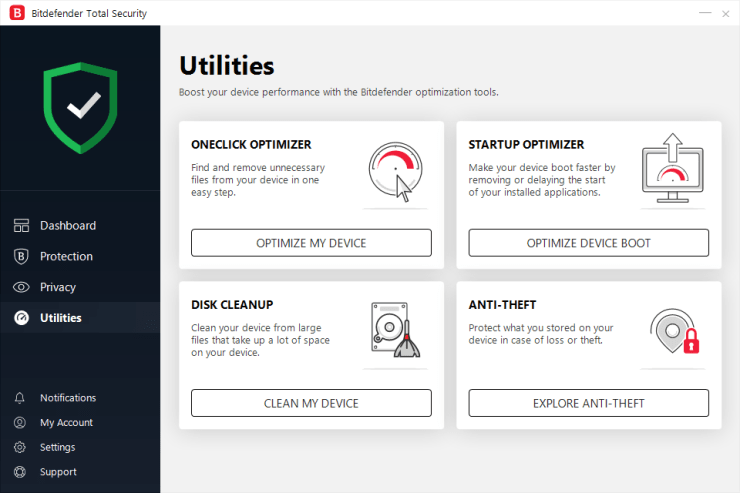 Now let's see how Kaspersky's interface compares.
Kaspersky has gone for a sort of open-frame design using green and whites as primary colors. A big horizontal green panel across the top of the screen displays security status with a light checkmark. However, if there's an issue, the mark will turn to a red cross demanding your immediate attention.
Below this panel, different functions have been organized into two rows. You can easily access any feature from the home screen. If you want, you can further personalize your screen settings to suit your preference.
At the bottom of the screen, the interface displays your current subscription status and notifies you when it's time for renewal. Overall, the design is easy to operate, intuitive, and very user-friendly.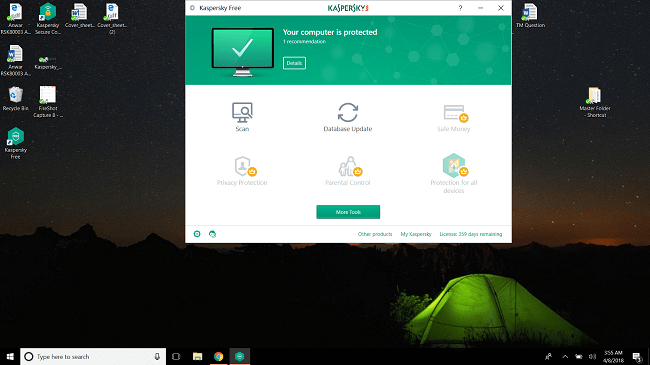 Winner: Bitdefender. Both companies have intuitive, user-friendly designs. But Bitdefender offers a much more intuitive and customizable design functionality that is suitable for both casual users as well as skilled professionals.
5. Pricing
Pricing has a huge role to play on a customer's purchase decision. The simple truth is that most of us play on a budget. So, the more bang a company provides for your buck, the more you'll prefer it.
Let's compare both Bitdefender and Kaspersky to see how their prices compare.
Starting with the first paid product, Bitdefender Antivirus Plus costs $34.99 per year for 3 windows-only licenses. Bitdefender Internet Security comes at $39.98 per year and also gives you up to three licenses which are PC-only as well.
Bitdefender Total Security is priced at $44.99 per year and provides multi-platform 5 licenses (for PCs, Macs, and mobile devices). Finally, Bitdefender Family Pack costs $69.98 per year for an unlimited number of licenses. We can see that with each dollar spent, there's more value for money with Bitdefender.
Now let's take a look at how Kaspersky prices its products.
Kaspersky Antivirus, the entry-level paid software from the company, costs $29.99 per year for 3 PC-only licenses. Kaspersky Internet Security costs $39.99 per year also for 3 licenses. However, these licenses are universal and can be used across the three main general-user operating systems (Windows, Mac, and Android).
Next, Kaspersky Total Security costs you $49.99 per year, also for 3 universal licenses. Kaspersky Security Cloud is available in two versions: Personal and Family. The Personal version comes at $49.99 per year, whereas the Family version at $149.99 per year. The Family pack is priced quite steeply, but it comes with 20 universal licenses, ideal for a big family with each member owning several devices.
Winner: Bitdefender. Both companies have priced their products within the same range for each tier. However, Bitdefender offers far more value for your money for its most premium product than Kaspersky, that too with an unlimited number of licenses.
6. Customer Satisfaction
If you want to know how quickly a company will solve your issues in the future, you need to look at their previous record. This record comes from existing customer responses. Let's compare the findings from two independent websites that collect customer responses and compile them into an average feedback rating.
Our first source is the Better Business Bureau that issues its rankings distributed across a ranking scale from A to F. Bitdefender received an average C from this source while Kaspersky got a rotten F.
Now let's look at the ratings from comsumeraffairs.org that compile its ratings based on a 5-star score. Both Bitdefender and Kaspersky scored an Overall Satisfaction Rating of 3 stars, showing average customer service performance.
Winner: Bitdefender. Both companies received similar ratings from the second website, but Kaspersky was far worse in the first rating. So, Bitdefender is the winner here.
Final Thoughts
Both promise a high level of security and performance, but Bitdefender is superior choice thanks to its comprehensive feature-set, excellent malware protection, and zero impact on system performance. Also. Bitdefender's plans are cheaper than Kaspersky's.
Get Bitdefender at 60% off today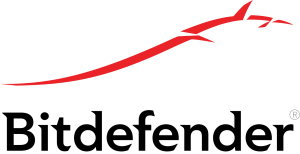 Special offer ends in ...
Editors Choice Award Winner
Our recommendations:
After reviewing 50 antivirus suites from some of the biggest names in the cybersecurity realm, we believe that
Bitdefender Total Security 2020
(currently at
60% off
) is the best antivirus suite for 2020 in terms of value for money. You protect up to five devices (PCs, Macs, and smartphones) with a single license of this suite.
Got more than five internet-capable devices? We found that
Bitdefender Family Pack 2020
is the best option out there in terms of value for money.
If you are still unsure, Bitdefender offers a 30-day money-back guarantee and exceptional customer support, so you there is nothing to lose.
Related Comparisons
Bitdefender vs Avast
Kaspersky vs Avast
McAfee vs Norton
Kaspersky vs Norton
Avira vs ESET
AVG vs Norton
Kaspersky vs Avira
Norton vs Malwarebytes
McAfee vs Avast
Norton vs Avast
McAfee vs Kaspersky