(Last updated on January 17th, 2021)
Bitdefender or Kaspersky, which software is a better option in 2021?
Read this ultimate Bitdefender versus Kaspersky comparison to make a smart choice.
From small-time hackers looking for mischievous amusement to high-level cybercriminals eyeing to loot big companies, data and privacy of both individuals and companies are always at risk of being compromised.
According to a recent report from RiskIQ, 1,274 new unique pieces of malware are created each year, 156 million phishing emails are sent every day, and 100 new phishing pages are created each minute.
The global threat management company also found that in every single minute, 1,861 people fall victim to cybercrime, 9.2 new instances of malicious advertising attacks are executed, and $1,138,888 is stolen by criminals.
The data suggests that cybercriminals keep looking for new ways to attack your devices. Therefore, as long as you are connected to the Internet, you must need an antivirus suite that gives you ultimate protection.
An antivirus – as the name might suggest – doesn't only protect you from viruses, but it also safeguards you against other malware types, including ransomware, spyware, trojan horses, bots, worms, and more.
But that's not all. Most antivirus products these days go beyond malware protection. They also provide features like parental controls, VPN, secure browser, password manager, file shredder, identity theft protection, system speed optimization tools, and much more.
However, almost all of these features are included in premium antivirus suites. They may cost you a few bucks, but the peace of mind they give in return is just priceless.
You may consider free antivirus software as well, but again, it provides only basic protection.
Best Antivirus Suite for 2020
60-day money-back guarantee
During the past few months, we have ranked, rated, and reviewed 40 premium antivirus suites from the biggest names in cybersecurity. We did this so you can confidently choose the best antivirus software to protect yourself and your family.
Right now, we think that
Norton
is the best antivirus software your money can buy. It regularly earns perfect or near-perfect scores from independent labs and has the least impact on system performance compared to rival products. Its products combine top-notch security with an array of excellent security features and, best of all, offer exceptional value for money.
Overall,
Norton 360 Deluxe
(currently at
70% off
) is our pick for the best antivirus suite in 2020. It is competitively priced and comes with almost everything you could possibly ask for, such as a firewall, a fully integrated VPN, dark web monitoring, cloud backup storage (50GB), a password manager, and parental controls. You can cover up to 5 PCs, Macs, smartphones or tablets with this suite.
If you want full-on identity protection and don't mind paying more,
Norton 360 with LifeLock Select
(currently at
35% off
) gives those in the US a full range of identity protection features, more backup space (100GB), as well as all the above.
When it comes to choosing the right antivirus software, it really gets difficult as there are many top-level security suites available in the market.
But you don't need to worry. We have compiled detailed comparisons of all the major security suites to help you get the one that works best for you. In this post, we are going to compare two giants of the cybersecurity world: Bitdefender and Kaspersky.
In a rush? Below is a quick summary of the comparison. You can see which software won in each aspect and for what reason.
A Quick Rundown of the Winners in Each Category
1. Features
Winner: Bitdefender. Bitdefender offers a more comprehensive feature spread compared to Kaspersky. That's why this category belongs to Bitdefender.
2. Malware Protection
Winner: Bitdefender. Both companies are excellent at providing malware protection, but Bitdefender outshines Kaspersky in one of the two independent tests, winning the crown in this category as well.
3. System Performance
Winner: Tie. According to independent tests, both companies are equally good in terms of the impact on system performance.
4. User-Friendliness
Winner: Bitdefender. Both companies have great user interfaces. But the Bitdefender interface is more intuitive and customizable than Kaspersky's.
5. Pricing
Winner: Bitdefender. Most of their products are priced around the same range. However, Bitdefender provides better value for your dollar with the highest tier as opposed to Kaspersky.
6. Customer Satisfaction
Winner: Bitdefender. Overall, Bitdefender has better customer satisfaction ratings from independent sources compared to Kaspersky.
Short Verdict
Bitdefender is the better option as it offers more protection-related features and extra utilities in its security suites than Kaspersky. Also, independent tests prove that Bitdefender provides better malware protection with minimal impact on system performance. Moreover, Bitdefender is cheaper than Kaspersky.
Best Antivirus for 2021
---
#1 (Excellent)

Robust feature-set
Excellent anti-malware security
Minimal system impact
Easy-to-use interface
Automatic updates
Trusted by 50 million users
100% virus protection promise
60-day money-back guarantee
70% off
#2 (Very Good)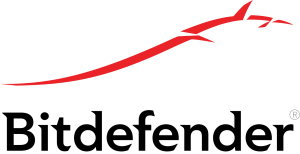 Exceptional malware protection
Little impact on performance
Trusted by millions of users
30-day money-back guarantee
User-friendly interface
50% off
#3 (Very Good)
Good malware protection
Trusted by big corporations
Minimal impact on performance
Good value for money
30-day risk-free guarantee
40% off
Now, let's dig into the details.
1. Features
'The more, the better' applies to most good things in life, as it does to antivirus products. The more a product packs security intensive features into it, the more comprehensive the overall protection becomes. Let's see what features are jammed into different Bitdefender and Kaspersky security suites.
We'll start with Bitdefender.
The first offering from the company is Bitdefender Free Edition, which is a Windows-only product. The edition provides basic-level protection against different malware, but that's about it.
We'll move onto Bitdefender Antivirus Plus 2021, the entry-level premium product from the company. Also, a Windows-only software, it comes with features such as:
Comprehensive protection against all kinds of malware threats.
You also get the benefit of secure and anonymous browsing via a limited-use VPN, which prevents hackers from tracking you.
An Anti-Fraud module protects your financial information and provides you safe online shopping experience.
Also included is a File Shredder. This feature permanently deletes your confidential information so no one can access it.
A Vulnerability Scanner fixes network security gaps to keep you well protect from threats across this channel.
There's a password manager that secures your password and saves your information from being hacked.
This product covers protection for 3 PCs with the option to add more if required.
Next comes Bitdefender Internet Security 2021, another Windows-only product covering up to 3 PCs. Apart from everything from the previous product, this package also includes:
A two-way firewall that protects your home network against any security weaknesses.
A Webcam shield and a Microphone Monitor prevents hackers from spying on you.
A Limited Parental Control module is also included, which helps to keep an eye on the online activities of your children and blocks unwanted content, so they are safe online.
A Fire Vault Feature comes with this suite. This feature secures your sensitive information and prevents its misuse.
Bitdefender Total Security 2021 suite is the full-blown antivirus package from the company. The product includes everything from previous offerings plus some additional features such as:
Performance optimization tools that help to speed up system and enhance performance.
There's an Anti-Theft utility that allows you to locate missing or stolen devices as long as they have this product installed on them.
This suite applies to Mac, Android, and iOS devices as well.
A single license of this product covers up to 5 devices.
Bitdefender Family Pack 2021 is essentially the same product as Total Security, only this suite is meant for families. The only difference is that the Family pack includes:
Advanced parental controls to monitor, restrict, and supervise your kids' online activities.
Coverage for up to 15 devices (fair use policy applies).
For Mac devices, the company offers a separate product: Bitdefender Antivirus for Mac. This product includes features such as:
Comprehensive malware protection against all Mac-related cyber threats.
Multi-layer ransomware protection is also part of the suite.
The suite provides complete cross-platform protection. This feature blocks any viruses that might transfer from Windows devices.
A secure VPN that ensures a secure browsing experience for you without being discovered by hackers.
There's another similar but slightly different feature called Traffic Light browser extension. This utility allows you safe online shopping and banking experience.
The product also includes speed-enhancing features that augment system processing power, so you don't have any drags.
Superior 24/7 customer support is available for Bitdefender customers via different channels.
If you're interested in Bitdefender's business solutions? Click here for more information.
Now let's look at what Kaspersky has to offer in terms of a feature-set.
Kaspersky Free is the first software from the company. It has a firewall that provides some level of protection, but it is barely more than an introduction to the software interface and workings. So, let's move to the paid tiers.
Kaspersky Anti-Virus is the entry-level, Windows-only product from the company. It includes features like:
A firewall that protects you from all kinds of digital threats.
Multilayer Ransomware Protection saves you from becoming a victim to money-related fraud and viruses.
There's also a Gamer Mode that ensures distraction-free gaming or movie time by stopping pop-ups and notifications so you can enjoy your entertainment time.
A Vulnerability Scanner checks your security weaknesses and fixes them before you can fall prey to a hacker.
Kaspersky Internet Security comes next on the security spectrum. This suite includes everything from the previous product and some additional features:
A two-way firewall that provides you control over inbound and outbound connection requests and protects your system from connecting to unwanted apps.
There's a hardened internet browser that offers secure browsing for you.
The suite also provides a secure VPN allowing anonymous browsing.
Webcam protection is also part of this suite.
Also included in the suite is a Wi-Fi Network Securer so that you don't encounter any threats on your home network.
This product is compatible with all Windows, Mac, and Android devices.
The highest tier of protection comes with the Kaspersky Total Security suite.Along with everything from previous packages, this product also offers the following utilities:
An extensive Parental control module, called Safe Kids, monitors children's activity on the internet and blocks access to age-inappropriate websites. This utility ensures a safe browsing experience for your kids.
A password manager secures your sensitive information on your device restricting anyone accessing it.
A file shredder that permanently deletes any confidential information that you don't want to be discovered.
You also get 2GB of cloud data storage thanks to Dropbox.
Kaspersky Security Cloud is another high-end product that includes everything from Total Security suite as well as:
An innovative 'Adaptive Technology' that lets you import and update security settings across devices to guarantee a smooth transition for you from one device to another.
The technology also includes the functionality to adjust its automated settings according to a change in your online habits.
There are two versions available with this product: Personal and Family.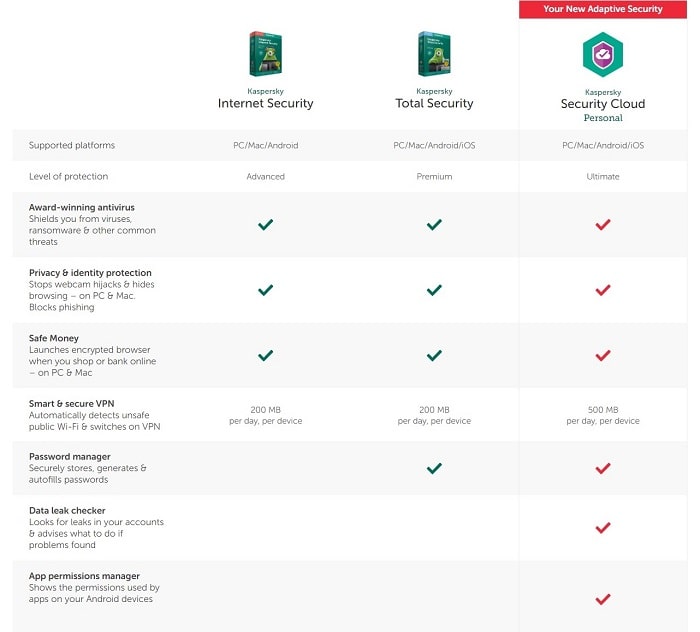 Kaspersky also offers several business-related antivirus products. Check out these products here.
Winner: Bitdefender. Kaspersky has a nice spread of features, but Bitdefender provides more features and much more functionality across its products.
2. Malware Protection
The core purpose of spending money on an antivirus suite is to get the best malware protection. If the security solution is weak in this category, there is no point of buying it no matter how good features offers.
Let's see which among Bitdefender and Kaspersky is more worthy when it comes to malware protection.
We are going to take assistance from two best independent organizations – AV-Test and AV-Comparatives – to determine the winner.
First, let's take a look at the findings of AV-Test. In its April 2020 Protection evaluation, the AV-Test Institute gave Bitdefender a perfect 6 out of 6 score, which bears testimony to Bitdefender's outstanding malware protection capabilities.
Bitdefender protected against all the zero-day malware attack samples used in the test, including web and e-mail threats.
In comparison, Kaspersky was trailing behind with a score of 5.5 out of 6.
Unlike AV-Test, AV-Comparatives runs two different protection tests, namely the Real-World Protection Test and the Malware Protection Test.
The Real-World Protection Test is web-based, whereas in the Malware Protection Test the vectors can be USB or network drives where the malware is already on the disk.
In the latest AV-Comparatives' Real-World Protection Test, conducted in May 2020, both Bitdefender and Kaspersky delivered excellent performance and received the highest 3-star ADVANCED+ award.
In the March 2020 Malware Protection, again both companies bagged the maximum ADVANCED+ award.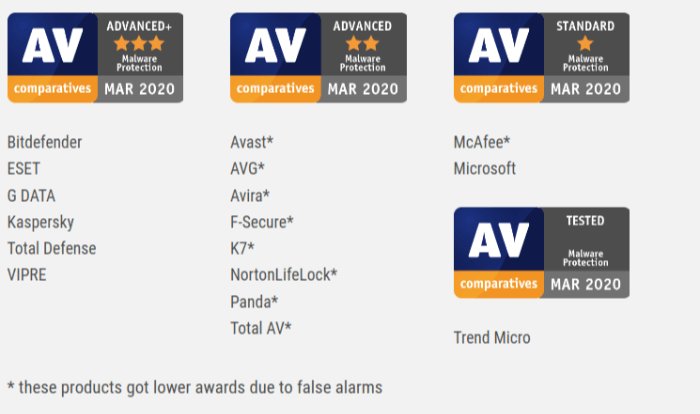 Winner: Bitdefender. Both companies scored exceptionally well in all malware protection assessments, surpassing many other popular brands. However, Bitdefender is the winner here, as it was slightly ahead of its competitor in the AV-Test evaluation.
3. System Performance
A distinct quality of an excellent antivirus suite is that it uses minimal system resources so that your PC can perform other operations without a whiff of trouble.
Let's see how Bitdefender and Kaspersky perform in this category in the light of independent performance evaluations.
According to AV-Test's Performance Test results, issued in April 2020, both Bitdefender and Kaspersky received a perfect score of 6 out of 6, suggesting that their average influence on computer speed in daily usage is minimal.
Bitdefender: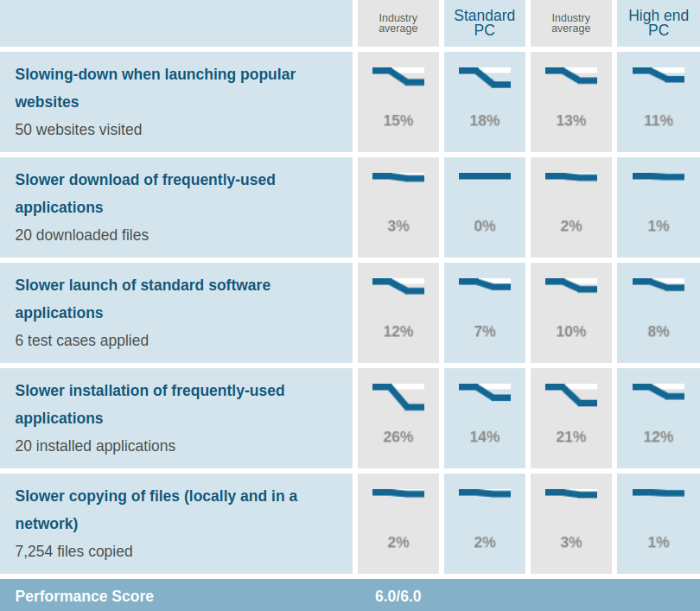 Kaspersky:
AV-Comparatives, on the other hand, also conducted Performance Test in April 2020. Once again, both Bitdefender and Kaspersky performed flawlessly and received the maximum ADVANCED+ (3-star) award.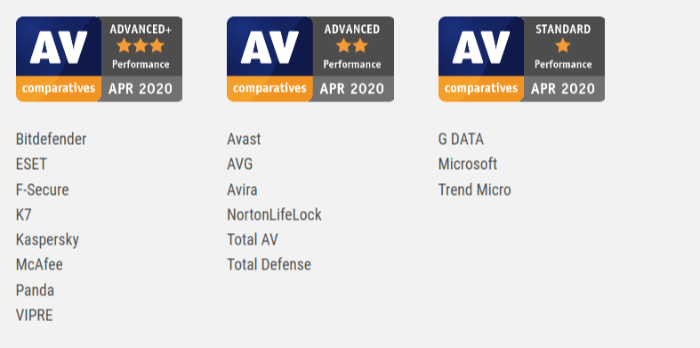 Winner: Tie. Bitdefender and Kaspersky performed brilliantly in both independent evaluations, earning the highest possible score.
4. User-Friendliness
Just as an antivirus should be subtle in its impact on a computer system, the same idea should resonate in the design of its interface. For most of us, we don't want to have complex operations for something that is supposed to be running quietly in the background.
So, let's review both our companies' user interfaces and see how they fit with that concept.
Bitdefender uses sharp contrast to divide its interface into two prominent sections. One of these sections is the black rail on the left-hand side that displays buttons for different functions and features. You can expand these buttons to get into more specific tasks.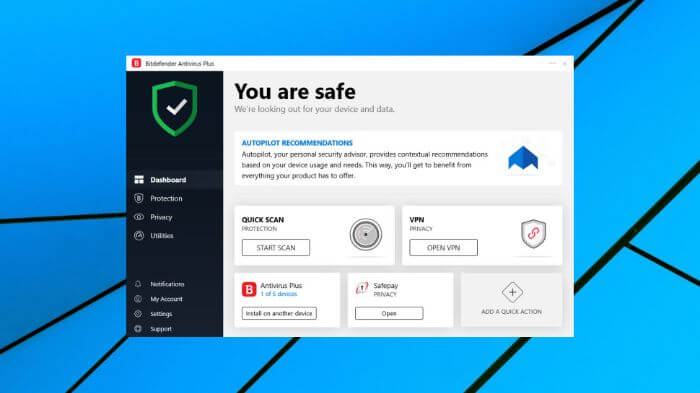 The white screen, on the other side of the interface, takes up almost 80 percent of the space and houses large blocks that each signifies a different function. You can move or modify which utilities you want to see on the home screen in order of your liking. The interface is exceptionally intuitive and straightforward and yet hides detailed personalization functionality in its design. Basically, Bitdefender optimizes its design for both casual and skilled users in this way.
Now let's see how Kaspersky's interface compares.
Kaspersky has gone for a sort of open-frame design using green and whites as primary colors. A big horizontal green panel across the top of the screen displays security status with a light checkmark. However, if there's an issue, the mark will turn to a red cross demanding your immediate attention.
Below this panel, different functions have been organized into two rows. You can easily access any feature from the home screen. If you want, you can further personalize your screen settings to suit your preference.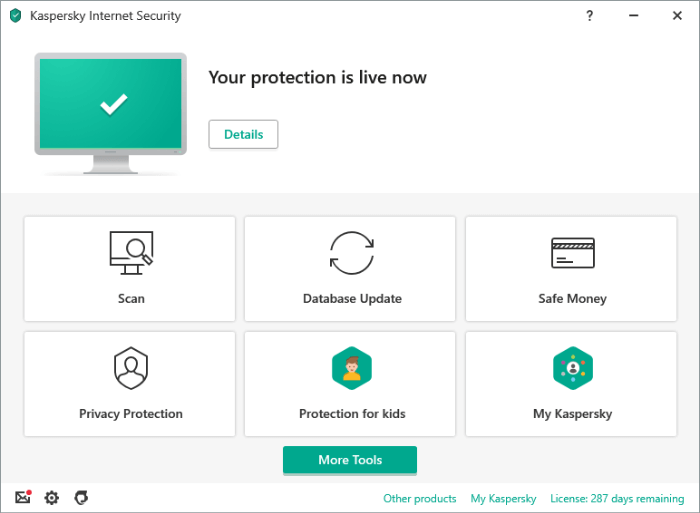 At the bottom of the screen, the interface displays your current subscription status and notifies you when it's time for renewal. Overall, the design is easy to operate, intuitive, and very user-friendly.
Winner: Bitdefender. Both companies have intuitive, user-friendly designs. But Bitdefender offers a much more intuitive and customizable design functionality that is suitable for both casual users as well as skilled professionals.
5. Pricing
Pricing has a huge role to play on a customer's purchasing decision. The simple truth is that most of us play on a budget. So, the more bang a company provides for your buck, the more you'll prefer it.
Let's begin with Bitdefender pricing.
Bitdefender Antivirus Plus costs $29.99 per year and protects 3 Windows PCs.
Bitdefender Internet Security costs $39.98 per year and offers protection for 3 Windows-only PCs.
Bitdefender Total Security comes at $44.99 per year and protects all devices including PCs, Macs, and smartphones.
Bitdefender Family Pack is priced at $59.99 per year and gives protection to up to 15 devices per household.
| Bitdefender Products | Regular Price | Discounted Price |
| --- | --- | --- |
| Bitdefender Antivirus Plus | $59.99/year | Check here |
| Bitdefender Internet Security | $79.99/year | Check here |
| Bitdefender Total Security | $89.99/year | Check here |
| Bitdefender Family Pack | $119.99/year | Check here |
| Bitdefender Antivirus for Mac | $59.99/year | Check here |
| Bitdefender Small Office Security | Varies | Check here |
| Bitdefender GravityZone Business AV | Varies | Check here |
Now let's take a look at how Kaspersky prices its products.
Kaspersky Antivirus costs $29.99 per year for 3 PC-only licenses.
Kaspersky Internet Security costs $29.99/year for 1 device, $38.99/year for 3 devices, and $51.99 for 5 devices.
Kaspersky Internet Security comes at $39.99/year for 1 device, $48.99/year for 3 devices, and $62.99 for 5 devices.
Kaspersky Security Cloud Personal costs at $49.99 per year, whereas the Family version at $149.99 per year. The Family pack is priced quite steeply, but it comes with 20 universal licenses, ideal for a big family with each member owning several devices.
| Kaspersky Products | Regular Price | Discounted Price |
| --- | --- | --- |
| Kaspersky Anti-Virus | $59.99/year | Check here |
| Kaspersky Internet Security | $79.99/year | Check here |
| Kaspersky Total Security | $99.99/year | Check here |
| Kaspersky Security Cloud (Personal) | $89.99/year | Check here |
| Kaspersky Security Cloud (Family) | $149.99/year | Check here |
| Kaspersky Small Office Security | $149.99/year | Check here |
| Kaspersky End Point Security Cloud | $300.00/year | Check here |
Winner: Bitdefender. Both companies have priced their products within the same range for each tier. However, Bitdefender offers far more value for your money for its most premium product than Kaspersky, that too with an unlimited number of licenses.
6. Customer Satisfaction
If you want to know how quickly a company will solve your issues in the future, you need to look at their previous record. This record comes from existing customer responses. Let's compare the findings from two independent websites that collect customer responses and compile them into an average feedback rating.
Our first source is the Better Business Bureau that issues its rankings distributed across a ranking scale from A to F. Bitdefender received an average C from this source while Kaspersky got a rotten F.
Now let's look at the ratings from comsumeraffairs.org that compile its ratings based on a 5-star score. Both Bitdefender and Kaspersky scored an overall satisfaction rating of 3 stars, showing average customer service performance.
Winner: Bitdefender. Both companies received similar ratings from the second website, but Kaspersky was far worse in the first rating. So, Bitdefender is the winner here.
Final Thoughts
Both promise a high level of security and performance, but Bitdefender is superior choice thanks to its comprehensive feature-set, excellent malware protection, and zero impact on system performance. Also. Bitdefender's plans are cheaper than Kaspersky's.
Our recommendations: If you want to get the highest level of security and performance, there's no better choice than Norton, which protects over 50 million users worldwide.
After reviewing dozens of antivirus products from some of the biggest names in the cybersecurity realm, we believe that Norton 360 Deluxe is the best antivirus suite available on the market. It provides flawless anti-malware protection without slowing you down. Plus, you get almost all the advanced features you could ever want.
If you're willing to pay more for advanced identity protection features, we recommend Norton 360 with LifeLock select (only available in the US). It's a bit pricey but worth the price.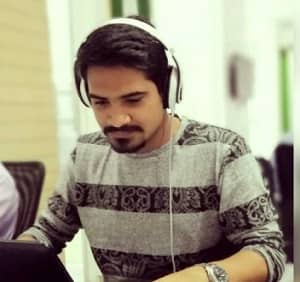 Anas Baig is a consumer privacy advocate and cybersecurity journalist by profession. Has has more than 7 years of professional experience under his belt. Anas has been featured on numerous media publications including The Guardian, Lifehacker, The Next Web, Infosecurity Magazine, Security Boulevard, Hacker Noon, CMS Wire, IAPP, SC Magazine, and many others. His interest includes Digital Privacy Rights, Information Security, Networking, Privacy, and Data Protection.
My Contributions: 
Hacker Noon | TheNextWeb | DevOps.com | GlobalSign | CMS Wire | CSO | Tech.co | Security Boulevard | ITProPortal | MuckRack | Crunchbase