(Last updated on January 9th, 2023)
Kaspersky or ESET, which antivirus software should you choose in 2023?
We will find out in this ultimate Kaspersky versus ESET comparison.
Do you know how much time a person spends using screens? You will be amazed to know the answer.
Stats show that adults in the United States spend nearly 10.5 hours each day using screens – for various things ranging from watching Netflix to studying and working to socializing.
Of course, many things we do online using our smartphones and computers are necessary and you can't just go offline forever.
But prudence is the key. And, as they say, too much of anything is good for nothing.
Spending more than half of your waking time on screen can surely have several negative consequences, including damage to physical and emotional health, sleep problems and obesity.
Besides, there is another catch that we take in stride. Our reliance on PCs and mobile phones has made us more vulnerable than ever to digital threats and has put our data and privacy at risk.
Best Antivirus Suite for 2021
60-day money-back guarantee
During the past few months, we have ranked, rated, and reviewed 40 premium antivirus suites from the biggest names in cybersecurity. We did this so you can confidently choose the best antivirus software to protect yourself and your family.
Right now, we think that
Norton
is the best antivirus software your money can buy. It regularly earns perfect or near-perfect scores from independent labs and has the least impact on system performance compared to rival products. Its products combine top-notch security with an array of excellent security features and, best of all, offer exceptional value for money.
Overall,
Norton 360 Deluxe
(currently at
70% off
) is our pick for the best antivirus suite in 2021. It is competitively priced and comes with almost everything you could possibly ask for, such as a firewall, a fully integrated VPN, dark web monitoring, cloud backup storage (50GB), a password manager, and parental controls. You can cover up to 5 PCs, Macs, smartphones or tablets with this suite.
If you want full-on identity protection and don't mind paying more,
Norton 360 with LifeLock Select
(currently at
35% off
) gives those in the US a full range of identity protection features, more backup space (100GB), as well as all the above.
Do you know that a whopping 5.6 billion malware attacks were registered the world over last year? The stats were published in the 2021 SonicWall Cyber Threat Report.
More worryingly, the report showed that the number of ransomware attacks hit new heights last year, rising by 62 percent to nearly 305 million.
Two major factors that helped fuel the rise of ransomware attacks were effects of the Covid-19 pandemic across the world and record highs in the cryptocurrency price.
So, we all need to be extra vigilant to prevent ourselves and our loved ones from malware attacks because it's always better to be safe than sorry.
You can thwart most digital threats by following tried and tested cybersecurity techniques, such as keeping your apps up to date, remove old software that you don't use, carefully read emails before clicking any link, avoid cold calls, use strong passwords, log out of a website when you are done, etc.
However, the sad reality is that all this carefulness and safe practices can't guarantee 100 percent protection. What you need is reliable antivirus software that fends off both prevalent and emerging digital threats.
What's more, today's antivirus programs go beyond malware protection, offering features like a password manager, file shredder, parental controls, identity theft protection, cloud backup, and much more.
But keep in mind that we are talking about premium security solutions. Free antivirus software may detect and remove digital threats, but it lacks the advanced features mentioned above.
In this detailed comparison, we are going to pit Kaspersky against ESET to see which of them gives you more value for money. We will evaluate both products in terms of various important aspects, including features, malware protection, impact on system performance, user interface, pricing, and popularity.
In a hurry? Below is a quick summary of our detailed comparison.
Comparison At a Glance
1. Features
Winner: Kaspersky.
2. Malware Protection
Winner: Kaspersky.
3. System Performance
Winner: Tie.
4. User Interface
Winner: Kaspersky.
5. Pricing
Winner: Kaspersky.
6. Popularity
Winner: ESET.
Short Verdict
Kaspersky is the better option as it offers more protection-related features and extra utilities in its security suites than ESET. Independent tests prove that both software provide excellent malware protection with minimal impact on system performance. However, Kaspersky is cheaper than ESET.
Best Antivirus for 2023
---
#1 (Excellent)

Robust feature-set
Excellent anti-malware security
Minimal system impact
Easy-to-use interface
Automatic updates
Trusted by 50 million users
100% virus protection promise
60-day money-back guarantee
70% off
#2 (Very Good)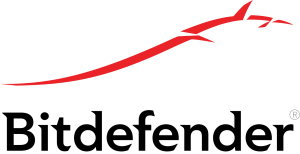 Exceptional malware protection
Little impact on performance
Trusted by millions of users
30-day money-back guarantee
User-friendly interface
50% off
#3 (Very Good)
Good malware protection
Trusted by big corporations
Minimal impact on performance
Good value for money
30-day risk-free guarantee
40% off
Now, let's get into the details…
1. Features
One of the first things we look for in any software is its feature set. Antivirus programs are no exception.
In this section, we will see which features both antivirus companies offer at different price points.
Let's first take a look at Kaspersky's features.
Kaspersky's line-up of security products starts with the barebones Kaspersky Free, which is only compatible with the Windows platform. The freeware offers protection against different types of malware threats (such as viruses, worms, ransomware, Trojans), but you won't find many advanced protection-related features or utility tools incorporated into the product.
Another level up is another Windows-only suite, called Kaspersky Anti-Virus. Besides offering top-notch protection against all kinds of malware threats, it offers multi-layered ransomware protection, complete web-browsing protection, a vulnerability scanner (checks for outdated software and other exploitable vulnerabilities), and the Game Mode feature (minimizes notifications for uninterrupted user experience).
A single license of the suite provides a year of protection for a single PC, with the option to add more PCs at an additional cost. (We will cover the pricing information later in this guide.)
Another level up is the multi-platform compatible Kaspersky Internet Security. It includes everything found in the previous suite, plus a firewall utility (filters malicious network traffic and blocks attacks), a hardened web browser (helps protect your financial details when you shop/bank online), and a limited parental control module (blocks inappropriate content for kids and lets you to keep a check on their online activities).
Protection against webcam/microphone spying is also built into the product. The suite is compatible with PCs, Macs, and smartphones and comes at different price points depending on the number of devices covered in the plan.
Kaspersky Total Security is the company's high-end antivirus package, boasting almost all the advanced features and utilities you can expect to find in a mega-suite. It includes everything found in the "Internet Security" suite, plus a full-blown password management tool (stores all your passwords and other details in a secure vault), the Data Shredder utility (lets you delete your confidential files securely so no one can recover them), and an encryption tool (helps create digital vaults on your drive where you can store your important data).
A full-fledged parental control module is also included in the package, along with a useful backup utility (automatically creates backup copies of your data).
Kaspersky recently introduced another high-end security package, called Kaspersky Security Cloud. It contains all the advanced features/tools jammed into the "Total Security" suite, plus it comes with "patented adaptive technology," which claims to adjust your security settings automatically and advises you based on your activities.
The package comes in two versions, Personal and Family. The only difference between the two versions is that the Family edition lets you install protection on up to 10 PCs, Macs, and smartphones (in any combination), while the Personal version costs more or less the same as Kaspersky Total Security and offers 3-device and 5-device licenses.
Note: All premium Kaspersky security suites are compatible with Windows, macOS, Android, and iOS platforms, apart from the entry-level Kaspersky Anti-Virus package.
Let's now take a look at ESET's feature set.
Unlike Kaspersky, ESET doesn't offer a free version.
The company's entry-level paid product for home users is ESET NOD32 Antivirus, which only gives protection to computer users (Windows, macOS and Linux). It protects against almost all kinds of malware threats, but there are no premium security features or tools integrated into the package.
One level up is the ESET Internet Security suite, which also offers protection for Android smartphones.
Apart from malware and ransomware attack protection, the Internet Security suite prevents hackers from accessing your devices, keeps your home network safe, and offers a secure browser so that you shop and bank online without worry.
If you are using ESET Internet Security on Android, the Find My Phone feature can help you find your phone in case it gets stolen or lost.
Finally, we have ESET Smart Security Premium – the company's top-drawer offering for advanced protection.
It includes everything that's jammed into the previous suites, plus parental controls, a password management tool, and the Secure Data module (an encryption utility that creates secure, virtual drives where you can keep your confidential files).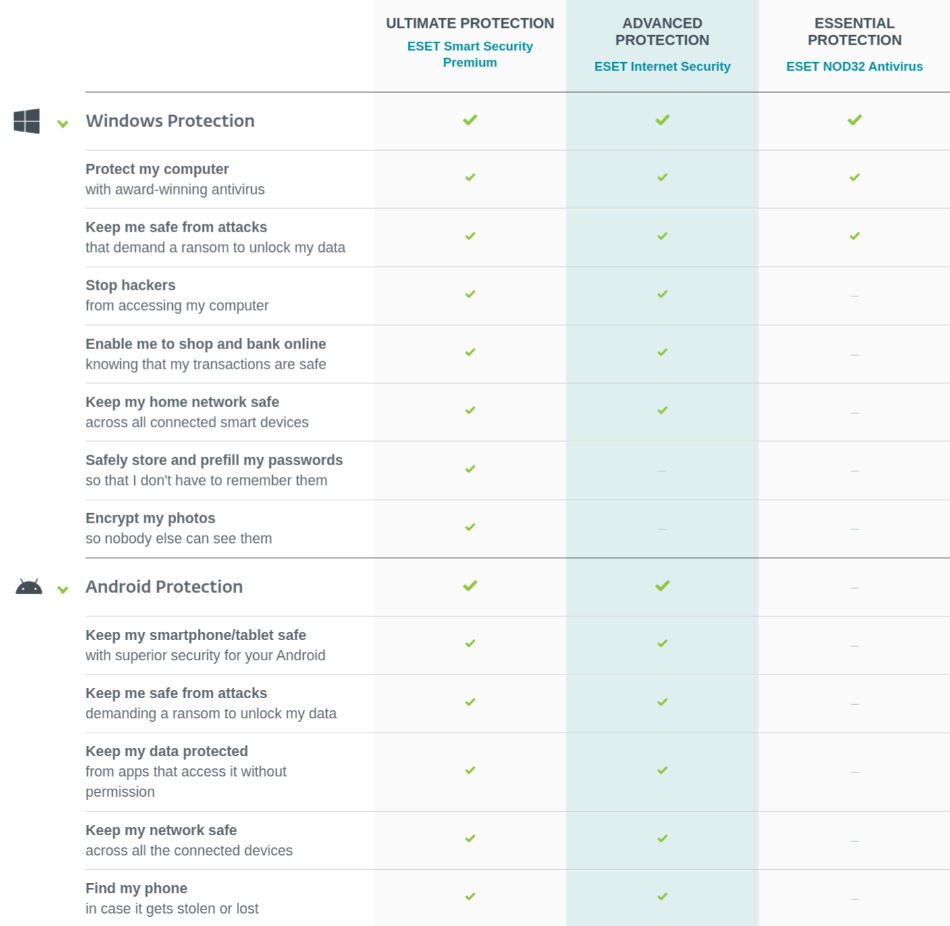 Winner: Kaspersky
2. Malware Protection
Anti-malware defense lies at the heart of an antivirus program. If an antivirus program isn't good at detecting and removing malware threats from your device, it isn't worth it at all.
A malware threat may be a known piece of software, or it may be unknown (also called zero-day malware). Understandably, zero-day malware threats are much more difficult to locate since they can't be detected by traditional signature-based scanners.
However, modern antivirus suites use heuristic scanning technology, which helps the software learn from the behavior of threats detected in the past and then catch emerging threats on its own.
To gauge the performance of Kaspersky and ESET in the malware protection category, we will look at the most recent evaluations conducted by two independent labs: the AV-Test Institute and AV-Comparatives.
In the latest AV-Test examinations, conducted in March-April 2021, both Kaspersky and ESET received a perfect score of 6 out of 6 in the protection category.
Now, let's see how a similar conducted by the AV-Comparatives lab rates Kaspersky and ESET.
The lab conducts two tests in this regard –the Real-World Protection Test (in which the vector is the web) and the Malware Protection Test (in which vectors can be USB or network drives where the malware is already on the disk).
The most recent Real-World Protection Test was conducted in February-May 2021. Kaspersky received the second-highest ADVANCED award, equivalent to 2 stars out of 3. The antivirus achieved a protection rate of 99.5 percent, blocking 732 malware samples out of 736.
On the other hand, ESET managed to block 727 out of 736 samples, achieving a success rate of 98.8 percent. The antivirus product was given a STANDARD award (1 out of 3 stars) for this performance.
Both Kaspersky and ESET didn't give any false positives, meaning they didn't wrongly block clean files and domains.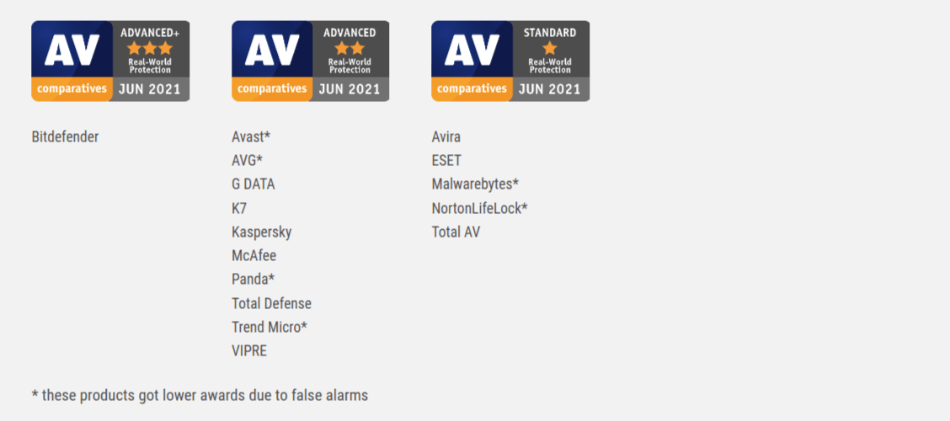 Next, we will look at AV-Comparatives' most recent Malware Protection Test, whose results were released in March 2021.
Of 10,013 malware samples, Kaspersky blocked 10,009 (99.96 percent), which helped it earn the highest-ranked ADVANCED+ award.
In comparison, ESET received the second-highest ADVANCED award, as it compromised on 10 files and showed a success rate of 99.9 percent.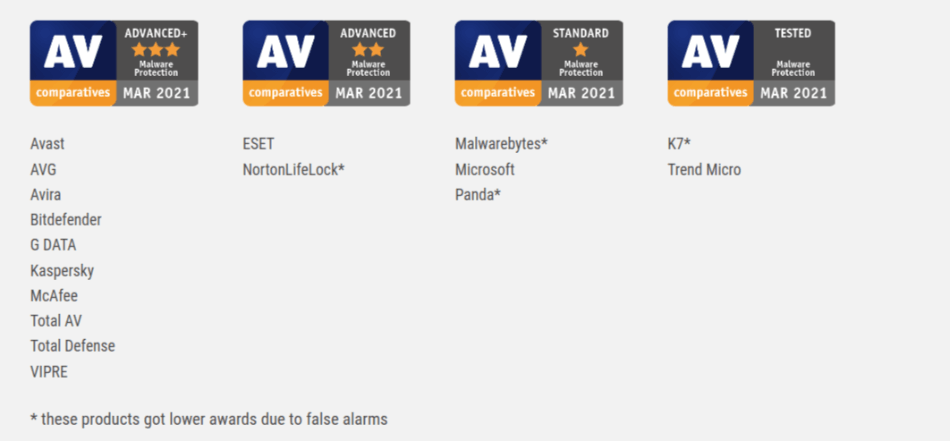 Overall, it's a tie in this category as both ESET and Kaspersky are in the same league when it comes to malware protection.
Winner: Kaspersky
3. System Performance
An excellent antivirus product has to be extraordinarily light and do not slow down your computer speed in a big way.
We will again refer to AV-Test and AV-Comparatives to see how Kaspersky and ESET fare in this important category.
The evaluations measure the average influence of a product on computer speed in daily usage while launching popular websites, downloading and installing frequently used apps, copying files, etc.
In the latest AV-Test performance evaluation, once again both Kaspersky and ESET secured a perfect 6 out of 6 score.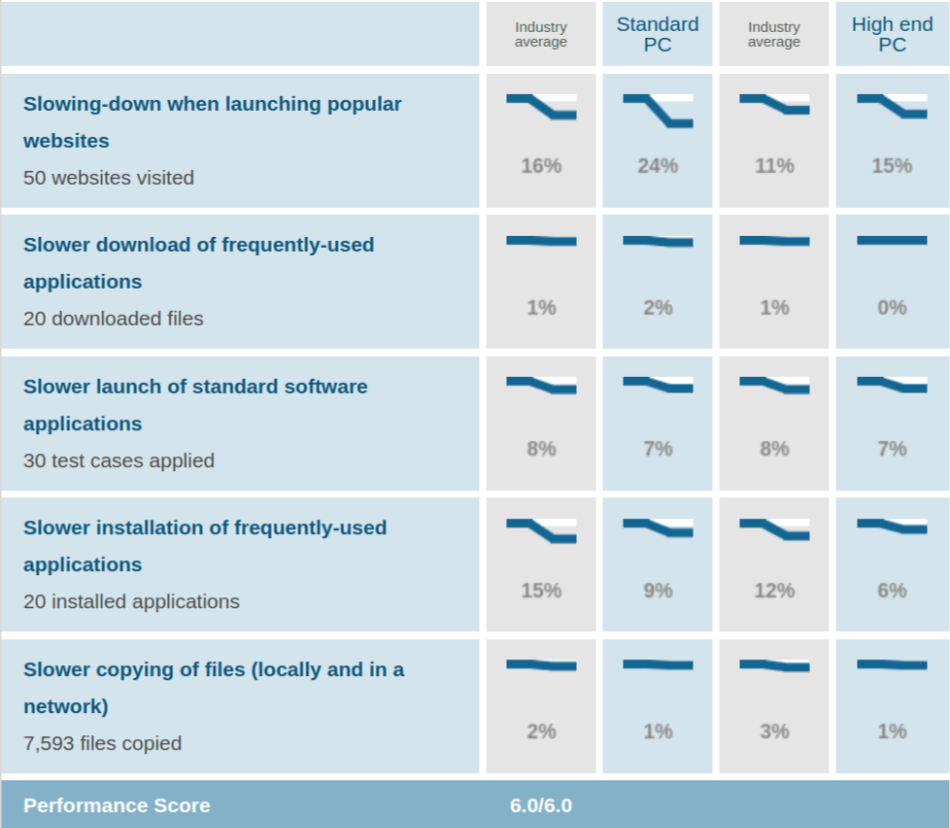 As for the AV-Comparatives April 2021 performance test, both antivirus products continued to show exceptional results and received the highest-possible ADVANCED+ award.
However, the impact score of Kaspersky was lower (3.4) than ESET (4.6), which suggests that Kaspersky is even better, although both products bagged a similar award.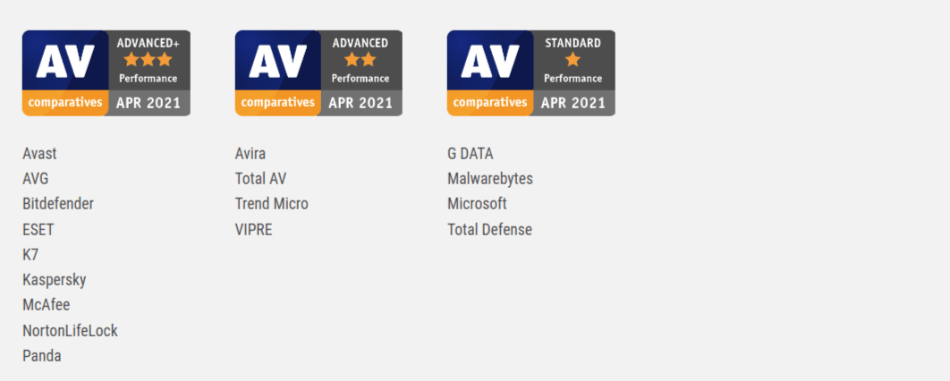 Overall, we can say that both Kaspersky and ESET are lightweight and will not slow down your computer speed.
Winner: Tie
4. User-Friendliness
It's important for security programs to provide a good user interface.
First, let's delve into the Kaspersky interface.
Kaspersky's interface is neat and elegant, in colors of white and dark green.
The default view has a lot of information and links, but everything is so well-organized that it doesn't look crowded at all. The green banner at the top is where you'll find your current protection status.
Below the banner are six main modules, namely Scan, Database Update, SafeMoney, Privacy Protection, Parental Control, and Protection for all devices. Each module contains a set of related features and other options.
The name of the suite you have installed on your computer is shown in the title bar. The bottom bar links to Settings, Help, and more.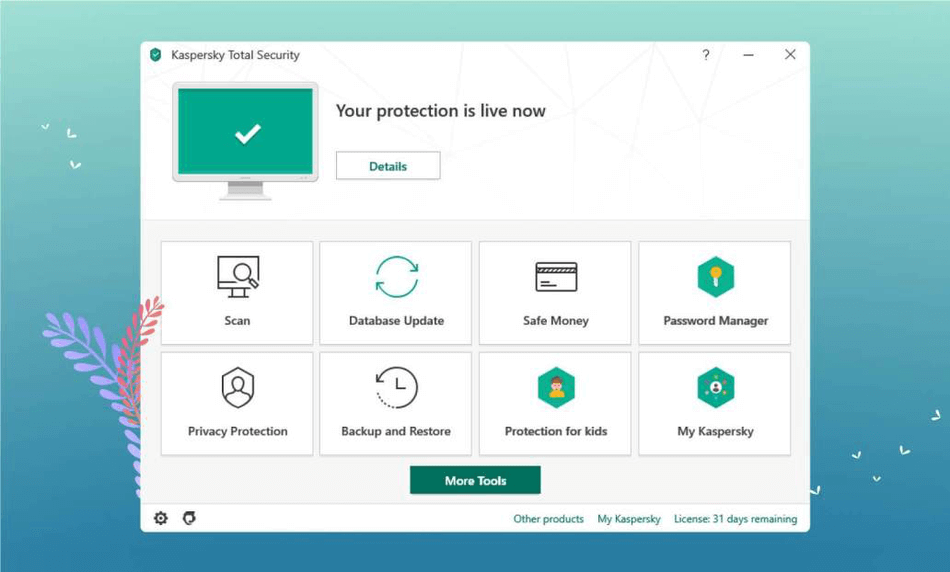 Now, let's go over the ESET interface.
ESET's interface is simple, bright and airy.
Along the left, you'll find six categories, namely Home, Computer Scan, Update, Tools, Setup, and Help & Support.
Home is the default window, it shows your current protection status and has links to different advanced modules, like the Secure Data utility. If everything is safe and secure, you'll a reassuring "You're Protected" message with a green checkmark next to a creepy robot (okay, it's not so creepy). The message quickly changes to "Attention Required" or "Security Alert" depending on the seriousness of the issue that needs to be addressed.
The other categories are pretty much self-explanatory.
The name of the product you're subscribed to is displayed at the top. The bottom bar shows the number of days remaining in your subscription plan.
Overall, Kaspersky's interface is more intuitive and robust that ESET's.
Winner: Kaspersky
5. Pricing
| Kaspersky Products | Regular Price | Discounted Price |
| --- | --- | --- |
| Kaspersky Anti-Virus | $59.99/year | Check here |
| Kaspersky Internet Security | $79.99/year | Check here |
| Kaspersky Total Security | $99.99/year | Check here |
| Kaspersky Security Cloud (Personal) | $89.99/year | Check here |
| Kaspersky Security Cloud (Family) | $149.99/year | Check here |
| Kaspersky Small Office Security | $149.99/year | Check here |
| Kaspersky End Point Security Cloud | $300.00/year | Check here |
| ESET Products | Regular Price | Discounted Price |
| --- | --- | --- |
| ESET NOD32 Antivirus | $39.99/year | Check here |
| ESET Internet Security | $49.99/year | Check here |
| ESET Smart Security Premium | $59.99/year | Check here |
| ESET Multi-device Security | $69.99/year | Check here |
| ESET Cyber Security for Mac | $49.99/year | Check here |
| ESET Business Products | Varies | Check here |
Overall, Kaspersky's antivirus suites are cheaper than ESET's. Also, you can protect multiple devices with a single license of Kaspersky.
Winner: Kaspersky
6. Popularity
Now, let's see which software reigns in terms of popularity.
OPSWAT — which is a popular security company — regularly releases monthly reports on the market share of leading anti-malware vendors and products. Their most recent report was published in November 2018 and includes data collected from "tens of millions of data points and over 30,000 live endpoints."
According to the report, Avast is currently dominating the market with an impressive 18.44% market share. McAfee and Malwarebytes are second and third with 12.58% and 12.23% share, respectively.
ESET is fifth on the list with 9.09% share, while Kaspersky (6.65%) claims the seventh position.
So it's clear the ESET is more popular than Kaspersky in the antivirus landscape.
Winner: ESET
Final Thoughts
Kaspersky offers more security-related features and extra utility tools in its security suites than ESET. Independent tests prove that both antivirus suites provide excellent protection against both widespread and zero-day malware, but Kaspersky is slightly better than ESET in terms of pricing structure.
Our recommendations: If you want to get the highest level of security and performance, there's no better choice than Norton, which protects over 50 million users worldwide.
After reviewing dozens of antivirus products from some of the biggest names in the cybersecurity realm, we believe that Norton 360 Deluxe is the best antivirus suite available on the market. It provides flawless anti-malware protection without slowing you down. Plus, you get almost all the advanced features you could ever want.
If you're willing to pay more for advanced identity protection features, we recommend Norton 360 with LifeLock select (only available in the US). It's a bit pricey but worth the price.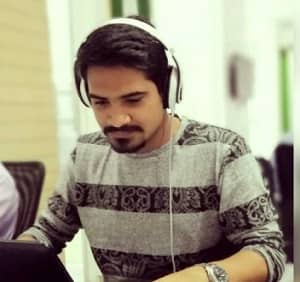 Anas Baig is a consumer privacy advocate and cybersecurity journalist by profession. Has has more than 7 years of professional experience under his belt. Anas has been featured on numerous media publications including The Guardian, Lifehacker, The Next Web, Infosecurity Magazine, Security Boulevard, Hacker Noon, CMS Wire, IAPP, SC Magazine, and many others. His interest includes Digital Privacy Rights, Information Security, Networking, Privacy, and Data Protection.
My Contributions: 
Hacker Noon | TheNextWeb | DevOps.com | GlobalSign | CMS Wire | CSO | Tech.co | Security Boulevard | ITProPortal | MuckRack | Crunchbase