(Last updated on January 9th, 2023)
Windows Defender or ESET, which antivirus software is a better option in 2023?
Read this ultimate Windows Defender versus ESET comparison to make a smart decision.
The digital world is full of sophisticated malware threats that are a constant risk to your (and your loved ones') data and privacy.
In just the first six months of this year, nearly 4.8 billion malware attacks were registered, according to security firm SonicWall.
The AV-Test Institute, a reputable antivirus testing lab based in Germany, registers more than 350,000 new malware samples every single day.
And the number is expected to rise in the coming years.
Cybersecurity is also a growing concern because of the fact that almost all aspects of our lives are now migrating to the Internet, including networking with friends and family, shopping and banking.
In doing so, we are putting more and more data online than ever in the form of personal photos, live locations, banking details, etc.
Against this backdrop, the probability for an individual to fall prey to a cyberattack is higher than ever.
You may not have been affected by a severe malware attack so far, but that may be because of sheer luck. And the problem with luck is that you can run out of it any time.
Therefore, a more sensible way of protecting your data and privacy in today's security environment is to have reliable antivirus protection at your side.
Free antivirus programs can give you cover against numerous malware threats, but they are not equipped with advanced features like parental controls, password manager, ransomware protection, etc., which are a must-have these days.
On the contrary, an excellent premium package like Bitdefender Total Security or McAfee Total Protection does cost a few dollars, but it provides you with all the tools and utilities that shield you from all kinds of cyberattacks.
Best Antivirus Suite for 2021
60-day money-back guarantee
During the past few months, we have ranked, rated, and reviewed 40 premium antivirus suites from the biggest names in cybersecurity. We did this so you can confidently choose the best antivirus software to protect yourself and your family.
Right now, we think that
Norton
is the best antivirus software your money can buy. It regularly earns perfect or near-perfect scores from independent labs and has the least impact on system performance compared to rival products. Its products combine top-notch security with an array of excellent security features and, best of all, offer exceptional value for money.
Overall,
Norton 360 Deluxe
(currently at
70% off
) is our pick for the best antivirus suite in 2021. It is competitively priced and comes with almost everything you could possibly ask for, such as a firewall, a fully integrated VPN, dark web monitoring, cloud backup storage (50GB), a password manager, and parental controls. You can cover up to 5 PCs, Macs, smartphones or tablets with this suite.
If you want full-on identity protection and don't mind paying more,
Norton 360 with LifeLock Select
(currently at
35% off
) gives those in the US a full range of identity protection features, more backup space (100GB), as well as all the above.
In this detailed post, we are going to compare Windows Defender and ESET to see which of them fares better in categories like features, malware protection, system performance, and more.
In a rush? Have a look at the following section to find out which antivirus software wins in each category.
A Quick Rundown of Winners in Each Category
1. Features
Winner: ESET. ESET comes with more feature-rich products, such as a full-blown password manager and a tool to encrypt important files.
2. Malware Protection
Winner: Windows Defender. Independent evaluations showed that Windows Defender has better malware defense capabilities than ESET.
3. System Performance
Winner: Tie. Both companies showed excellent performance in one of the independent evaluations.
4. User-Friendliness
Winner: ESET. ESET comes with a simpler and more straightforward interface than its competitor.
5. Pricing
Winner: N/A. Windows Defender is a free product, which is why a comparison is not possible in this category.
Short Verdict
ESET offers more protection-related features and utilities in its security products than Windows Defender. Independent tests prove that both software put a minimal impact on system performance, but Windows Defender is better than ESET in terms providing anti-malware protection.
1. Features
An excellent antivirus package should offer amazing features with each tier of coverage.
First, let's see what's included in Windows Defender.
Windows Defender is the built-in antivirus program of Microsoft's Windows operating system. It comes pre-installed and you can't uninstall it.
However, you can install a more advanced third-party antivirus suite and turn off Windows Defender if you deem necessary.
The key features of Windows Defender are:
A Windows firewall and a virus scanner work in tandem to protect you against various kinds of malware.
Windows Defender receives timely updates from Microsoft that helps fix even newly emerging digital threats.
A complete set of parental controls is also included in Windows Defender. These features help you monitor your kids' online activity and prevent them from accessing age-restricted content.
As Windows Defender is a free antivirus program that is available for every Windows user, it doesn't offer much apart from the above-mentioned features.
Now let's take a look at what ESET has in comparison.
The most basic level of offering from the company is ESET NOD32 Antivirus, which comes with the following features:
Antivirus, anti-spyware and anti-phishing tools that protect you from the most common digital threats.
A silent mode tool that prevents notifications and pop-ups when a program is running in full screen.
The UEFI scanner that provides deeper-level protection by looking for threats even before Windows starts.
Next up is the ESET Internet Security suite, which includes everything that is part of the previous suite, plus:
A special secured browser for banking and payment protection.
A strong firewall that stops hackers from accessing your computer to harm you in any way.
An anti-spam tool that keeps your inbox free from unwanted and malicious emails.
A comprehensive set of parental controls that helps you provide your children with a healthy Internet environment.
Webcam and botnet protection.
The highest tier of protection from the company is ESET Smart Security Premium. The suite is packed with all the features mentioned in the previous packages, plus:
A full-blown password manager that securely stores and prefills logins on all your devices.
A very useful tool called Secure Data that lets you encrypt files or removable media.
All ESET suites offer support for local languages.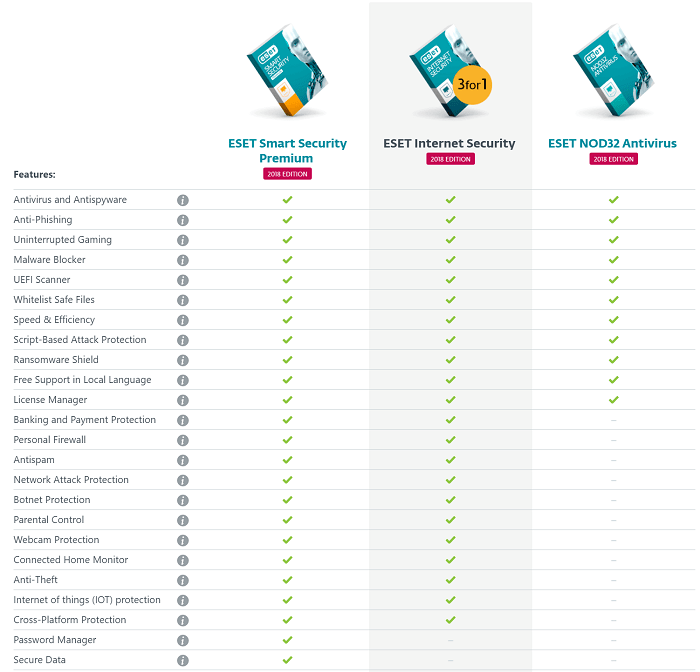 Interested in ESET's business-specific products? Click right here for more information.
Winner: ESET. ESET's premium products undoubtedly offer more advanced and useful features that are in line with today's security needs.
2. Malware Protection
The ability to protect your device from all sorts of malware threats – such as viruses, spyware, rootkits, worms, Trojan horses, etc. – is the essential feature of an excellent antivirus program.
To gauge Windows Defender's and ESET's malware protection capabilities, let's check out evaluations conducted by independent antivirus labs to reach an unbiased conclusion.
Two of the most reputable names in the antivirus testing world is the AV-Test Institute and AV-Comparatives.
Germany-based AV-Test lab evaluates all popular antivirus products every two months in terms of three different categories: Protection, Performance and Usability. Its most recent tests were held in July-August 2019.
In the latest Protection evaluation by the AV-Test Institute, Windows Defender got a perfect score of 6 out of 6, which shows it possesses solid malware defense.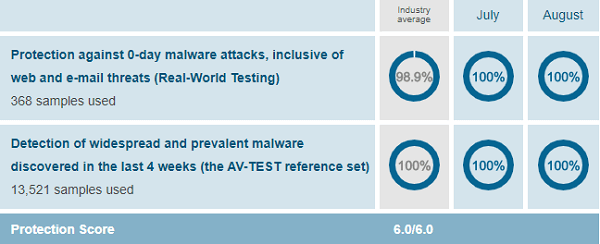 On the other hand, ESET last participated in AV-Test evaluations in December 2017, when it received a score of 5.5 out of 6.
Austria-based AV-Comparatives is another independent testing lab whose evaluations are highly regarded in the security industry.
Its recent Real-World Protection Test results were released in June 2019, in which Windows Defender got the second-highest rating from AV-Comparatives, i.e. the ADVANCED award.
ESET was at an even lower tier, receiving the one-star STANDARD award.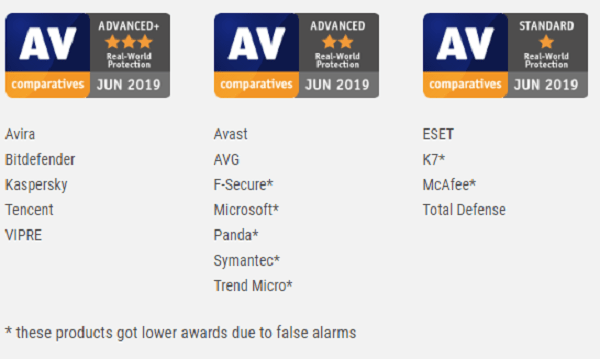 Winner: Windows Defender. Not only Windows Defender performed better than ESET in both tests, but ESET didn't participate in recent AV-Test evaluations.
3. System Performance
Another key metric to check an antivirus suite's overall value is to see how much impact it puts on your PC while running in the background. If an antivirus program puts too much strain on your system and slows it down in a significant way, it's actually doing the same thing some malware threats do.
In order to find out which of the two antivirus programs fares better in terms of system performance, let's look at the independent evaluations by the same labs mentioned in the above section.
In the AV-Test's August 2019 Performance evaluations, Windows Defender got a near-perfect score of 5.5 out of 6.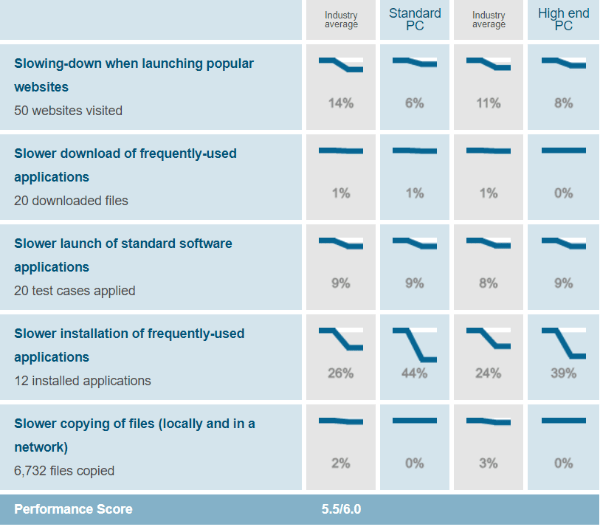 ESET wasn't among the participants. However, in the December 2017 test, ESET received a score of just 4 out of 6.
In a similar test conducted by AV-Comparatives in April 2019, Microsoft's Windows Defender received the lowest STANDARD award. (In fact, it was the only product to receive the lowest rating.)
In comparison, ESET was among the top scorers as it took home the highest ADVANCED+ rating, indicating that it puts almost no impact on the system while running in the background.
Winner: Tie. Both products gave good performance on one test but performed poorly in the other, hence no winners in this category.
4. User-Friendliness
There's no denying that protection and performance are the core operations of an antivirus program. However, the look and feel of an antivirus program and the way it presents its options can't be disregarded.
If an antivirus product's interface is clumsy and difficult to use, then it probably isn't worth your money.
So, let's examine the interface of Windows Defender and ESET.
Windows Defender offers an open-framed interface, which is aesthetically modern as well as minimalistic.
You will find all the major features nicely grouped on the main dashboard. You can also access the same options via a rail on the left side.
Each of these categories has a self-explanatory name. They include Virus Threat and Protection, Account Protection, Firewall and Network Protection, App and Browser Control, Device Security, Device Performance and Health, and Family Options.
However, you can't schedule scans with Windows Defender. It's a major downside of using the antivirus program, as you will have to start every scan by yourself.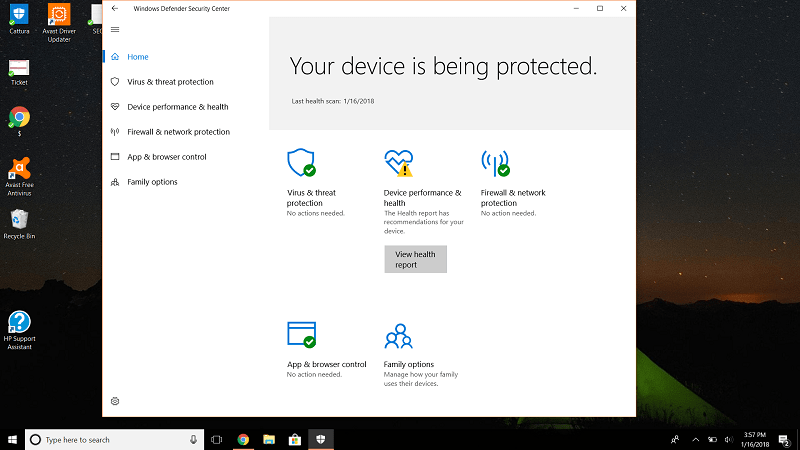 Now, let's have a look at ESET's interface.
ESET offers a modern and sleek interface that uses gray and blue as its primary colors.
It's quite easy to begin a scan with ESET. The program also allows you to drag and drop files right from your PC directly into the antivirus window to start a scan.
Navigation is easy, as all features are divided into incredibly simple categories: Home, Computer Scan, Update, Tools, Setup, and Help and Support.
You will find most options like a password manager and an anti-theft tool under the Tools tab.
The More Tools tab showcases more complex features like Log files (information about all important program events), ESET SysInspector (the tool to collect detailed information about system), Scheduler, etc.
You can also access certain features from the Home screen, which also displays your protection status.
Winner: ESET. ESET provides a much better and intuitive interface than Windows Defender.
5. Pricing
Windows Defender comes pre-installed with the Windows operating system and is totally free.
Let's take a look at ESET's price points.
A single annual license of ESET NOD32 Antivirus costs $39.99 and protects one device. However, you can cover an additional device for every $10 and can protect up to five devices. This basic antivirus suite only supports Windows.
Next in line is ESET Internet Security, which supports all platforms, including Windows, Mac, and Android. Its single license is priced at $49.99 per year.
Smart Security Premium, ESET's flagship product, costs $59.99 per year for a one-device license.
With both Internet Security and Smart Security Premium suites, you can protect up to 10 devices by paying $10 for every additional device.
| ESET Products | Regular Price | Discounted Price |
| --- | --- | --- |
| ESET NOD32 Antivirus | $39.99/year | Check here |
| ESET Internet Security | $49.99/year | Check here |
| ESET Smart Security Premium | $59.99/year | Check here |
| ESET Multi-device Security | $69.99/year | Check here |
| ESET Cyber Security for Mac | $49.99/year | Check here |
| ESET Business Products | Varies | Check here |
Winner: N/A. Comparison is not possible in this category since Windows Defender doesn't offer premium products.
Final Thoughts
It's a tough fight, as both antivirus suites are bested by each other in different categories. However, ESET is our overall winner because its features and interface are more relevant to today's security needs. It's true that it was bested by Windows Defender in the malware protection category, but it was because of ESET's absence, not poor performance.
Our recommendations: If you want to get the highest level of security and performance, there's no better choice than Norton, which protects over 50 million users worldwide.
After reviewing dozens of antivirus products from some of the biggest names in the cybersecurity realm, we believe that Norton 360 Deluxe is the best antivirus suite available on the market. It provides flawless anti-malware protection without slowing you down. Plus, you get almost all the advanced features you could ever want.
If you're willing to pay more for advanced identity protection features, we recommend Norton 360 with LifeLock select (only available in the US). It's a bit pricey but worth the price.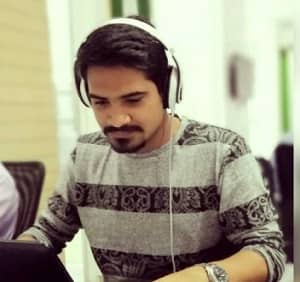 Anas Baig is a consumer privacy advocate and cybersecurity journalist by profession. Has has more than 7 years of professional experience under his belt. Anas has been featured on numerous media publications including The Guardian, Lifehacker, The Next Web, Infosecurity Magazine, Security Boulevard, Hacker Noon, CMS Wire, IAPP, SC Magazine, and many others. His interest includes Digital Privacy Rights, Information Security, Networking, Privacy, and Data Protection.
My Contributions: 
Hacker Noon | TheNextWeb | DevOps.com | GlobalSign | CMS Wire | CSO | Tech.co | Security Boulevard | ITProPortal | MuckRack | Crunchbase