(Last updated on January 6th, 2021)
McAfee or Kaspersky, which antivirus software should you get in 2021?
Read this ultimate, data-driven comparison to make a wise decision.
Adware, ransomware, spyware, worms, viruses, Trojans, rootkits, keyloggers – malware comes in many forms, but it has only one aim: make your life hell.
Malware may result in slow computer speed, annoying ads that pop up unexpectedly, repeated system crashes and freezes, considerable increase in Internet activity, theft of identity and banking details, loss of important files and documents, etc.
And malware has become increasingly pervasive in recent years. The global malware volume hit 9.9 billion last year, according to the 2020 SonicWall Cyber Threat Report.
The AV-Test Institute, an independent antivirus testing lab, registers more than 350,000 new malware programs and potentially unwanted applications.
Besides the sheer volume of these threats, cybercriminals are also pivoting towards more and more effective strategies in the face of advancement in cyber defenses.
They are regularly coming up with new plans to sneak into your PCs, smartphones and other Internet-connected devices.
So, no matter how much careful you are, some sort of malware may still creep into your devices as long as you are online.
But there is one thing that can minimize the chances of you being affected with malware to almost zero, and that is a reliable antivirus suite.
Today's antivirus offerings from brands like Bitdefender, McAfee and Kaspersky not only protect you against malware, they also come with several other advanced features, such as VPN, parental controls, banking payments protection, password manager, file shredder, and much more.
Best Antivirus Suite for 2020
60-day money-back guarantee
During the past few months, we have ranked, rated, and reviewed 40 premium antivirus suites from the biggest names in cybersecurity. We did this so you can confidently choose the best antivirus software to protect yourself and your family.
Right now, we think that
Norton
is the best antivirus software your money can buy. It regularly earns perfect or near-perfect scores from independent labs and has the least impact on system performance compared to rival products. Its products combine top-notch security with an array of excellent security features and, best of all, offer exceptional value for money.
Overall,
Norton 360 Deluxe
(currently at
70% off
) is our pick for the best antivirus suite in 2020. It is competitively priced and comes with almost everything you could possibly ask for, such as a firewall, a fully integrated VPN, dark web monitoring, cloud backup storage (50GB), a password manager, and parental controls. You can cover up to 5 PCs, Macs, smartphones or tablets with this suite.
If you want full-on identity protection and don't mind paying more,
Norton 360 with LifeLock Select
(currently at
35% off
) gives those in the US a full range of identity protection features, more backup space (100GB), as well as all the above.
In this comprehensive guide, you'll see what's included in different antivirus suites both McAfee and Kaspersky offer, as well as how both software fare when it comes to malware detection, impact on system performance, use-friendliness, pricing, etc.
First, let's see the security suites both McAfee and Kaspersky offer.
If you're in a hurry and just want the summary of this detailed comparison, take a look at the section below:
A Quick Rundown of Winners in Each Category
1. Features
Winner: McAfee. Both companies offer excellent feature sets, but McAfee offers more tools that ensure complete protection.
2. Malware Protection
Winner: Kaspersky. Independent evaluations suggest that Kaspersky detects more malware threats than its competitor.
3. System Performance
Winner: Both. Both McAfee and Kaspersky performed equally well in independent tests.
4. User-Friendliness
Winner: Tie. Both antivirus suites offer an intuitive and straightforward user interface.
5. Pricing
Winner: McAfee. McAfee lets you protect more devices in less money.
6. Customer Satisfaction
Winner: Tie. Both antivirus brands have similar ratings on customer review websites.
Short Verdict
McAfee is the winner as it offers more security-related features and extra utilities in its products than Kaspersky. Independent lab tests prove that both software provides excellent malware protection with minimal impact on system performance, but McAfee's antivirus suites are cheaper than Kaspersky's.
Best Antivirus for 2021
---
#1 (Excellent)

Robust feature-set
Excellent anti-malware security
Minimal system impact
Easy-to-use interface
Automatic updates
Trusted by 50 million users
100% virus protection promise
60-day money-back guarantee
70% off
#2 (Very Good)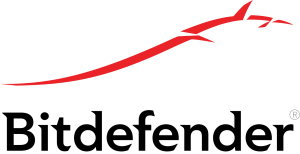 Exceptional malware protection
Little impact on performance
Trusted by millions of users
30-day money-back guarantee
User-friendly interface
50% off
#3 (Very Good)
Good malware protection
Trusted by big corporations
Minimal impact on performance
Good value for money
30-day risk-free guarantee
40% off
Let's start off the detailed comparison…
1. Features
Back in the day, McAfee used to offer a range of antivirus suites but not anymore. McAfee now promotes only two security suites on its official website: McAfee Total Protection and McAfee LiveSafe.
McAfee Total Protection (compatible with both Mac and PC) is the company's full-blown antivirus package, boasting almost all the premium security-enhancing features and extra utilities that should be there in a high-end suite.
A two-way Firewall (monitors network traffic and thwarts hacking attempts), a File Shredder (lets you delete your sensitive files so no one can bring them back), and a File Lock utility (prevents others from accessing your confidential files/data) are part of the Total Protection suite.
A File Encryption feature (protects your important files and folders), an Anti-spam module (blocks junk emails), and a Vulnerability Scanner (checks for outdated software and security flaws in your operating system) are also included in the suite.
You will also get five licenses of True Key Identity Manager; an advanced password manager that can store an unlimited number of passwords for secure, hassle-free logins.
McAfee Total Protection comes at different price points depending on the number of devices you want to license. If you sign up for multiple devices, you'll have access to the McAfee's Security Management Console, from where you can manage protection for all of your devices.
McAfee also offers a 100% Virus Protection Guarantee. In the event of virus infection, a McAfee expert will either remove the virus or give you a full refund. But you'll have to subscribe for auto-renewal service to be eligible for a refund.
McAfee delivers web protection via the WebAdvisor browser extension. It blocks dangerous websites, thwarts phishing attacks, and also scans downloads for malware in real-time.
Another suite that the company offers is McAfee LiveSafe. It includes everything that comes with the "Total Security" suite, plus 1 GB of secure cloud storage where you can store all your sensitive files/documents.
Note: Both McAfee Total Security and McAfee LiveSafe are compatible with Mac platform, too.
Now let's see what's included in Kaspersky's security suites.
Kaspersky offers a range of antivirus suites, starting from Kaspersky Free — the company's free antivirus product.
The freeware offers limited malware protection, protects against malicious/phishing websites, and also checks connected USB drives for malware. Advanced security-enhancing and extra utility tools are not part of the free product.
Next level up is Kaspersky Anti-Virus, which is only compatible with PCs. Along with everything that comes with freeware, it offers an extra layer of ransomware protection, a Vulnerability Scanner (checks for security loopholes and outdated software), and a Silent Mode feature (suspends notifications for uninterrupted experience).
Another level up is Kaspersky Internet Security, which can protect PCs, Macs and mobile devices. It includes everything that is jammed into the previous plan, plus an advanced Firewall, a hardened browser (for safe online shopping/banking), and an Anti-spam module.
A limited parental control filter (which blocks age-sensitive content and helps keep a check on kids' online activities) and protection against webcam/microphone spying are also included in the suite.
Kaspersky Total Security is the company's top-tier suite. In that, you'll get everything that is part of the Internet Security suite, plus a Kaspersky Password Manager (safely stores an unlimited number of passwords), a File Shredder, and a backup utility (with 2GB of online space from Dropbox).
An advanced parental control module and a file encryption utility also part of the Total Security suite.
A limited free VPN (with a data limit of 200MB per day) is also part of all Kaspersky's security suites.
Note: Both Kaspersky Total Security and Kaspersky Internet Security are compatible with PC, Mac, iOS, and Android.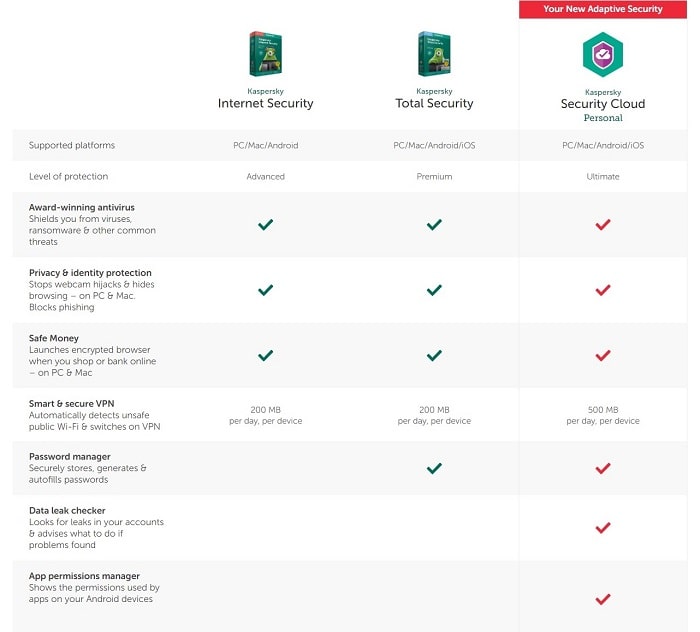 Winner: McAfee. Both antivirus products have an excellent range of features that cover almost every aspect of your protection. However, McAfee has an edge here as it offers a single powerful product that caters to all the security needs of home users.
2. Malware Protection
Malware protection is the most essential feature of an antivirus suite. An excellent security product is one that protects your devices against both known malware and unknown malware (also called zero-day malware).
Now, let's see how McAfee and Kaspersky fare in this category. To gauge the malware protection performance of both products, we will take a look at the latest tests conducted by two independent and reputable antivirus testing labs: AV-Test and AV-Comparatives.
The AV-Test experts examine three aspects of all security products: Protection, Performance, and Usability. The lab recently conducted its Protection Test in April 2020, in which Kaspersky received a decent score of 5.5 out of 6.
McAfee, on the other hand, was a tad behind with a score of 5 out of 6.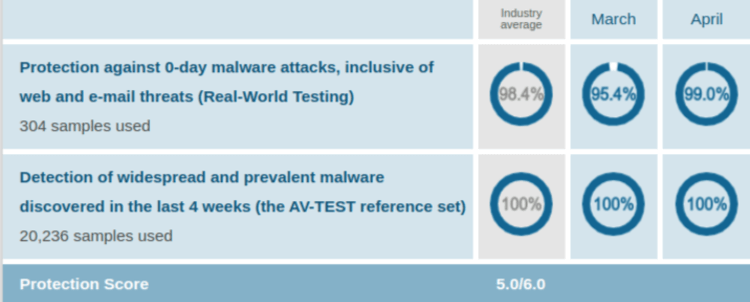 When it comes to zero-day malware attacks, Kaspersky detected 100% of the samples against 95.4% by McAfee in March. However, the April results showed that both McAfee and Kaspersky offered detection rates of 99%.
Let's now take a look at the AV-Comparatives' Real-World Protection Test.
According to the combined result of the February-May 2020 Real-World Protection Test, Kaspersky got the highest-ranked ADVANCED+ (3-star) award, detecting 99.9% samples.
In comparison, McAfee showed a success rate of 98.9% and received the 2-star ADVANCED award.
Winner: Kaspersky. Kaspersky performed better in both evaluations, clearly edging out McAfee in the malware protection department.
3. System Performance
All programs use some system resources (processor, RAM, disk, etc.) to perform effectively and therefore have an influence on your computer speed. Antivirus programs are no exception.
However, excellent antivirus programs provide round-the-clock protection and yet have negligible impact on system performance.
Let's see how McAfee and Kaspersky fare in this important category.
The AV-Test Institute gauges the impact of an antivirus product on system speed by looking at how it affects common computer tasks like copying files, launching popular websites, downloading and installing frequently used applications, etc.
In its latest Performance evaluation carried out by the lab in April 2020, both McAfee and Kaspersky came out on top with a perfect 6 out of 6 score, suggesting that their impact on system resources is minimal.
McAfee:
Kaspersky:
In a similar test run by AV-Comparatives, both antivirus products once again were among the top performers and received the ADVANCED+ award, the highest rating bestowed by the testing lab.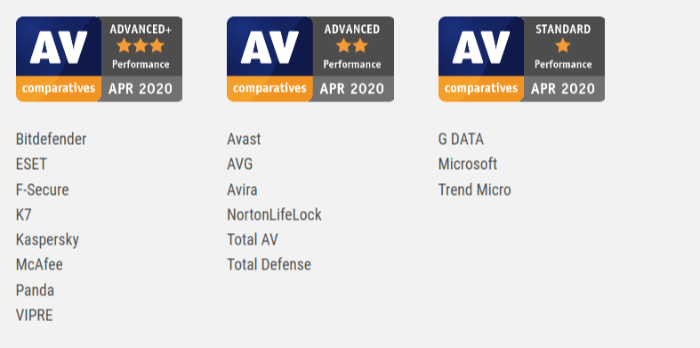 Winner: Both. The two key evaluations showed that both McAfee and Kaspersky are extremely lightweight and are among the top products when it comes to system performance.
4. User-Friendliness
Now, let's see which of the two software offers a better user experience.
McAfee's interface has recently gone through significant improvements, and it's now simple and bright – in colors of light blue, grey and white. Home, PC Security, Identity, Privacy, and Account are the tabs that constitute the main menu, along with quick links to Settings, Alerts, and Tips (available in the top-right corner).
Home window – which is your default screen – shows your protection status and also has buttons run a Quick Scan or a Full Scan. At the bottom, you'll find either 2 or 4 rectangular tiles for doing different things, such as checking application updates, setting up True Key password manager, and removing browser cookies/trackers.
PC Security window includes advanced features (like Firewall and Real-time Protection), while Identity tab contains File Shredder, Anti-spam, and WebAdvisor modules.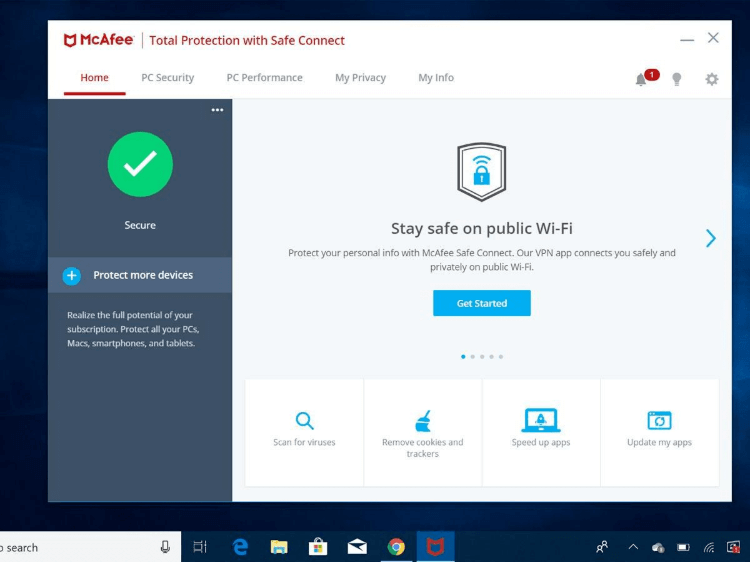 Privacy contains parental control features and a File Vault (secures sensitive files with a password and encryption). Finally, the Account tab has information about your subscription status.
Now, let's delve into Kaspersky's interface.
Kaspersky's interface is simple and intuitive, in shades of green and white. Home window – which is the first thing you see when you open the software – has a lot of information, buttons, and links. But everything is so well organized that the interface doesn't look crowded at all.
Scan, Database Update, SafeMoney, Privacy Protection, Parental Control, and Protection for all devices are the modules you'll find on the main screen. The modules are pretty much self-explanatory and contain relevant features (and their settings).
If you're using the freeware, most of the premium features won't be available to you.
The name of the suite you're subscribed to is displayed in the title bar, while the bottom bar has quick links to reports, news, notifications, settings, and other Kaspersky's products.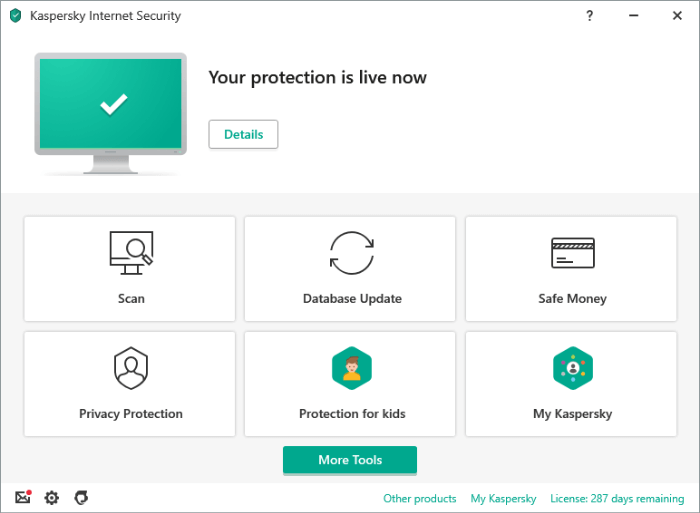 Winner: Tie. Overall, both McAfee and Kaspersky provide a simple and easy-to-use user interface.
5. Pricing
Price is one of the biggest deciding factors when you are going to purchase a product. If a great product is out of your budget, it's of no use for you because no can't experience it.
So, let's see how McAfee and Kaspersky price their products.
The McAfee Total Protection suite, which is compatible with Windows, macOS, Android and iOS, gives three licensing options.
If you want to cover a single device, you will be charged a subscription fee of $29.99 for the first year, which means a discount of $50. Licenses for five and 10 devices cost $34.99/year ($65 off) and $39.99/year ($80 off) for new customers.
| McAfee Products | Regular Price | Discounted Price |
| --- | --- | --- |
| McAfee Total Protection (1 Device) | $79.99/year | Check here |
| McAfee Total Protection (5 Device) | $99.99/year | Check here |
| McAfee Total Protection (10 Device) | $119.99/year | Check here |
By contrast, Kaspersky offers three tiers of protection at different prices. The most basic offering, Kaspersky Anti-Virus (only for Windows PCs), is available at 25% off and costs $29.99 for one PC, $56.99 for three PCs and $74.99 for five PCs.
Kaspersky Internet Security costs $44.99 annually for a single device for new customers after a 25% discount, and $59.99 and $74.99 for three and five devices, respectively.
Kaspersky Total Security also offers 25% off and comes at an annual subscription fee of $59.99 for one device, $74.99 for three devices and $112.49 for five devices.
| Kaspersky Products | Regular Price | Discounted Price |
| --- | --- | --- |
| Kaspersky Anti-Virus | $59.99/year | Check here |
| Kaspersky Internet Security | $79.99/year | Check here |
| Kaspersky Total Security | $99.99/year | Check here |
| Kaspersky Security Cloud (Personal) | $89.99/year | Check here |
| Kaspersky Security Cloud (Family) | $149.99/year | Check here |
| Kaspersky Small Office Security | $149.99/year | Check here |
| Kaspersky End Point Security Cloud | $300.00/year | Check here |
Winner: McAfee. With McAfee, you can cover more devices in less money and get more features since the company offers a single product that is loaded with all the advanced tools.
6. Customer Satisfaction
Let's see how existing users rate McAfee and Kaspersky based on their regular interaction with these companies.
On the review aggregation website Consumeraffairs.com, both McAfee and Kaspersky have a rating of 3 stars out of 5.
Another company that track customers reviews and rates businesses based on their reliability and performance is the Better Business Bureau (BBB).
On the BBB website, both McAfee and Kaspersky have a poor rating of 1 star out of 5.
Winner: Tie. Ratings from two reputable websites show that both antivirus brands have happy as well as unsatisfied customers.
Final thoughts
Both McAfee and Kaspersky are well-known companies in the antivirus realm.
Our recommendations: If you want to get the highest level of security and performance, there's no better choice than Norton, which protects over 50 million users worldwide.
After reviewing dozens of antivirus products from some of the biggest names in the cybersecurity realm, we believe that Norton 360 Deluxe is the best antivirus suite available on the market. It provides flawless anti-malware protection without slowing you down. Plus, you get almost all the advanced features you could ever want.
If you're willing to pay more for advanced identity protection features, we recommend Norton 360 with LifeLock select (only available in the US). It's a bit pricey but worth the price.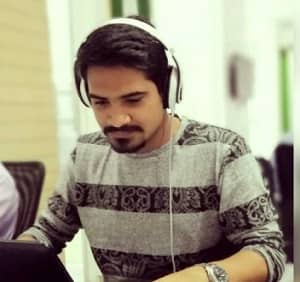 Anas Baig is a consumer privacy advocate and cybersecurity journalist by profession. Has has more than 7 years of professional experience under his belt. Anas has been featured on numerous media publications including The Guardian, Lifehacker, The Next Web, Infosecurity Magazine, Security Boulevard, Hacker Noon, CMS Wire, IAPP, SC Magazine, and many others. His interest includes Digital Privacy Rights, Information Security, Networking, Privacy, and Data Protection.
My Contributions: 
Hacker Noon | TheNextWeb | DevOps.com | GlobalSign | CMS Wire | CSO | Tech.co | Security Boulevard | ITProPortal | MuckRack | Crunchbase