(Last updated on May 6th, 2020)
McAfee or Norton (also called Symantec), which software is a better option in 2020?
Read this ultimate McAfee versus Norton comparison to make a smart choice.
The digital world today is no place to mess around. You have to be vigilant if you want to be safe. Hackers are always coming up with new ways to steal your sensitive data (including financial information) and breach your privacy. That's why you too need to have your guards up at all times.
Did you know that malicious hackers attack computers and networks as frequently as one attack every 39 seconds? 2.4 million encrypted attacks happened in the first half of the year 2019 alone, marking a 76% year-to-date increase. These statistics are anything but encouraging.
Many of us believe that a free antivirus solution (like Windows Defender) is all you need to tackle advanced threats. If you believe that free software can provide you the same level of protection as a paid premium service, you're wrong!
Look, the malware technologies are evolving at all times, just like any other technology. Somewhere someone is continually putting countless hours and resources into creating these malicious viruses. Free antivirus solutions don't have the cutting-edge protection and advanced features to fight against the latest malware threats.
Premium antivirus suites automatically update their definitions several times a day to provide an advanced level of protection against cybersecurity attacks, such as ransomware, phishing scams, trojan viruses, worms, and other related threats. In exchange for a small price, you can attain the peace of mind that you and your family deserve.
We know that it can be overwhelming to choose from so many options available in the market. Don't worry, we've got you covered.
Best Antivirus Suite for 2020
(All the best security products examined)
Editors' Choice Award Winner
Special discount ends in...
30-day money-back guarantee
During the past few months, we examined and reviewed over 50 antivirus suites from the biggest names in cybersecurity. We did this so you can confidently choose the best antivirus software to protect yourself and those you love.
Overall,
Bitdefender
is our
#1 antivirus software
for 2020, because of its excellent, flawless performance in all the recent independent lab evaluations we considered, particularly those conducted by AV-Test and AV-Comparatives.
Right now, we think that
Bitdefender Total Security 2020
(currently at
60% off
) is the best antivirus package available in the market. Apart from providing excellent anti-malware protection, it offers all the advanced premium features and utilities that must be there in a high-end package -- and best of all, it offers excellent value for money. You can protect up to five devices (PCs, Macs, or smartphones) with just one subscription.
If you need protection for more than five devices, we highly recommend
Bitdefender Family Pack 2020
. It will cover all the internet-capable devices in your household with the Total Security suite, so your family will be protected no matter what goes wrong.
In this detailed guide, we have compared two top-of-the-line antivirus companies: McAfee and Norton. We are going to look at what feature-sets they offer, how effectively they protect you against malware, and how much impact they have on system performance.
In a rush? Below is a quick summary of the comparison, and the winners in each category.
A Quick Rundown of the Winners in Each Category
1. Features
Winner: McAfee. Norton provides you additional features with every tier, but McAfee gives you an all-inclusive package no matter the number of licenses you require.
2. Malware Protection
Winner: Tie. Both McAfee and Norton achieved top scores on both independent tests, demonstrating the highest level of malware protection. So, this category is a tie.
3. System Performance
Winner: Tie. Once again, both our companies tied in this category; both software got excellent scores in recent independent performance tests.
4. User-Friendliness
Winner: Norton. Norton has an interface that is simple, intuitive, and highly functional. McAfee also has a friendly, intuitive interface, but it doesn't match Norton's functionality.
5. Pricing
Winner: McAfee. McAfee provides a better value versus money ratio as you add more devices to the equation, which makes McAfee a better pick for families.
6. Customer Satisfaction
Winner: McAfee. Overall, McAfee fared slightly better than Norton in this category.
Short Verdict
McAfee is the overall winner as it offers more security-enhancing features and utilities in its security products than Norton. Also, independent tests show that McAfee is better than Norton in terms of both malware detection and system performance.
Our recommendations:
If you want to get the highest level of security and performance, there's no better choice than Bitdefender, which protects over 500 million devices worldwide.
We have reviewed, ranked, and rated all the best antivirus software products out there, and we think that
Bitdefender Total Security 2020
(currently at
50% off
) is the best antivirus package you can buy right now. You can protect up to five devices (PCs, Macs, or smartphones) with just a single subscription of this suite.
If you need protection for more than five devices,
Bitdefender Family Pack 2020
is the best option for you.
Looking for Mac-specific protection? Check out
Bitdefender Antivirus for Mac
for complete peace of mind.
1. Features
A lot of times, features are where customers try to find the most value for their money. The price has to be justified by the functions and utilities that different products offer. Actually, the more, the better. So we compare both brands to see which one provides more feature-rich products.
Let's start with McAfee.
The flagship product from the company, McAfee Total Protection, comes packed with all the advanced features and functions to provide proper malware protection.
A two-way firewall doesn't let anything in and out of your computer without your permission. It is regularly updated to keep the latest threats at bay.
A File Lock feature protects your sensitive information during browsing or online shopping.
A File Shredder helps to permanently delete any confidential files that you don't want leaking.
There's a Password Management tool that helps store your passwords securely on your device, so your information is safe while you're on the internet.
A Network Manager module secures your home Wi-Fi from any external interference and restricts accessibility by external factors.
The package includes a Safe Family Module that helps track the online behavior of your children so you can set limits to save them from unwanted content on the internet. You can also use this utility to control the amount of time they spend online to promote healthy habits.
This product is compatible across different devices (PCs, Macs, and mobile devices).
The product comes with 24/7 premium customer support.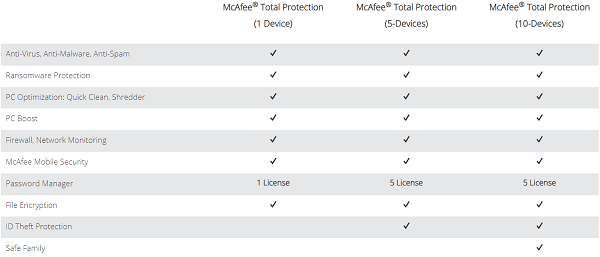 McAfee LiveSafe is another superior product from the company. It incorporates the same features as the former product. The only difference is that McAfee Total Protection is restricted by OEM deals, which means it can't be purchased in most countries.
Now let's look at the range of antivirus products from Norton.
The entry-level offering of the company is called Norton AntiVirus Plus and protects against all sorts of malware threats. It also includes:
A Smart Wall that monitors your network traffic at all times and secures you against external threats.
A password manager that securely stores all your sensitive data and provides you safe browsing experience.
This product applies to both PCs and Macs.
Norton 360 Standard is the next tier of protection that comes with 1 universal license for a PC, Mac, or mobile device. Along with everything from the previous product, the package also offers:
A secure VPN to allow you an anonymous surfing experience and access to region-specific websites.
A webcam protector keeps you safe from hackers using your device camera to spy on you.
Dark Web Monitoring feature, powered by LifeLock, protects your sensitive information so cyber-criminals can't misuse it.
You also get 10 GB of cloud data storage so you can store a backup of your important files with access from any device.
Next up is Norton 360 Deluxe that has everything from Antivirus Plus suite with some more additions:
It provides you 5 universal licenses.
It offers multilayered malware protection, so you don't fall victim to cyber monetary attacks.
A parental control module keeps track of kids' online activities, called Norton Family Premier. This feature helps provide a healthy and safe online experience for your children.
This product includes 50GB of cloud data.
Finally, Norton 360 Deluxe with LifeLock Select for unparalleled defense in the realm of identity protection. It comes with dark web monitoring, a includes all the advanced functions from Deluxe suite and also offers useful monitoring modules such as:
The Identity Alert System keeps tabs on your behavioral patterns. The system instantly notifies you if your information is being used in a way that doesn't match up with your record.
There's a Credit Monitoring suite that warns you if there's a sudden drop in your funds. This is another sign of identity theft.
A Million Dollar Protection Package provides insurance for up to $1 million in case of stolen funds. This insurance guarantees your peace of mind in such an event.
You also get 100GB of Cloud Backup with this product.
Get Norton 360 with LifeLock Select
All Norton premium products are covered by 24/7 customer support.
If you wish to look at Norton's business products, go here for detailed information.
Winner: McAfee. Norton has a nice spread of features, but with McAfee, you get the same line of utilities whether you need a single license or protection for multiple devices.
2. Malware Protection
The primary function of antivirus products is to defend your computer from all kinds of cyber threats at all times. More than any other capability, this one is the most important. Let's compare our companies to find out which one does a better job of securing your devices and information. We'll compare independent test findings from two different organizations to reach a logical conclusion.
First, we'll look at the results of the Protection Test from AV-test.org issued in April 2019. In this test, McAfee scored a perfect 6 out of 6.
Norton also scored a brilliant 6 out of 6 in the same evaluation.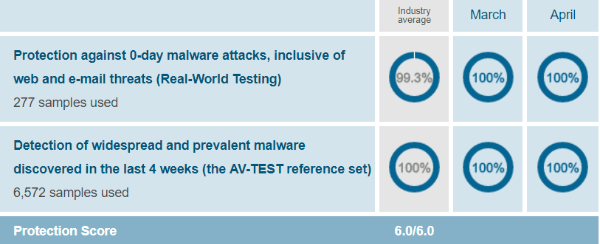 Now, let's look at the independent test results from av-comparatives.org. Their Malware Protection Test results came out in March 2019. This test assesses a software's ability to protect a device from malware that might enter a system through different channels. It also checks the frequency of false alarms given by antivirus software. In this test, both McAfee and Norton gave a similar level of performance and won the ADVANCED award.
Winner: Tie. In both independent tests, McAfee and Norton were head to head and received equivalent scores.
3. System Performance
Any antivirus software that drags the performance of your computer is not the software you need. In today's world, product efficiency is hugely desirable, especially when it has to do with one's profession. Our next comparison is going to gauge which software uses fewer resources on your computer and has the least impact on the system performance.
The first Performance test result is from AV-test.org again. Let's see how the two companies perform. In this test, McAfee scored a perfect 6 out of 6.
Norton matched McAfee's performance with a 6 out of 6 score of its own.
Our second resource for Performance Test is the AV-Comparatives Organization. As per their Performance Test in April 2019, Both McAfee and Norton bagged the highest possible award: the ADVANCED+ award.
Winner: Tie. Both McAfee and Norton are excellent in terms of the impact on system performance.
3. User-Friendliness
Today's computer users don't like to get into complex processes. They want one-click operations that get the job done. For this reason, popular antivirus interfaces are intuitive, user-friendly, and pretty much straight-forward in design.
Let's take a look at both our companies' user interfaces to find out which one is more intuitive and offers a smooth user experience.
McAfee has a simple interface that uses dark grey and white as primary colors. There's a panel on the left side that informs of the system security status as well as sorts all primary operations for easy access.
Most of the screen is dominated by a central hub that switches screens as you move from function to function. Every major function has its separate section. The screen layout is not ideal, but it is relatively easy to use.
Now let's see what Norton interface looks like.
Norton uses a pretty straight-forward interface divided into one main panel at the top and four different blocks at the bottom. The top panel tells you about the protection status of your computer, and the blocks denote different functions. Everything is within easy access and one-click operation.
Norton does use pop-ups to alert you about any issues or changes in the software. While it can get annoying, it also keeps you well-informed about the health of your device. Norton interface is optimized for mobile devices, which makes it fairly easy to use on different devices.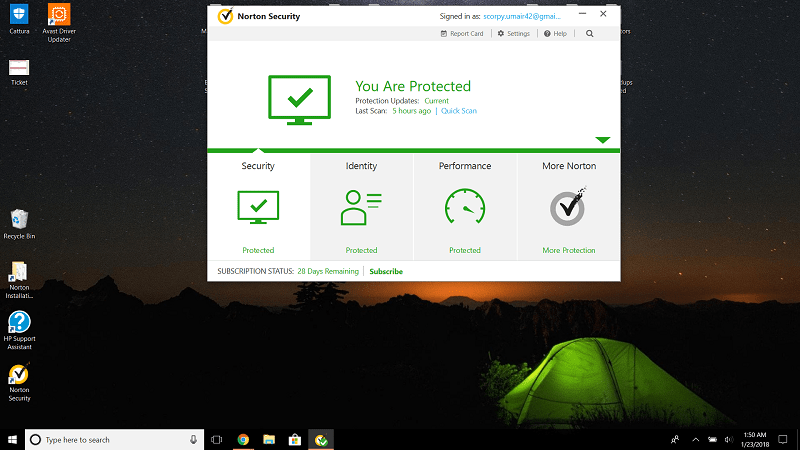 Winner: Norton. McAfee interface is simple and easy to use, but it's not as intuitive and user-friendly as Norton's. That is why Norton wins this battle.
4. Pricing
Price is a pressing point for many. While everybody wants premium protection, not everyone can afford the most premium offering. So let's take a look at the pricing plans for both McAfee and Norton to see which one is a better contender in terms of rates.
McAfee Total Protection costs $24.99 per year per license. However, each additional license costs less. For instance, 5 licenses will cost you $39.99 per year. Similarly, 10 licenses will cost $44.99 per year. At this rate, the more the licenses, the better the pricing.
| McAfee Security Products | Prices |
| --- | --- |
| McAfee Total Protection (1 Device) | Check Price |
| McAfee Total Protection (5 Device) | Check Price |
| McAfee Total Protection (10 Device) | Check Price |
Now let's take a look at Norton's product pricing.
Norton Antivirus Plus costs $39.99 per year and includes one license. However, this license is applicable to 1 PC or 1 Mac. Norton 360 standard also comes with one license at $49.99 per year. This license also applies to mobile devices.
Norton 360 Deluxe costs $59.99 per year and includes five universal licenses. Finally, Norton 360 Deluxe with LifeLock Select costs $99.99 per year for 5 licenses.
Winner: McAfee. Although Norton's entry-level package costs less, McAfee is a better pick for anyone needing to protect several devices. This difference makes McAfee more suitable for families.
5. Customer Satisfaction
Customer support is a massive part of any service in this day and age. If your customers aren't happy with your service, they'll find an alternative service provider very soon. Let's see how well McAfee and Norton take care of their customers.
Our first source for this assessment is the Better Business Bureau (BBB). They collect and process customer feedback into an average letter score from A to F. BBB awarded McAfee with a stellar A+ rating. Norton matched McAfee on this and also received an A+. These ratings show that both companies are very good at customer support.
Consumeraffairs.org is a similar service. They average out their feedback into a 5-star ranking. According to this source, McAfee received an average score of 3 stars. Norton performed very poor and received only 1 star.
Winner: McAfee. Both companies performed equally well according to the BBB, but the second feedback contrasted by a considerable margin for both products. McAfee still performed better than Norton in the second rating, so McAfee is the winner.
Final Verdict
McAfee is a better choice as it offers more security-related features and extra utilities in its security suites than Norton. Independent tests prove that both software are excellent in terms of the impact on system performance, but McAfee offers better anti-malware security than Norton.
Get Bitdefender at 60% off today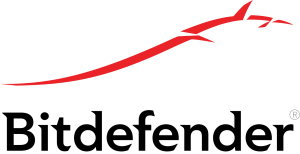 Special offer ends in ...
Editors Choice Award Winner
Our recommendations:
After reviewing 50 antivirus suites from some of the biggest names in the cybersecurity realm, we believe that
Bitdefender Total Security 2020
(currently at
60% off
) is the best antivirus suite for 2020 in terms of value for money. You protect up to five devices (PCs, Macs, and smartphones) with a single license of this suite.
Got more than five internet-capable devices? We found that
Bitdefender Family Pack 2020
is the best option out there in terms of value for money.
If you are still unsure, Bitdefender offers a 30-day money-back guarantee and exceptional customer support, so you there is nothing to lose.
Related Comparisons
Bitdefender vs Avast
Bitdefender vs Kaspersky
Kaspersky vs Avast
Kaspersky vs Norton
Avira vs ESET
AVG vs Norton
Kaspersky vs Avira
Norton vs Malwarebytes
McAfee vs Avast
Norton vs Avast
McAfee vs Kaspersky