(Last updated on January 9th, 2023)
Norton or ESET, which antivirus software is a better option in 2023?
Read this data-driven Norton versus ESET comparison to make a wise decision.
The internet has become an essential part of our daily lives with most of us spending hours online every day. More of us are increasingly joining e-commerce platforms to do online shopping. We have fallen in the habit of sharing our credit details and personal information without even thinking about it. Much as we think that the internet is a safe space for all that, it's not. If anything, the opposite is true.
The more we continue to share our personal and financial information online, the more vulnerable we become to malware attacks.
Did you know that, according to a study, 137.5 million new malware samples were found in 2018, and an additional 24.55 million were already discovered by April 2019? Every day, the AV-TEST Institute registers over 350,000 new malicious programs (malware) and potentially unwanted applications (PUA). This dangerous scenario calls for immediate action to try and save your online information.
The best way to do that is by getting a superior antivirus solution that can protect you on multiple levels. You can try out any freemium from a well-known antivirus provider, but it won't benefit you much in the way of protection against the latest malware attacks. Why? Well, for a simple reason, consider this: As per the 2019 Webroot Threat Report, 93% of malware observed in 2018 was polymorphic, meaning it had the ability to constantly change its code to evade detection.
Best Antivirus Suite for 2021
60-day money-back guarantee
During the past few months, we have ranked, rated, and reviewed 40 premium antivirus suites from the biggest names in cybersecurity. We did this so you can confidently choose the best antivirus software to protect yourself and your family.
Right now, we think that
Norton
is the best antivirus software your money can buy. It regularly earns perfect or near-perfect scores from independent labs and has the least impact on system performance compared to rival products. Its products combine top-notch security with an array of excellent security features and, best of all, offer exceptional value for money.
Overall,
Norton 360 Deluxe
(currently at
70% off
) is our pick for the best antivirus suite in 2021. It is competitively priced and comes with almost everything you could possibly ask for, such as a firewall, a fully integrated VPN, dark web monitoring, cloud backup storage (50GB), a password manager, and parental controls. You can cover up to 5 PCs, Macs, smartphones or tablets with this suite.
If you want full-on identity protection and don't mind paying more,
Norton 360 with LifeLock Select
(currently at
35% off
) gives those in the US a full range of identity protection features, more backup space (100GB), as well as all the above.
That's why paid antivirus protection is undeniably a better choice no matter how you look at it. But we understand that finding the best-paid antivirus software can be tricky; that's why we are here to help. We'll show you a detailed comparison between Norton and ESET, two top antivirus competitors, to show you which one offers a superior service. This comparison will help you to decide where to spend your time and money.
In a rush? Take a quick look at this rundown of categories to see who wins according to each metric.
A Quick Rundown of Winners in Each Category
1. Features
Winner: Norton. Norton has more features related to identity theft protection, which is extremely important these days.
2. Malware Protection
Winner: Norton. Norton is the winner ranking high scores from two independent sources while ESET lags far behind.
3. System Performance
Winner: Norton. ESET stands just as tall as Norton according to AV-Comparatives, but the lack of ranking from AV-test.org sets it back on this front.
4. User-Friendliness
Winner: Norton. ESET's interface is okay, but Norton bags the prize with a much more intuitive and user-friendly interface.
5. Pricing
Winner: Norton. You can acquire more licenses for less money through Norton, which means a more quality-price ratio.
6. Customer Satisfaction
Winner: ESET. ESET offers support in local languages, contributing to their higher customer satisfaction scores.
Short Verdict
Norton is a better choice as it offers more security-related features and extra utilities in its security suites than ESET. Also, independent tests show that Norton is better than ESET in terms of both malware detection and system performance.
Best Antivirus for 2023
---
#1 (Excellent)

Robust feature-set
Excellent anti-malware security
Minimal system impact
Easy-to-use interface
Automatic updates
Trusted by 50 million users
100% virus protection promise
60-day money-back guarantee
70% off
#2 (Very Good)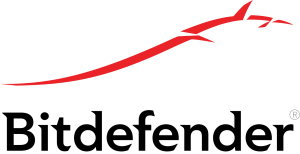 Exceptional malware protection
Little impact on performance
Trusted by millions of users
30-day money-back guarantee
User-friendly interface
50% off
#3 (Very Good)
Good malware protection
Trusted by big corporations
Minimal impact on performance
Good value for money
30-day risk-free guarantee
40% off
1. Features
The features of any antivirus software should be functional and add to the overall user experience. To see which antivirus software is more worth your time and money, let's directly compare the software features of both Norton and ESET.
First, let's see what variety of features Norton packs into its product.
Norton AntiVirus Plus is the first security product offered by this company. It comes with one license that is for use with PCs only. Norton Antivirus Plus has the signature smart firewall that Norton is known for. The firewall can defend you from a wide range of digital viruses and malware. It is updated every single day to ensure that its malware detection definitions are always on point.
It can also detect any data or files that attempt to enter your computer and prevent them from getting through without your approval. A small pop-up alerts you to such a warning.
A password protector and manager also come packed with Norton Antivirus Plus. It lets you securely store your passwords on the antivirus software itself. It can also check any social media links and email attachments for viruses, like the kinds that often spread across social media platforms.
Norton 360 Standard is the flagship product from Norton that also provides you with one license. However, in this case, the license is universal and applies to PCs, Macs as well as mobile devices. You get everything included with Antivirus Plus as well as 10 GB free of cloud data storage.
Norton 360 Standard also has a webcam protector to stop anyone from spying on you online. Additionally, a Secure VPN tool lets you surf the internet anonymously is also comes with the package. There's also the dark web monitoring function from LifeLock, which checks your personal information online. If it suspects that someone other than yourself is using your information without your permission, the LifeLock function instantly alerts you to the danger. This service helps you to stay on top of potential identity theft attacks.
Norton 360 Deluxe is the final tier of protection from Norton. In addition to all the excellent features included with 360 Standard, the Deluxe also incorporates five universal licenses and 50 GB of cloud data storage. These additions make Norton 360 Deluxe a better pick for families or those with many computers in need of protection.
Norton 360 Deluxe can be further paired with LifeLock Select for unparalleled defense in the realm of identity protection. It comes with dark web monitoring, a credit monitoring suite, an Identity Alert System, and a finance protection scanner.
The Identity Alert System instantly warns you if it detects usage patterns of your information that don't match up with your previous behavior. Such patterns are often a sign that someone else is using your credit card or financial information. The credit monitoring tool, on the other hand, can give you a heads up if your credit score suddenly drops, which is another common sign of identity theft.
If you're a small business and need defense tailored to your environment, click here to check out Norton's business solutions.
Now let's see how ESET compares.
Unlike Norton, ESET doesn't have a limited security version. Instead, ESET lets you enjoy a full feature trial for 30 days.
ESET NOD32 Antivirus is the first offering from the company that provides antivirus and anti-spyware defenses. A website shield makes your online experience safer by protecting your sensitive information. There's also a gamer mode that, when initiated, reduces interruptions or pop-ups during the games or movies to enrich your experience.
NOD32 also has a License Manager, a System Cleaner, and a UEFI Scanner that helps protect firmware on your computer.
ESET Internet Security is the next tier of protection. The Internet Security Suite comes with everything included with NOD32 Antivirus as well as some other unique features. These additional features include a personal firewall, better network security including Botnet Protection, Banking and Payment Protection as well as an Antispam module.
You'll also get access to a full suite of Parental Controls that help monitor kids' browsing habits or bar them from visiting inappropriate websites. Webcam Protection is also a part of this suite that saves you from spying. There's also the Connected Home Monitor that checks your local Wi-Fi network for issues. If you use the software on a Windows computer, an Anti-Theft feature is also available to protect your devices in case of loss or theft.
ESET Smart Security Premium is the final tier of coverage from the company. The Premium version comes packed with some advanced features such as ESET Password Manager and ESET Secure Data. The secure data function allows you to encrypt directories on removable drives to provide data protection in case of USB flash drive or laptop loss.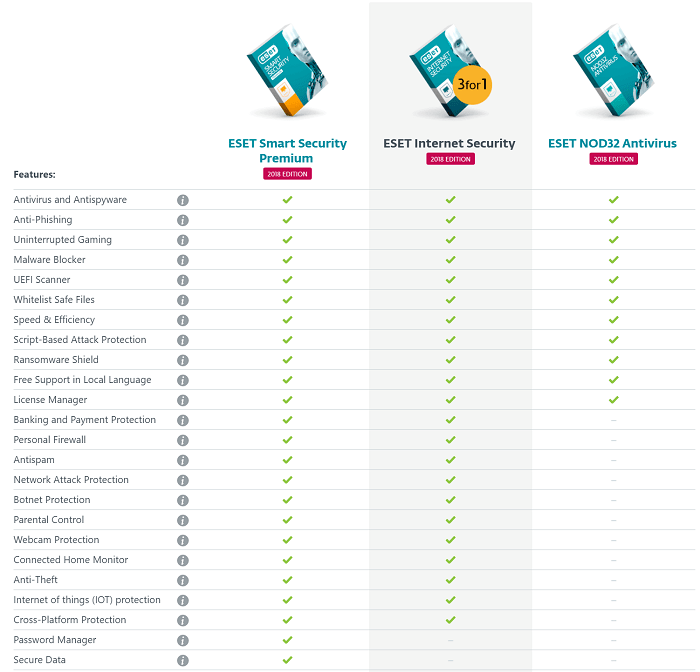 ESET antivirus suites are very light on systems and acquire a minimal footprint allowing more processing power for the front-end activities.
To review ESET's business-specific solutions, click here.
Winner: Norton. Although ESET does have some exciting features, Norton takes the cake thanks to its strong focus on identity theft protection. This utility has become increasingly useful in today's digital world.
2. Malware Protection
Malware defense is perhaps the single most crucial aspect of any antivirus software. But to gauge which of these companies is more efficient at this demanding function, let's look at two independent and therefore unbiased evaluations by two popular antivirus testing organizations.
AV-test.org is one of these independent organizations. They rate antivirus software on a scale from 1 to 6 (6 being the highest score). AV-test.org tests different software in three major categories: Protection, Performance, and Usability. In their most recent evaluation during May and June 2019, Norton achieved a perfect 6 out of 6 score during the Protection test. However, ESET's last assessment from AV-test.org was in December 2017, so there is no recent ESET evaluation to compare from this source.
Let's also take a look at evaluations from AV-Comparatives. The organization compares different software on viruses that attack the host system as well as gauges different antivirus on the frequency of false alarms. In their June 2019 Real-World Protection Test, Norton secured the Advanced Award whereas ESET received the Standard Award.
Go here for details on this evaluation.
Winner: Norton. Norton is the obvious winner here gaining the highest ranking in the first evaluation and second-best award in the second evaluation. ESET, on the other hand, lacks comparison from the first testing organization and bags the lowermost award from the second.
3. System Performance
Antivirus defensive capabilities are undoubtedly critical, but it's also essential to assess how these capabilities affect the system they run on. To test this aspect of our competing antivirus companies, let's return to the same independent testing organizations and see what they have found.
AV-test.org conducts its Performance test allowing antivirus companies to update at any time and choose their own settings. For their June 2019 evaluations, they found that Norton once again got a perfect 6 out of 6 in the performance category. Once again, ESET wasn't available for this comparison.
AV-Comparatives issued a Performance test in April 2019, where the performance of background programs was measured according to what percentage of system resources they employ. In this test, both companies performed well, receiving the highest possible award from the organization in the form of an Advanced + award.
Follow this link if you're interested in details on this evaluation.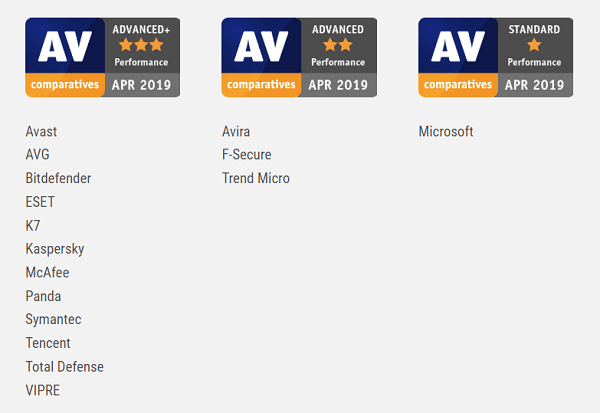 Winner: Norton. Once again, both companies tied during the second evaluation, but Norton conveniently won during the first test for ESET's lack of comparative ranking.
4. User-Friendliness
The finer details of the antivirus capabilities are important. But it is also of enormous importance that the user interface of the antivirus software should be easy-to-use and has smooth navigation.
Let's assess both interfaces to see which one is more efficient and functional.
Norton's interface has a straight-forward dashboard from which you can access your account information and all the primary operations such as scans or performance metrics. You'll find a big green check-mark dominating the dashboard if everything is running smoothly. If not, the panel will let you know by changing colors.
Norton's interface is optimized for mobile devices, which makes it extremely easy to use. The interface itself is pretty intuitive in terms of logical navigation, making it easy to grasp the operation for even the most casual users.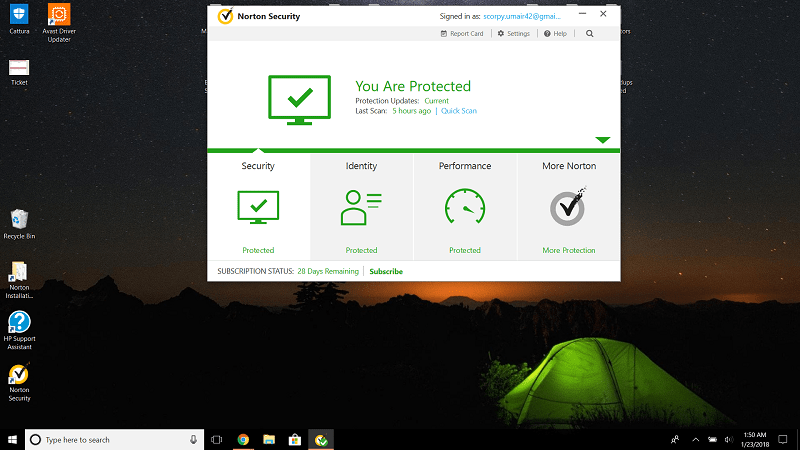 Let's check out ESET's interface in comparison.
Right off the bat, you'll notice the different palettes from Norton's which is blue and gray. You can run the interface in either full screen or windowed modes. Starting a scan only takes a couple of clicks. ESET interface has a neat function where you can drag and drop any file into the antivirus window for a quick scan.
Although the ESET interface seems very user-friendly, many of the other functions hide within the "More Tools" tab. You have to click through several different menus to access more specific tasks, which makes this interface a bit tedious to use. More seasoned users may not have a problem, but light users will have to scratch their heads a few times.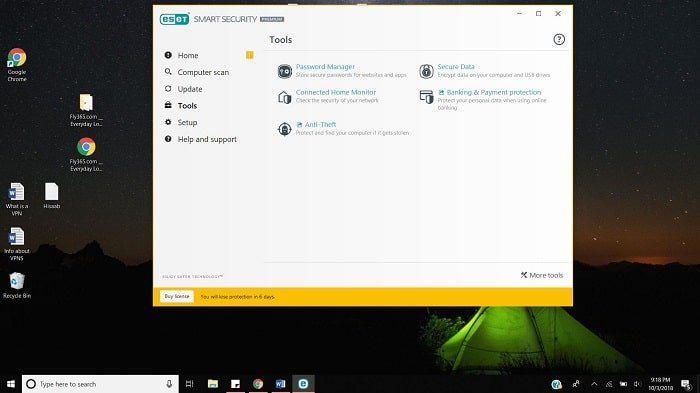 Winner: Norton. Norton's interface is exceptionally intuitive and easy to use as everything is accessible from one central control panel. In contrast, ESET's interface is just as in-depth as Norton's, but it's not quite as simplistic or easy to understand.
5. Pricing
Price is always a significant determinant for most people when it comes to making a purchase decision. For this reason, a good antivirus should bring decent money vs. value ratio to the table. Let's see how much value for money both Norton and ESET bring to the table.
Norton Antivirus Plus, the first paid software offered by the company, costs $19.99 per year for one PC license. You can keep this tier of coverage for use with a Mac or mobile device by paying a little extra, up to $39.99 per year.
Norton 360 Standard, the flagship product, comes with one universal license for $49.99 per year. Then there's Norton 360 Deluxe, primarily the same software but with five universal licenses to make it better suited for family use. This package costs $59.99 per year.
Norton 360 Deluxe with LifeLock Select, the best choice in terms of total identity theft protection, provides you with five universal licenses for $99.99 per year.
If you're interested in any of Norton's business solutions, you can check their prices here.
| Norton Products | Regular Price | Discounted Price |
| --- | --- | --- |
| Norton Antivirus Plus | $59.99/year | Check here |
| Norton 360 Standard | $79.99/year | Check here |
| Norton 360 Deluxe | $99.99/year | Check here |
| Norton 360 with Lifelock Select | $149.99/year | Check here |
| Norton 360 with Utimate Plus | $349.99/year | Check here |
| Norton Small Business Security | Varies | Check here |
Let's take a look at ESET's prices.
ESET NOD32 Antivirus provides you with one license for $39.99, and this license is of the universal variety, meaning that coverage for your Mac is the same between both companies in terms of price.
ESET Internet Security also gives you one license for any computing device and costs $49.99 per year. The Premium ESET product, Smart Security Premium, costs $59.99 per year for one license as well. These prices are a little steep, considering that you can only use them on one device.
For the business products offered by ESET, click on the relevant link below.
| ESET Products | Regular Price | Discounted Price |
| --- | --- | --- |
| ESET NOD32 Antivirus | $39.99/year | Check here |
| ESET Internet Security | $49.99/year | Check here |
| ESET Smart Security Premium | $59.99/year | Check here |
| ESET Multi-device Security | $69.99/year | Check here |
| ESET Cyber Security for Mac | $49.99/year | Check here |
| ESET Business Products | Varies | Check here |
Winner: Norton. ESET's higher tiers of coverage are much more expensive and don't provide as many licenses as Norton's. That makes Norton a better contender in terms of more value for less money.
6. Customer Satisfaction
Customer service is an essential part of any service that can contribute hugely to user experience and hence, to customer satisfaction. Let's examine the overall customer satisfaction ratings both companies have managed to achieve through independent ranking systems.
Better Business Bureau (BBB) in a well-known rating company that uses customer feedback and complaints to rank companies. BBB averages out their ratings on a scale from A to F. Norton and ESET both have an A+ rating from this organization, indicating that they are both trustworthy and good at handling their customers.
Let's turn to another independent rating organization, Consumeraffairs.org, that collects user feedback and averages it out into star rating from 1 to 5. According to this source, Norton was only able to score a 1-star rating indicating poor customer satisfaction. In comparison, ESET has an excellent 4-star rating, representing a much better customer service compared to its competitor.
ESET also offers customer support in your local language, which is an excellent advantage if you're not an English-speaking person.
Winner: ESET. Norton does okay according to the BBB, but it's ESET that wins the trophy here scoring high ranking from both independent sources. ESET also has an edge for providing customer support in the local language.
Final Thoughts
Norton is the overall winner thanks to its stellar protective and performance capabilities and its excellent spread of useful functions. In addition to a high-performance record, Norton is also incredibly affordable and provides security for an entire family or a collection of devices for much better rates compared to ESET. In terms of paid antivirus security, Norton is undoubtedly a fantastic choice.
Our recommendations: If you want to get the highest level of security and performance, there's no better choice than Norton, which protects over 50 million users worldwide.
After reviewing dozens of antivirus products from some of the biggest names in the cybersecurity realm, we believe that Norton 360 Deluxe is the best antivirus suite available on the market. It provides flawless anti-malware protection without slowing you down. Plus, you get almost all the advanced features you could ever want.
If you're willing to pay more for advanced identity protection features, we recommend Norton 360 with LifeLock select (only available in the US). It's a bit pricey but worth the price.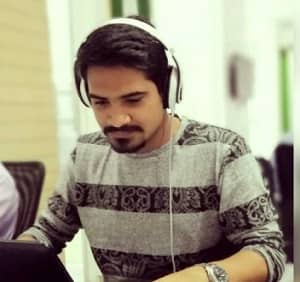 Anas Baig is a consumer privacy advocate and cybersecurity journalist by profession. Has has more than 7 years of professional experience under his belt. Anas has been featured on numerous media publications including The Guardian, Lifehacker, The Next Web, Infosecurity Magazine, Security Boulevard, Hacker Noon, CMS Wire, IAPP, SC Magazine, and many others. His interest includes Digital Privacy Rights, Information Security, Networking, Privacy, and Data Protection.
My Contributions: 
Hacker Noon | TheNextWeb | DevOps.com | GlobalSign | CMS Wire | CSO | Tech.co | Security Boulevard | ITProPortal | MuckRack | Crunchbase