(Last updated on March 1st, 2020)
Sophos or ESET, which antivirus software is a better option in 2020?
Read this ultimate Sophos versus ESET comparison to make a smart decision.
The world of the Internet has seen a drastic transformation since its inception. The first website went live in 1991. Now, there are nearly 2 billion websites.
The number of Internet users has also been on the rise. It has seen a jump in the past few years, doubling to 4 billion in 2018 from 2 billion in 2015.
This number, according to Cybersecurity Ventures, is predicted to touch 6 billion by 2022 (75 percent of the projected world population of 8 billion) and 7.5 billion by 2030 (90 percent of the projected world population of 8.5 billion).
More and more people using the Internet is inevitable because it rules many aspects of our life, ranging from seeking information, acquiring education, online shopping, banking, chatting with friends and family members, and so on.
However, an increasing Internet population has also given rise to cybercrime, which has grown both in number and sophistication.
During the first six months of this year, as many as 4.8 billion malware threats surfaced across the globe. The number of ransomware attacks, in which cybercriminals encrypt your valuable data and demand money in return, was recorded at 110.9 million during the same period.
Therefore, an excellent antivirus program is a must if you want to protect your data and privacy in this day and age.
While opting for an antivirus, make sure that you go for a premium version. Free versions can give you an overall idea about the product, but they offer limited protection and lack advanced tools and utilities.
Paid antivirus, on the other hand, boasts features like ransomware protection, parental controls, password manager, anti-phishing tool, webcam and microphone protection, etc.
But which antivirus software provides the best malware defense? Which one offers more useful features and puts no extra strain on system resources? Which one offers the best pricing options?
Best Antivirus Suite for 2020
(All the best security products examined)
Editors' Choice Award Winner
Special discount ends in...
30-day money-back guarantee
During the past few months, we examined and reviewed over 50 antivirus suites from the biggest names in cybersecurity. We did this so you can confidently choose the best antivirus software to protect yourself and those you love.
Overall,
Bitdefender
is our
#1 antivirus software
for 2020, because of its excellent, flawless performance in all the recent independent lab evaluations we considered, particularly those conducted by AV-Test and AV-Comparatives.
Right now, we think that
Bitdefender Total Security 2020
(currently at
60% off
) is the best antivirus package available in the market. Apart from providing excellent anti-malware protection, it offers all the advanced premium features and utilities that must be there in a high-end package -- and best of all, it offers excellent value for money. You can protect up to five devices (PCs, Macs, or smartphones) with just one subscription.
If you need protection for more than five devices, we highly recommend
Bitdefender Family Pack 2020
. It will cover all the internet-capable devices in your household with the Total Security suite, so your family will be protected no matter what goes wrong.
We have compared dozens of antivirus suites on our website to help you make an informed decision. In this detailed post, we are going to compare Sophos and ESET, two popular names in the antivirus industry.
In a rush? Below is a quick summary of the overall comparison.
A Quick Rundown of Winners in Each Category
1. Features
Winner: ESET. ESET comes with a better feature set compared to Sophos, including a full-fledged password manager, UEFI scanner and file encryption module.
2. Malware Protection
Winner: None. Both antivirus products either didn't participate or didn't perform well in independent evaluations.
3. System Performance
Winner: ESET. ESET put in an excellent performance in a key evaluation conducted by an independent antivirus testing lab.
4. User-Friendliness
Winner: Both. Both companies offer a simple and intuitive interface.
5. Pricing
Winner: Sophos. Sophos' price is reasonable if you want to cover more devices.
6. Customer Satisfaction
Winner: Both. User feedback on independent review websites shows ESET customers are more satisfied than those of Sophos.
Short Verdict
Overall, ESET is a better option than Sophos. ESET's products come with a more comprehensive feature-set and put a minimal impact on system performance. However, Sophos is slightly cheaper than ESET if you want to cover multiple devices.
Our recommendations:
If you want to get the highest level of security and performance, there's no better choice than Bitdefender, which protects over 500 million devices worldwide.
We have reviewed, ranked, and rated all the best antivirus software products out there, and we think that
Bitdefender Total Security 2020
(currently at
50% off
) is the best antivirus package you can buy right now. You can protect up to five devices (PCs, Macs, or smartphones) with just a single subscription of this suite.
If you need protection for more than five devices,
Bitdefender Family Pack 2020
is the best option for you.
Looking for Mac-specific protection? Check out
Bitdefender Antivirus for Mac
for complete peace of mind.
1. Features
Features give you a good idea about the usefulness of the software. Just going through the list of features an antivirus suite offers can sway your decision to one side.
For instance, if you want to control your kids' online activity and protect them from harmful content, you will certainly don't go for an antivirus suite that lacks parental controls.
So, let's examine what features Sophos and ESET offer in their security packages.
Let's start with Sophos.
As far as home users are concerned, Sophos has a limited product line, as it offers only two suites, i.e. a free and a paid version.
The free edition does provide real-time antivirus and web protection but, as expected, it doesn't come with advanced features and utilities that are necessary for complete digital protection these days.
The company's only premium package intended for home users is Sophos Home Premium. The suite comes with a 30-day moneyback guarantee and comes with the following features:
Real-time

malware protection

.

AI threat detection

using deep learning to thwart newly emerging digital threats.

Advanced ransomware protection

to stop cybercriminals from encrypting your important data.

Remote management

for multiple PCs in your household.

Parental controls

to help you keep track of your kids' online activity and protect them from harmful content.

Webcam and microphone protection

.

A

banking protection

feature that stops cybercriminals from stealing your credit card details and other financial information.

Premium customer support.
Now let's see what ESET brings to the table.
Unlike Sophos, ESET doesn't have a free version. Its home product line starts with ESET NOD32 Antivirus which provides essential malware protection to Windows users. Its features include:
Protection against all kinds of malware threats

, including viruses, worms, rootkits and spyware.

An

anti-phishing module

that prevents hackers from tricking you into giving away your sensitive information (such as passwords and credit card details) through fake websites.

A

UEFI scanner

for deeper-level threat protection, even before Windows starts.

A

gamer mode

that turns on automatically when a program, such as games or movies, is running on full screen to save system resources.

Protection against ransomware.
Next up is the ESET Internet Security suite, which includes everything that is part of the previous suite, plus:
A comprehensive

parental controls

suite to provide your kids with a secure online environment.

Banking and payment protection

with the help of a

secured browser

that stops keyloggers from tracking your keyboard movements.

A webcam protection tool that monitors all apps and processes and alerts you if any of them tries to access your webcam.

A

device control

feature that helps you prevent unauthorized copying of your data to an external device.

A comprehensive set of anti-theft tools that let you track the location of your missing device and allow you to watch thieves through your laptop's built-in camera.
The company's top product is ESET Smart Security Premium. In addition to all the features included in the above packages, the Smart Security Premium suite offers:
A full-blown

password manager

that securely stores, organizes and syncs your passwords. It also helps you generate extra-strong encrypted passwords.

It allows you to

encrypt files and removable media

, such as USB flash drives.

Complete protection for all platforms

, including Windows, macOS, Android, iOS and Linux.
Get ESET Smart Security Premium
All ESET packages provide support for local languages.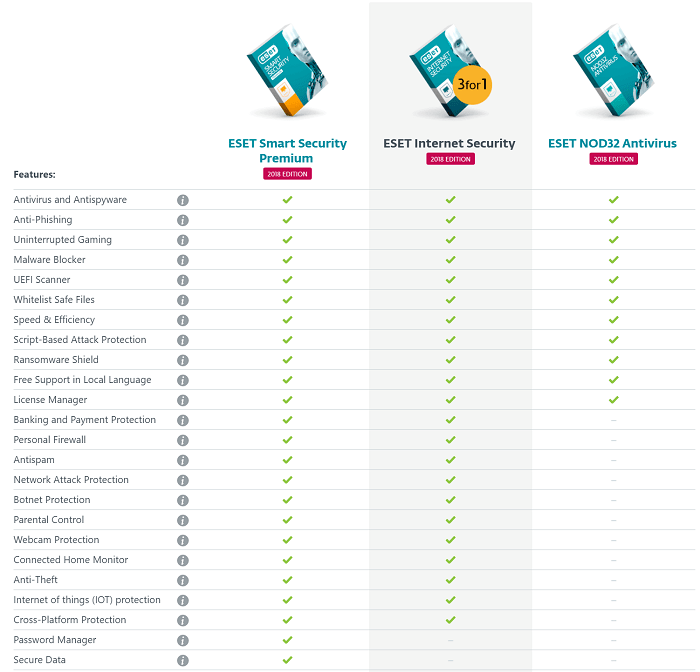 If you are interested in ESET's business-specific products, Follow this link for details.
Winner: ESET. ESET offers a diverse range of suites that cater to the needs of all kinds of customers.
2. Malware Protection
Malware is an umbrella term for all types of digital threats, including viruses, worms, Trojan horses, spyware, ransomware, adware, etc.
Protecting your PC against malware is perhaps the most important job of any antivirus software. If it performs poorly in this category, it isn't worth it at all.
There are many ways to judge the malware protection capability of an antivirus program. If you have time, you can try the free version yourself. But again, the free edition cannot give you the exact picture.
Another reliable way of doing this is to see how reputable independent antivirus testing labs rate the product you want to buy.
One such lab is Germany-based AV-Test, which conducts tests every two months in three categories – malware protection, system performance and usability – and rates antivirus products on a scale of 1 to 6 (with 6 being the highest score).
Both Sophos and ESET haven't participated in the latest AV-Test evaluations for quite some time for reasons best known to the companies.
The latest tests were conducted in July-August 2019, but ESET last took part in the December 2017 test, in which it received a score of 5.5 out of 6 . In contrast, Sophos hasn't participated in the evaluations since June 2011.
Another reliable lab that we can look for unbiased results is Austria's AV-Comparatives. Its most recent Real-World Protection Test was conducted in February-May 2019 and the results were announced in June.
In that test, ESET received the 1-star STANDARD award, which is the lowest rating given out by AV-Comparatives. It got a lower rating because of a low protection rate of 98.4%.
In comparison, Sophos didn't take part in the protection test once again.
Winner: None. Both antivirus vendors didn't participate in recent AV-Test evaluations. ESET did take part in the latest protection test conducted by AV-Comparatives, but it got the lowest ratings.
3. System Performance
Another critical metric before making the purchase decision is to see how much impact an antivirus program has on the performance of your PC. If it slows down your computer and keeps you from performing day-to-day tasks, then it isn't worth your time and money.
Let's look at unbiased tests from the same testing labs mentioned in the above section.
In the AV-Test's July-August 2019 Performance evaluation, both the contenders were not among the participants. In the December 2017 test, ESET received a score of 4 out of 6.
In the AV-Comparatives' Performance test, conducted in April 2019, ESET took home the highest-possible ADVANCED+ award (3 stars), indicating that it puts minimal strain on system performance.
Winner: ESET. ESET bagged the highest possible rating in one of the independent tests, whereas Sophos was absent in both evaluations.
4. User-Friendliness
It's quite frustrating to deal with a complicated and clunky piece of software. Therefore, the interface of an antivirus program matters a lot, as it plays a vital role in generating a good or bad user experience.
Let's compare the interface of Sophos and ESET and see what they bring to the table.
Let's start with Sophos.
Sophos' interface is quite different from most antivirus suites in a way that all the primary operations are done through an online dashboard system.
Sophos does have a computer application, but it can only be used for scans. The only other option is Manage My Security, which takes you to an online dashboard where all major options can be accessed after you log in with your credentials.
The online dashboard is extremely helpful in remote management, as it allows you to take care of all devices used by your loved ones, whether you share one roof or live in different countries.
Sophos also performs quite well in the looks department, making good use of blue, white and grey as primary colors.
Now, let's see what ESET has to offer.
ESET offers a pretty decent interface, using a nice color combination of blue, ash white and green.
The straightforward and intuitive design allows users to easily get where they want to go.
The dashboard, called Home, displays your protection status (a green checkmark if everything is okay) and also lets you access common tools depending on your subscription.
You can switch between screen using a left pane, which displays the following options apart from the Home tab: Computer Scan, Update, Tools, Setup, and Help and Support.
Starting a scan with ESET is a child's play, as you can either use quick, custom or advanced scan options, or you can simply drag and drop files right from your PC into the antivirus window.
Most of the advanced tools and utilities, such as the password manager and secured browser, are nestled under the Tools category. Once inside that section, you can find several other sophisticated features by clicking on the More Tools button displayed at the bottom right of the screen.
The good thing about ESET's interface is that despite containing dozens of options, it doesn't look cluttered, as everything is arranged in a thoughtful manner.
Winner: Both. Both companies offer an intuitive interface, and it is easier to access all the features.
5. Pricing
For most prospective buyers, the product's cost usually guides their final decision. If an antivirus suite is too pricey, it cannot be the foremost choice of many people.
So, which among Sophos and ESET prices its products more reasonably?
Let's start with Sophos.
As mentioned above, Sophos offers only one paid suite, i.e. Sophos Home Premium. The package carries a price tag of $48 per year and offers 10 licenses for Windows and MacOS devices.
Let's have a look at ESET's pricing options.
A single annual license of ESET NOD32 Antivirus costs $39.99 and protects one Windows PC. However, you can protect up to 5 computers by paying $10 for every additional PC.
The ESET Internet Security suite protects one Windows PC for $49.99 per year.
In contrast, ESET Smart Security Premium supports PCs as well as tablets and smartphones. Its one-device license comes at the cost of $59.99.
With both Internet Security and Smart Security Premium suites, you can protect up to 10 devices by paying $10 for every additional device.
Winner: Sophos. Sophos is undoubtedly a better option if you want to protect all devices in your household.
6. Customer Satisfaction
How well existing customers view a company matters a lot to gain a general sense of its services and customer support.
Websites like the Better Business Bureau (BBB) and Consumeraffairs.org track user feedback and then issue a rating to companies based on these customer reviews.
Consumeraffairs.org gives 1- to 5-star ratings to companies based on user feedback. On the website, ESET holds a 4-star rating, indicating generally favorable reviews from customers.
In comparison, Sophos has not yet been rated by the review website.
Our second source is the BBB, which uses alphabetical rating system and rates companies on a scale of A+ to F-.
ESET holds the maximum A+ rating on the website. On the other hand, Sophos has a modest C+ rating, suggesting mixed reviews from customers.
Winner: ESET. Users of ESET have significantly higher satisfaction rates than those of Sophos, as seen from the ratings awarded by independent review websites.
Final Thoughts
Get Bitdefender at 60% off today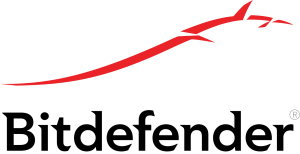 Special offer ends in ...
Editors Choice Award Winner
Our recommendations:
After reviewing 50 antivirus suites from some of the biggest names in the cybersecurity realm, we believe that
Bitdefender Total Security 2020
(currently at
60% off
) is the best antivirus suite for 2020 in terms of value for money. You protect up to five devices (PCs, Macs, and smartphones) with a single license of this suite.
Got more than five internet-capable devices? We found that
Bitdefender Family Pack 2020
is the best option out there in terms of value for money.
If you are still unsure, Bitdefender offers a 30-day money-back guarantee and exceptional customer support, so you there is nothing to lose.
Related Comparisons
Bitdefender vs Avast
Bitdefender vs Kaspersky
Kaspersky vs Avast
McAfee vs Norton
Kaspersky vs Norton
McAfee vs Kaspersky
Bitdefender vs McAfee
Bitdefender vs Norton
Windows Defender vs McAfee