(Last updated on January 9th, 2023)
Panda or Kaspersky, which antivirus software is a better option in 2023? 
Read this ultimate Panda versus Kaspersky comparison to make a smart decision.
Do you know that a staggering 4.8 billion malware attacks and 110.9 million ransomware attacks were recorded in the first six months of 2019?
Malware, which includes all kinds of cyber threats like viruses, Trojan horses, worms, spyware, etc., is always lurking just beneath the surface of our apparently secure online world.
And as technology advances, hackers are coming up with more sophisticated and damaging cyberattacks than ever before.
Unlike the past, malware has more doorways to your digital world. Not just computers and smartphones, any device can now be hacked.
Last year, the number of attacks involving IoT (Internet of Things) devices skyrocketed by 215.7% year-on-year to 32.7 million.
All these stats paint a bleak picture. But that doesn't mean there isn't a solution.
Security firms like Bitdefender, McAfee and Kaspersky are working at breakneck speed to stop cybercriminals from hurting you in any way by stealing your data and privacy. And the good news is that security firms are winning this race.
Therefore, it's not a good idea to let go of the antivirus and rely only on your skills to stave off malware attacks. Similarly, freeware is better than no antivirus suite, but the problem is that most free programs have flimsy firewalls and lack advanced features that essentially make an antivirus useful.
An excellent paid antivirus program is one of the most rewarding investments you make to achieve complete peace of mind. Password manager, parental controls, file shredder, ransomware protection – premium security software has all the features that bring order to your chaotic digital world.
Best Antivirus Suite for 2021
60-day money-back guarantee
During the past few months, we have ranked, rated, and reviewed 40 premium antivirus suites from the biggest names in cybersecurity. We did this so you can confidently choose the best antivirus software to protect yourself and your family.
Right now, we think that
Norton
is the best antivirus software your money can buy. It regularly earns perfect or near-perfect scores from independent labs and has the least impact on system performance compared to rival products. Its products combine top-notch security with an array of excellent security features and, best of all, offer exceptional value for money.
Overall,
Norton 360 Deluxe
(currently at
70% off
) is our pick for the best antivirus suite in 2021. It is competitively priced and comes with almost everything you could possibly ask for, such as a firewall, a fully integrated VPN, dark web monitoring, cloud backup storage (50GB), a password manager, and parental controls. You can cover up to 5 PCs, Macs, smartphones or tablets with this suite.
If you want full-on identity protection and don't mind paying more,
Norton 360 with LifeLock Select
(currently at
35% off
) gives those in the US a full range of identity protection features, more backup space (100GB), as well as all the above.
In this detailed guide, we are going to compare Panda and Kaspersky, two popular antivirus products in the market. We will pit both companies against each other in different categories, including the number of features they offer, their malware defense capabilities, their price points, etc.
In a hurry? Have a glance at the following section to know which product win in each category.
A Quick Rundown of Winners in Each Category
1. Features
Winner: Kaspersky. Kaspersky has a more comprehensive set of features, especially its parental controls, which are extremely useful in providing kids with a secure online environment.
2. Malware Protection
Winner: Kaspersky. Panda failed to participate in recent test evaluations, leaving Kaspersky as the only winner.
3. System Performance
Winner: Kaspersky. Panda didn't appear in Performance evaluations as well. Also, Kaspersky notched perfect score in tests by independent labs.
4. User-Friendliness
Winner: Tie. It's difficult to pick a winner in this category since both companies have an excellent and user-friendly interface.
5. Pricing
Winner: Kaspersky. With up to 60% off in introductory pricing, Kaspersky makes it a lot easier for users to protect more devices with less money.
6. Customer Satisfaction
Winner: Panda. Panda has better reviews from users as compared to Kaspersky, according to third-party review websites.
Short Verdict
Kaspersky is the better option as it offers more protection-related features and utilities in its security products than Panda. Also, independent tests prove that Kaspersky is better than Panda in terms of both malware detection and the impact on system performance.
Best Antivirus for 2023
---
#1 (Excellent)

Robust feature-set
Excellent anti-malware security
Minimal system impact
Easy-to-use interface
Automatic updates
Trusted by 50 million users
100% virus protection promise
60-day money-back guarantee
70% off
#2 (Very Good)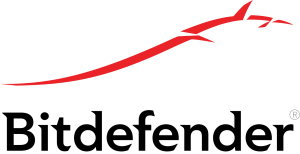 Exceptional malware protection
Little impact on performance
Trusted by millions of users
30-day money-back guarantee
User-friendly interface
50% off
#3 (Very Good)
Good malware protection
Trusted by big corporations
Minimal impact on performance
Good value for money
30-day risk-free guarantee
40% off
Now, let's delve into details.
1. Features
The usefulness of an antivirus program can be gauged by examining the features it offers. An excellent security software package has to provide a wide range of advanced features that cater to all the needs of computer and smartphone users in this day and age.
In this section, we will analyze in detail the features offered by various suites of Panda and Kaspersky.
Let's start with Panda.
The freeware offered by the company is called Panda Free. It does protect your computer against several known malware threats and offers a limited VPN (150MB per day), but it doesn't come with exciting features like parental controls and a password manager that are the hallmarks of premium software.
Panda Dome Essential is where you should start if you are choosing Panda as our security partner. This entry-level antivirus suite offers the following features:
A solid firewall that provides advanced protection.
Real-time anti-malware protection.
Limited VPN that gives you an anonymous cover.
A tool that protects your Wi-Fi network from hackers.
Next in line is Panda Dome Advanced. Besides all the features of the previous package, the Advanced suite includes:
Parental controls to give your kids a secure and clean web environment.
Identity protection for safe browsing, shopping and banking.
Complete ransomware protection so that hackers find it impossible to encrypt your sensitive files and demand ransom.
Panda Dome Complete is the company's next tier of protection, which includes all the previously mentioned features, plus:
A password manager that stores all your logins so that you access all your accounts with a single click.
A comprehensive cleanup tool for cleaning junk files to boost your computer speed.
Data Shield that helps you encrypt confidential files to prevent unauthorized access.
Panda Dome Premium is the company's most high-end offering. It is packed with all the above-mentioned features, and:
Unlimited VPN that makes your Internet experience extremely safe, as it lets you browse anonymously from several virtual locations around the world.
Round-the-clock premium customer support.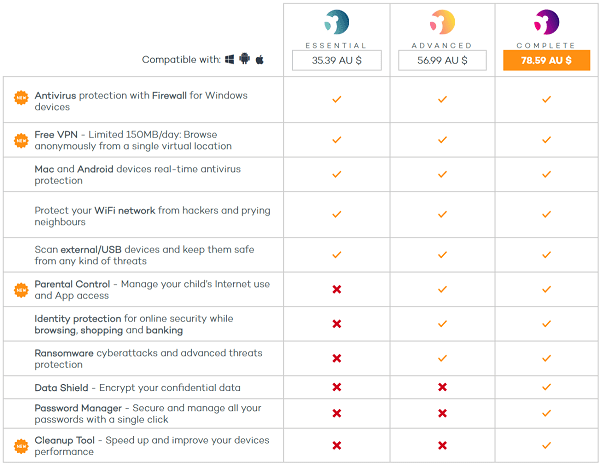 If you are interested in Panda's business products, click right here for more information.
Let's see how Kaspersky compares in this category.
The company's product line-up begins with its free antivirus version, Kaspersky Free, which offers necessary malware protection and is capable of scanning USB drives for viruses. However, understandably, it lacks many advanced features that have become a prerequisite to complete digital security in this day and age.
The company's entry-level premium offering is Kaspersky Anti-Virus, which has the following features:
Comprehensive protection against all malware threats.
A tool that provides protection against spyware and phishing attacks.
Vulnerability Scanner that checks your PC for known shortcomings and alerts you to any potential security holes in your computer that can be exploited.
The Silent Mode utility that lets you enjoy games and movies without any interruptions.
The next tier of protection is Kaspersky Internet Security, which not only provides an advanced level of protection but also comes with some useful tools. Its features are given below:
A tool that detects spyware hiding inside your smartphone (Android).
Webcam protection to stop anyone from watching you through webcam without your permission.
A limited VPN (200MB per device per day) that lets you browse anonymously.
An anti-spam tool that blocks annoying ads from your device and stops junk emails from cluttering your inbox.
Covers Mac, Windows and Android devices.
Kaspersky Total Security, the company's best-performing and best-selling antivirus package, is yet another advanced level of protection. In addition to all the features mentioned so far, the Total Security suite boasts:
Kaspersky's robust parental controls that not only help you keep a check on your children's online activity, but they also include a GPS tracker and much more.
A powerful password manager that stores and manages all your logins. The feature also helps you sync passwords across all devices so that you can access them anytime, anywhere.
The Total Security suite also offers a file protection feature that lets you back up important files, photos and other data.
Support for PC, Mac and mobile.
Then there is Kaspersky Security Cloud, the highest level of protection from the company. The extra features it offers are:
A tool that provides data leak protection. It checks for leaks in your accounts and, in case of any problem, provides professional advice on how to resolve the issue.
The apps permission utility that comes with the package keeps you abreast of all the permissions used by apps on your mobile phone.
A VPN with 500MB per day, per device of data traffic.
To learn about Kaspersky's business-specific security products, click right here.
Winner: Kaspersky. Panda antivirus does provide many useful features, Kaspersky wins in this category thanks to its better security-enhancing tools and utilities, especially excellent parental controls.
2. Malware Protection
Malware protection is the most important function of any antivirus package. A security program that fails in this category is not worth buying at all.
To draw an unbiased comparison between Panda and Kaspersky in this category, we will look at independent evaluations by reputable security labs, including the AV-Test Institute and AV-Comparatives.
During its latest tests in May and June 2019, AV-Test evaluated 20 home user antivirus suites. All the products were allowed to run at their default settings and were fully up to date at the time of tests.
Germany-based AV-Test lab rates products on a scale of 1 to 6, with 6 being the highest possible score.
Results for the May-June 2019 Protection test showed that Kaspersky notched a perfect score of 6 out of 6, showing exceptional malware protection capabilities.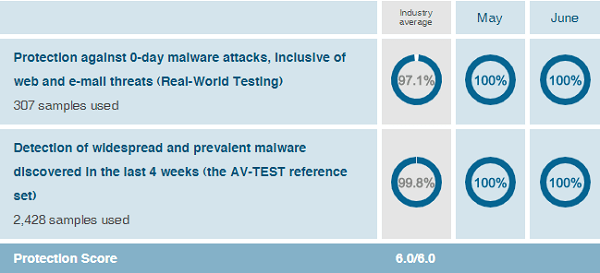 On the other hand, Panda didn't take part in the latest evaluations. The last it participated was in December 2018, when it also clinched 6 out 6.
Austria's AV-Comparatives also conducted its protection evaluation, called Real-World Protection test, in June 2019. The lab gives antivirus products 1- to 3-star ratings and also consider the false positives count in the final results.
In the evaluation, Kaspersky was once again among the top scorers, receiving the highest possible three-star ADVANCED+ award. Panda trailed behind with a two-star ADVANCED rating.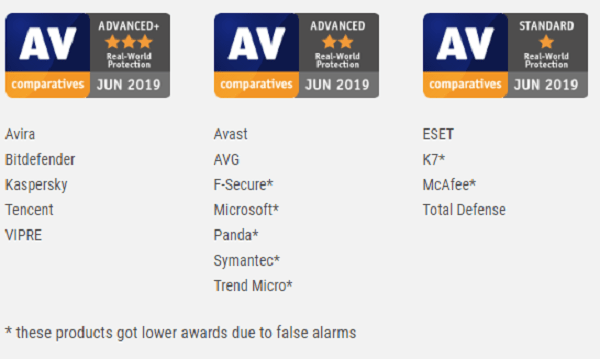 Winner: Kaspersky. It's clear from the results that Kaspersky offers better malware protection. Also, Panda hasn't participated in AV-Test evaluations for quite some time.
3. System Performance
A good antivirus is one that protects your computer and at the same time does not have a noticeable impact on your computer performance.
Let's again look at the evaluations by the AV-Test Institute and AV-Comparatives to find out which of the two antivirus programs has lower impact on system performance.
In the June 2019 Performance evaluations, AV-Test awarded Kaspersky with a perfect 6 out of 6 score, indicating that the antivirus software doesn't slow down your computer speed while performing day-to-day operations.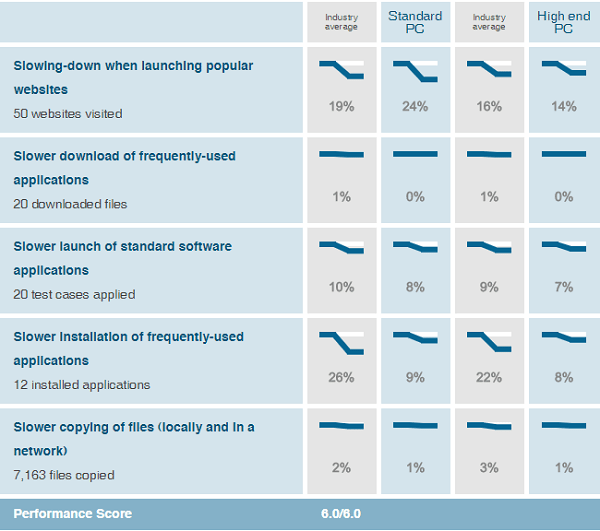 Panda, as mentioned above, last took part in AV-Test evaluations in December 2018. In the Performance test conducted that month, Panda received a score of 5 out of 6.
In the Performance test conducted by AV-Comparatives in April 2019, both Panda and Kaspersky clinched the highest possible ADVANCED+ award.
Winner: Kaspersky. Once again, Kaspersky is the winner here, not only because of a better score in AV-Test evaluations but also due to the fact that Panda has failed to take part in the latest tests.
4. User-Friendliness
Another critical aspect of any computer application is its user-interface. An antivirus suite that's excellent in this department gives more value for your money, since it is pleasing to the eyes and is easy to navigate as well.
Let's start by examining Panda's interface.
Panda's interface is easy to navigate, and all the features are within your easy reach. The good part is that expert users can customize the user interface to their own liking, even to the smallest details.
When you open the program, you are welcomed by the home screen displaying your computer's protection status and the number of files scanned. Clicking the View Summary button will take you to detailed results.
Below are large buttons featuring options like Antivirus, PC Cleanup, VPN and Premium Services.
There is a thin strip at the bottom of the screen where you will find antivirus-related news headlines.
While Panda's simplicity is a positive point, the negative aspect of its user interface is the use of a background photo that may confuse users.
Now, let's see what Kaspersky brings to the table.
Kaspersky uses a sleek and bright interface, which is a mix of white and green.
The main dashboard welcomes you with a green monitor with a white checkmark if everything is all right. The monitor turns yellow in case the software needs to be updated and red if your PC is at risk.
Below the protection status are neatly arranged and clearly seen white blocks displaying all the major tools like Scan, Database Update, Safe Money, Privacy Protection, Parental Control, etc. You can access more features by clicking the green More Tools button below the blocks.
Settings can be accessed by clicking the gear icon displayed at the bottom bar.
Overall, it's easy to reach where you want to go with Kaspersky's user-friendly interface, which is why you can make the most of all the features even if you are completely new to the antivirus world.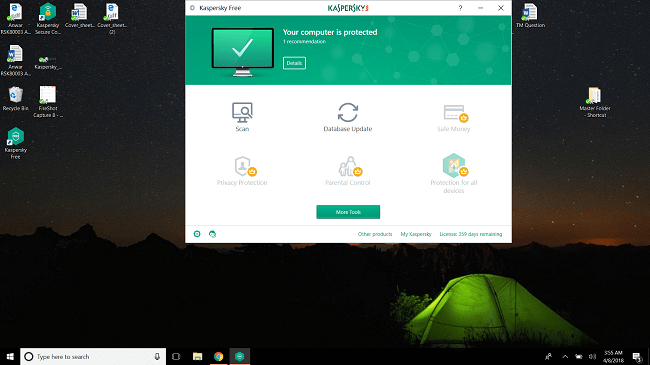 Winner: Tie. Both companies have easy-to-understand and intuitive interfaces, and it's quite easy to go where you want to go with both antivirus programs.
5. Pricing
We all want to buy the best product at the lowest price possible. It's human nature. Therefore, in order to be outstanding, an antivirus program has to offer its products at reasonable prices.
Let's see which antivirus company fares better in this category.
Panda's entry-level package, Panda Dome Essential, covers one device at an annual cost of $44.24. The next tiers of protection, Panda Dome Advanced and Panda Dome Complete, come at a yearly price of $53.24 and $80.24, respectively.
The ultimate protection from the company is Panda Dome Premium, which is priced at $125.24 per year.
| Panda Products | Regular Price | Discounted Price |
| --- | --- | --- |
| Panda Dome Essential | $39/year | No Discount |
| Panda Dome Advanced | $65/year | No Discount |
| Panda Dome Complete | $60/year | No Discount |
| Panda Dome Premium | $99/year | No Discount |
| Panda Business Products | Varies | No Discount |
Let's see what prices Kaspersky has to offer.
Kaspersky offers a lot of options for new customers in terms of the number of devices covered as well as the number of license years.
The company's starting product, Kaspersky Anti-Virus, sells for $23.99 and covers 3 PCs for a year. You can protect five devices at an additional cost of just $8.
Kaspersky Internet Security, which supports PCs, Macs and smartphones, is priced at $31.99 for a 3-device license. Another $4 can buy you a year of protection for a total of 5 devices.
A single license of Kaspersky Total Security, the company's premium offering, carries a price tag of $35.99 and covers three devices. The suite also supports all platforms. The price of the 5-device license is $39.99.
Kaspersky Security Cloud has both personal and family versions. The personal version covers three devices at $53.99 and 5 devices at $59.99. With the family edition, you can protect up to 20 devices at an annual cost of $89.99.
It must be kept in mind that all these are introductory prices for new customers. For details, see the table given below.
| Kaspersky Products | Regular Price | Discounted Price |
| --- | --- | --- |
| Kaspersky Anti-Virus | $59.99/year | Check here |
| Kaspersky Internet Security | $79.99/year | Check here |
| Kaspersky Total Security | $99.99/year | Check here |
| Kaspersky Security Cloud (Personal) | $89.99/year | Check here |
| Kaspersky Security Cloud (Family) | $149.99/year | Check here |
| Kaspersky Small Office Security | $149.99/year | Check here |
| Kaspersky End Point Security Cloud | $300.00/year | Check here |
Winner: Kaspersky. With Kaspersky, it's cheaper to protect more devices as compared to Panda's security products.
6. Customer Satisfaction
Finally, it's a good idea to consider the customer support service provided by a company before purchasing its product. When it comes to an antivirus software package, you may need to occasionally contact the company if you have a query or need to lodge a complaint.
Let's see which among Panda and Kaspersky has better customer satisfaction ratings from two independent review websites, i.e. Consumeraffairs.org and the Better Business Bureau (BBB).
Consumeraffairs.org uses a rating scale of 1 to 5, with 5 being the highest score. On the website, Panda holds a 4-star rating as compared to Kaspersky's three stars.
On the BBB, which uses an A to F scale to gauge ratings, Panda has a D- rating while Kaspersky has a terrible F rating.
Winner: Panda. Finally, a win for Panda. Kaspersky has poor ratings on both consumer review websites, which indicates that users are not satisfied with the company's customer support.
Final Thoughts
Kaspersky puts in an excellent performance in almost all categories, demonstrating exciting features and solid protection and performance capabilities. The comparison also shows that Kaspersky protects more devices at a lower cost than its competitor.
Our recommendations: If you want to get the highest level of security and performance, there's no better choice than Norton, which protects over 50 million users worldwide.
After reviewing dozens of antivirus products from some of the biggest names in the cybersecurity realm, we believe that Norton 360 Deluxe is the best antivirus suite available on the market. It provides flawless anti-malware protection without slowing you down. Plus, you get almost all the advanced features you could ever want.
If you're willing to pay more for advanced identity protection features, we recommend Norton 360 with LifeLock select (only available in the US). It's a bit pricey but worth the price.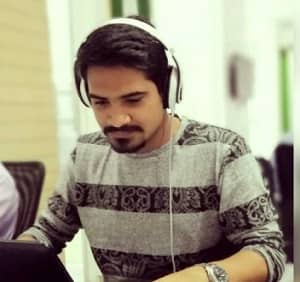 Anas Baig is a consumer privacy advocate and cybersecurity journalist by profession. Has has more than 7 years of professional experience under his belt. Anas has been featured on numerous media publications including The Guardian, Lifehacker, The Next Web, Infosecurity Magazine, Security Boulevard, Hacker Noon, CMS Wire, IAPP, SC Magazine, and many others. His interest includes Digital Privacy Rights, Information Security, Networking, Privacy, and Data Protection.
My Contributions: 
Hacker Noon | TheNextWeb | DevOps.com | GlobalSign | CMS Wire | CSO | Tech.co | Security Boulevard | ITProPortal | MuckRack | Crunchbase