(Last updated on January 9th, 2023)
McAfee or Panda, which software is a better option in 2023? 
Read this ultimate McAfee versus Panda comparison to make a smart choice.
The advent of the internet gave rise to a technology revolution that completely changed the way we interact, think, and work. Where, on the one hand, this shift has introduced many conveniences for us, it has also injected our lives with an increasing number of cyber threats.
According to Cybersecurity Ventures, cybercrimes are expected to cost a whopping $6 trillion in damages worldwide by 2021. This amount even exceeds the global trade of all illegal drugs. Moreover, IoT devices are expected to be major targets for malware attacks in 2019.
None of us would want to become a victim of these attacks, but they are lurking just around the corner. That's why it's essential to hire top-grade protection against these threats. But remember, this protection won't come from any flimsy free antivirus software.
Free products lack the advanced features of premium software that provide real-time monitoring and comprehensive security against emerging malware technologies. What you need is a premium software that will guarantee complete protection for your family and peace of mind for you.
If you're having trouble deciding what antivirus product you should choose, read our detailed guides. Our today's comparison involves two famous brands: McAfee and Panda.
Best Antivirus Suite for 2021
60-day money-back guarantee
During the past few months, we have ranked, rated, and reviewed 40 premium antivirus suites from the biggest names in cybersecurity. We did this so you can confidently choose the best antivirus software to protect yourself and your family.
Right now, we think that
Norton
is the best antivirus software your money can buy. It regularly earns perfect or near-perfect scores from independent labs and has the least impact on system performance compared to rival products. Its products combine top-notch security with an array of excellent security features and, best of all, offer exceptional value for money.
Overall,
Norton 360 Deluxe
(currently at
70% off
) is our pick for the best antivirus suite in 2021. It is competitively priced and comes with almost everything you could possibly ask for, such as a firewall, a fully integrated VPN, dark web monitoring, cloud backup storage (50GB), a password manager, and parental controls. You can cover up to 5 PCs, Macs, smartphones or tablets with this suite.
If you want full-on identity protection and don't mind paying more,
Norton 360 with LifeLock Select
(currently at
35% off
) gives those in the US a full range of identity protection features, more backup space (100GB), as well as all the above.
We are going to compare the strengths and weaknesses of each brand and see which one is the better antivirus software this year.
In a rush? Read a quick summary of our comparison below and find out the winners in each category.
A Quick Rundown of the Winners in Each Category
1. Features
Winner: McAfee. Unlike Panda, every McAfee user has access to the same advanced features no matter how many licenses they use. This incredible value proposition from McAfee makes it stand out from the competition.
2. Malware Protection
Winner: McAfee. McAfee is the winner as Panda did not appear in the AV-Test evaluations which gives McAfee an edge.
3. System Performance
Winner: McAfee. Once again, Panda was not able to make it for the first assessment, which puts it on a disadvantage.
4. User-Friendliness
Winner: Panda. Panda has an interface design that appeals to both casual and seasoned users because of its smart design. By contrast, McAfee's interface is rather too simplistic.
5. Pricing
Winner: McAfee. McAfee has designed its product pricing to deliver maximum value to the users. The more they spent, the better value they get. Whereas Panda's prices are too steep in comparison.
6. Customer Satisfaction
Winner: Tie. Both McAfee and Panda performed better than the other on one of the tests. That's why both won this category.
Short Verdict
Overall, McAfee is a better option than Panda. McAfee's products come with a more comprehensive feature-set and put a very minimal impact on system performance. Also, McAfee is slightly cheaper than Panda when it comes to per-device pricing.
Now let's get down to it.
1. Features
It is through features that the customers are able to picture what level of protection they can get from an antivirus program. That's why an impressive feature-set really sells.
Here we are going to compare product features from both McAfee and Panda and see which company offers a more comprehensive array of features.
Let's start with McAfee.
McAfee has a single, all-encompassing premium product: McAfee Total Protection. All the advanced features from McAfee have been packed into this product:
Complete malware protection functionalities keep you safe from all kinds of malicious programs, including spyware and ransomware.
A Two-way Firewall provides you security from any malware attacks that take the network route. Regular updates to the software keep it alert to the emerging threats.
A Network Monitoring feature provides real-time monitoring to protect your Wi-Fi from any external threats
While you're online, your passwords and other login information is kept safe and secure by a Password Manager.
But your important files and personal information also need protection, which is provided by the File Encryption utility that conceals your sensitive data and prevents its misuse.
Identity protection is also part of the product. The ID Theft Module keeps your personal and financial data inaccessible to hackers so you can shop online or make your banking transactions without any worry.
There is also a Parental Control module that monitors your kids' online activities, restricts their access to age-inappropriate content, and also works as a tracking device when your kids are away from home.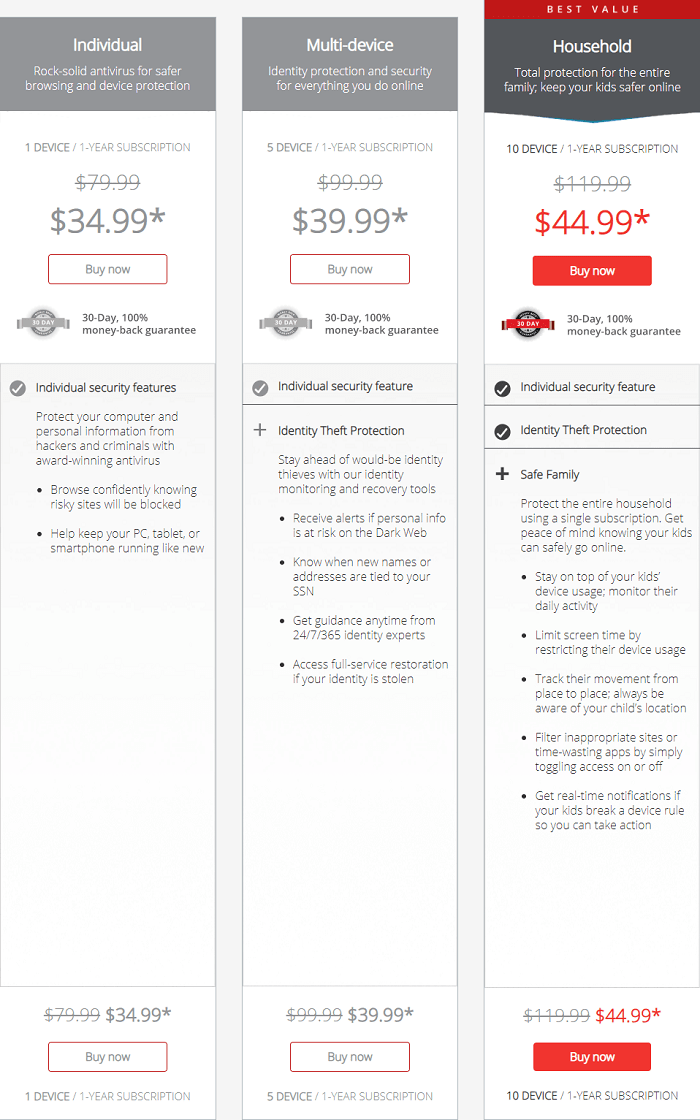 Now let's find out about Panda's product features.
The first product from Panda is a free software called Panda Free. Like all other freeware, it only provides protection against some kinds of malware threats but nothing more than that.
The entry-level paid product from the company is called Panda Dome Essential. This product comes with some essential malware protection features:
Comprehensive protection from all sorts of malware threats.
A firewall provides security from viruses and related cyberattacks (for Windows devices only)
A limited VPN facility allows you to surf and shop online anonymously using a virtual location. This feature prevents hackers from tracking your browsing history.
A Wi-Fi Network protection utility protects you from any external users trying to break through your network security.
This product covers real-time antivirus protection for your Mac and Android devices, as well.
The next product is a premium suite from the company called Panda Dome Advanced. Along with everything covered by the previous product, this suite also offers:
A Parental Control module that monitors your kids' online activities and restricts their access to unwanted apps, ensuring safe surfing time for them.
This product also includes the in-demand Identity Protection feature that ensures safety for your personal and financial information while browsing, shopping, or online banking.
Advanced Threat Protection is also part of the suite that adds an extra security layer for your family and yourself against more dangerous forms of malware such as ransomware.
Panda Dome Complete brings the next tier of protection. This suite also includes some additional features:
A Data Shield secures your sensitive data and private information by encrypting it, so it doesn't land with the hackers.
A Password Manager securely saves and manages your passwords and provides one-click operations to enter the details when necessary.
A Cleanup Tool is also part of this suite that helps to speed up your system and improve your device's performance.
Finally, the ultimate protection comes with Panda Dome Premium. It is the full-blown package from the company that brings some extra features:
Along with all the other advanced features, it adds an Unlimited VPN to the mix that involves the use of many virtual locations.
The product also offers 24/7 unlimited premium technical support for its users.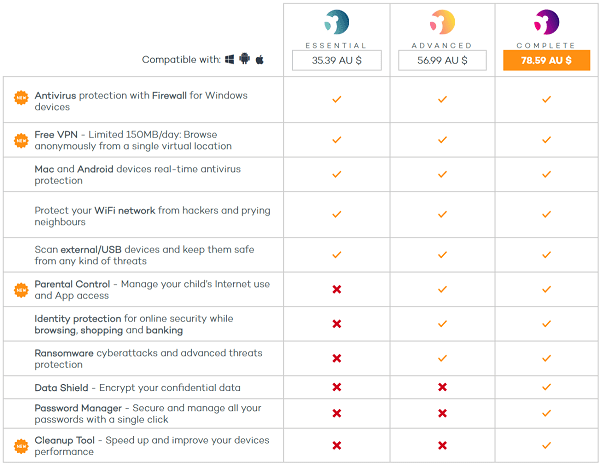 Winner: McAfee. There's no doubt that Panda packs a punch in its products. But, unlike McAfee, a single user doesn't have access to all the features unless they are using the top-tier product.
2. Malware Protection
Features are nothing if they don't deliver on the primary function of an antivirus product i.e., malware protection. So, let's see how McAfee and Panda perform on this criterion.
We'll first use Protection Test results from the AV-Test Institute to gauge our brands. Their August 2019 assessment put McAfee on a perfect 6 out of 6 score. Whereas, Panda did not participate in this evaluation for unknown reasons.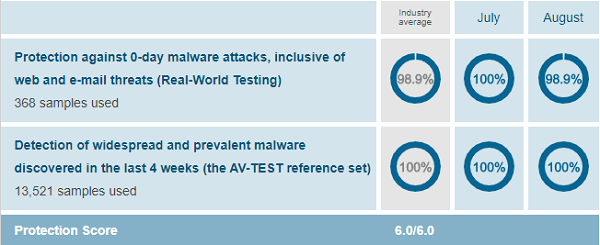 AV-Comparatives' Real-World Protection Test is our next source to check our brands' anti-malware prowess. McAfee didn't do very well on this test going home with the STANDARD award. While Panda was better off this time receiving the ADVANCED award from the organization.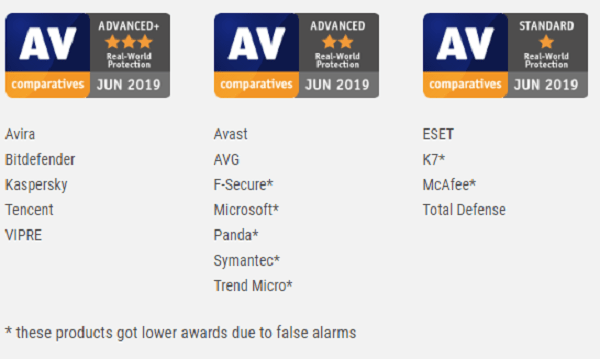 Next, we'll take a look at the Malware Protection Test from AV-Comparatives. In this test, we see a flip situation with McAfee securing the ADVANCED award while Panda receiving the STANDARD award.
Winner: McAfee. Although McAfee and Panda remained head to head in the AV-Comparatives evaluations, Panda's disappearance from the AV-Test Protection Test sets it back in this category.
3. System Performance
The effect of an antivirus software on a system's performance is a huge deal. In today's world, everything is done through computers or devices of some kind. Delays or lags have become unacceptable. That's why the best antivirus software uses as little system resources as possible.
Let's look at some performance-specific independent tests and see how today's brands affect the systems they protect.
We'll first look at the Performance Test from AV-Test, where McAfee scored a perfect 6 again.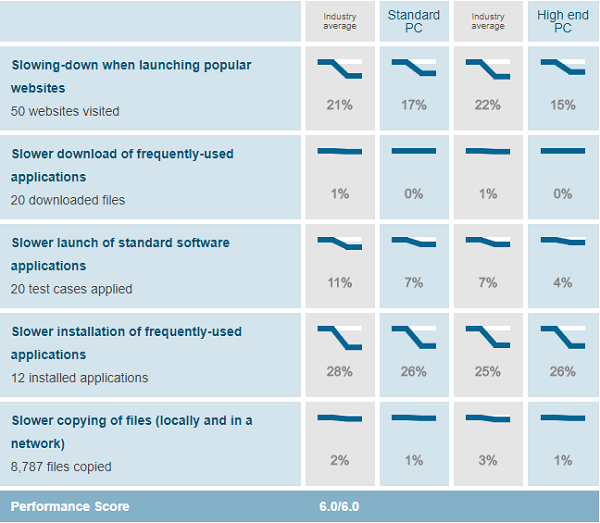 Next, we have the Performance Test from AV-Comparatives.com. Here, McAfee did a fantastic job and scored the highest award: the ADVANCED+ award. Panda was also spot on with the ADVANCED+ award of its own.
Winner: McAfee. Once again, McAfee wins because Panda did not show up for the AV-Test assessment.
4. User-Friendliness
A user interface is like a reflection of software. It can develop or taint a software's image in the customer's mind. If the interface is hard to understand, involves too many clicks or doesn't present all the relevant information in one place; it's going to get frustrating.
Let's take a look at McAfee and Panda interfaces to find out which one packs a better user experience in its product.
McAfee uses dark grey and ash white as its primary colors for the interface, which is divided into two sections. A grey vertical strip on the left-hand side displays the security status of the device.
While the other side takes up 75% of the screen and contains blocks for functions like 'virus scan' and 'cookies & trackers remover.' On the top, a horizontal bar provides access to different tools and features within the software.
McAfee interface is easy-to-use and simplistic, but it's not really intuitive. Additionally, this design wastes a lot of valuable space on the Home screen that could have been used to display important updates.
Now let's review Panda's interface.
Panda's user interface rather looks like your desktop screen, which gives it the ability to kind of blend in. The interface uses an extremely intuitive and smart design providing access to all of the tools and features right from the Home screen using big icons.
It can be confusing for first-time users to remember what some of the icons denote, but with use, the users will have the operation on their fingertips. Scan updates and security news are displayed on the top and bottom of the screen, respectively.
Panda has designed a unique interface that clearly stands out from the competition. The interface is also optimized for mobile devices.
Winner: Panda. Panda's user interface is extremely efficient and intuitive, while McAfee's interface seems very basic in comparison.
5. Pricing
Pricing is always a significant factor influencing a purchase decision. Most customers want maximum value for their money. Let's see how McAfee and Panda's product costs correlate with the value they provide.
McAfee uses a pricing policy that is unmatched by the competition. The single license of McAfee Total Protection costs you $24.99 per year. This price is extremely attractive for a product that is jam-packed with the most advanced features.
But it gets better because the more devices you add to the package, the lesser you have to pay for each additional license. So, you can get 5 licenses for the cost of $39.99 per year. But you only have to pay 5 dollars extra for 10 licenses at $44.99 per year.
| McAfee Products | Regular Price | Discounted Price |
| --- | --- | --- |
| McAfee Total Protection (1 Device) | $79.99/year | Check here |
| McAfee Total Protection (5 Device) | $99.99/year | Check here |
| McAfee Total Protection (10 Device) | $119.99/year | Check here |
Now let's compare Panda's pricing.
The first paid product from the company Panda Dome Essential costs $44.24 per year, which is quite steep for an entry-level product.
Panda Dome Advanced comes at a cost of $53.24 per year, while Panda Dome Complete is $80.24 per year. Lastly, Panda Dome Premium will cost you a $125.24 per year.
All the Panda suites cover only one device.
| Panda Products | Regular Price | Discounted Price |
| --- | --- | --- |
| Panda Dome Essential | $39/year | No Discount |
| Panda Dome Advanced | $65/year | No Discount |
| Panda Dome Complete | $60/year | No Discount |
| Panda Dome Premium | $99/year | No Discount |
| Panda Business Products | Varies | No Discount |
Winner: McAfee. McAfee is the clear winner here. Panda doesn't even come close to McAfee's extremely affordable pricing, seeing as it only covers one device as well.
6. Customer Satisfaction
Thoughtful and responsive customer service is essential if a company wants to turn its customers into loyal clientele. Let's see what some independent feedback reviewing websites have to say for our brands.
We'll use feedback ratings from two different reviewing websites: Better Business Bureau (BBB) and Consumeraffairs.com.
As per BBB (ranking scale: A – F, F is the highest value), McAfee received a stellar A+ rating based on customer responses. Whereas, Panda was more skewed towards the other extreme with a D-, showing a poor customer support system.
On the other hand, though, Consumeraffairs.com (ranking scale: 1 – 5 stars) awarded McAfee an average 3-star rating while giving Panda an excellent 4 stars.
Winner: Tie. Both products excelled on one or the other website.
Final Thoughts
Panda has an intelligent design for its interface and also does well on customer support, according to Consumeraffirs.com. But McAfee wins most of the major categories with its smart feature-rich product design, amazing malware protection, and system performance as well as an unmatched pricing plan. However, it could improve its user interface and make it more efficient. Overall, McAfee takes the crown here.
Our recommendations: If you want to get the highest level of security and performance, there's no better choice than Norton, which protects over 50 million users worldwide.
After reviewing dozens of antivirus products from some of the biggest names in the cybersecurity realm, we believe that Norton 360 Deluxe is the best antivirus suite available on the market. It provides flawless anti-malware protection without slowing you down. Plus, you get almost all the advanced features you could ever want.
If you're willing to pay more for advanced identity protection features, we recommend Norton 360 with LifeLock select (only available in the US). It's a bit pricey but worth the price.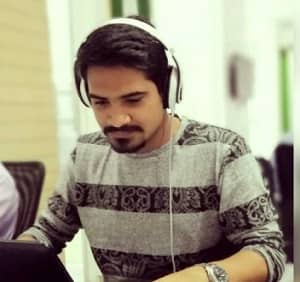 Anas Baig is a consumer privacy advocate and cybersecurity journalist by profession. Has has more than 7 years of professional experience under his belt. Anas has been featured on numerous media publications including The Guardian, Lifehacker, The Next Web, Infosecurity Magazine, Security Boulevard, Hacker Noon, CMS Wire, IAPP, SC Magazine, and many others. His interest includes Digital Privacy Rights, Information Security, Networking, Privacy, and Data Protection.
My Contributions: 
Hacker Noon | TheNextWeb | DevOps.com | GlobalSign | CMS Wire | CSO | Tech.co | Security Boulevard | ITProPortal | MuckRack | Crunchbase