(Last updated on January 9th, 2023)
Malwarebytes or ESET, which software is a better option in 2023? 
Read this detailed Malwarebytes vs. ESET comparison to make a smart choice.
The Dark Web has many sinister stories to its name. But now it's becoming a haven for anyone with a keen interest in cybercrimes. You heard it right.
There are new phishing kits available on the dark web for this very purpose. Novice cybercriminals can use these kits to run their own phishing attacks.
As of now, users take phishing attacks as a low-risk activity and report only 17% of these attacks. But as more advanced tools become available to these kits, phishing can take on even more dangerous form. In fact, 2020 is supposed to be the year of advanced phishing attacks.
So, the wise thing is to get proper protection before you become a victim of one of these cyber threats. Get rid of any free antivirus software you have got, first thing. And then get a premium, robust product that will ensure proper security that you deserve.
Remember that free antivirus is ill-equipped to provide you the cutting-edge protection that comes with premium products. Free software only offers flimsy protection and doesn't stand a chance against the latest malware threats.
A premium product comes packed with all the advanced features and real-time monitoring tools that provide you multi-layer protection against ever-evolving malware threats, such as trojan horses, viruses, worms, rootkits, spyware, bots, and more.
Best Antivirus Suite for 2021
60-day money-back guarantee
During the past few months, we have ranked, rated, and reviewed 40 premium antivirus suites from the biggest names in cybersecurity. We did this so you can confidently choose the best antivirus software to protect yourself and your family.
Right now, we think that
Norton
is the best antivirus software your money can buy. It regularly earns perfect or near-perfect scores from independent labs and has the least impact on system performance compared to rival products. Its products combine top-notch security with an array of excellent security features and, best of all, offer exceptional value for money.
Overall,
Norton 360 Deluxe
(currently at
70% off
) is our pick for the best antivirus suite in 2021. It is competitively priced and comes with almost everything you could possibly ask for, such as a firewall, a fully integrated VPN, dark web monitoring, cloud backup storage (50GB), a password manager, and parental controls. You can cover up to 5 PCs, Macs, smartphones or tablets with this suite.
If you want full-on identity protection and don't mind paying more,
Norton 360 with LifeLock Select
(currently at
35% off
) gives those in the US a full range of identity protection features, more backup space (100GB), as well as all the above.
Today, we are going to compare two famous antivirus companies: Malwarebytes and ESET. We are going to gauge each brand on six different aspects in light of our research and independent tests to see which brand is a better choice.
In a rush? Below is a quick summary of the comparison.
A Quick Rundown of the Winners in Each Category
1. Features
Winner: ESET. ESET's products boast a more extensive array of advanced features that you don't find with Malwarebytes. That's why ESET wins this category.
2. Malware Protection
Winner: Both. Although both companies skipped one of the two independent tests we usually consider, both companies received modest ratings on the tests they participated in. So it's a tie.
3. System Performance
Winner: ESET. Once again, both companies didn't participate in one of the two independent tests we usually look at in this category. But ESET left Malwarebytes behind in the other performance test.
4. User-Friendliness
Winner: Tie. Both interfaces have their strengths and weaknesses. It's hard to pick one over the other. That's why it's a tie in this category.
5. Pricing
Winner: Malwarebytes. Both companies' entry-level products are in the same price range. But Malwarebytes wins by providing more value for your buck with its family suite.
6. Customer Satisfaction
Winner: Tie. Both companies received superb customer feedback ratings and earned similar scores. So, both win in this category.
Short Verdict
ESET is the winner as it offers more security-enhancing features and extra utilities in its security suites than Malwarebytes. Also, independent tests show that ESET is better than Malwarebytes in terms of both malware detection and system performance.
Best Antivirus for 2023
---
#1 (Excellent)

Robust feature-set
Excellent anti-malware security
Minimal system impact
Easy-to-use interface
Automatic updates
Trusted by 50 million users
100% virus protection promise
60-day money-back guarantee
70% off
#2 (Very Good)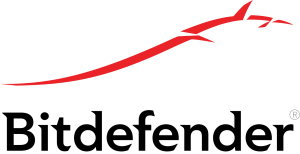 Exceptional malware protection
Little impact on performance
Trusted by millions of users
30-day money-back guarantee
User-friendly interface
50% off
#3 (Very Good)
Good malware protection
Trusted by big corporations
Minimal impact on performance
Good value for money
30-day risk-free guarantee
40% off
Now let's get a more detailed perspective.
1. Features
The antivirus product with an inspiring array of features would naturally be the preferred choice for a user. So, let's see what our competing brands bring to the table in terms of features.
We'll first look at Malwarebytes products.
Malwarebytes Free is the company's free offering. This software provides limited protection against some types of viruses and only runs on Windows devices. However, it doesn't support any advanced features of the premium products.
The first premium product from the company is called Malwarebytes Premium for You. This suite offers several advanced features such as:
A top-drawer firewall provides complete protection for your devices, networks, and information against all kinds of malware and cyber threats. The firewall is also set on automatic updates to keep it up-to-date with the latest malware definitions.
Additionally, there's a Remediation Tool that gets rid of any viruses from your devices that existed before you installed this software on them.
You have the option to either keep the settings for automatic scans on or apply custom settings for scheduled scans as per your preference.
There's also a protection tool that keeps hackers from misusing programs and systems on your devices for malicious purposes. This is a Windows-only feature.
Another feature provides complete identity protection on fraudulent websites keeping your information safe from hackers. This feature runs on Windows as well as Android devices.
A detection tool helps to identify and remove any rogue applications that mistakenly get installed on your devices. This is an Android and Chromebook-only feature.
1 license of this suite protects 1 Windows, Mac, Android, or Chrome OS device.
Next up is Malwarebytes Premium for Home, the extended version of Premium for You suite. This suite comes with three universal licenses (up to 10 more can be added) and makes an ideal pick for a family or for someone with multiple different devices to protect.
Paying customers can contact customer support 24/7 via email, online chat, or phone.
Follow this link for Malwarebytes Business Security Products. There's Malwarebytes for Teams, Malwarebytes Endpoint Protection for companywide servers, and Malwarebytes Endpoint Protection and Response.
Now let's turn our attention towards ESET security suites.
Unlike Malwarebytes, ESET doesn't offer free software.
The first paid offering from this company is called ESET NOD32 Antivirus, a Windows-only product. This package comes with a host of advanced features:
It offers premium defense against all kinds of malware threats, including ransomware and antispyware.
The product also includes a website shield that protects your sensitive information while you surf or shop online.
An Exploit blocker module detects and blocks viruses that are specifically designed to avoid detection.
A Game Mode feature is also part of the suite that blocks pop-up notifications to give you uninterrupted gaming or movie experience.
There's a Cloud-Powered Scanning feature that speeds up your system scans by whitelisting safe files on your computer and omitting them during future scans.
ESET Internet Security is the next tier of protection offered by the company. You get everything included in the NOD32 Antivirus suite, plus some additional features:
There's a firewall that prevents unauthorized access to your private information and prevents any misuse of your data.
There's a Personal Firewall that prevents hackers from getting access to your computer and makes you invisible while connected to public WiFi.
Also, Network Attack Protection utility protects your device from malicious network traffic, providing you multi-layered protection.
There's also Botnet Protection that saves your computer from botnet malware and network attacks launched by endpoint machines.
An antispam shield keeps your inbox free of junk emails, so you don't have to manually clear unwanted messages.
There's a hardened browser that provides complete security for your financial information that you share during online banking and payment operations.
Included in the package is also a full suite of parental controls that help keep a watchful eye on your kids' browsing habits and limit their access to unwanted websites.
There's also a set of webcam controls that prevent people from spying on you with your device camera.
Finally, an Anti-Theft module included in the suite helps to locate missing or stolen devices for you.
Next up is the highest tier of coverage offered by the company called ESET Smart Security Premium. Everything from the Internet Security package is included in this package, plus more:
There's a Secure Data feature that saves your important data from landing in the wrong hands while you're using the internet or any removable media, such as USB keys.
Similarly, a password management tool encrypts your sensitive data and safely stores all your passwords on your device, allowing a safe web experience for you.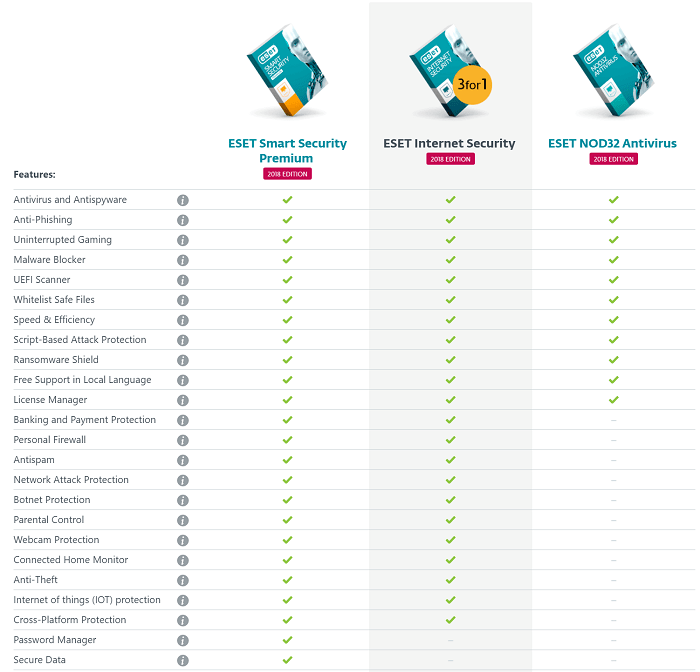 ESET has two Mac-specific antivirus products: ESET Cybersecurity and ESET Cybersecurity Pro. Both products offer:
Complete anti-malware protection against all sorts of digital and other related threats.
The software receives automatic updates to provide you complete protection against emerging threats.
Anti-Phishing features secure your sensitive data such as usernames, passwords, and financial information, from fraudulent websites.
There's a Removable Media control that prevents unknows CDs, USBs, and other similar media from copying information from your computer.
A Presentation Mode blocks any notifications or pop-up messages during full-screen operations.
ESET Cybersecurity Pro also includes a couple of extra advanced perks such as a Personal Firewall and Parental Controls.
All ESET products offer single device licenses. ESET offers free support in your local language for all suites.
Interested in ESET's business solutions? Follow this link for more information.
Winner: ESET. ESET offers more feature-rich products that include a vast array of utilities and many advanced protection-related features and tools that Malwarebytes lacks.
2. Malware Protection
Now, let's see what company does a better job of protecting our devices from all kinds of malware threats. We'll take help from two independent testing organizations to assess our companies on this benchmark.
AV-TEST.org is our organization that evaluates antivirus products on their protection, system performance, and usability competences. According to their recent Protection Test results in August 2019, Malwarebytes received a modest score of 4 out of 6.
ESET didn't participate in this test after December 2018 for unknown reasons.
Now let's look at test results from AV-Comparatives. They gave out their Real-World Protection Test results in June 2019 as well. Curiously, Malwarebytes didn't participate in this test while ESET also only received the STANDARD award.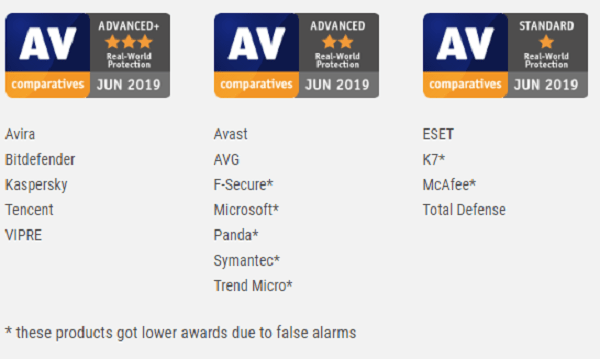 Winner: Both. Both companies didn't participate in one of the tests. But comparing the scores of the ones they did appear in, both companies gave an equally modest performance so both stand at par.
3. System Performance
It is of crucial importance to customers, especially professional users, that their antivirus software doesn't disturb their routine tasks. Let's see how Malwarebytes and ESET affect the systems they run on.
Looking into the Performance Test results from AV-TEST.org, we find that Malwarebytes performed better on this test and received 5 out of 6 score.
Now, we'll turn to AV-Comparatives for their version of Performance Test evaluations from April 2019. Here, ESET received the perfect ADVANCED+ award.
Winner: ESET. Both companies skipped one of the two tests we usually consider in this category. But ESET achieved the highest award on the second test while Malwarebytes was short of a perfect score in the first evaluation.
4. User-Friendliness
As much as finer details of an antivirus product matter, the user interface still contributes hugely to the overall user experience. Most customers want the software interface to be simplistic but still packed with enough customization functionality to make it worthwhile.
Let's compare Malwarebytes and ESET on their user interfaces.
Malwarebytes interface uses a simple design that even novice users find easy-to-navigate. At first glance, the right side of the screen does look cluttered with all the horizontal slabs containing information and updates about security status, scans, and protection history.
The left-side looks more organized with a black panel that consists of buttons to access different features such as scans, system reports, and settings. Finally, the center of the interface is dedicated to displaying overall security status.
Here, you can also click buttons to start a scan immediately and upgrade to a higher tier. Overall the interface is quite user-friendly for both light and seasoned users.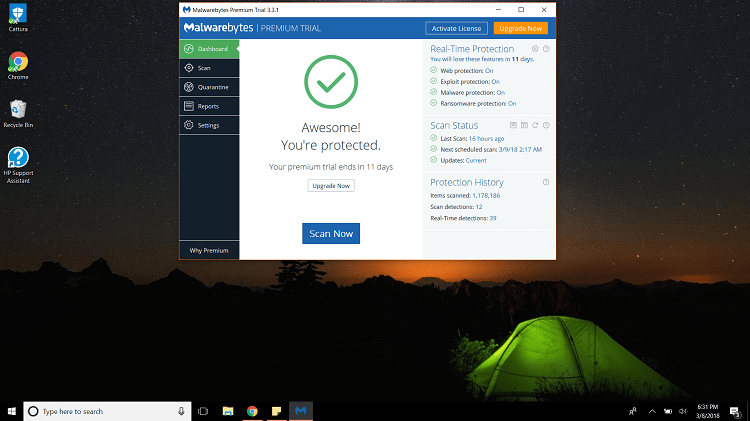 Now let's have a look at ESET's interface.
ESET interface uses ash white and blue as primary colors. The interface design is very intuitive and simplistic. A panel on the left side gives access to different features, functions, and settings. While the upper section of the left side shows information about security status.
A blue horizontal panel along the bottom half shows icons for different functions such as scans or password manager, depending on the product you're using. The "Computer scan" button gives access to detailed information and advanced settings for scans.
"Tools" button takes you to further operations like security report, running processes, watch activity, scheduler, system cleaner, and more. The interface is cleverly designed to look uncluttered and simplistic, even if it means a few more clicks to get to your desired feature.
Winner: Both. Both companies have intuitive designs. Malwarebytes provides the overall picture in once glance. While with ESET you do have to dig through a little, but it makes for an uncluttered screen. Both designs have their perks according to user preference.
5. Pricing
'Value vs. money' is a big equation in the customer's eyes. This is where the rational mind jumps in to justify the product's usefulness against the bucks that buy it. Let's see which of our competing brands prices its products more reasonably.
Malwarebytes charges $39.99 per year for one license of Premium for You suite. This license protects one device (PC, Mac. Chromebook or Android).
While Malwarebytes Premium for Home costs $59.99 per year for protecting up to 10 of your devices. This price seems quite reasonable for a premium family suite.
Malwarebytes charges varying rates for its business-specific security solutions which you can review below.
| Malwarebytes Products | Regular Price | Discounted Price |
| --- | --- | --- |
| Malwarebytes Premium for PCs | $39.99/year | Check here |
| Malwarebytes Premium for Mac | $39.99/year | Check here |
| Malwarebytes Business Products | Varies | Check here |
Now let's look at ESET's pricing in comparison.
The first paid product from ESET, ESET NOD32 Antivirus, also costs $39.99 per year for 1 license. But unlike Malwarebytes, this license only covers a Windows device. However, ESET Internet Security offers 1 universal license at the cost of $49.99 per year.
ESET Smart Security Premium costs you $59.99 per year also for one license only.
For Mac-specific products, ESET Cyber Security and ESET Cyber Security Pro cost $39.99 and $59.99 per year, respectively. Both these suites also cater to protection for only 1 device.
All of these prices are relatively high, seeing as you only get protection for 1 device in all the suites.
For the business solutions offered by ESET, check the table below.
| ESET Products | Regular Price | Discounted Price |
| --- | --- | --- |
| ESET NOD32 Antivirus | $39.99/year | Check here |
| ESET Internet Security | $49.99/year | Check here |
| ESET Smart Security Premium | $59.99/year | Check here |
| ESET Multi-device Security | $69.99/year | Check here |
| ESET Cyber Security for Mac | $49.99/year | Check here |
| ESET Business Products | Varies | Check here |
Winner: Malwarebytes. Although both companies price their products in the same range. But you can protect 10 devices with Malwarebytes Premium for Home but only 1 device with ESET's most premium product. That's why Malwarebytes wins.
6. Customer Satisfaction
Finally, the last metric we will use to evaluate both brands is customer satisfaction. We'll look at the customer feedback ratings from independent organizations to see which of our brands is better at keeping its customers happy.
Better Business Bureau (BBB) is our first independent source for ranking our competing brands on customer satisfaction. BBB uses an alphabetic scale from A to F to rate the antivirus products. They awarded Malwarebytes with an amazing A+ rating. ESET wasn't behind as it too scored the perfect A+ score.
Now we'll look at consumer feedback ratings from our second source, the Consumeraffairs.org. This website uses a 5-star rating scale to rank products. Malwarebytes scored pretty well here too with a 4-star rating. ESET was head-to-head with Malwarebytes here as well, with a 4-star rating of its own.
Winner: Both. Both companies received similar ratings from both independent sources. So both companies win in this category.
Final Thoughts
Both our brands were head to head in this comparison tying in two of the categories. But ESET still outperformed Malwarebytes in three categories becoming the winner of this comparison. ESET's meticulous approach to product features, malware protection, and system performance made it excel in three of the most important categories. Malwarebytes did win on the pricing, but that's the only category it beat ESET in. ESET needs to revise the number of licenses it offers per product.
Our recommendations: If you want to get the highest level of security and performance, there's no better choice than Norton, which protects over 50 million users worldwide.
After reviewing dozens of antivirus products from some of the biggest names in the cybersecurity realm, we believe that Norton 360 Deluxe is the best antivirus suite available on the market. It provides flawless anti-malware protection without slowing you down. Plus, you get almost all the advanced features you could ever want.
If you're willing to pay more for advanced identity protection features, we recommend Norton 360 with LifeLock select (only available in the US). It's a bit pricey but worth the price.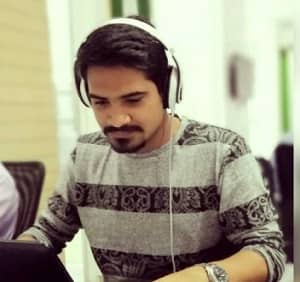 Anas Baig is a consumer privacy advocate and cybersecurity journalist by profession. Has has more than 7 years of professional experience under his belt. Anas has been featured on numerous media publications including The Guardian, Lifehacker, The Next Web, Infosecurity Magazine, Security Boulevard, Hacker Noon, CMS Wire, IAPP, SC Magazine, and many others. His interest includes Digital Privacy Rights, Information Security, Networking, Privacy, and Data Protection.
My Contributions: 
Hacker Noon | TheNextWeb | DevOps.com | GlobalSign | CMS Wire | CSO | Tech.co | Security Boulevard | ITProPortal | MuckRack | Crunchbase