(Last updated on January 9th, 2023)
Norton or Malwarebytes, which antivirus software is a better choice in 2023?
Read this data-driven Norton versus Malwarebytes comparison to make a smart decision.
The Internet is an amazing place, but it's also fraught with danger. As the number of Internet users continues to rise, the threat of malware, ransomware, and other viruses also grows at a rapid clip.
There are now more targets, and more people are making malware viruses than ever before.
According to AV-test.org, in 2018 alone there were over 850 million malware attacks. In 2019, the number has already surpassed 890 million. This can give you an idea of how quickly malware develops and how rapidly the digital landscape is changing.
The statistics convey a simple message: internet security is more important than ever.
The ease with which we now buy things via the Internet from the comfort of our homes has a downside side as well. Putting our personal information online on various platforms has made us more vulnerable than ever to a large number of malware threats, which are getting more and more complex with each passing day. Therefore, an equally powerful antivirus program is required to combat these threats.
It may be tempting to think that a good free antivirus program is the ultimate solution to all these woes, but it's not the case. Freeware only comes with the most basic features, and can only give you a false sense of security. You should invest in a premium security package to achieve complete security and peace of mind.
Best Antivirus Suite for 2021
60-day money-back guarantee
During the past few months, we have ranked, rated, and reviewed 40 premium antivirus suites from the biggest names in cybersecurity. We did this so you can confidently choose the best antivirus software to protect yourself and your family.
Right now, we think that
Norton
is the best antivirus software your money can buy. It regularly earns perfect or near-perfect scores from independent labs and has the least impact on system performance compared to rival products. Its products combine top-notch security with an array of excellent security features and, best of all, offer exceptional value for money.
Overall,
Norton 360 Deluxe
(currently at
70% off
) is our pick for the best antivirus suite in 2021. It is competitively priced and comes with almost everything you could possibly ask for, such as a firewall, a fully integrated VPN, dark web monitoring, cloud backup storage (50GB), a password manager, and parental controls. You can cover up to 5 PCs, Macs, smartphones or tablets with this suite.
If you want full-on identity protection and don't mind paying more,
Norton 360 with LifeLock Select
(currently at
35% off
) gives those in the US a full range of identity protection features, more backup space (100GB), as well as all the above.
Norton and Malwarebytes are two top competitors in the antivirus market and offer various features. This detailed comparison highlights their strengths and weaknesses and lets you make an informed decision about which software is more worth your while.
In a rush? Check the quick rundown below to see which company wins according to each category. This will show you their overall strengths.
Comparison At a Glance
1. Features
Winner: Norton. Norton has more useful features and utilities in its security arsenal than its competitor. Besides, Norton lays more emphasis on protecting user identity and financial information, which makes it a better choice.
2. Malware Protection
Winner: Norton. Independent evaluations show that Norton provides better anti-malware protection capabilities than Malwarebytes.
3. System Performance
Winner: Norton. Malwarebytes abstained from performance evaluations, leaving Norton as the winner in this category.
4. User-Friendliness
Winner: Tie. Both antiviruses offer intuitive and easy-to-use interface, with color symbols quickly informing the user about changes in their computer security.
5. Pricing
Winner: Malwarebytes. You can get more licenses for less money through Malwarebytes. So it is a better pick for bulk license pricing.
6. Customer Satisfaction
Winner: Malwarebytes. Malwarebytes has better ratings in this category, indicating higher customer satisfaction.
Short Verdict
Norton is a full-blown antivirus software that comes with all the advanced features and utilities, whereas Malwarebytes only provides a bare minimum level of protection. Norton consistently earns excellent scores on independent tests, while Malwarebytes doesn't rate well with the independent testing labs.
Best Antivirus for 2023
---
#1 (Excellent)

Robust feature-set
Excellent anti-malware security
Minimal system impact
Easy-to-use interface
Automatic updates
Trusted by 50 million users
100% virus protection promise
60-day money-back guarantee
70% off
#2 (Very Good)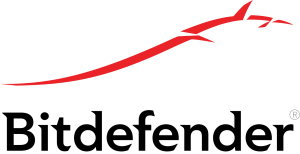 Exceptional malware protection
Little impact on performance
Trusted by millions of users
30-day money-back guarantee
User-friendly interface
50% off
#3 (Very Good)
Good malware protection
Trusted by big corporations
Minimal impact on performance
Good value for money
30-day risk-free guarantee
40% off
Read on for our in-depth comparison between Norton and Malwarebytes.
1. Features
When it comes to the top antivirus, you want a program that has innovative and exciting features that can be used to enhance the product and your overall experience.
Let's see which among Norton and Malwarebytes fares better in the features' category.
The first software package and collection of features from Norton is called AntiVirus Plus. This package will give you one license for each purchase and it includes Norton's signature smart firewall. This efficient firewall can protect you from malware of many different types and is updated every day to ensure that no new malware can slip through undetected.
The entry-level package also comes with a password protector and manager, which lets you collect and store your passwords digitally rather than physically.
Next up is Norton 360 Standard. This suite gives you one license for your purchase that can work for PCs, Macs or mobile devices.
In addition to all the Antivirus Plus features, the Norton 360 Standard suite offers some extra excellent features and 10 GB of cloud data storage.
It also includes a secure VPN generator that guards your identity and lets you surf the Internet anonymously. Besides, it offers a webcam protector that stops anyone from spying on you.
Norton 360 Deluxe is the next stage of protection from Norton.
You get five licenses (for PCs, Macs, or smartphones) with this purchase. The package has everything included in 360 Standard with the added benefit of 50 GB of cloud data storage instead of 10 GB.
This makes it a better purchase for families or if you have several different devices that need protection.
Finally, you can pair Norton 360 Deluxe with LifeLock Select for ultimate defense. This gives you a huge suite of identity theft protection tools, such as dark-web monitoring, a credit monitoring suite, a finance protection scanner, and an Identity Alert System.
The credit monitoring tool lets you know immediately if your credit score starts to drop suspiciously fast, and the Identity Alert System lets you know if your personal information is being displayed in ways that are inconsistent with your previous behavior. This can let you get ahead of any potential identity theft threats.
If you're interested in Norton's business-specific solutions, click here.
Every single Norton product gets 24/7 customer service via email, phone chat or online chat.
Now let's see how Malwarebytes compares.
Malwarebytes Free is the most basic suite offered by the company. As the name suggests, it doesn't cost you a dime, but it also doesn't really have any decent protective features like a firewall, hence no shielding capability.
The freeware does have the ability to eliminate malware that is already infecting your computer, but you'll be better off with any paid antivirus software.
Malwarebytes Premium for You is where you should start if you're considering this company. It has an effective firewall that can protect you from both spyware and malware, as well as some ransomware attacks.
You can also schedule specific or individual scans to catch infections or eliminate viruses. By using the scheduling function, you can make antivirus work for you around your schedule.
Malwarebytes Premium for You allows you to shield specific programs from hackers if you're using the antivirus on a Windows device or PC. For Windows or Android devices, you can use Malwarebytes' secure web browser, which allows you to surf the Internet with greater peace of mind knowing that you are less vulnerable to malware attacks.
For Android or Chromebook devices, Premium for You allows you to detect harmful or virus-heavy apps, thus stopping you from spreading malware to your device from app stores. All versions of Premium for You get automatic protection and virus definition updates, keeping the firewall in tip-top condition.
Malwarebytes Premium for Home is the final product offered by Malwarebytes. It is essentially the same product as Premium for You, but it includes 10 licenses instead of one.
This makes it an excellent choice for families or if you have multiple devices that need security. As all of these licenses are universal, you can mix and match devices by the manufacturer or operating system as well.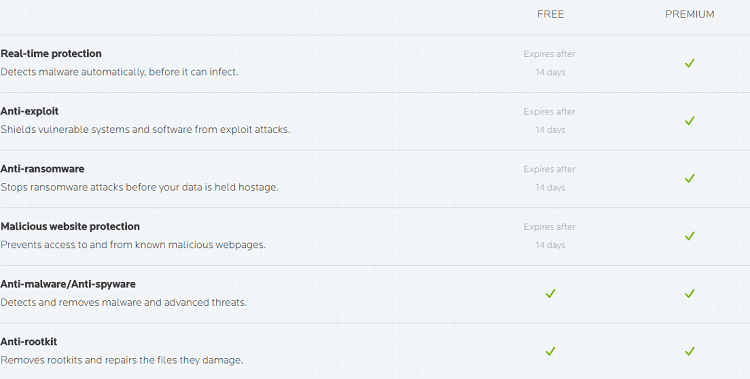 Moreover, Malwarebytes has many business-specific solutions that can be a great choice if you're looking for companywide antivirus. There's Malwarebytes for Teams, Endpoint Protection, and Endpoint Protection and Response, each of which are differently capable of defending your company and its servers. To find out more about each individual package, click right here.
No matter which suite you go for, each Malwarebytes product comes with 24/7 customer service that can be reached through online chat, phone or email.
Winner: Norton. Malwarebytes definitely has some excellent features, but Norton's collection is related to the common threat of identity theft and is probably going to be more valuable to most people.
2. Malware Protection
The ability to protect your computer from malware – an umbrella term used for viruses, spyware, ransomware, botnets, rootkits and other types of online threats – is in many ways the chief purpose of any antivirus product.
Any antivirus software worth its salt should do this well, so let's look towards an independent testing organization to see whether Norton or Malwarebytes performs better in this regard.
AV-test.org, an unbiased antivirus testing organization, offered a protection test in May-June 2019. The evaluation pitted various antivirus companies against realistic malware scenarios and situations that would resemble real threats.
Norton received a perfect 6 out of 6 score during this evaluation.
On the other hand, Malwarebytes only scored 2 out of 6.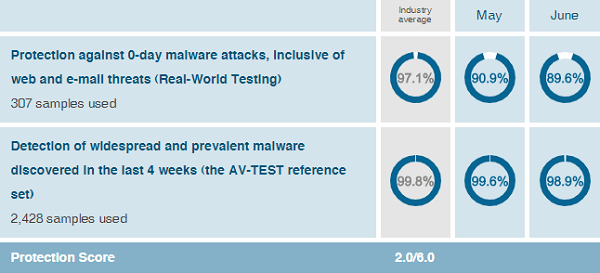 AV-Comparatives, another highly regarded testing laboratory, also issues certain evaluations, such as tests for protection and performance.
However, while Norton participated in the latest evaluation, Malwarebytes did not, indicating a lack of readiness or faith in its product.
During this May-June 2019 Real-World Protection test, AV-Comparatives executed malware on the host computer for antivirus companies to fight off. AV-Comparatives gave Norton ADVANCED rating during its Malware Protection evaluation.
Winner: Norton. Norton clearly beat Malwarebytes during the first evaluation, and Malwarebytes abstained from the second. We have to believe that Norton is better at protecting against malware.
3. System Performance
How smoothly antivirus software runs on normal computers is a pivotal factor that determines its overall superiority. After all, if antivirus slows your computer down too much, it isn't worthwhile no matter how much protection it offers.
AV-test.org, during its May-June 2019 evaluations, found that Norton once again scored a perfect 6 out of 6 in this category.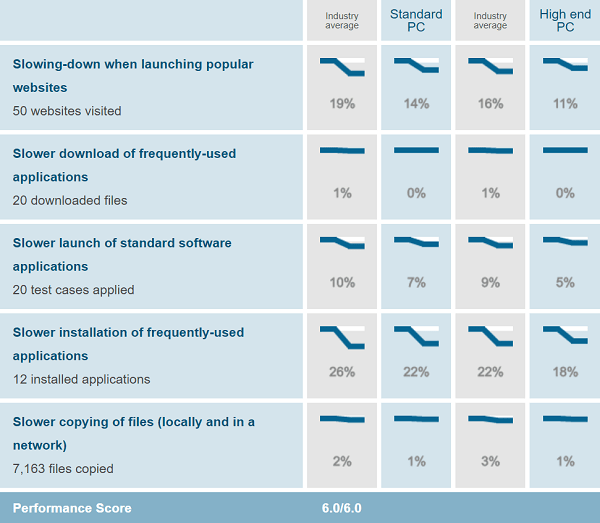 Malwarebytes scored 5 out of 6, once again lower than Norton. This test allowed each antivirus company to choose its own settings and update at any time.
AV-Comparatives also issued a performance test, although once again Malwarebytes did not participate for reasons not available to us. This test measured a program's operational speed while the host antivirus was running.
On the other hand, Norton received the highest possible award offered by the company for its performance rating: the ADVANCED+ award.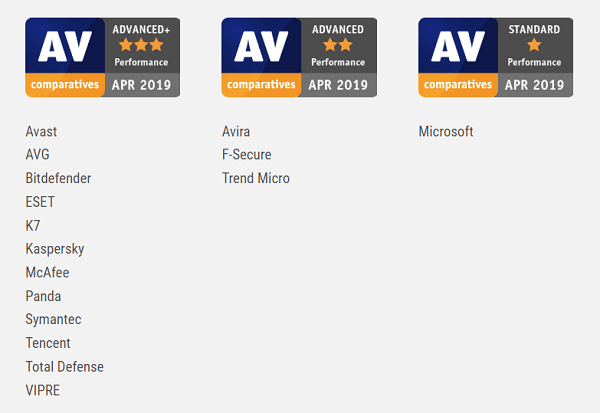 Winner: Norton. Once again, Malwarebytes abstained from the second test and Norton beat them during the first. This means that Norton is better equipped at running smoothly on most normal computers.
4. User-Friendliness
Another key component to look for in antivirus software is user-friendliness. We can measure this by examining both antivirus software interfaces against each other, looking out which one is more intuitive, easier to understand and more functional.
Norton's interface primarily uses a central dashboard that is dominated by a large green checkmark to indicate that everything is running smoothly and that you're protected. You'll also be able to find when your last scan was and if there are updates that need to be integrated soon.
Directly beneath this checkmark are all of your major areas of operation, such as online safety, performance and security. You can click the "My Norton" page to go back to a larger dashboard where you can also access your account information.
You can initialize different actions from this home screen and start more complex or specific scans and operations from deep or in various menus. Overall, it's a pretty intuitive design and it's hard to get lost since everything is in a logical place. Last but not least, you can always go back to the main menu at any time.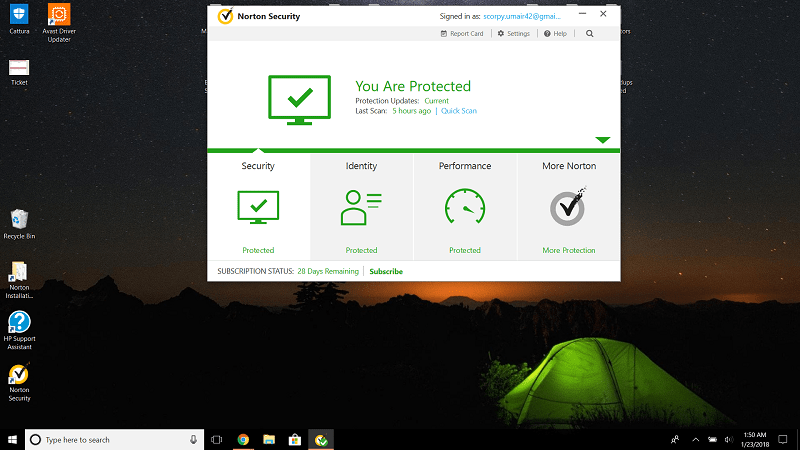 Now let's take a look at Malwarebytes' interface.
The big dashboard for Malwarebytes is dominated by a few large icons and some horizontal bars. These bars are great ways to transmit information quickly to the user since they light up and change color depending on the status of your computer; they'll be green if everything is excellent and a different color if something needs your attention.
The highest bar is where you can access all the primary functions of the software, such as your scans, settings and history. Then there are upgrade bars you can access if you ever want to move to a higher tier of coverage from Malwarebytes.
Another bar showcases you the status of your license and informs you when the time to renew is coming up.
There's also an Anti-Malware detector section located prominently on the screen. This tells you if there's any hint of malware on your computer and can allow you to target and remove these kinds of viruses as soon as they become known, preventing them from going too deep and causing permanent damage to your computer.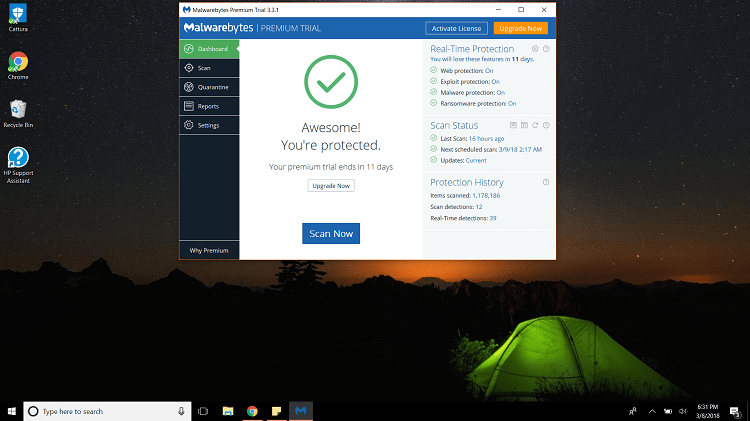 Winner: Tie. Both interfaces are pretty intuitive and easy to understand and have prominent color signals to let you know if there are problems or if everything is good. This is a matter of subjectivity.
5. Pricing
Excellent antivirus should also be affordable for most people to be worthwhile. Let's look at the overall value for money for both antivirus software and see which gives you more bang for your buck.
Norton Antivirus Plus provides you with one PC-only license for $19.99 per year. If you want to stick to this tier of coverage but need protection for your Mac or mobile device, you can upgrade this price to $39.99 per year.
Norton 360 Standard comes with a license that is suitable for any computing device by default, and it costs $49.99 per year. Norton 360 Deluxe is basically the same software but it provides you with some extra free gigabytes of cloud data storage and five universal licenses. This costs $59.99 per year.
Norton 360 Deluxe, the premium offering from Norton, comes with LifeLock Select and costs $99.99 per year for five licenses.
For business products developed by Norton, check out their prices right here.
| Norton Products | Regular Price | Discounted Price |
| --- | --- | --- |
| Norton Antivirus Plus | $59.99/year | Check here |
| Norton 360 Standard | $79.99/year | Check here |
| Norton 360 Deluxe | $99.99/year | Check here |
| Norton 360 with Lifelock Select | $149.99/year | Check here |
| Norton 360 with Utimate Plus | $349.99/year | Check here |
| Norton Small Business Security | Varies | Check here |
Now let's see how Malwarebytes compares.
The free software from Malwarebytes obviously doesn't cost you anything. Premium for You, which is Malwarebytes' first paid software, costs $39.99 per year for one license. This is a universal variety so you can use it with PCs, Macs or mobile devices.
Malwarebytes Premium for Home provides you with 10 universal licenses for $59.99 per year. This is great value for money, particularly if you have a family and each member has a few different devices that they need security for.
To check out Malwarebytes' business solutions, click here to see their prices.
| Malwarebytes Products | Regular Price | Discounted Price |
| --- | --- | --- |
| Malwarebytes Premium for PCs | $39.99/year | Check here |
| Malwarebytes Premium for Mac | $39.99/year | Check here |
| Malwarebytes Business Products | Varies | Check here |
Winner: Malwarebytes. Norton's pricing plan is pretty reasonable, but Malwarebytes provides you with 10 licenses for less money than Norton. This is a greater value for money and makes it a good pick for families.
6. Customer Satisfaction
Before we make our overall decision, we can also take a look at the customer satisfaction of both companies. This can give us an idea of their customer service and overall authenticity, which are valuable metrics when judging overall superiority.
The Better Business Bureau gathers company reputation and user feedback to generate a single-letter grade from A to F. Both Norton and Malwarebytes have an A+ rating from the BBB, indicating high customer satisfaction and general company reputation.
Consumeraffairs.org also gathers user feedback and averages it out into a 1- to 5-star rating. While Norton only received a one-star rating, Malwarebytes got a 3.8-star rating, indicating it edges out just ahead of Norton in overall customer satisfaction.
Winner: Malwarebytes. Norton does all right according to the BBB, but Malwarebytes has better ratings from customers from the second resource.
Final Thoughts
Norton wins overall, but Malwarebytes puts up a strong fight. Both companies have decent interfaces. Malwarebytes is a little bit better when it comes to bulk pricing, but Norton is better at protection and performance and has slightly better features and Malwarebytes. Owing to these aspects, Norton is overall an excellent choice when it comes to paid antivirus protection.
Our recommendations: If you want to get the highest level of security and performance, there's no better choice than Norton, which protects over 50 million users worldwide.
After reviewing dozens of antivirus products from some of the biggest names in the cybersecurity realm, we believe that Norton 360 Deluxe is the best antivirus suite available on the market. It provides flawless anti-malware protection without slowing you down. Plus, you get almost all the advanced features you could ever want.
If you're willing to pay more for advanced identity protection features, we recommend Norton 360 with LifeLock select (only available in the US). It's a bit pricey but worth the price.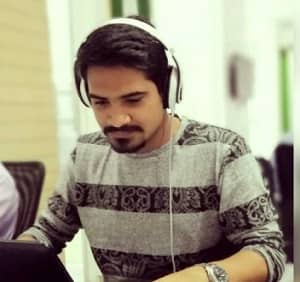 Anas Baig is a consumer privacy advocate and cybersecurity journalist by profession. Has has more than 7 years of professional experience under his belt. Anas has been featured on numerous media publications including The Guardian, Lifehacker, The Next Web, Infosecurity Magazine, Security Boulevard, Hacker Noon, CMS Wire, IAPP, SC Magazine, and many others. His interest includes Digital Privacy Rights, Information Security, Networking, Privacy, and Data Protection.
My Contributions: 
Hacker Noon | TheNextWeb | DevOps.com | GlobalSign | CMS Wire | CSO | Tech.co | Security Boulevard | ITProPortal | MuckRack | Crunchbase