(Last updated on January 9th, 2023)
Bitdefender or Windows Defender, which antivirus software is better?
Read this comprehensive Bitdefender versus Windows Defender comparison to make a smart decision.
The so-called digital world we live in has become increasingly complex with time. These days, it's almost impossible to imagine a secure digital life without solid antivirus protection, regardless of whether you prefer Windows or macOS.
Do you know the AV-Test institute — which is a reputable independent security firm — claims to catch over 300,000 new malware samples every single day?
The bad guys of the internet (called "hackers") are always coming up with new (and clever) ways to breach your privacy, drain your bank account, spy on your digital activities, and so on.
If you don't take measures to safeguard your data and privacy, it's just a matter of time before you'll become yet another victim of some widespread malware attack.
Even if you think you're a careful web surfer, experts say that you still need reliable antivirus protection to stay protected from a range of ever-evolving threats (such as ransomware, viruses, spyware, worms) that are out there in the wild.
Best Antivirus Suite for 2021
60-day money-back guarantee
During the past few months, we have ranked, rated, and reviewed 40 premium antivirus suites from the biggest names in cybersecurity. We did this so you can confidently choose the best antivirus software to protect yourself and your family.
Right now, we think that
Norton
is the best antivirus software your money can buy. It regularly earns perfect or near-perfect scores from independent labs and has the least impact on system performance compared to rival products. Its products combine top-notch security with an array of excellent security features and, best of all, offer exceptional value for money.
Overall,
Norton 360 Deluxe
(currently at
70% off
) is our pick for the best antivirus suite in 2021. It is competitively priced and comes with almost everything you could possibly ask for, such as a firewall, a fully integrated VPN, dark web monitoring, cloud backup storage (50GB), a password manager, and parental controls. You can cover up to 5 PCs, Macs, smartphones or tablets with this suite.
If you want full-on identity protection and don't mind paying more,
Norton 360 with LifeLock Select
(currently at
35% off
) gives those in the US a full range of identity protection features, more backup space (100GB), as well as all the above.
Now, let's start off the detailed comparison.
If you don't have time to read the whole comparison and want the answer straightaway, take a look at the graphic below and also read our short verdict to make your mind.
The Verdict
In recent tests conducted by AV-Comparatives, Windows Defender detected 99.5% of known malware and 96.3% of the zero-day malware. Bitdefender detected 100% of both zero-day and known malware. Bitdefender also puts less burden on system performance, according to AV-Comparatives.
Best Antivirus for 2023
---
#1 (Excellent)

Robust feature-set
Excellent anti-malware security
Minimal system impact
Easy-to-use interface
Automatic updates
Trusted by 50 million users
100% virus protection promise
60-day money-back guarantee
70% off
#2 (Very Good)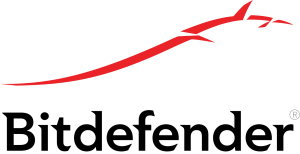 Exceptional malware protection
Little impact on performance
Trusted by millions of users
30-day money-back guarantee
User-friendly interface
50% off
#3 (Very Good)
Good malware protection
Trusted by big corporations
Minimal impact on performance
Good value for money
30-day risk-free guarantee
40% off
Finally, let the battle commence…
Bitdefender vs. Windows Defender: Which Software Offers More Features/Tools?
First, let's see what's included Bitdefender security products.
Like Microsoft, Bitdefender offers a free antivirus solution for PCs, called Bitdefender Free. Unsurprisingly, there are no advanced protection-related features or tools jammed into the freeware, but it does protect against a range of malware threats, like viruses, worms, ransomware, rootkits, and more. Protection against web-based (or online) threats is also incorporated into the free solution.
Next level up is Bitdefender Antivirus Plus 2023 – the company's entry-level premium offering for the Windows users. Besides providing excellent protection against all kinds of malware threats, it offers several useful premium features/tools, including a hardened web browser (protects you sensitive details while you shop online), a Vulnerability Scanner, a password manager utility (stores all your passwords and other credentials to eliminate hassle), and a file shredding tool (lets you safely delete your confidential files).
Extra multi-layered protection against ransomware attacks is also included in the "Plus" suite. Also, a single license of this suite will protect up to 3 PCs.
Next up is another Windows-only package, called Bitdefender Internet Security 2023. Along with everything found in the "Plus" package, it includes a useful firewall module (proactively monitors your network and blocks malicious traffic), an encryption utility (lets you create virtual, password-protected drives on your computer), and parental controls (helps control what your kids can do online and limit their access to age-sensitive content).
Protection against junk/phishing emails and webcam spying is also included into the "Internet Security" package.
You can protect up to 5 PCs with a single license of this suite.
Bitdefender Total Security 2023 (compatible with PCs, Macs, and smartphones) is the company's most popular security suite. It includes everything that comes as part of the "Internet Security" suite, plus a useful anti-theft feature (helps track lost or stolen devices) and several performance tools, like OneClick Optimizer and Disk Clean-up.
Also, a single subscription of the suites allows you to protect up to 5 devices (PCs, Macs, Android, and iOS) in any combination.
Out of all the high-end security programs we have reviewed, Bitdefender Total Security 2023 (currently at 50% off) is the best in terms of value for money.
If you want protection for more than 5 devices, Bitdefender Family Pack 2023 might be the best option for you. A single license of this suite allows you to protect an unlimited number of Windows, Mac, Android, and iOS devices with the "Total Security" suite.
Now, let's see what's included in Windows Defender.
Most antivirus companies offer a range of security suites at different price points, but Microsoft only offers a free security solution, called Windows Defender Security Centre (formerly Windows Defender).
It provides protection against a range of malware threats (including viruses, ransomware, worms, Trojans), but you won't find many advanced protection-related features and extra utilities included in the freeware.
The most useful feature of the product is its advanced two-way firewall. It keeps an eye on your network and monitors all the incoming and outgoing traffic for malicious activity.
Parental Control is another useful utility included in the package. It lets you control which sites your children can visit, when they can go online, and how much time they can spend online in a day. But the downside is that these features only work with the Microsoft Edge browser.
Other than the two utilities mentioned above, there isn't much included in Windows Defender. It lacks advanced features/tools like file shredder, VPN, password management tool, automatic backup utility, and more.
Overall, Bitdefender offers more security-related features and extra utilities in its security suites than Windows Defender.
Winner: Bitdefender
Bitdefender vs. Windows Defender: Which Software Offers Better Malware Protection?
It's imperative for a security product to provide top-notch protection against all kinds of malware threats.
Usually, most modern antivirus products offer three levels of protection: a traditional signature-based scanner (compares suspect code against a huge library of malware definition files), a heuristic scanner (checks for behavioural attributes to detect zero-day malware), and a company cloud server (that's where suspicious files are sent for a more thorough examination).
To see how Bitdefender and Windows Defender stack up in terms of malware protection, I will look at the most recent lab tests conducted by AV-Test and AV-Comparatives – two popular and respected independent security institutes that comprehensively (and continually) evaluate top security software against different criteria.
The most recent AV-Test evaluations were conducted in September and October 2018. All participating products were tested against both widespread and zero-day malware samples.
Bitdefender was among one of the few products that registered perfect results in the tests; it successfully detected all malware samples it encountered during both months, earning a full 6/6 rating from the AV-Test experts in the "Protection" category.
Windows Defender also registered perfect results against widespread malware, but its overall rating was brought down by lower protection rates against zero-day malware.
It received a lower 5.5/6 rating from the AV-Test security experts.
The experts at Austrian lab AV-Comparatives conduct several exhaustive tests to examine the effectiveness of a security product against malware infections. Real-World Protection Test and Malware Protection Test are the two main tests that are particularly useful to look in this regard.
The recent Real-World Protection Test report published by the lab includes summarized results of five monthly tests which were conducted between July and November 2018.
Bitdefender earned the highest "ADVANCED+" award in this test, because of its near-perfect 99.9% protection rate with just 2 false positives.
***False positive is when a security product wrongly identifies a clean file/URL as malware-infected.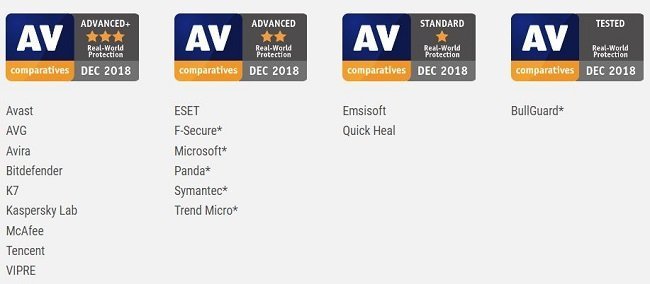 Windows Defender received the second-best "ADVANCED" award in this test. Its protection rate was 99.5%, but it also gave a high number of false positives (106) which degraded its overall score.
The recent edition of the Malware Protection Test was held in September 2018. Bitdefender once again received the best "ADVANCED+" award in the test, due to its excellent 99.99% protection rate and a low number of false detections.
Windows Defender registered impressive 99.99% protection rate but gave a whopping 32 false positives, which means it had to settle for the second-best "ADVANCED" title.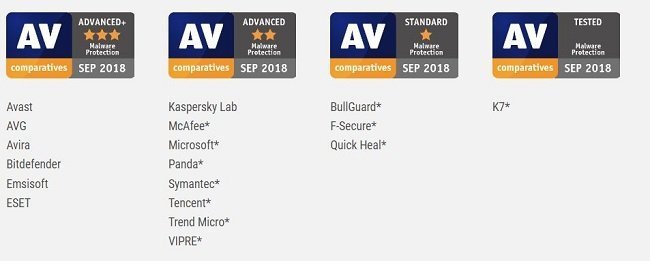 Overall, Bitdefender is the winner in this category as it got excellent scores in all the independent tests we considered.
Winner: Bitdefender
Bitdefender vs. Windows Defender: Which Software Puts Less Burden on System?
Another important consideration is the impact a security product puts on system performance (or system speed).
Most modern antivirus programs are very efficient at utilizing system resources and do not put a significant negative impact on system performance.
Let's look at the recent performance tests conducted by AV-Test and AV-Comparatives to see how both software compare in this category.
AV-Test's performance study looks at the average influence a security product exerts on computer performance (or computer speed) while executing some common computer operations, such as copying files, browsing popular websites, downloading and installing applications.
Here're the results of the study with Bitdefender installed: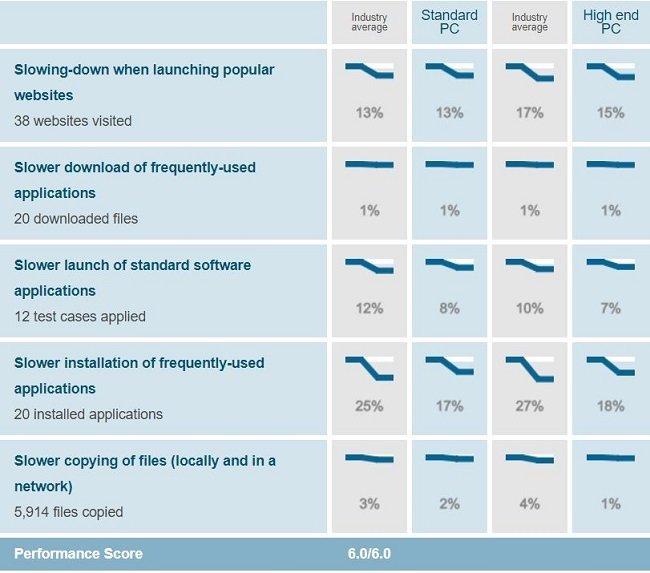 Here's how Windows Defender performed in the test:
As you can see, Bitdefender earned full marks from the experts in the "Performance" category, while Windows Defender got a lower 5.5/6 rating.
The experts at AV-Comparatives also do a similar test to measure the impact of leading antivirus programs on system performance. The recent evaluation involved 17 security products and was conducted in October 2018.
Bitdefender got the highest "ADVANCED+" title in the test, because of its impressive impact score (the lower the score, the better) of 8.7. Windows Defender, on the other hand, put more burden on test systems than any other product and was given the third-best "STANDARD" award.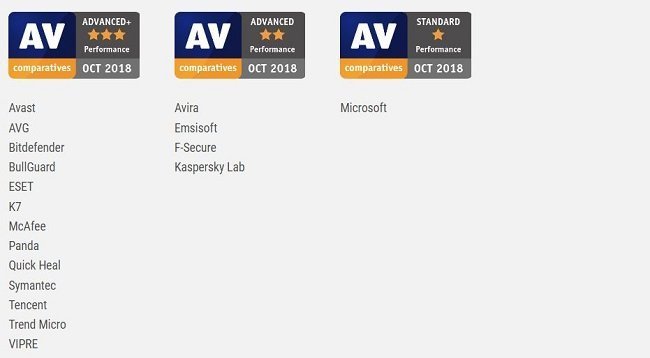 So it's evident that Bitdefender is miles ahead of Windows Defender in terms of the impact on system performance.
Winner: Bitdefender
Bitdefender vs. Windows Defender: Which Product Offers a Better User Interface?
Another important point of comparison between both software is the user interface.
First, let's go over the Windows Defender interface.
Windows Defender Security Centre (formerly Windows Defender) has seen a major overhaul in 2018. It has established its image as a full-fledged security portal from where you can manage everything related to your security and privacy. Also, the interface – which used to be slightly outdated and clunky — is now simple and minimalist, in shades of white, grey, and light blue.
The vertical menu on the left has the following six elements: Home, Virus & Threat Protection, Firewall & Network Protection, App & Browser Control, Device Performance & Health, and Family Options.
Home tab is where you land on when you open the interface. It displays the status of each module and notifies you of problems you need to address. If everything is well, you will also see a reassuring "Your device is being protected" message at the top. The link to access Settings is available at the bottom left corner.
The other menu elements contain relevant features and their settings.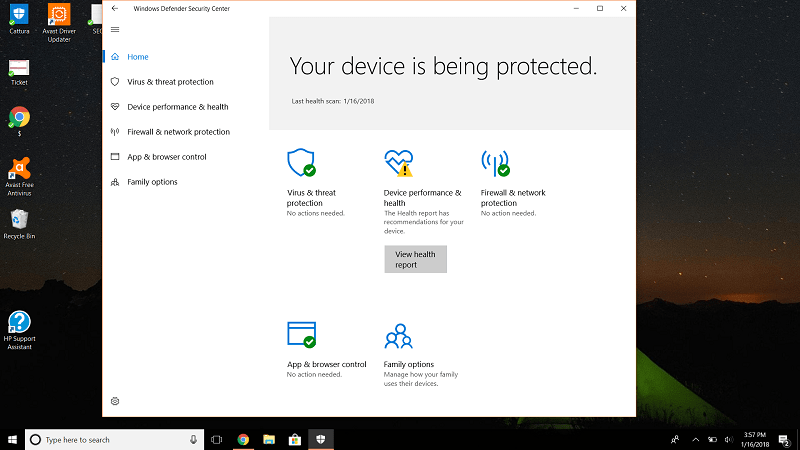 Now, let's examine the Bitdefender user interface.
Bitdefender's interface is modern, intuitive, and robust, in shades of white, black and light gray.
In the left rail, you'll find four main tabs, namely Dashboard, Protection, Privacy, and Utilities, along with links for Notifications, My Account, Settings, and Support.
Dashboard is the default view, it shows your current protection status and has buttons that link to different modules, like the Safepay browser, the VPN, etc. The button to initiate a Quick Scan is also available on the window. Also, you can customize the look of the Dashboard by adding different widgets.
The other three tabs contain relevant features and their settings.
The name of the plan you're subscribed to is displayed in the top bar.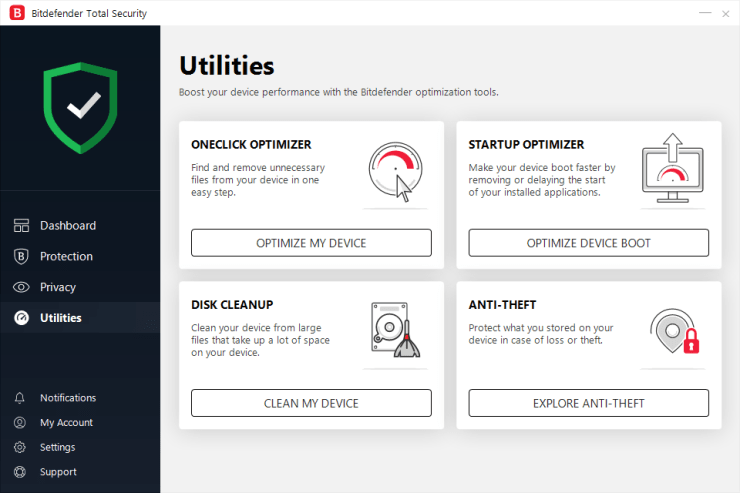 Overall, it can be said that both Bitdefender and Windows Defender offer a simple, easy-to-use user interface.
Winner: It's a tie
Bitdefender vs. Windows Defender: Which Software is Less Expensive?
Here're the prices of Bitdefender's security products:
| Bitdefender Products | Regular Price | Discounted Price |
| --- | --- | --- |
| Bitdefender Antivirus Plus | $59.99/year | Check here |
| Bitdefender Internet Security | $79.99/year | Check here |
| Bitdefender Total Security | $89.99/year | Check here |
| Bitdefender Family Pack | $119.99/year | Check here |
| Bitdefender Antivirus for Mac | $59.99/year | Check here |
| Bitdefender Small Office Security | Varies | Check here |
| Bitdefender GravityZone Business AV | Varies | Check here |
Since Windows Defender is a freeware that comes with no additional upgrades, no comparison can be drawn between both software in this category.
Winner: No comparison can be drawn.
Final Thoughts
Our recommendations: If you want to get the highest level of security and performance, there's no better choice than Norton, which protects over 50 million users worldwide.
After reviewing dozens of antivirus products from some of the biggest names in the cybersecurity realm, we believe that Norton 360 Deluxe is the best antivirus suite available on the market. It provides flawless anti-malware protection without slowing you down. Plus, you get almost all the advanced features you could ever want.
If you're willing to pay more for advanced identity protection features, we recommend Norton 360 with LifeLock select (only available in the US). It's a bit pricey but worth the price.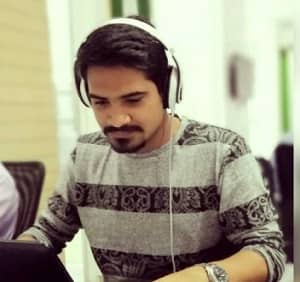 Anas Baig is a consumer privacy advocate and cybersecurity journalist by profession. Has has more than 7 years of professional experience under his belt. Anas has been featured on numerous media publications including The Guardian, Lifehacker, The Next Web, Infosecurity Magazine, Security Boulevard, Hacker Noon, CMS Wire, IAPP, SC Magazine, and many others. His interest includes Digital Privacy Rights, Information Security, Networking, Privacy, and Data Protection.
My Contributions: 
Hacker Noon | TheNextWeb | DevOps.com | GlobalSign | CMS Wire | CSO | Tech.co | Security Boulevard | ITProPortal | MuckRack | Crunchbase