(Last updated on January 9th, 2023)
Norton or Avira, which antivirus software is a better option in 2023?
Read this data-driven Norton versus Avira comparison to make a wise decision.
You might think that you are secure on the internet since you are watchful and wary of any suspicious sites, but you'd be wrong! The truth is if you've ever made any transactions online or have posted personal information, you are vulnerable to a plethora of malware attacks.
The simple fact that you are just one person among billions of people using the internet at the same time isn't enough to ensure your safety.
Did you know that a ransomware attack happens every 14 seconds in 2019? All of these attacks are estimated to cost over $20 billion globally; your finances and personal information are at risk more than you can begin to imagine. Truth is, being in the wrong place at the wrong time can easily result in your computer getting infected.
The good news is that there is a solution: an excellent antivirus software. You can have your sensitive information and all your devices secured from harm for a monthly or yearly charge.
Although there are many free antivirus software available from even popular brands. So it's easy to fall in the trap of free service, but it doesn't do much more than giving you a false sense of protection. Don't rely on a flimsy and fickle firewall from free antivirus software. Instead, invest in premium service and enjoy the peace of mind that you deserve.
Best Antivirus Suite for 2021
60-day money-back guarantee
During the past few months, we have ranked, rated, and reviewed 40 premium antivirus suites from the biggest names in cybersecurity. We did this so you can confidently choose the best antivirus software to protect yourself and your family.
Right now, we think that
Norton
is the best antivirus software your money can buy. It regularly earns perfect or near-perfect scores from independent labs and has the least impact on system performance compared to rival products. Its products combine top-notch security with an array of excellent security features and, best of all, offer exceptional value for money.
Overall,
Norton 360 Deluxe
(currently at
70% off
) is our pick for the best antivirus suite in 2021. It is competitively priced and comes with almost everything you could possibly ask for, such as a firewall, a fully integrated VPN, dark web monitoring, cloud backup storage (50GB), a password manager, and parental controls. You can cover up to 5 PCs, Macs, smartphones or tablets with this suite.
If you want full-on identity protection and don't mind paying more,
Norton 360 with LifeLock Select
(currently at
35% off
) gives those in the US a full range of identity protection features, more backup space (100GB), as well as all the above.
But if you are not sure which antivirus to pick, we've got you covered. We'll give you a detailed analysis of two big, well-known competitors on the anti-malware landscape: Norton and Avira. We'll examine what makes them excellent choices based on research and independent tests. To help you along with your decision, we'll also include our conclusive remarks about the better product.
In a rush? Check out this rundown of the winners of each significant category in light of independent tests, to get a good idea of each antivirus's strengths and weaknesses.
A Quick Rundown of Winners in Each Category
1. Features
Winner: Norton. Avira shares many amazing features of Norton's, but Norton excels with an impressive spread of identity theft protection features which will be of greater use to most people working online.
2. Malware Protection
Winner: Tie. Both companies received the highest ranking during the independent evaluations, indicating equally competitive malware defensive capabilities.
3. System Performance
Winner: Norton. During the independent evaluations, Norton edged out ahead of Avira over system performance showing that it runs a bit more smoothly on most computer systems.
4. User-Friendliness
Winner: Avira. Norton has a pretty good user interface. But Avira allows you to completely customize the user experience, which makes it a lot more user-friendly compared to Norton.
5. Pricing
Winner: Norton. Norton surpasses Avira in terms of pricing by offering more licenses for lower rates.
6. Customer Satisfaction
Winner: Tie. Depending on the resource you check, both companies have decent customer service. They are about equal in this regard.
Short Verdict
Both Norton and Avira are top-of-the-line antivirus software. But Norton offers better protection and performance capabilities, more value for money, and a guaranteed 100% protection against malware. Avira's malware detection rate is around 97% to 99%. However, Avira is slightly cheaper than Norton.
Best Antivirus for 2023
---
#1 (Excellent)

Robust feature-set
Excellent anti-malware security
Minimal system impact
Easy-to-use interface
Automatic updates
Trusted by 50 million users
100% virus protection promise
60-day money-back guarantee
70% off
#2 (Very Good)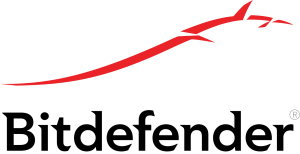 Exceptional malware protection
Little impact on performance
Trusted by millions of users
30-day money-back guarantee
User-friendly interface
50% off
#3 (Very Good)
Good malware protection
Trusted by big corporations
Minimal impact on performance
Good value for money
30-day risk-free guarantee
40% off
Now, let's dig deeper for detailed analysis.
1. Features
An excellent antivirus will have excellent malware protection, sure, but there's a lot more that comes with that. It'll also boast an impressive array of features for you to use throughout your day-to-day operations.
Let's compare the features offered by both Norton and Avira.
Norton AntiVirus Plus is the first antivirus software product offered by Norton. This package provides you with one license that protects 1 PC or 1 Mac. The package offers Norton's signature smart firewall which is effective enough against many different types of malware. Daily updates insure that the firewall is always active against any new malware threat.
Antivirus Plus comes with a password protector and a password manager. Norton also checks attachments with emails as well as social media links (like those you get on Facebook) for malware types spread across these channels.
Norton 360 Standard is the next tier of coverage. It's Norton's flagship product, containing one universal license for use with one computing device, including one mobile device. Along with all the features packaged with the first product, you'll also get access to 10 GB of free cloud storage.
Norton 360 Standard comes with an array of additional features including a webcam protector to prevent people from spying on you. A Secure VPN tool lets you browse the internet anonymously or watch content that is restricted by geographic location.
You also get access to dark web monitoring powered by LifeLock: a function that protects against identity theft. LifeLock monitors your personal information online and alerts you if it's being used by someone other than yourself.
Norton 360 Deluxe is essentially a family pack with the same features included in the Norton 360 package plus 50 GB of cloud data storage as well as a comprehensive parental control module. It contains five universal licenses (PCs, Macs, or smartphones). The family pack makes a better pick if you are seeking protection for multiple devices for personal or family use.
For an extra premium security solution, You can pair Norton 360 Deluxe with LifeLock Select. This suite includes dark web monitoring, a finance protection scanner, an Identity Alert System, and a credit monitoring suite.
The Identity Alert System will alert you if your personal information is in use in ways that do not align with your previous behavior. Then the credit monitoring tool will let you know if your credit score plummets all of a sudden, which is another sign of identity theft.
Moreover, Norton offers additional insurance in the form of its Million Dollar Protection package with this suite. This insurance package compensates LifeLock members for any monetary theft or security-related expenses if they happen to become a victim of identity theft.
For Norton's business-specific security solutions; you can click here.
Now let's see how Avira compares.
Avira Free Antivirus, as is evident from the product name, is the free software offered by the company. The software has a firewall that protects you from many different malware threats, but there aren't many advanced features or utilities jammed into this product.
Avira Antivirus Pro is the first paid option from this company. It comes with an industry-standard firewall that defends you from all types of malware, along with everything offered by the free version of the software. Also included is an ad blocker for your web browser, preventing you from having to suffer through a bunch of pop-up ads.
You'll also get access to a home network scanner, called HomeGuard tool, that lets you check your home Wi-Fi network for security vulnerabilities. A Privacy Pal utility also comes in handy when you want to shred confidential files and apply strict privacy settings to your data.
Next, in the tiers of protection, is Avira Internet Security with all of the features that we previously mentioned, plus a password generator. The function allows you to create and store secure passwords. The Internet Security Suite further comes with a software update tool. It checks all the software currently installed on your computer and helps you to update them preventing any security threats from outdated versions. The updates include drivers, which are often ignored by many computer users.
A System Speedup Utility is also part of the suite which helps to optimize the performance of your device by reducing boot time and system lags.
Avira Prime is the final security option offered by the company. This top tier includes the Phantom VPN Pro tool that lets you encrypt your browsing information for secure surfing. The System Speedup Pro function that comes with Prime helps to reorganize temporary files and eliminate junk files stored on your computer, freeing up processing power.
Prime comes with a file shredder, too; this lets you permanently delete any data that you deem too sensitive to risk being stolen. Prime also enables you to install Avira apps for Android and iOS devices. Furthermore, you'll able to try the latest Avira features at no additional cost.
Every Avira product receives 24/7 customer service, but if you purchase Avira Prime, you'll get access to VIP customer service that goes above and beyond.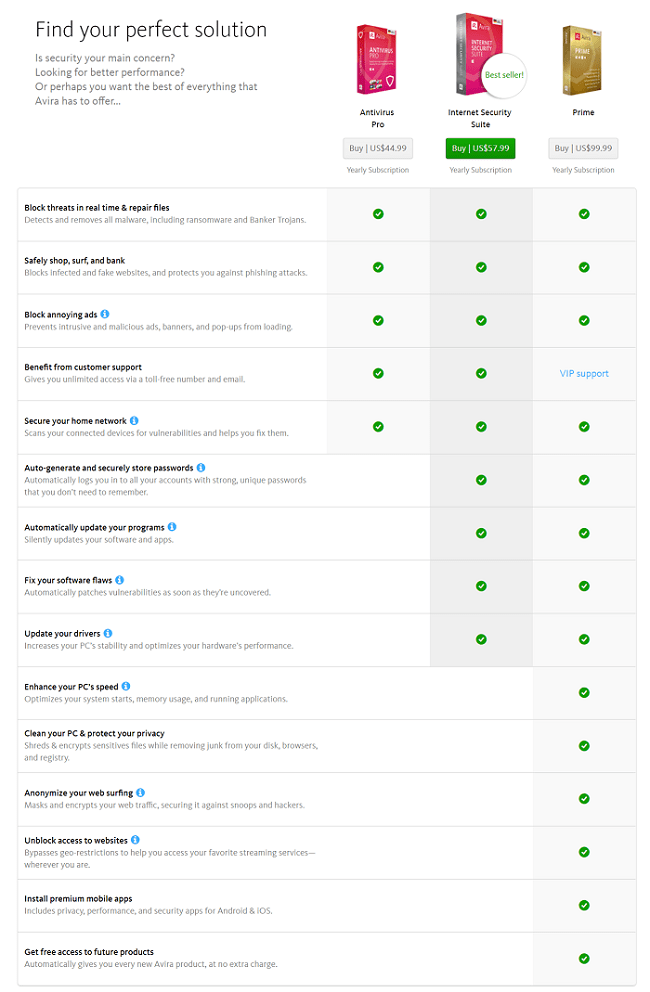 Winner: Norton. Avira has some excellent features, but what swings the competition in Norton's favor is their focus on identity theft protection function. This form of protection is an invaluable feature to the modern internet user and cements Norton as an excellent choice.
2. Malware Protection
Features are important, but antivirus software's ability to protect your computer from infection is definitely of paramount significance. We'll look at protection test results from two different independent testing organizations and see what they found out about the antivirus capabilities of Norton and Avira products.
AV-test.org, for its June 2019 Protection test, measured various antivirus companies against realistic malware threats and scenarios. They found that Norton received a perfect 6 out of 6 score, indicating high malware defensive capabilities.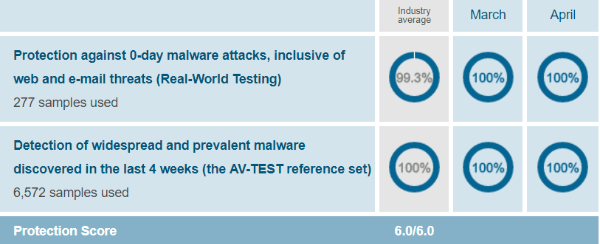 Avira lagged behind with a 5.5 out of 6 for this evaluation. For details on this evaluation, go here.
AV-Comparatives, another leading independent testing organization, also issued a June 2019 Real-World Protection Test. During the test, the malware was executed on the test computers and ordered to target network drives and USB files. Avira received the highest possible crown from this company: an Advanced + Award. However, Norton came in second place with the Advanced Award.
For detailed AV-Comparatives evaluation, you can visit these links: Norton and Avira.
Winner: Tie. Keeping the two evaluations in mind, it seems both Norton and Avira are equally competitive in this category.
3. System Performance
Let's now see how Norton and Avira compare in terms of how smoothly they run on computers. It is vital since an antivirus that slows down your device hindering day-to-day operations isn't worth your while at all.
For their June 2019 Performance evaluation, AV-test.org allowed antivirus companies to choose their own settings. Once again Norton received a perfect 6 out of 6 score, showing that it can run smoothly on most computers.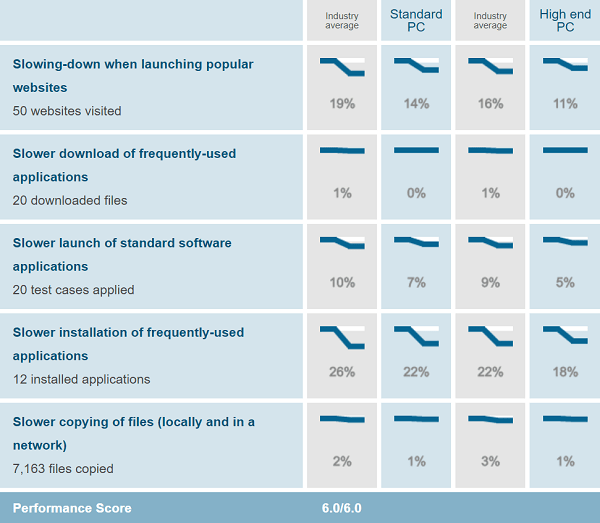 Avira was only slightly behind Norton, earning a 5.5 out of 6.
AV-Comparatives ran a Performance Test in April 2019. The test focused on how well applications launched while antivirus was running in the background, among other similar performance metrics. During this evaluation, Norton was ahead of Avira with an Advanced+ Award while Avira went home with the second-best Advanced Award.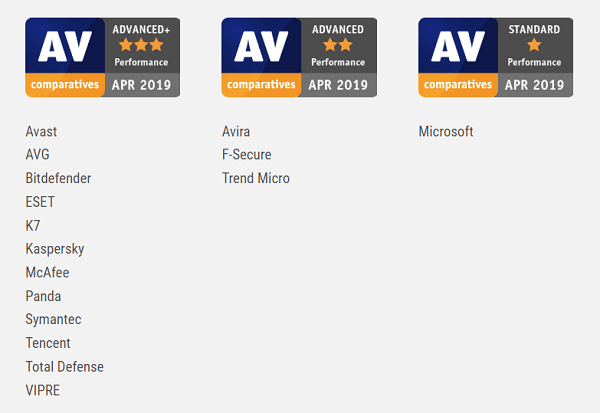 Winner: Norton. Norton is clearly the winner here as it received the highest ranking in both evaluations, demonstrating a minimal effect on system performance.
4. User-Friendliness
The user interface of each antivirus software can determine how user-friendly it is. Usability is important because most people are casual users and therefore, not very computer literate. Let's examine both interfaces directly.
Let's see how Norton fares on this front.
Norton has a smooth and sleek user interface that is universal between its desktop and mobile versions, which makes it easy-to-use across different platforms. It consists of a white dashboard displaying big green icons where you can check the status of various features at one glance.
A big green check-mark dominates the Norton dashboard if everything is secure. If there are issues, the panel will change colors to inform you immediately. Beneath check-mark is the time and date of the last scan, as well as information to let you know if an update is required.
From the main dashboard, you can access scans, performance metrics, and other major functions with just a few clicks. The "My Norton" link will take you back to the first dashboard and let you check all of your account information. Backing up to any previous menu is easy at any time.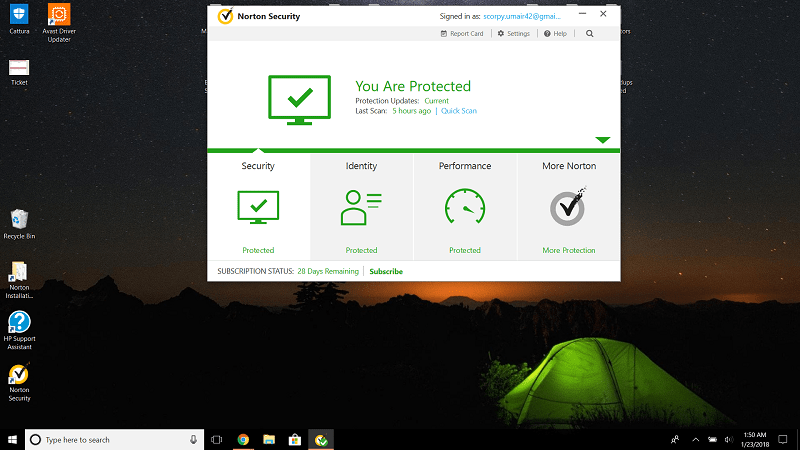 Now let's look at Avira's interface.
Avira's main dashboard uses green and gray as its primary colors. There's a big check-mark at the top of this screen as well, which lights up if everything is going smoothly. However, if there's something that needs your attention right away, this check-mark will quickly change to a red exclamation mark.
All of the primary functions included with the software package, such as firewall controls, or web and mail protection functions, are easy to access right from the dashboard. These can be switched on or off with one click.
You can also easily find any records of your previous scans or schedule new scans with a few clicks. While Avira updates automatically, you can change the setting to make the software work around your personal schedule. This user-friendly functionality is echoed everywhere within the user interface, providing smooth and personable user experience.
Winner: Avira. Norton's user interface is incredibly user-friendly, just like Avira's. But Avira allows you to schedule your scans or updates to suit your timetable. This is a great function that we'd like to see repeated for other antivirus software suites.
5. Pricing
The pricing plans of both antivirus companies are compared below so you can see which one provides more value for your money.
Norton Antivirus Plus, the first offering from this company, provides you with one PC-only license for $19.99 per year. If you want to use this particular software package on a Mac or mobile device, you will have to pay a little extra, up to $39.99 per year.
Next product, Norton 360 Standard, also comes with one license, although this is universal. It costs $49.99 per year. Norton 360 Deluxe contains five universal licenses, making it a good pick for families, costing a mere $59.99 per year.
Norton 360 Deluxe comes with LifeLock Select, the best choice for complete and comprehensive identity theft protection. This product offers five universal licenses for $99.99 per year. For the business solutions offered by Norton, you can check their prices here.
| Norton Products | Regular Price | Discounted Price |
| --- | --- | --- |
| Norton Antivirus Plus | $59.99/year | Check here |
| Norton 360 Standard | $79.99/year | Check here |
| Norton 360 Deluxe | $99.99/year | Check here |
| Norton 360 with Lifelock Select | $149.99/year | Check here |
| Norton 360 with Utimate Plus | $349.99/year | Check here |
| Norton Small Business Security | Varies | Check here |
Now let's see how Avira measures on the pricing scale.
Avira Antivirus Pro gives you one license for use with a PC or Mac for $44.99 per year. Avira Internet Security Suite also provides you with one universal license for $57.99 per year.
Avira Prime, the premium product offered by the company, gives you 5 universal licenses for $99.99 per year. This premium package comes with all of the features included in Avira's antivirus software suites, plus VIP customer service.
| Avira Products | Regular Price | Discounted Price |
| --- | --- | --- |
| Avira Antivirus Pro | $44.99/year | No Discount |
| Avira Internet Security | $57.99/year | No Discount |
| Avira Optimization Suite | $57.99/year | No Discount |
| Avira Total Security Suite | $98.99/year | No Discount |
| Avira Prime | $99.99/year | No Discount |
| Avira Business Products | Varies | No Discount |
Winner: Norton. Both companies are pretty similar on the pricing front, but Norton offers coverage for five devices for far less money compared to Avira. Norton is a better pick here for both individuals and families for whom price is a significant determinant for making a purchase decision.
6. Customer Satisfaction
Finally, it's time to examine customer satisfaction from both companies to see how their customer service is usually received.
The Better Business Bureau (BBB) combines both the company's reputation and user feedback to create an overall rating from A to F.
Norton has an A+ rating from the BBB, while Avira only has a C rating.
Let's also look at the ratings from consumeraffairs.org. This combines user feedback and averages it out into a 1 to 5-star rating. Norton has a 1-star rating, possibly indicating low customer satisfaction. Avira is much better, holding a 3-star rating from this source.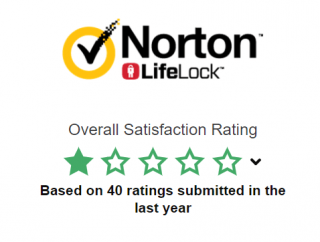 Winner: Tie. According to the first source, Norton has better customer service. But according to second source, it's Avira with better customer service.
Final Thoughts
In our opinion, Norton wins this competition, despite Avira being an excellent product. Norton's affordability, better performance capabilities, and focus on identity theft protection features, means that it's a better pick for paid antivirus software. It can protect you from all sorts of malware threats and ensure your peace of mind as you perform your routine tasks on the internet on a daily basis.
Our recommendations: If you want to get the highest level of security and performance, there's no better choice than Norton, which protects over 50 million users worldwide.
After reviewing dozens of antivirus products from some of the biggest names in the cybersecurity realm, we believe that Norton 360 Deluxe is the best antivirus suite available on the market. It provides flawless anti-malware protection without slowing you down. Plus, you get almost all the advanced features you could ever want.
If you're willing to pay more for advanced identity protection features, we recommend Norton 360 with LifeLock select (only available in the US). It's a bit pricey but worth the price.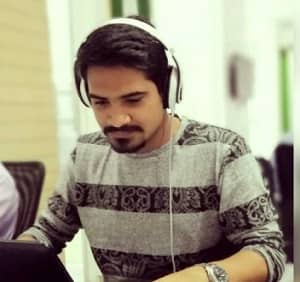 Anas Baig is a consumer privacy advocate and cybersecurity journalist by profession. Has has more than 7 years of professional experience under his belt. Anas has been featured on numerous media publications including The Guardian, Lifehacker, The Next Web, Infosecurity Magazine, Security Boulevard, Hacker Noon, CMS Wire, IAPP, SC Magazine, and many others. His interest includes Digital Privacy Rights, Information Security, Networking, Privacy, and Data Protection.
My Contributions: 
Hacker Noon | TheNextWeb | DevOps.com | GlobalSign | CMS Wire | CSO | Tech.co | Security Boulevard | ITProPortal | MuckRack | Crunchbase