(Last updated on January 9th, 2023)
Kaspersky or Avira, which antivirus software is a better choice in 2023?
Read this data-driven Kaspersky versus Avira comparison to make a smart decision.
In today's world with billions of people using the Internet every day, protecting your digital life against malware attacks is near impossible without an excellent antivirus suite.
Hackers are always on the look for your personal information and financial data, and they keep coming up with more and more sophisticated malware to accomplish their nefarious designs.
The truth is that your devices and data are at a greater risk than ever. Sharing your personal information online or conducting a financial transaction is a potential invite for hackers to chase after your information.
For instance, in January 2019 alone 1.76 billion records were leaked by hackers. It shows the great danger that malware brings to everyone's personal and financial information.
Effective antivirus protection is no longer an option; it's a must. But don't think free antivirus can be your savior at a time when malware keeps on getting more and more sophisticated. Most freeware programs offer minimal coverage and lack advanced features and utilities that bolster your security.
To find out the best antivirus software, you will need to do thorough research. But don't worry. We have done the research part for you. All you need to do is sit back and read on.
Best Antivirus Suite for 2021
60-day money-back guarantee
During the past few months, we have ranked, rated, and reviewed 40 premium antivirus suites from the biggest names in cybersecurity. We did this so you can confidently choose the best antivirus software to protect yourself and your family.
Right now, we think that
Norton
is the best antivirus software your money can buy. It regularly earns perfect or near-perfect scores from independent labs and has the least impact on system performance compared to rival products. Its products combine top-notch security with an array of excellent security features and, best of all, offer exceptional value for money.
Overall,
Norton 360 Deluxe
(currently at
70% off
) is our pick for the best antivirus suite in 2021. It is competitively priced and comes with almost everything you could possibly ask for, such as a firewall, a fully integrated VPN, dark web monitoring, cloud backup storage (50GB), a password manager, and parental controls. You can cover up to 5 PCs, Macs, smartphones or tablets with this suite.
If you want full-on identity protection and don't mind paying more,
Norton 360 with LifeLock Select
(currently at
35% off
) gives those in the US a full range of identity protection features, more backup space (100GB), as well as all the above.
In this post, we will show you a detailed comparison of Kaspersky and Avira, two top competitors in the antivirus market. The comparison lets you know where both programs excel and which of them is more worth your time and money.
In a rush? Check out this handy summary of the winner of each major category to see the strengths of each antivirus software.
A Quick Rundown of Winners in Each Category
1. Features
Winner: Kaspersky. Kaspersky offers many advanced features that improve your user experience and beef up your online security.
2. Malware Protection
Winner: Kaspersky. It's close, but Kaspersky edged out Avira in recent independent evaluations.
3. System Performance
Winner: Kaspersky. Kaspersky managed to get better ratings than Avira in recent performance tests.
4. User-Friendliness
Winner: Avira. Both Kaspersky and Avira have intuitive, easy-to-understand interfaces. However, Avira's ability to let you schedule scans and its fully customizable user experience make it the winner in this category,
5. Pricing
Winner: Kaspersky. Kaspersky offers licenses for more devices for less money. With Avira, you have to go up to the highest tier to get more than one license.
6. Customer Satisfaction
Winner: Tie. Both companies are about average in terms of customer satisfaction.
Short Verdict
Kaspersky is the overall winner as it offers more security-enhancing features and utilities with its security products compared to Avira. Also, independent tests show that Kaspersky is better than Avira in terms of both malware detection and system performance.
Best Antivirus for 2023
---
#1 (Excellent)

Robust feature-set
Excellent anti-malware security
Minimal system impact
Easy-to-use interface
Automatic updates
Trusted by 50 million users
100% virus protection promise
60-day money-back guarantee
70% off
#2 (Very Good)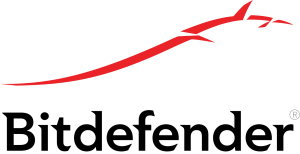 Exceptional malware protection
Little impact on performance
Trusted by millions of users
30-day money-back guarantee
User-friendly interface
50% off
#3 (Very Good)
Good malware protection
Trusted by big corporations
Minimal impact on performance
Good value for money
30-day risk-free guarantee
40% off
Let's delve into details.
1. Features
Excellent antivirus can't just have a firewall to be the best option. It has to have a collection of exciting features and functions to stand out.
Let's compare Kaspersky and Avira in terms of the features they offer.
Kaspersky Free is the first antivirus suite offered by the company. It does have a single firewall, but it doesn't protect you from many forms of malware or other digital viruses.
Kaspersky Anti-Virus is where things start to get interesting. Its firewall protects you from all kinds of digital threats and includes multi-layered ransomware protection that allows you to surf the Internet securely.
Also included in the Anti-Virus suite is a gamer mode that reduces distractions during your gaming experiences. Plus, there's a Vulnerability Scanner to stop hackers from finding and taking advantage of holes in your computer's security.
Kaspersky Internet Security is the next tier of coverage from the company. It can be used on PCs, Macs or mobile devices, as opposed to Anti-Virus, which can only be used on PCs.
Internet Security comes with a two-way firewall and a hardened Internet browser for secure web surfing. You'll also get access to anti-spam and anti-banner features to prevent you from being inundated with ads as you surf the web.
Then you'll get access to an impressive suite of parental controls. These can let you stop your kids from visiting age-inappropriate websites and monitor their web activity. Similarly, a Wi-fi network securer can defend you against any unsecured Wi-fi networks.
Kaspersky Internet Security also comes with phishing defenses, webcam protection to stop people from spying on you, and a VPN that lets you browse the Internet anonymously.
Kaspersky Total Security is the premium product offered by the company. In this suite, you get everything previously mentioned, plus a password manager and a file shredder. The password manager lets you store and organize all your passwords, and a file shredder permanently deletes files that are too sensitive to risk being stolen.
You'll also get 2GB of cloud data courtesy of Dropbox for no extra charge.
Kaspersky Security Cloud is one final product we would like to talk about. Everything included with Total Security returns here, as well as some "Adaptive Technology."
This feature lets you import all the settings and security personalizations from one computer to all computers on your network, and thus gives more personalized and adaptive protection to you and your family.
Security Cloud comes in Personal or Family packages.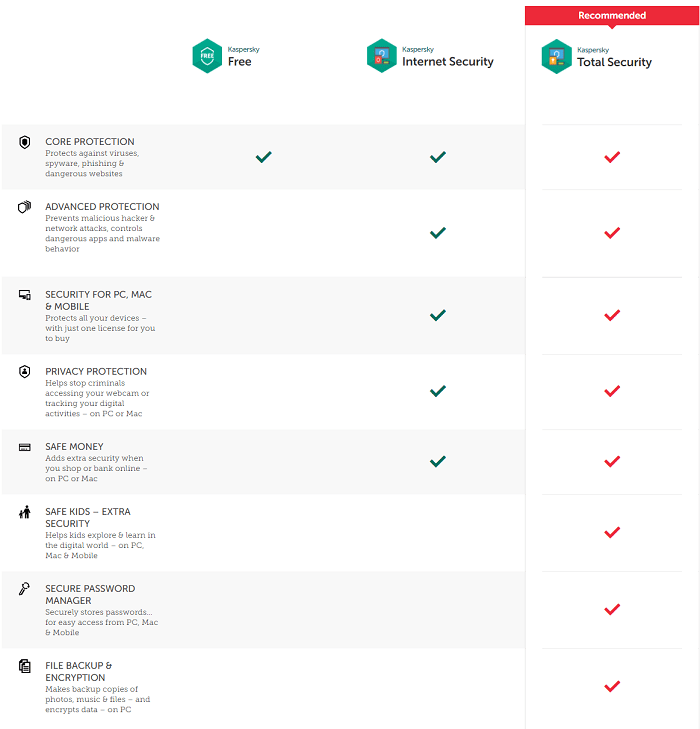 Kaspersky does have some business-specific security products, which you can examine right here.
Now let's take a look at what Avira offers in comparison.
Avira Free Antivirus is the freemium software offered by the company. Its firewall allows you to use a phantom VPN for anonymous Internet browsing, and also provides a password manager and a browser extension.
The package is a little better than Kaspersky's free option, but both pale in comparison to paid software.
Avira Antivirus Pro is the first tier of real coverage offered by the company. It provides you with one license for any computer, PC or Mac, and it comes with a much better firewall than the freemium software.
It also includes an ad blocker for your web browser that can stop annoying pop-ups and spam from inundating you as you surf.
Besides, a home network scanner included in the package alerts you and allows you to solve vulnerabilities in your home network, protecting you from malware attacks.
Next up is the Avira Internet Security suite. It has everything previously mentioned, plus a password manager and a generator. It helps you create and store strong passwords that have a low likelihood of being guessed by a hacker.
Its software update tool examines all of your installed applications and update them if they are out of date and therefore vulnerable. It can also repair any vulnerabilities in your computer's software, and update drivers.
Avira Prime is the premium software offered by the company. It comes with everything included in the Internet Security suite plus an Optimizer tool. The tool helps you get rid of junk files on your computer while reorganizing all the temporary files stored on your drive. Both these features significantly increase your computer performance.
The file shredder function included in this package lets you permanently delete sensitive files.
A VPN generator is also included in this package and lasts much longer than the one included in the free software. You can access websites previously unavailable to use due to your geographic location.
With Prime, you can install Avira apps on your mobile devices. The security suite also grants you access to all new Avira features at no extra cost.
All Avira packages receive 24/7 customer service, but owners of Avira Prime will get VIP customer service.
Winner: Kaspersky. While Avira does have some exciting features, Kaspersky seems to have more features overall, including a parental control suite. It makes Kaspersky a better pick for individuals and families alike.
2. Malware Protection
Excellent malware defense is a crucial factor for any good antivirus software. Let's compare both Kaspersky and Avira by checking the scores that they received from two independent testing organizations.
AV-test.org conducted its latest Protection test in May-June 2019 in which various antivirus products underwent realistic malware threats and test scenarios.
Each company got to choose its software settings and was allowed to update its product at any time and query its in-the-cloud services.
The results showed that Kaspersky scored a perfect 6 out of 6 score, indicating high malware defense capabilities.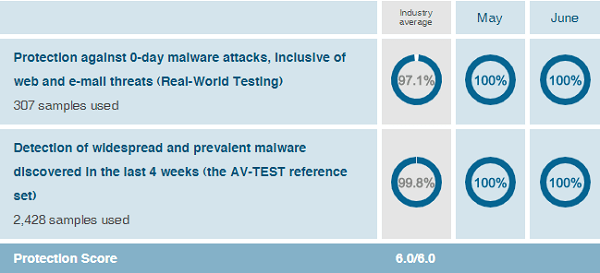 Avira was not far behind with a score of 5.5 out of 6.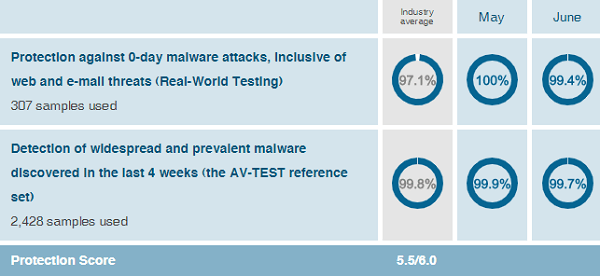 The tests conducted by AV-Comparatives, the second independent testing organization, involved executing malicious files right on the system, and the vectors for this malware were computer network drives and USB files.
In AV-Comparatives' June 2019 Real-World Protection Test, both Avira and Kaspersky bagged the highest ADVANCED+ rating.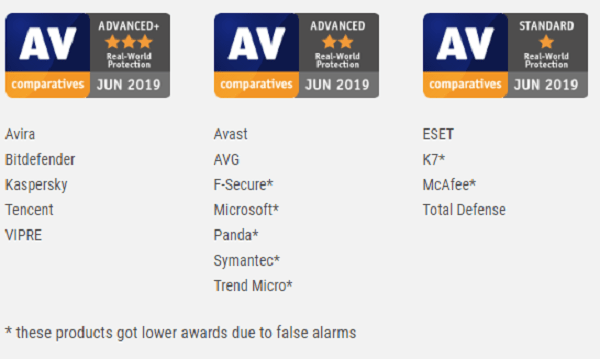 Winner: Kaspersky. Both companies fared well in the two protection tests, but Kaspersky performed even better, earning the highest possible score in both evaluations. This indicates that Kaspersky likely has better malware protection capabilities.
3. System Performance
Good malware defense is essential, but we can't discount antivirus software's ability to run smoothly on your computer.
Thankfully, we can consult the same two independent testing organizations once again to see which antivirus performs better in this regard.
AV-test.org issued its Performance test report in June 2019. Once again, companies got to choose their own antivirus settings. Kaspersky received a perfect 6 out of 6 score.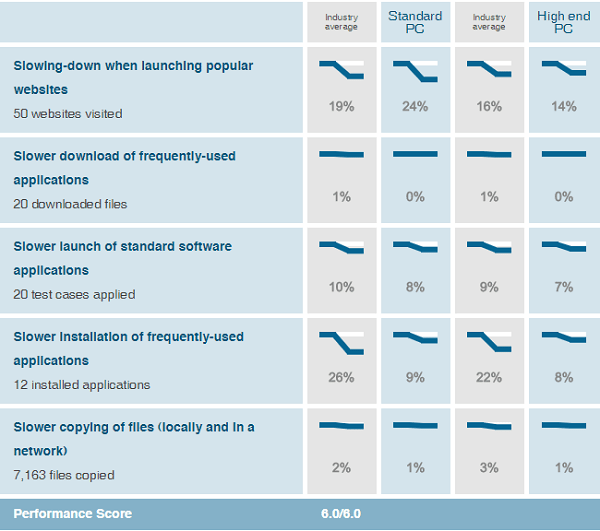 Avira was also close with a score of 5.5 out of 6.
AV-Comparatives also issued a Performance test in April 2019. It evaluated the impact of antivirus programs running in the background by checking how other programs reacted, such as when they were launching.
As opposed to the Protection test, in the Performance test Kaspersky received an ADVANCED+ rating as compared to an ADVANCED award by Avira.
Winner: Kaspersky. Kaspersky trumped Avira in both tests, showing it can run better on most computers.
4. User-Friendliness
Let's take a look at the user interfaces of both antivirus software to know which is more user-friendly and intuitive.
Kaspersky has an open frame dashboard and an interface that is light in color and buttons. Many of the primary operations and functions, like Scan or Parental Controls, are in blocks located right on the dashboard.
At the top, you will see a big green checkmark that will light up if your computer is safe. It turns to a red X if there's an issue that needs your immediate attention.
Towards the bottom of the screen, you will be able to see your current subscription status, which will alert you when the time for subscription renewal is nearing.
Then there are even more comprehensive tools, such as the VPN manager and the capability to start an on-screen keyboard. You can find Settings here and personalize your dashboard experience, as well as fiddle with the firewall or webcam features and settings.
Most importantly, everything that Kaspersky offers can be handled or initiated with just a few clicks, making its user interface incredibly easy.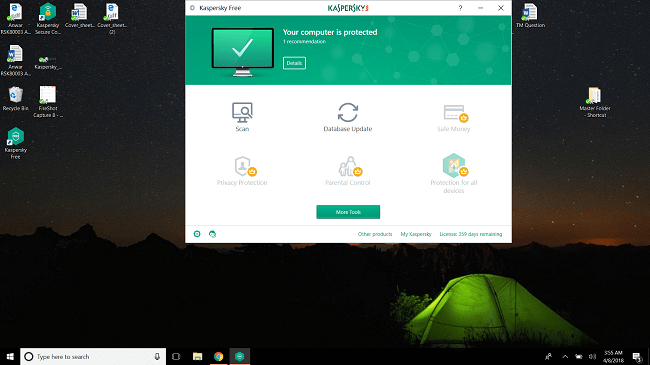 Let's take a look at Avira's user interface for comparison.
Avira uses a dashboard that is dominated by green and gray colors. A large checkmark at the top of the screen shows everything is secure. If it turns to a red exclamation mark, it means there's an issue that needs your attention.
All of your major functions are present as switches so you can easily turn them on or off as necessary; these include real-time protection functions, web and mail protection, and the firewall.
You can also find records of your scans and logs of any potential malware sightings or vulnerabilities located by the software. You can schedule scans from this page and organize virus reports with only a few clicks.
Avira will automatically update its virus definitions, but you can schedule these updates if you would like the software to work around your schedule.
Overall, the interface is incredibly intuitive and easy to understand, and the scheduling function is a great feature.
Winner: Avira. Both Kaspersky and Avira offer intuitive and easy interface, but Avira edges out its competitor as it lets you schedule scans and completely customizes your user experience.
5. Pricing
The price tag carried by an antivirus program is something we should look at since it directly impacts the overall value for money offered by each product.
Kaspersky AntiVirus, the first paid product from the company, provides you with three PC-only licenses for $29.99 per year. Internet Security also provides you with three licenses, although these are universal and can be used for any computing device. You can get these for $39.99 per year.
Kaspersky Total Security costs you $49.99 per year for three universal licenses as well. Security Cloud comes in two varieties: Personal and Family. Personal costs $49.99 per year, while the Family pack costs $149.99 per year. The trade-off for this higher price is 20 universal licenses, which is quite a great deal if you have a family where everyone has a few different devices that need protection.
| Kaspersky Products | Regular Price | Discounted Price |
| --- | --- | --- |
| Kaspersky Anti-Virus | $59.99/year | Check here |
| Kaspersky Internet Security | $79.99/year | Check here |
| Kaspersky Total Security | $99.99/year | Check here |
| Kaspersky Security Cloud (Personal) | $89.99/year | Check here |
| Kaspersky Security Cloud (Family) | $149.99/year | Check here |
| Kaspersky Small Office Security | $149.99/year | Check here |
| Kaspersky End Point Security Cloud | $300.00/year | Check here |
Let's examine Avira's pricing model.
Avira Antivirus Pro costs $44.99 per year for one universal license. Avira Internet Security Suite also provides you with only one universal license for $57.99 per year.
Avira Prime, the highest form of coverage offered by Avira, gives you five universal licenses for $99.99 per year. The package also includes VIP customer service.
| Avira Products | Regular Price | Discounted Price |
| --- | --- | --- |
| Avira Antivirus Pro | $44.99/year | No Discount |
| Avira Internet Security | $57.99/year | No Discount |
| Avira Optimization Suite | $57.99/year | No Discount |
| Avira Total Security Suite | $98.99/year | No Discount |
| Avira Prime | $99.99/year | No Discount |
| Avira Business Products | Varies | No Discount |
Winner: Kaspersky. With Kaspersky, you get more licenses for less money earlier on in the coverage tiers, whereas you have to climb to Prime to get more than one license from Avira.
6. Customer Satisfaction
One final aspect of determining the winner is customer satisfaction. This will give us some key insight into each company's customer service and overall reputation.
The Better Business Bureau collects company reputation and user feedback and provides us with an easy to understand rating from A to F. Kaspersky has a terrible F rating from the BBB, while Avira managed a C rating.
According to consumeraffairs.org, which averages out user feedback into a 1- to 5-star rating, Kaspersky received 2.5 stars out of 5, indicating average customer satisfaction. Avira was a little bit lower with 2 stars out of 5.
Winner: Tie. Depending on the resource, both companies have better customer service.
Final Thoughts
Kaspersky wins this battle overall despite Avira putting up a great fight. The comparison suggests Kaspersky has a better pricing plan, a slightly better spread of features, excellent protection capabilities, and it can run on your computer more smoothly.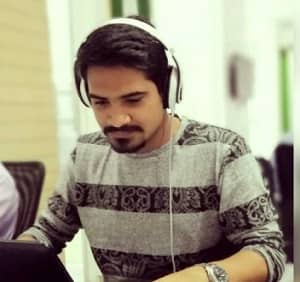 Anas Baig is a consumer privacy advocate and cybersecurity journalist by profession. Has has more than 7 years of professional experience under his belt. Anas has been featured on numerous media publications including The Guardian, Lifehacker, The Next Web, Infosecurity Magazine, Security Boulevard, Hacker Noon, CMS Wire, IAPP, SC Magazine, and many others. His interest includes Digital Privacy Rights, Information Security, Networking, Privacy, and Data Protection.
My Contributions: 
Hacker Noon | TheNextWeb | DevOps.com | GlobalSign | CMS Wire | CSO | Tech.co | Security Boulevard | ITProPortal | MuckRack | Crunchbase