(Last updated on January 9th, 2023)
Bitdefender or Avira, which antivirus software is a better option in 2023?
Read this ultimate McAfee versus Avira comparison to make a smart decision.
Do you know there is a malware attack every 39 seconds? These attacks affect, on average, one in three Americans every year, and this number is only expected to go up in the coming years.
In 2019 alone, over 800 million new malware samples were released on the internet, affecting millions on devices worldwide. The real cost of malware is projected to reach $2 trillion by 2019, as reported by Forbes.
So, it's clear that you need a reliable antivirus software to protect your data and privacy.
But just any antivirus software won't cut it these days. Most free or low-end antivirus programs available in the market offer limited malware protection with no advanced features or extra utilities.
When it comes to digital security, you get what you pay for. We recommend investing in a full-fledged security suite, like Bitdefender Total Security 2019, for complete peace of mind.
Best Antivirus Suite for 2021
60-day money-back guarantee
During the past few months, we have ranked, rated, and reviewed 40 premium antivirus suites from the biggest names in cybersecurity. We did this so you can confidently choose the best antivirus software to protect yourself and your family.
Right now, we think that
Norton
is the best antivirus software your money can buy. It regularly earns perfect or near-perfect scores from independent labs and has the least impact on system performance compared to rival products. Its products combine top-notch security with an array of excellent security features and, best of all, offer exceptional value for money.
Overall,
Norton 360 Deluxe
(currently at
70% off
) is our pick for the best antivirus suite in 2021. It is competitively priced and comes with almost everything you could possibly ask for, such as a firewall, a fully integrated VPN, dark web monitoring, cloud backup storage (50GB), a password manager, and parental controls. You can cover up to 5 PCs, Macs, smartphones or tablets with this suite.
If you want full-on identity protection and don't mind paying more,
Norton 360 with LifeLock Select
(currently at
35% off
) gives those in the US a full range of identity protection features, more backup space (100GB), as well as all the above.
In this guide, we'll take a comprehensive look at two of the best antivirus software in the market: McAfee and Avira. We'll see what features both companies offer in their security products, as well as how much impact they put on your system and how well they protect you against malware.
In a rush? Below is a quick rundown of winners in each category.
A Quick Rundown of Winners in Each Category
1. Features
Winner: McAfee. McAfee offers a ton of excellent features and utilities right into its flagship product, while Avira's advanced features are locked behind the higher, more expensive packages.
2. Malware Protection
Winner: McAfee. Independent tests prove that both McAfee and Avira are excellent when it comes to defending your computer against all sorts of malware attacks.
3. Impact on System Performance
Winner: McAfee. It's a close call, but McAfee performed slightly better than Avira in the recent AV-TEST evaluations.
4. User-Friendliness
Winner: Both. Both McAfee and Avira offer a simple, easy-to-use user interface.
5. Pricing
Winner: McAfee. McAfee offers more licenses for less money than Avira.
6. Customer Satisfaction
Winner: McAfee. Independent sources confirm that McAfee currently scores slightly better than Avira on the customer satisfaction scale.
Short Verdict
Avira is competitive, but McAfee offers a more comprehensive feature-set and better malware protection with minimal impact on system performance. Also, McAfee offers better value for money than Avira.
Best Antivirus for 2023
---
#1 (Excellent)

Robust feature-set
Excellent anti-malware security
Minimal system impact
Easy-to-use interface
Automatic updates
Trusted by 50 million users
100% virus protection promise
60-day money-back guarantee
70% off
#2 (Very Good)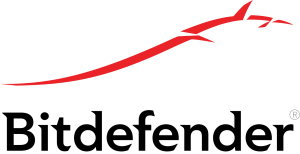 Exceptional malware protection
Little impact on performance
Trusted by millions of users
30-day money-back guarantee
User-friendly interface
50% off
#3 (Very Good)
Good malware protection
Trusted by big corporations
Minimal impact on performance
Good value for money
30-day risk-free guarantee
40% off
Now, let's dig into the details.
1. Features
Features and utilities are the most important ways in which security software can distinguish itself from its competitors.
Let's take a look at what McAfee and Avira offer in their security products.
We'll start with McAfee.
The company's flagship product is McAfee Total Protection, which is compatible with PCs, Macs, and smartphones. This is an all-encompassing package that includes all the advanced features and utilities that should be there in a high-end product.
Some advanced features include a smart two-way firewall that's updated regularly to protect against latest threats, a file shredder that can safely delete confidential data that you don't want to be leaked, and the File Lock utility that protects your sensitive data from ransomware attacks.
A full-blown password management tool and several computer performance optimization features are also part of the package, along with the Network Manager module that helps protect your Wi-Fi network.
Finally, the Safe Family module is also incorporated into the package. This module offers a great suite of features that can let you monitor your children's activities and browsing habits or bar them from visiting certain websites. You can also set a limit on the number of hours your children can spend on their devices each day.
McAfee Total Protection comes at different price points depending on the number of devices covered. (We'll cover the pricing later in this guide.)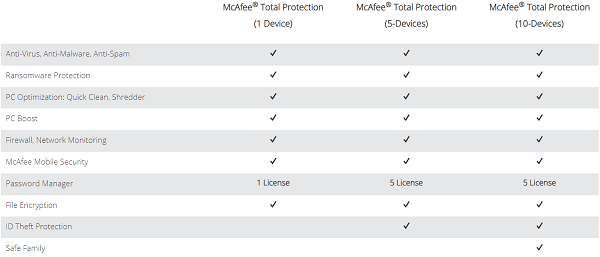 Another top-drawer product that the company offers is McAfee LiveSafe. There is no difference between LiveSafe and Total Protection in terms of features and add-ons, but the former only comes with OEM deals and is not available for purchase in most countries.
All McAfee products come with premium customer support.
Now let's see what Avira brings to the table.
Avira's antivirus line-up starts from the limited free option, called Avira Free Antivirus. It offers protection against a wide of malware threats, including ransomware, but you won't find many advanced features and utilities in this freemium product.
Next up is Avira Antivirus Pro, which is the company's entry-level premium offering. Besides providing excellent malware protection, this suite includes a number of useful add-ons such as a hardened browser, and a full-blown password manager, and a VPN tool with limited data usage.
The Avira Home Guard utility that scans your complete network and finds vulnerabilities is also part of the suite.
A single license of this suite protects one device.
The next tier of coverage is called Avira Internet Security. This package offers everything found in the "Pro" suite, plus the Software Updater tool that scans all software (and drivers) currently installed on your computer for updates, removing a minor maintenance headache as well as patching vulnerabilities in the process.
With a single license of this suite, you can protect one device for a year.
Finally, Avira Prime (compatible with PCs, Macs, Android, and iOS) is the company's top-drawer security suite. This suite includes everything that's found in the previous suite, plus the System Speedup Pro that enhances your computer speed and performance.
With Prime, you can also install Avira's dedicated mobile apps that extend security to Android and iOS. Also, you'll get access to every new product that Avira puts out at no extra cost.
Avira provides premium support with all of its premium products, but Avira Prime customers get "VIP support."
Winner: McAfee. McAfee includes all of its premium features and utilities in its signature product, while Avira's advanced features are locked behind the higher, more expensive products.
2. Malware Protection
One of the most important aspects is how well a security software defends your computer against digital threats (or 'malware'). But reviews or company claims aren't exactly the best way to tell which software is better in this regard.
To see how McAfee and Avira compare against one another in terms of malware protection, we'll look at the recent lab tests conducted by two reputable independent organizations: AV-TEST and AV-Comparatives.
The most recent AV-Test evaluations were conducted in January and February 2019. Both McAfee and Avira demonstrated their exceptional malware protection capabilities in the recent AV-Test evaluations; both software were given a perfect 6 out of 6 rating. (See this and this for detailed results.)
One test isn't enough. Now, let's look at AV-Comparatives.
The experts at AV-Comparatives conduct several exhaustive tests to assess the performance of different antivirus software, but its main test is the Real-World Protection Test.
Both McAfee and Avira were among the few top-rated products that received the ADVANCED+ award, which is the highest award given out by the company, in the recent Real-World Protection Test, because of their near-perfect protection rates and low false positives' count.
***False positive (the lower, the better) is when a security program wrongly flags a clean file or URL.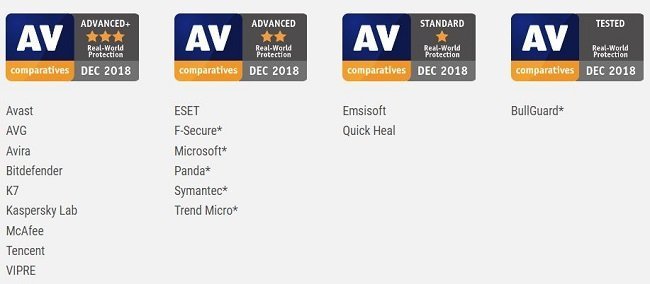 Winner: Both. Independent tests prove that both McAfee and Avira are exceptional when it comes to protecting against different types of malware threats.
3. Impact on System Performance
A good antivirus software should run well on your computer, without negatively affecting its performance.
Once again, we'll look at the recent performance tests conducted by AV-Test and AV-comparatives to see how much strain both McAfee and Avira put on computer systems.
In the AV-Test's performance test, McAfee once again reached a perfect 6/6 rating.
Avira fell slightly behind in this test; it earned a relatively lower 5.5/6 rating in the 'Performance' category.
The Performance Test conducted by AV-Comparatives also measures the impact on different antivirus software on computer performance. The recent version of the test was conducted in October last year. McAfee once again showcased its dominance and received the highest ADVANCED+ award. Avira also got the highest award in the test.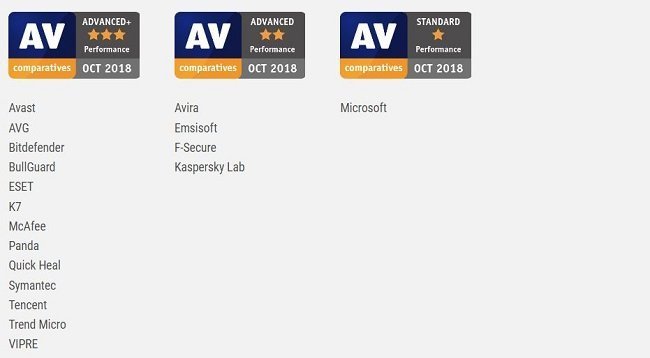 Winner: McAfee. It's a close call, but McAfee managed to edge out ahead of Avira during one of the independent tests, so it's our pick in this category.
4. User-Friendliness
User-friendliness is another great metric we can use to compare different antivirus software against one another. Some people tend to ignore this factor, but it could be very annoying to deal with a complex or difficult interface day in and day out.
McAfee has a pretty standard user interface, with a central hub that splits into side windows or slides depending on the task which you're focusing on. Switching screens is common with their interface, as you'll find that an entirely different screen is needed for most major functions.
McAfee's interface does make use of a left side rail which can organize all the major operations for easy picking and switching. Overall, McAfee's interface doesn't rock the boat too much and is relatively intuitive to use.
Avira's interface is simple and well-organized but there's a lot of empty space. This is especially true for the product that's lower on the subscription level, which makes it seem like you might be missing out if you don't have the highest tier of coverage.
Using the interface is quite easy, no matter if you're a beginner or computer literate. However, you will find ads if you use the free version of Avira, and these can become very annoying after a while.
Winner: Both. Overall, it can be said that both McAfee and Avira offer a neat, user-friendly interface.
5. Pricing
For some people, pricing is the most important aspect when choosing a security software. Not everyone can afford the highest tier of antivirus coverage, so they might be looking for the antivirus with the most value per dollar. Let's see how McAfee and Avira rank in this regard.
McAfee Total Protection has a flat rate of $24.99 per year for one license. However, their price becomes much more reasonable as you add licenses. The cost of licenses decreases as you add more licenses in total. Five licenses, for instance, are $39.99 per year and ten licenses are $44.99 per year. The more computers you need to protect, the more reasonable McAfee's pricing points become.
| McAfee Products | Regular Price | Discounted Price |
| --- | --- | --- |
| McAfee Total Protection (1 Device) | $79.99/year | Check here |
| McAfee Total Protection (5 Device) | $99.99/year | Check here |
| McAfee Total Protection (10 Device) | $119.99/year | Check here |
Avira's first offering is free, but it's very limited. Avira Antivirus Pro cost $44.99 per year for one device. Right off the bat, McAfee provides a lot more value per dollar spent on a license and Avira.
Avira Internet Security Suite costs $57.99 per year for one device, while Avira Prime protects five devices for $99.99 per year.
| Avira Products | Regular Price | Discounted Price |
| --- | --- | --- |
| Avira Antivirus Pro | $44.99/year | No Discount |
| Avira Internet Security | $57.99/year | No Discount |
| Avira Optimization Suite | $57.99/year | No Discount |
| Avira Total Security Suite | $98.99/year | No Discount |
| Avira Prime | $99.99/year | No Discount |
| Avira Business Products | Varies | No Discount |
Winner: McAfee. McAfee provides much more bang for your buck and protects more devices for less money.
6. Customer Service
Finally, we can look at how well customers view each company to gain a general sense of their customer service and product usability. There are some handy websites that make this analysis possible.
The Better Business Bureau is one of them. This site collects user feedback and awards a grade, from A to F (with F being the worse), to each company. From the BBB, McAfee received a stellar A+ rating, while Avira only received a C in comparison.
Consumeraffairs.org is another useful site that performs a similar service as the BBB, although they use a five-star scale to determine general customer satisfaction. Both McAfee and Avira get two out of five stars from Consumer Affairs.
Winner: McAfee. Overall, McAfee wins this round of comparison because of its impressive Better Business Bureau (BBB) rating.
Final Thoughts
Avira is competitive, but McAfee is the overall winner as it offers a comprehensive feature-set with better malware protection and low impact on system performance.
Our recommendations: If you want to get the highest level of security and performance, there's no better choice than Norton, which protects over 50 million users worldwide.
After reviewing dozens of antivirus products from some of the biggest names in the cybersecurity realm, we believe that Norton 360 Deluxe is the best antivirus suite available on the market. It provides flawless anti-malware protection without slowing you down. Plus, you get almost all the advanced features you could ever want.
If you're willing to pay more for advanced identity protection features, we recommend Norton 360 with LifeLock select (only available in the US). It's a bit pricey but worth the price.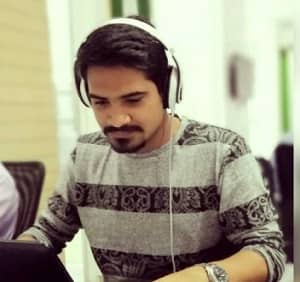 Anas Baig is a consumer privacy advocate and cybersecurity journalist by profession. Has has more than 7 years of professional experience under his belt. Anas has been featured on numerous media publications including The Guardian, Lifehacker, The Next Web, Infosecurity Magazine, Security Boulevard, Hacker Noon, CMS Wire, IAPP, SC Magazine, and many others. His interest includes Digital Privacy Rights, Information Security, Networking, Privacy, and Data Protection.
My Contributions: 
Hacker Noon | TheNextWeb | DevOps.com | GlobalSign | CMS Wire | CSO | Tech.co | Security Boulevard | ITProPortal | MuckRack | Crunchbase