(Last updated on January 9th, 2023)
On a Windows device, whenever you want to install third-party antivirus software, you have to turn off or disable Windows Defender, which is an inbuilt antivirus program into the Microsoft Windows Operating System.
If you don't do that, the new software won't work correctly. Similarly, when you stop using the other antivirus program and want to come back to the Defender, you have to turn it back on manually. Let's see how we can go about it.
You can easily enable the Defender again by following a few simple steps. But make sure to uninstall the third-party antivirus product before you turn Defender back on.
Step 1: Click the Windows icon from the bottom-left corner of your desktop and then click on the Settings App (clog icon).
Step 2: In the Settings window, scroll down to Update & Security and click on it.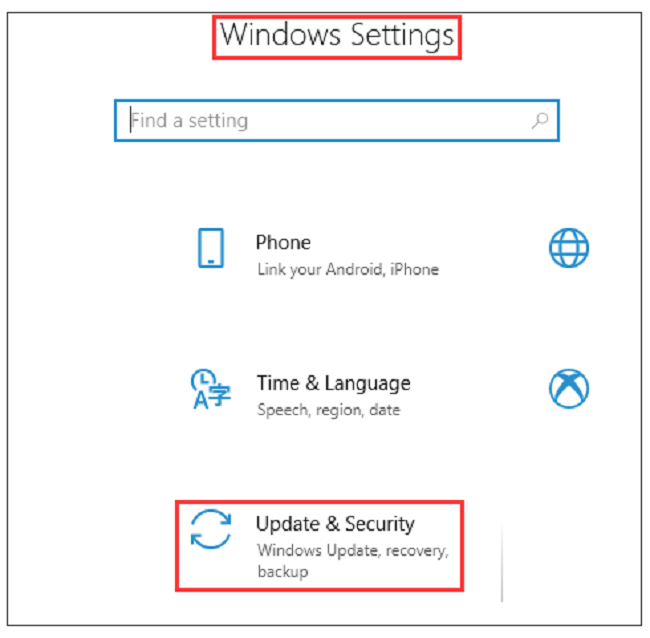 Step 3: On the new screen, you'll find the Windows Security tab on the left-side panel of the screen. Click on it. This action will open the Windows Defender Security Center.
Step 4: Select Virus & threat protection from the options listed on the Security Center window and press Enter.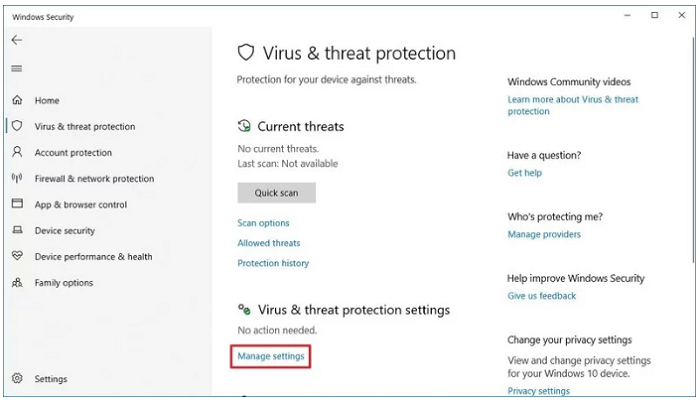 Step 5: Go to Virus & threat protection settings tab and click on it.
Step 6: Click on the On button under the heading 'Real-time Protection.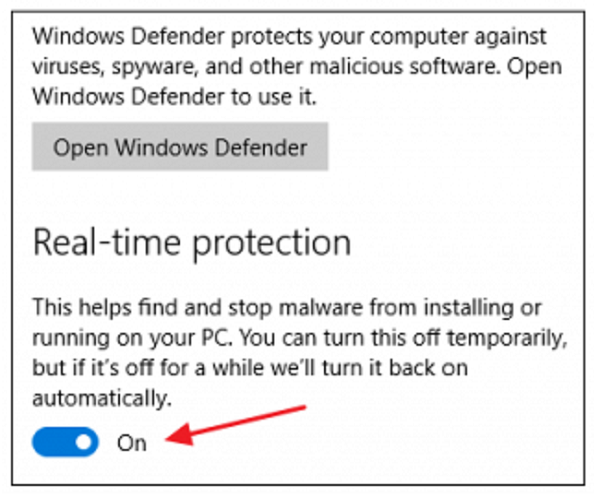 Step 7: Windows will prompt a confirmation message. Click Yes on it. Your Windows Defender is now turned back on.
Step 8: Finally, restart your computer so Windows can process the new settings.
But before that, it's a good idea to check and enable other security options as well, such as scanning downloads, attachments, and programs. Also, make sure to update the Defender program.
Turning Windows Defender back on is fairly simple. But if you face any issues updating the software, you can always visit the company's Support Center for help.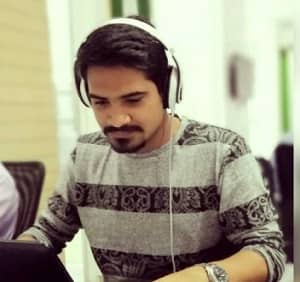 Anas Baig is a consumer privacy advocate and cybersecurity journalist by profession. Has has more than 7 years of professional experience under his belt. Anas has been featured on numerous media publications including The Guardian, Lifehacker, The Next Web, Infosecurity Magazine, Security Boulevard, Hacker Noon, CMS Wire, IAPP, SC Magazine, and many others. His interest includes Digital Privacy Rights, Information Security, Networking, Privacy, and Data Protection.
My Contributions: 
Hacker Noon | TheNextWeb | DevOps.com | GlobalSign | CMS Wire | CSO | Tech.co | Security Boulevard | ITProPortal | MuckRack | Crunchbase