(Last updated on January 9th, 2023)
Comodo or Kaspersky, which antivirus software is a better option in 2023?
Read this comprehensive Comodo versus Kaspersky comparison to make a wise decision.
Just like the real world, the digital world has its dark side. You can't put your guard down if you want to be safe in unfamiliar territory. The thing about the virtual space is that you probably won't even know unless you have already been harmed. Unless of course, you have your guards up in the form of excellent antivirus software.
If you want to browse the web and conduct online business safely, antivirus software is no longer just an option for you. It is necessary. Or as Kevin Mitnick would put it, "It is a must."
Malware attacks are only increasing in frequency and intensity. In 2018, for instance, 10 billion malware attacks were registered. In the US, 8 million computers were infected as a result of those attacks. So without decent antivirus protection, pretty much the only defense you have is luck, and we know that that can't last forever, don't we?
But tempting as it may seem to download a free antivirus immediately, you have to hold your horses. A freemium is nothing more than a ghost of an actual functioning antivirus software. It is ill-equipped to protect you against the fast-emerging sophisticated malware threats. Of which, by the way, 350,000 new samples are registered every day by the AV-TEST Institute.
So, what's the solution? A paid premium antivirus software is your best bet to guarantee decent protection on multiple levels against malware, ransomware, dark web spying, unauthorized use of financial information, and more. You do, however, have the choice to get the antivirus service that best suits your interests and gives you greater bang for your buck. Above all, it should guarantee your peace of mind.
Best Antivirus Suite for 2021
60-day money-back guarantee
During the past few months, we have ranked, rated, and reviewed 40 premium antivirus suites from the biggest names in cybersecurity. We did this so you can confidently choose the best antivirus software to protect yourself and your family.
Right now, we think that
Norton
is the best antivirus software your money can buy. It regularly earns perfect or near-perfect scores from independent labs and has the least impact on system performance compared to rival products. Its products combine top-notch security with an array of excellent security features and, best of all, offer exceptional value for money.
Overall,
Norton 360 Deluxe
(currently at
70% off
) is our pick for the best antivirus suite in 2021. It is competitively priced and comes with almost everything you could possibly ask for, such as a firewall, a fully integrated VPN, dark web monitoring, cloud backup storage (50GB), a password manager, and parental controls. You can cover up to 5 PCs, Macs, smartphones or tablets with this suite.
If you want full-on identity protection and don't mind paying more,
Norton 360 with LifeLock Select
(currently at
35% off
) gives those in the US a full range of identity protection features, more backup space (100GB), as well as all the above.
Here, we have prepared a detailed comparison between two of the top antivirus companies: Comodo and Kaspersky. We'll explain where each company excels and help you to decide which antivirus software is more worth your time and money.
In a rush? Check out this quick rundown which breaks down the battle into each category to show you who wins according to what measurement.
A Quick Rundown of Winners in Each Category
1. Features
Winner: Kaspersky. Kaspersky offers a much better range of functional characteristics compared to Comodo, including a compelling suite of parental controls.
2. Malware Protection
Winner: Kaspersky. While they tied on one independent evaluation, Comodo wasn't available for the second, leaving Kaspersky as the winner.
3. System Performance
Winner: Kaspersky. Once again, Comodo abstained from taking up one of the evaluations, while Kaspersky won the other assessment.
4. User-Friendliness
Winner: Comodo. Both companies have a simplistic interface for their software, but Kaspersky's interface has the annoying design with grayed-out options in a bid to get you to upgrade. So Comodo wins this category.
5. Pricing
Winner: Kaspersky. Kaspersky offers the same numbers of licenses as Comodo for less money, standing out as the better choice in terms of value for money.
6. Customer Satisfaction
Winner: Kaspersky. Neither company is particularly capable in this area, as both of their customer satisfaction ratings are low. Although Kaspersky did show a little better score from the second source, which was neither tremendous nor worst.
Short Verdict
Kaspersky is the overall winner as it offers more security-enhancing features and utilities in its security products than Comodo. Also, independent tests show that Comodo is better than Kaspersky in terms of both malware detection and system performance.
Best Antivirus for 2023
---
#1 (Excellent)

Robust feature-set
Excellent anti-malware security
Minimal system impact
Easy-to-use interface
Automatic updates
Trusted by 50 million users
100% virus protection promise
60-day money-back guarantee
70% off
#2 (Very Good)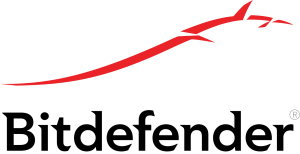 Exceptional malware protection
Little impact on performance
Trusted by millions of users
30-day money-back guarantee
User-friendly interface
50% off
#3 (Very Good)
Good malware protection
Trusted by big corporations
Minimal impact on performance
Good value for money
30-day risk-free guarantee
40% off
1. Features
The antivirus software that offers the best features at each tier of coverage is naturally going to be the preferred choice. So, let's see what both Comodo and Kaspersky bring to the table with their range of features.
Let's start with Comodo.
Comodo's first software is free, called Comodo Free Antivirus. Although its firewall isn't too great, it does have a few useful features such as an anti-rootkit function, an automatic sand feature, and bot protection. Overall, though, this software isn't competent enough and doesn't carry advanced features of the paid versions.
Comodo Advanced Antivirus is the first paid service from the company. The product provides comprehensive protection against all types of malware, including live expert virus removal service. This utility enables you to enlist the services of a trained professional to help remove malware from your computer.
There's also a designated gamer mode that lets you suspend any pop-ups or notification so you can fully engage in your gaming or cinematic experiences. This version of Comodo's software also stops any untested or unapproved files from entering your computer without your express approval.
Next up is Comodo Internet Security Pro. This software has everything included with Advanced Antivirus as well as unlimited product support for the entirety of the software's lifetime. There's also a $500 virus-free guarantee for you that covers up to $500 worth of malware damage so long as your computer is under the protection of their software. This amount is often enough to cover the cost of a new computer.
Internet Security Pro further comes with a secure shopping feature that allows you to bank or trade securely without risking identity or credit theft.
Then we have Comodo Internet Security Complete. This product comes with everything included with Internet Security Pro, but you also get access to 500 GB of online data storage. This utility will allow you to store any sensitive files off your computer, away from where malware can infect them. Moreover, you get 10 GB of Wi-Fi security from TrustConnect, allowing you to secure a network away from home, such as a hotspot in a café.
Comodo Antivirus for Mac is the solution for users of Apple products. This is a free product that uses a firewall to guard your device against different kinds of malware. In addition, there's a one-click scanning feature and a scheduler that lets you take control of the scheduling routine for scans or malware checks.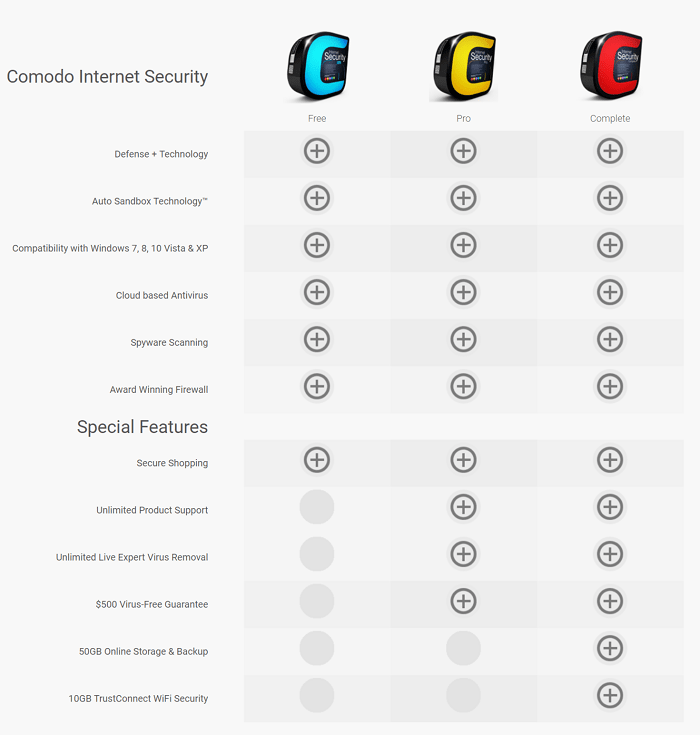 Now, let's take a look at what Kaspersky has in comparison.
Kaspersky Free is the company's free antivirus software. This version uses a pretty barebones firewall that doesn't protect you from much in terms of malware or viruses. It's better than nothing, though, as it does protect you against phishing websites and offer the capability to scan USB drives for malware. But that's about it.
Kaspersky Anti-Virus is the first paid coverage for PCs. You get top-notch protection against all kinds of digital threats as well as multi-layered ransomware protection. In addition to that, a vulnerability scanner checks your computer for potential security risks like outdated software.
There's also a silent mode option that lets you suspend notifications while gaming or watching a movie, much like the Gamer mode offered by Comodo.
Kaspersky Internet Security is the next step up. This version applies to PCs, Macs, or mobile devices. You get everything from the earlier package as well as a two-way firewall and a hardened Internet browser. This browser lets you surf the web or shop online with complete peace of mind.
You also get access to an antispam module that operates a lot like an ad blocker for your email. This feature will guard you against spam or junk email. The package also offers protection against webcam spying and a limited-use VPN that lets you access otherwise unavailable region-specific content.
Kaspersky Total Security is the highest tier of protection offered by Kaspersky. You get everything included with Internet Security, plus some more advanced features like a password manager and a file shredder. This file shredder is, basically, a permanent delete function that completely erases any sensitive files that you don't want leaking out accidentally or stolen.
Furthermore, you get to use a backup utility, allowing 2GB of data storage on a Dropbox Cloud at no extra charge. Total Security also comes with an extensive suite of parental controls to prevent your kids from accessing unsolicited content.
For a new exciting software suite, there's Kaspersky Security Cloud. This product has everything that comes with the Total Security package. But it makes use of the innovative "adaptive technology" that applies all of the settings necessary for maximum protection based on your most common activities and Internet browsing habits. Primarily, it optimizes your security settings based on what it believes you need. It comes in two versions: Personal or Family.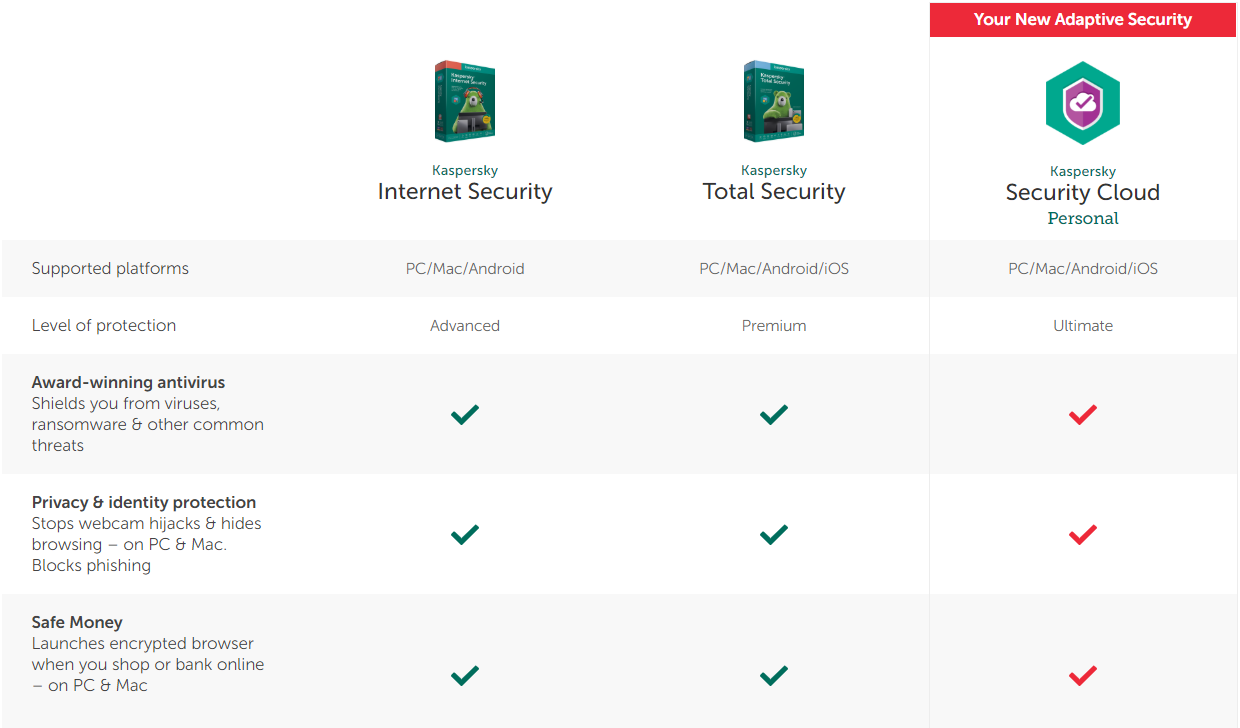 There's also a selection of business security solutions from Kaspersky. You can check those out right here.
Winner: Kaspersky. Comodo has some excellent features, but Kaspersky offers more functionality in its features that is of more benefit to most people. Kaspersky's suite of parental controls is an excellent utility that adds tremendous value.
2. Malware Protection
Any premium antivirus worth its cost should be able to protect your computer in the face of daily emerging malware and hacking technologies. To determine which antivirus software is better at providing top-drawer protection, we are going to look at unbiased tests from independent organizations and find out their respective competences.
AV-test.org is one such independent organization testing different antivirus software for their Protection, Performance, and Usability capabilities. They use a scoring metric of 1 to 6 for rating the software, 6 being the highest possible score. Their recent test results came out in June 2019. Comodo received a perfect 6out of 6 for this test.

Kaspersky tied them with a 6 out of 6 of its own.
The results indicate that both companies are pretty good at protecting against malware attacks. You can see the details of the evaluation here: Comodo and Kaspersky.
AV-Comparatives is another popular testing organization we can look towards for an unbiased assessment of antivirus products for protection against malware attacks. For their June 2019 Real-World Protection Test, Kaspersky received the highest award given out by AV-Comparatives: an Advanced+ Award. Comodo refused to participate in this test either due to unpreparedness or unwillingness to risk their reputation.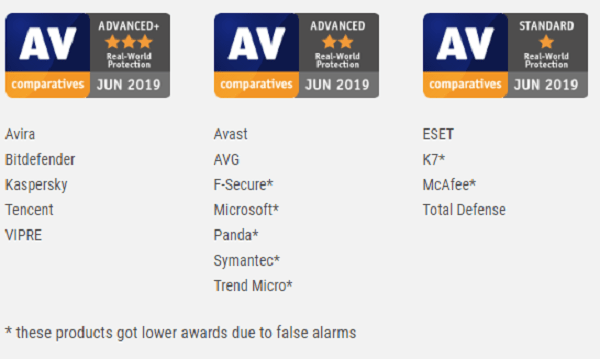 Winner: Kaspersky. In the first test, both companies tied effectiveness. But in the second, Comodo abstained from participation for one reason or another, leaving Kaspersky as the victor.
3. System Performance
A highly desired capability of a premium antivirus is its smooth system performance. This means that the computer can continue to carry out front-end operations without being slowed down by the antivirus software working in the background. We'll use the test results from the same independent testing organizations to assess both our competing companies on this metric.
As per the recent Performance Test conducted by AV-test.org, Comodo received a modest 4 out of 6.
Kaspersky bagged the perfect score, a 6 out of 6. According to this source, Kaspersky employs minimal sources on your system.
AV-Comparatives also issued their version of the Performance Test in April 2019. Once again, Comodo wasn't available for this evaluation for unknown reasons. Kaspersky, on the other hand, kept up the record for high-level competence with an Advanced+ Award.
Winner: Kaspersky. During the first evaluation, Kaspersky beat Comodo by a significant margin. On the second test, Comodo once again refused to participate, meaning that Kaspersky wins this category as well.
4. User-Friendliness
The user interface of any given antivirus software will directly impact who can use it and how effectively they can marshal it in their defense against malware. A competent interface should be intuitive, but also allow you to specify custom settings without being too complicated.
Let's see how both companies fare when we look at their user interfaces.
Comodo's interface uses a simplistic design that is mostly dominated by a host of square blocks. One large block on the left-hand side informs you of your computer's security status. It will flash red or yellow if there's something that requires your attention, as well as lighting up the required button to solve any problems. This innovative design makes it an excellent pick for beginners or those who are not computer literate.
However, there is a distinct lack of personalization as specifying settings for certain operations can be a little tricky. You do have the option to roll back the interface to an earlier design if you used Comodo products before. There's no denying though that this interface was made to be more straightforward rather than thorough.
Now let's turn our attention to Kaspersky.
Kaspersky's user interface has a pretty simplistic design with green and white as primary colors. There's one large green panel on the top of the screen. Below it, the panel is contrasted by tow rows of big icons that each symbolize different functions. Casual computer users will be able to navigate the interface pretty easily.
One downside to Kaspersky's interface is that any software that is lower than the premium offering will display grayed -out icons. This is intended to inspire you to upgrade to the premium tier but can become rather annoying.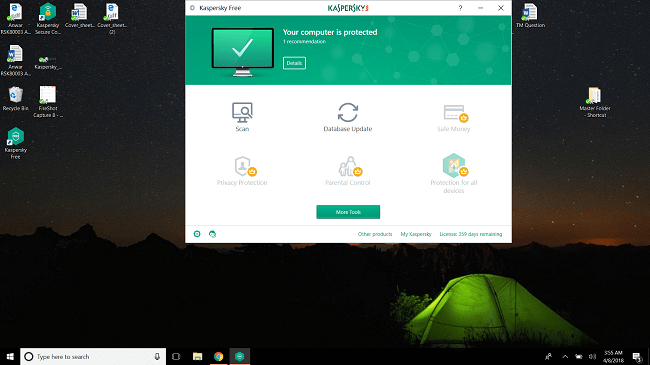 Winner: Comodo. Both companies have intuitive and simple interfaces, but Comodo's ability to automatically direct you to a required operation gives it a slight edge. By contrast, Kaspersky's vexing attempt to get you to upgrade to a higher tier of coverage puts it at a disadvantage.
5. Pricing
A company needs to watch what they charge for even a premium product that encompasses as broad a demographic as antivirus software does. The 'money vs. value' ratio is of paramount importance here. After all, even the best antivirus software won't be worth your while if it's too expensive to afford. So, let's see what each of our competing software costs at each tier of coverage.
Comodo's free software is, of course, free. But it's not as good as the paid options. Comodo Antivirus for Mac is free as well.
Comodo Advanced Antivirus is the first paid software that gives you three licenses for PCs only, costing $34.99 per year. Comodo Internet Security Pro also provides you with three PC licenses for five more dollars, at $39.99 per year.
Comodo Internet Security Pro, the highest tier of coverage, costs $89.99 per year for three licenses.
| Comodo Products | Regular Price |
| --- | --- |
| Comodo Advanced Antivirus | $34.99/year |
| Comodo Internet Security Pro | $39.99/year |
| Comodo Internet Security Complete | $89.99/year |
| Comodo Business Products | Varies |
Now let's look at how Kaspersky prices its products.
Kaspersky's Anti-Virus, the first paid product from the company, gives you three licenses for PCs only, and this costs $29.99 per year. This is cheaper than the same number of licenses from Comodo.
Kaspersky Internet Security, the next tier of coverage, gives you three licenses for PCs, Macs, or mobile devices, costing $39.99 per year. Kaspersky Total Security also provides you with three universal licenses for $49.99 per year.
Finally, Kaspersky Security Cloud is available in two different options: Personal or Family. Personal costs $49.99 for three licenses, just like Total Security, while the Family option gives you up to 20 different licenses for $149.99 per year.
For the prices of Kaspersky's business products, check right here.
| Kaspersky Products | Regular Price | Discounted Price |
| --- | --- | --- |
| Kaspersky Anti-Virus | $59.99/year | Check here |
| Kaspersky Internet Security | $79.99/year | Check here |
| Kaspersky Total Security | $99.99/year | Check here |
| Kaspersky Security Cloud (Personal) | $89.99/year | Check here |
| Kaspersky Security Cloud (Family) | $149.99/year | Check here |
| Kaspersky Small Office Security | $149.99/year | Check here |
| Kaspersky End Point Security Cloud | $300.00/year | Check here |
Winner: Kaspersky. You get the same number of licenses for less money from Kaspersky as opposed to Comodo. Kaspersky also has an option for multiple licenses for families.
6. Customer Satisfaction
Finally, let's take a look at how actual customers for each company rate their satisfaction for their customer service. This insight will give us an idea of what to expect from each company in the event of an issue.
Our first platform to look for some answers is the Better Business Bureau. They collect customer feedback and process it into a scoring metric comprising letter grades from A to F. Comodo received a rather poor D- while Kaspersky went even lower with a pretty terrible F rating.
Now let's see how consumeraffairs.org, a similar service, rates the two companies on a five-star rating scale. Comodo has not released enough reviews for the site to compile a rating, indicating that they may not be comfortable releasing what their customer responses. Kaspersky earned a 3-star rating, which isn't too great but does provide us a statistic to work with.
Winner: Kaspersky. Both companies don't appear to be particularly great at customer service, both receiving poor ratings from the BBB. Although Kaspersky has a modest rating from the second source.
Final Thoughts
It's a close call! But overall, Kaspersky is a better pick for most people. Comodo has some useful features, and its interface is better. But Kaspersky can provide you with a better selection of features, a much better pricing plan, and excellent protection and performance competencies. It's an excellent pick for antivirus protection.
Our recommendations: If you want to get the highest level of security and performance, there's no better choice than Norton, which protects over 50 million users worldwide.
After reviewing dozens of antivirus products from some of the biggest names in the cybersecurity realm, we believe that Norton 360 Deluxe is the best antivirus suite available on the market. It provides flawless anti-malware protection without slowing you down. Plus, you get almost all the advanced features you could ever want.
If you're willing to pay more for advanced identity protection features, we recommend Norton 360 with LifeLock select (only available in the US). It's a bit pricey but worth the price.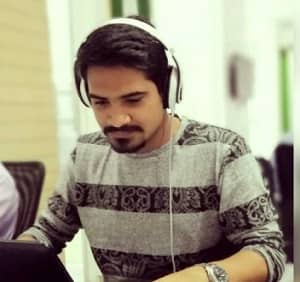 Anas Baig is a consumer privacy advocate and cybersecurity journalist by profession. Has has more than 7 years of professional experience under his belt. Anas has been featured on numerous media publications including The Guardian, Lifehacker, The Next Web, Infosecurity Magazine, Security Boulevard, Hacker Noon, CMS Wire, IAPP, SC Magazine, and many others. His interest includes Digital Privacy Rights, Information Security, Networking, Privacy, and Data Protection.
My Contributions: 
Hacker Noon | TheNextWeb | DevOps.com | GlobalSign | CMS Wire | CSO | Tech.co | Security Boulevard | ITProPortal | MuckRack | Crunchbase