(Last updated on January 9th, 2023)
Avira or ESET, which antivirus software is a better option in 2023?
Read this comprehensive Avira versus ESET comparison to make an informed decision.
Having excellent antivirus software to protect your data and privacy is always a good idea, even if you don't surf the web quite often. Most of us use email and buy online products and services, which makes us vulnerable to the millions of malware threats that dot the cyberspace.
Did you know that 13.92% of all malware is delivered by email? That means many hackers don't even have to try to spread malware from person to person; people do the job for them without intending to!
Most of the time, these criminals are only after your money or personal information to steal your identity; no wonder 76% of all cyberattacks are motivated by financial reasons.
So, it makes sense to say that an excellent antivirus program is a necessity rather than an option. You must go for a comprehensive security suite to protect yours and your family's devices.
And don't think that a free antivirus with a flimsy firewall and minimal features can do the magic for you. In this day and age, a paid antivirus program with powerful malware protection capabilities is the only way to go.
Best Antivirus Suite for 2021
60-day money-back guarantee
During the past few months, we have ranked, rated, and reviewed 40 premium antivirus suites from the biggest names in cybersecurity. We did this so you can confidently choose the best antivirus software to protect yourself and your family.
Right now, we think that
Norton
is the best antivirus software your money can buy. It regularly earns perfect or near-perfect scores from independent labs and has the least impact on system performance compared to rival products. Its products combine top-notch security with an array of excellent security features and, best of all, offer exceptional value for money.
Overall,
Norton 360 Deluxe
(currently at
70% off
) is our pick for the best antivirus suite in 2021. It is competitively priced and comes with almost everything you could possibly ask for, such as a firewall, a fully integrated VPN, dark web monitoring, cloud backup storage (50GB), a password manager, and parental controls. You can cover up to 5 PCs, Macs, smartphones or tablets with this suite.
If you want full-on identity protection and don't mind paying more,
Norton 360 with LifeLock Select
(currently at
35% off
) gives those in the US a full range of identity protection features, more backup space (100GB), as well as all the above.
Keep reading to know which antivirus product is a better choice in 2019. In this Avira versus ESET comparison, two top contenders in the antivirus sphere, we will show you how they fate in many different categories. This will let you know which is overall more worthwhile.
If you are in a hurry, below is a quick comparison of the two antivirus programs in each category.
A Quick Rundown of Winners in Each Category
1. Features
Winner: Avira. Avira's suites offers a better, more comprehensive feature-set than ESET's.
2. Malware Protection
Winner: Avira. Avira emerged as triumphant in independent evaluations in this category.
3. System Performance
Winner: Tie. Both Avira and ESET performed equally well in independent assessments.
4. User-Friendliness
Winner: Avira. Both companies have intuitive interfaces, but you can schedule scans with Avira's interface, which is an additional advantage.
5. Pricing
Winner: Avira. Unlike ESET, Avira has a pricing plan that gives you more than one license.
6. Customer Satisfaction
Winner: ESET. Due to its local-language support, ESET has a higher customer satisfaction score.
Short Verdict
Avira offers more security-enhancing features and extra utilities in its security suites than ESET. Independent tests prove that both programs put a minimal impact on system performance, but Avira is better than ESET in terms of malware protection.
Best Antivirus for 2023
---
#1 (Excellent)

Robust feature-set
Excellent anti-malware security
Minimal system impact
Easy-to-use interface
Automatic updates
Trusted by 50 million users
100% virus protection promise
60-day money-back guarantee
70% off
#2 (Very Good)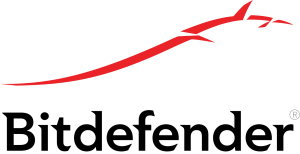 Exceptional malware protection
Little impact on performance
Trusted by millions of users
30-day money-back guarantee
User-friendly interface
50% off
#3 (Very Good)
Good malware protection
Trusted by big corporations
Minimal impact on performance
Good value for money
30-day risk-free guarantee
40% off
Let's dig deeper to explore each category in detail.
1. Features
An excellent antivirus program should amaze you with its spread of innovative and useful features. Let's compare the features offered by both companies at every tier of coverage available.
Avira's first offering is Avira Free Antivirus. While this does have a firewall, it's not effective enough to protect your PC from most threats. You will be better off with paid antivirus software.
Avira Antivirus Pro is the first paid security coverage offered by the company. The package provides you with one license for either a PC or a Mac. It also comes with a much better firewall that can effectively defend you against different malware.
The suite also comes with an ad blocker to make your web experience seamless, and a home network scanner that allows you to check your home network for potential security vulnerabilities.
The Avira Internet Security suite is the next step up. It includes everything previously mentioned, as well as a password generator. It can let you create strong passwords and then store them with a password manager.
Moreover, a software update tool examines all applications installed on your computer and check it for outdated versions so that they don't represent a security threat. The tool lets you update drivers, which are usually ignored by most computer users and which represent an easy way for hackers to access your files.
Avira Prime is the premium offering by this company. It comes with an Optimizer tool that will eliminate junk files that are commonly stored on your computer, speeding up overall performance. Further improving your computer's performance is its ability to reorganize temporary files, which will let your computer access data more efficiently.
Prime also comes with a file shredder, which lets you permanently delete files that are too sensitive to risk being stolen or lost at any point.
The suite also includes a VPN that lets you surf the Internet anonymously and visit websites for watch shows that are not available for you owing to your geographic location.
Prime also lets you install Avira apps on your mobile devices, extending the software's overall protection beyond your PC. Any new Avira product will be available for you to try out at no additional cost.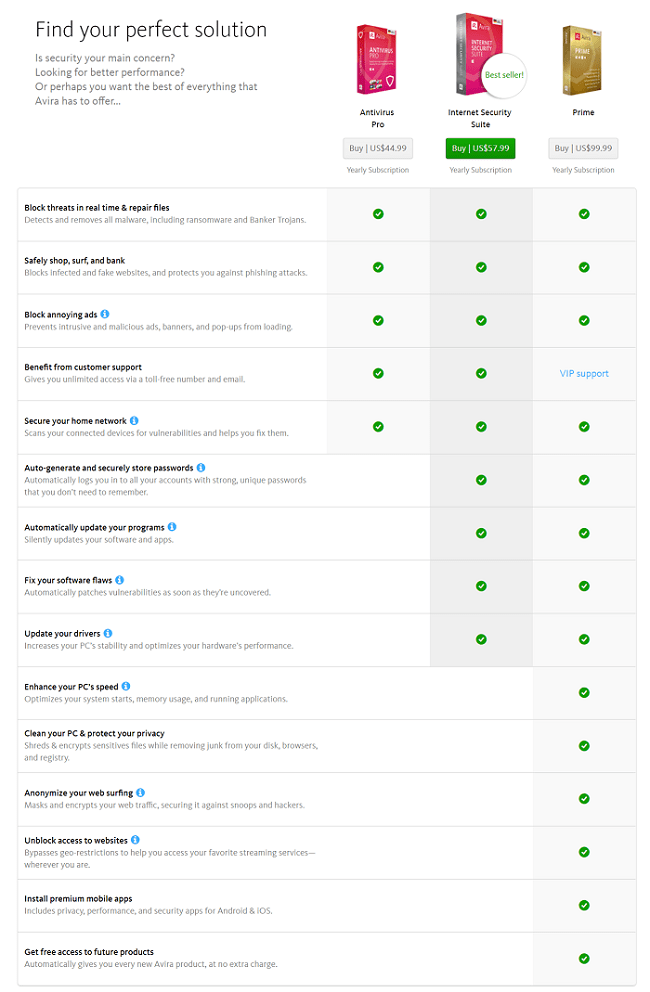 All Avira products get 24/7 customer service, but Prime users get VIP service, which goes above and beyond.
Now let's take a look at what ESET has in comparison.
ESET NOD32 Antivirus is the first antivirus offering from this company. It will give you a firewall that can protect you from viruses and spyware at the same time, plus phishing threats that are often discovered via email transmission.
Also included in NOD32 is a gamer mode that reduces interruptions and pop-ups during gaming sessions, and allows you to have better gaming experience.
NOD32 includes a cloud scanner that can detect malware threats transmitted in that domain. A malicious script detector is also included in this security package to defend you from malware that you might contract online.
ESET Internet Security is the second tier of coverage. It includes everything that came with NOD32, plus a personal firewall for even better malware protection, better network defenses for your entire home network, defenses for banking and payment operations across the Internet, and a shield that can defend you from spam.
A suite of parental controls included in this package helps you monitor your children's web activity and prevent them from visiting websites that are not appropriate for their age.
Its webcam protection stops people from spying on you. Botnet protection is added on as well. Then there's the home monitoring system that lets you check your local Wi-fi network potential security vulnerabilities. If you install the software on a Windows computer, an Anti-Theft feature is also integrated.
ESET Smart Security Premium is the highest tier of security package offered by the company.
Everything from the packages mentioned above is included here, plus a password manager that securely stores all your passwords.
The premium package also boasts a secure data tool to encrypt your files or removable media and lets you encrypt things like a USB key and transfer information more securely.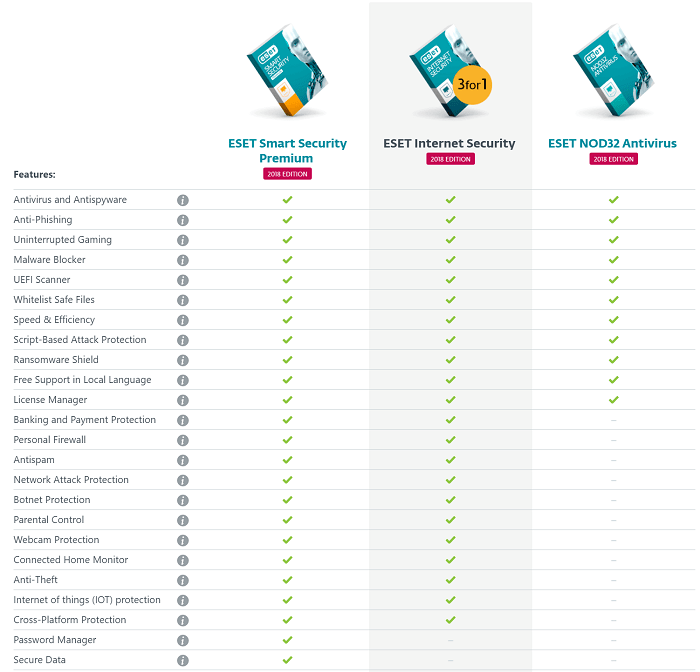 Customer support for all ESET products is offered in the local language of your computer; this can be quite comfortable and convenient if you live in a country that does not have English as the primary language.
For ESET's business-specific security solutions, you can check right here to see the details.
Winner: Avira. Overall, Avira's products come with a more comprehensive feature-set than ESET's.
2. Malware Protection
Malware defense is an essential component of an excellent antivirus program. To see which company offers better malware protection, let's check the data from two different independent testing organizations, whose unbiased tests will provide us with real results.
AV-test.org issued its latest Protection test results in June 2019, using a scoring rubric of 1 to 6, with 6 being the highest possible score.
During this test, antivirus companies were pitted in realistic malware scenarios and challenged to use all their layers of defense. Avira scored 5.5 out of 6 for this evaluation.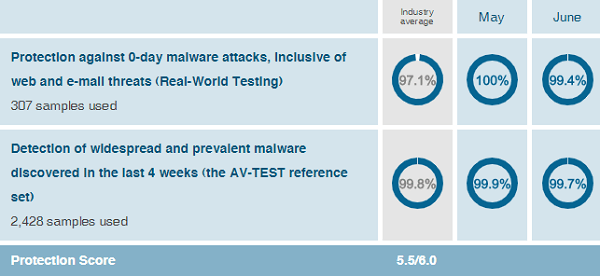 ESET last took this test in December 2017, when it scored 5.5 out of 6, but that evaluation is too old to make a fair comparison.
AV-Comparatives is another testing organization we should check to determine each company's defensive capabilities. Its evaluation involved using malware executables that targeted network drives and USB files.
For the June 2019 Real-World Protection Test, Avira received the highest possible award given out by AV-Comparatives, i.e. the ADVANCED+ award. ESET was at the lowest tier, receiving the STANDARD award.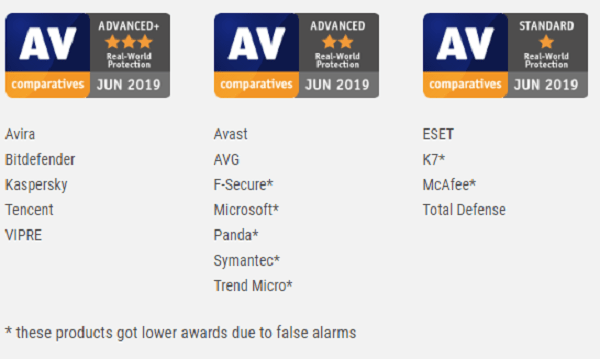 Winner: Avira. During both independent evaluations, Avira fared better than its competitor, showing that it's better at protecting computers against a variety of different malware threats.
3. System Performance
System performance is another critical feature of any antivirus program, considering that a slow computer can be just as frustrating to deal with as the one infected by malware.
Let's see which antivirus software runs more smoothly on standard computers.
In the AV-test.org's June 2019 Performance evaluation test, Avira scored a 5.5 out of 6, a nearly perfect score, indicating good performance metrics.
ESET once again last took a test in 2017, and even then it only got a 4 out of 6, significantly behind Avira.
AV-Comparatives also gave out a Performance evaluation. This tracked computer performance as antivirus ran in the background, using metrics like how long it took for something to boot up.
ESET took home the ADVANCED+ award, the highest possible rating, whereas Avira received the lower ADVANCED award in the evaluation test.
Winner: Tie. While Avira bested ESET in the first independent evaluation, ESET bagged the highest rating in the second test.
4. User-Friendliness
The user-friendliness of an antivirus program is just as crucial as other primary features like protection and system performance. If an application is easy to use, particularly for the less tech-savvy, it can be a preferred choice for some people.
Let's examine both Avira's and ESET's user interfaces in a head-to-head comparison.
Avira uses a large dashboard and makes use of green and gray as its primary colors. At the top of the screen, you'll immediately notice a large checkmark that will be lit up if everything on your computer is secure. It will change to a red exclamation mark if there is a security breach or something that requires your attention.
All primary aspects of the software – like real-world protection, firewall, and web and mail protection functions – can be accessed through this main dashboard. These can be switched on or off with a single click.
Besides, you can find records of your previous scans and schedule new scans with just a couple of clicks, allowing you to organize the software's operations around your schedule.
Avira updates automatically, but you can also schedule them so that the software updates only when you are asleep or away from your computer. This feature is another instance of excellent, user-friendly functionality.
Let's examine ESET's interface now.
ESET uses blue and gray as its primary colors. You can run this software in a windowed or full-screen mode depending on your preference. Beginning a scan is incredibly easy and takes only a few clicks.
Besides, you can drag and drop any file from outside the software right into the antivirus window to immediately scan that file.
The "More Tools" tab hides the more complex functions included in the program, and you do have to click through a bunch of different menus to change settings or schedule scans. This is a little more difficult than it is with Avira.
A large bar present on the home screen turns green with a checkmark if there aren't any security problems, but it will quickly turn yellow or red if there's an emergency issue.
On the left-hand side of the screen, most of the functions and settings can be seen categorized according to their broad focus. This makes navigation reasonably easy, even if you do have to click a few more times to reach your desired feature.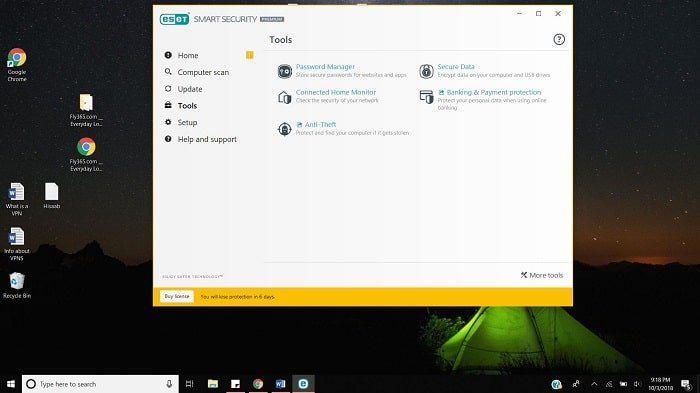 Winner: Avira. Both interfaces are relatively easy to use and understand, but it takes fewer clicks to get where you want to go with Avira's interface.
5. Pricing
To determine which antivirus software provides more value for money, let's check out the pricing plans for both companies. This will let us know which is more worthwhile and affordable.
Avira's free software doesn't cost anything. Avira Antivirus Pro, on the other hand, will provide you with one license for use on a PC or Mac for $44.99 per year. Avira Internet Security Suite, the next tier of coverage, also gives you one universal license for $57.99 per year.
Avira Prime, the highest tier of coverage, costs $99.99 per year for five universal licenses and offers VIP customer service and all the features included in Avira's antivirus software.
| Avira Products | Regular Price | Discounted Price |
| --- | --- | --- |
| Avira Antivirus Pro | $44.99/year | No Discount |
| Avira Internet Security | $57.99/year | No Discount |
| Avira Optimization Suite | $57.99/year | No Discount |
| Avira Total Security Suite | $98.99/year | No Discount |
| Avira Prime | $99.99/year | No Discount |
| Avira Business Products | Varies | No Discount |
Let's compare ESET's prices with Avira's.
ESET NOD32 Antivirus gives you one license for PCs or Macs for $39.99 per year. ESET Internet Security also provides you with only one license for any computer or device, costing $49.99 per year.
Meanwhile, Smart Security Premium, ESET's highest tier of coverage, provides you with just one license as well for $59.99 per year. This is a bit pricey considering that it is only for one computer.
| ESET Products | Regular Price | Discounted Price |
| --- | --- | --- |
| ESET NOD32 Antivirus | $39.99/year | Check here |
| ESET Internet Security | $49.99/year | Check here |
| ESET Smart Security Premium | $59.99/year | Check here |
| ESET Multi-device Security | $69.99/year | Check here |
| ESET Cyber Security for Mac | $49.99/year | Check here |
| ESET Business Products | Varies | Check here |
If you're interested in the prices of any of ESET's business products, you can check right here.
Winner: Avira. Both companies give you one license for entry-level products, but when you reach Avira's highest tier of coverage you can get enough licenses for your entire family. This means protecting your family is cheaper with Avira than with ESET.
6. Customer Satisfaction
One final factor we should check before making a decision is the customer satisfaction of both companies. This can let us know how they treat their customers during day-to-day operations.
The Better Business Bureau averages out both customer feedback and company reputation into an A to F grade. Avira has a C rating from the BBB, indicating average customer satisfaction, while ESET has a much higher A+ rating.
Consumeraffairs.org is another site that tracks customer feedback, giving a 1- to 5-star rating, with five being the best. Avira has 2 stars out of 5 from this resource, while ESET has a higher 4-star rating.
Winner: ESET. It should be no surprise that ESET, with its local-language-based interfaces, is better in terms of customer service and also receives generally high customer service scores.
Final Thoughts
Avira wins overall, although ESET puts up a tough fight. ESET has better features than Avira, and for many who don't use English as their primary language, ESET is a good option. But Avira can protect your computer more effectively and run more smoothly on standard machines. Also, their pricing plan is a lot more reasonable and can be extended to families if necessary.
Our recommendations: If you want to get the highest level of security and performance, there's no better choice than Norton, which protects over 50 million users worldwide.
After reviewing dozens of antivirus products from some of the biggest names in the cybersecurity realm, we believe that Norton 360 Deluxe is the best antivirus suite available on the market. It provides flawless anti-malware protection without slowing you down. Plus, you get almost all the advanced features you could ever want.
If you're willing to pay more for advanced identity protection features, we recommend Norton 360 with LifeLock select (only available in the US). It's a bit pricey but worth the price.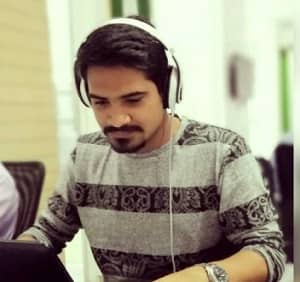 Anas Baig is a consumer privacy advocate and cybersecurity journalist by profession. Has has more than 7 years of professional experience under his belt. Anas has been featured on numerous media publications including The Guardian, Lifehacker, The Next Web, Infosecurity Magazine, Security Boulevard, Hacker Noon, CMS Wire, IAPP, SC Magazine, and many others. His interest includes Digital Privacy Rights, Information Security, Networking, Privacy, and Data Protection.
My Contributions: 
Hacker Noon | TheNextWeb | DevOps.com | GlobalSign | CMS Wire | CSO | Tech.co | Security Boulevard | ITProPortal | MuckRack | Crunchbase