(Last updated on January 9th, 2023)
AVG or Kaspersky, which antivirus software is a better option in 2023?
Read this ultimate AVG versus Kaspersky comparison to make a smart decision.
An excellent antivirus program is essential to protecting your personal data and privacy from malware – an umbrella term for a range of threats including viruses, ransomware, worms, Trojans, exploits, rootkits, etc.
In this age of e-commerce and online banking, we spend a lot of time buying different products through the Internet and putting all sorts of sensitive data online, including financial information. A computer without antivirus protection is a boon to hackers, who are coming up with more and more sophisticated malware attacks to steal your sensitive information.
According to some estimates, more than 800 million new malware samples surfaced in 2018, affecting millions of devices across the world. The numbers projected for the current year are even higher, which suggests we have become more vulnerable to data and identity theft. Therefore, taking your privacy and digital security for granted is not a good idea in this day and age.
So it's clear that if you don't have reliable antivirus software with a secure firewall and advanced features, you may end up on hackers' hit list sooner or later.
Now you may think a free antivirus software can save the day for you. But always remember that free antivirus software, with its minimal features and flimsy protection, won't cut it these days as hackers are sophisticated enough to break through all but their weak defenses.
Excellent paid software is a great way to defend your personal and financial information from getting stolen. And while there are many different antivirus companies to choose from, we can help you pick one that best suits your needs.
Best Antivirus Suite for 2021
60-day money-back guarantee
During the past few months, we have ranked, rated, and reviewed 40 premium antivirus suites from the biggest names in cybersecurity. We did this so you can confidently choose the best antivirus software to protect yourself and your family.
Right now, we think that
Norton
is the best antivirus software your money can buy. It regularly earns perfect or near-perfect scores from independent labs and has the least impact on system performance compared to rival products. Its products combine top-notch security with an array of excellent security features and, best of all, offer exceptional value for money.
Overall,
Norton 360 Deluxe
(currently at
70% off
) is our pick for the best antivirus suite in 2021. It is competitively priced and comes with almost everything you could possibly ask for, such as a firewall, a fully integrated VPN, dark web monitoring, cloud backup storage (50GB), a password manager, and parental controls. You can cover up to 5 PCs, Macs, smartphones or tablets with this suite.
If you want full-on identity protection and don't mind paying more,
Norton 360 with LifeLock Select
(currently at
35% off
) gives those in the US a full range of identity protection features, more backup space (100GB), as well as all the above.
Let's compare two of the top antivirus companies: AVG and Kaspersky. We will examine what makes each unique and compelling and explain which is more worth your time and money overall.
In a rush? Check out this easy breakdown of the winners for each category to see which software is superior in each aspect.
A Quick Rundown of Winners in Each Category
1. Features
Winner: Kaspersky. Kaspersky offers more comprehensive features that can be useful for most people, including a suite of parental controls, making it a good pick for families.
2. Malware Protection
Winner: Kaspersky. Kaspersky can better defend you against malware, as evidenced by its high scores in independent evaluations.
3. System Performance
Winner: Tie. Both companies received the highest possible scores in independent tests, indicating they run equally well on most computers.
4. User-Friendliness
Winner: Tie. Both companies have an intuitive and simplistic interface; it's difficult to declare a winner.
5. Pricing
Winner: Kaspersky. AVG is the better pick if you have over 10 devices that need protecting, but otherwise, Kaspersky is more affordable overall and also offers Mac-specific coverage at a lower price.
6. Customer Satisfaction
Winner: AVG. According to two different review-collection sites, AVG's customer service is much better than Kaspersky's.
Short Verdict
Kaspersky offers more security-enhancing features and extra utilities in its security suites than AVG. Also, independent tests show that Kaspersky is better than AVG in terms of both protection and performance. Overall, Kaspersky is the better program among the two.
Best Antivirus for 2023
---
#1 (Excellent)

Robust feature-set
Excellent anti-malware security
Minimal system impact
Easy-to-use interface
Automatic updates
Trusted by 50 million users
100% virus protection promise
60-day money-back guarantee
70% off
#2 (Very Good)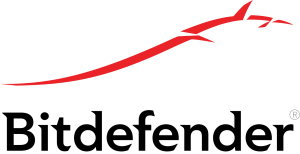 Exceptional malware protection
Little impact on performance
Trusted by millions of users
30-day money-back guarantee
User-friendly interface
50% off
#3 (Very Good)
Good malware protection
Trusted by big corporations
Minimal impact on performance
Good value for money
30-day risk-free guarantee
40% off
Let's go into details.
1. Features
Features included in an antivirus suite significantly impact its overall value. The best product will have a comprehensive feature-set that you can make good use of.
To determine which among AVG and Kaspersky is better in this regard, let's compare the features you get at each tier of coverage.
AVG has a free software called AVG AntiVirus Free. This has a couple of interesting functions like the capability to block unsafe links and downloads as well as some moderate malware defenses, but overall it's not the software package you need for complete peace of mind.
AVG Internet Security, the company's first paid offering, has an excellent firewall that defends against viruses, spyware, and ransomware. Besides everything included in the free version, AVG Internet Security boasts a scanner that can alert you to any performance issues on your PC.
With this suite, you also get access to real-time security updates, webcam defenses to prevent spying, a fake-website detector to prevent you from paying a scammer, a file-securing feature to lock down any sensitive files, and the Antivirus Pro app for Android operating system.
Next up is AVG Ultimate, the company's premium antivirus defense. Everything offered in the above package is included in the Ultimate suite, plus live phone or chat support, an advanced antivirus and tune-up package that improves the performance of your computer.
You can also secure and tune up all of the connected PCs that are activated under Ultimate's licenses from one screen.
Ultimate includes apps for Android and iOS mobile devices, too.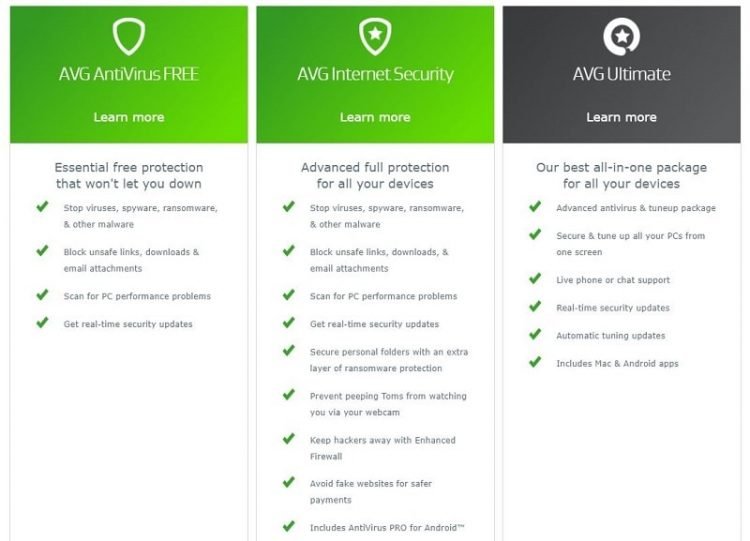 If you have a Mac, AVG offers AntiVirus for Mac. This has malware and spyware defenses, automatic security updates, and a lightning-fast scanner.
If you're looking for AVG's antivirus for business, you can click right here.
Now let's see what Kaspersky offers in terms of features.
Kaspersky Free does have a couple of useful features like the capability to check USB drives for viruses and the ability to protect you from phishing websites. But it has a pretty rudimentary firewall, which is incapable of defending you from most malware threats.
Kaspersky Anti-Virus is the first paid line of defense by the company and offers a comprehensive firewall. Besides, you get access to the Vulnerability Scanner that alerts you to any potential security holes in your computer that can be exploited.
There's also the Silent Mode option that suspends any notifications or interruptions to perk up your gaming and movie experience.
You also get access to multilayered ransomware protection as part of this suite.
Kaspersky Internet Security is the next tier of coverage from the company, and it works for PCs, Macs or mobile devices.
You get everything from the earlier tiers of coverage with Internet Security, plus a two-way firewall that is even better than the previous version.
There's also a hardened Internet browser that's more secure than standard browsers and allows you to surf or shop online without risking your personal information.
Further included with Internet Security suite is an anti-spam module that acts as an ad blocker for your email and computer. It will stop spam or junk email from slowing the performance of your machine or cluttering your inbox.
Finally, you'll be able to use a suite of parental controls that let you check web traffic or prevent your kids from visiting certain websites.
Kaspersky Total Security is the premium suite offered by the company. You get everything that comes with Internet Security, plus a password manager that collects all of your passwords and a file shredder, which permanently delete any sensitive files that you don't want to risk being stolen.
You will also be able to use 2 GB of data on a Dropbox Cloud server at no extra cost.
There's a further variation of this suite called Kaspersky Security Cloud. Primarily, it uses "adaptive technology" to implement security changes in features based on the analysis of your browsing and computer use habits. It tailors its protection based on what you are most vulnerable to. There are two different versions of this package: Personal or Family.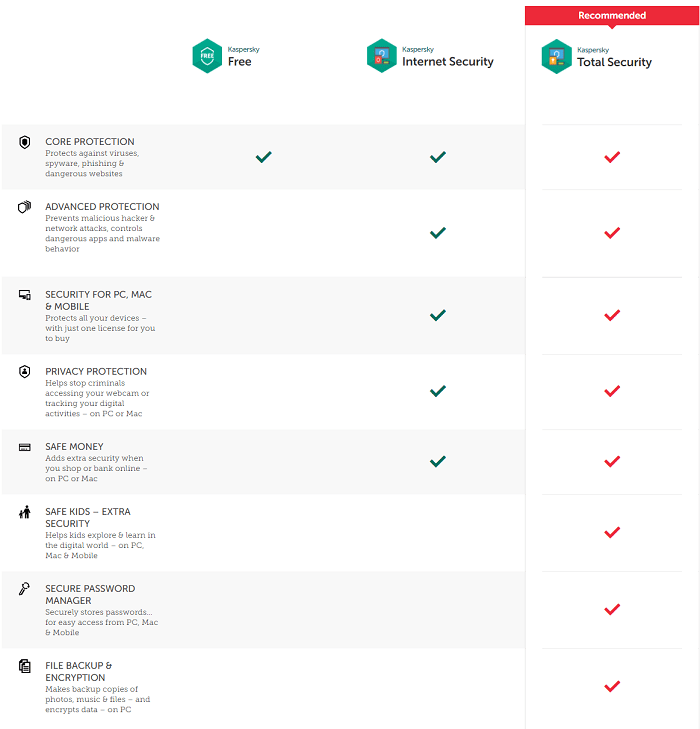 For business-specific security solutions from Kaspersky, check here.
Winner: Kaspersky. While AVG does have several exciting features, those offered by Kaspersky are more comprehensive and will be of greater use to families in particular thanks to the parental control suite.
2. Malware Protection
Malware defense is the primary purpose of antivirus software. Therefore, a good of software should be exceptional in this regard. But how can we tell which of these two companies is superior?
We can look to independent testing organizations that pit top antivirus programs in a head-to-head battle on standard computers and see which of them have better malware defense capabilities.
AV-test.org is one such organization. It uses a scoring metric of 1 to 6, with 6 being the perfect score.
In the June 2019 Protection test conducted by AV-test.org, AVG scored a 5.5 out of 6.
Kaspersky bested its competitor and scored a perfect 6 out of 6, showing better malware defense.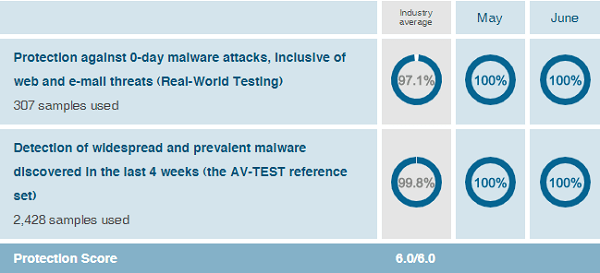 AV-Comparatives is another reliable testing organization we can look to determine which of the two antivirus tools has better anti-malware capabilities.
In the June 2019 Real-World Protection test, AVG received the two-star ADVANCED award, whereas Kaspersky once again beat its opponent with a three-star ADVANCED+ award.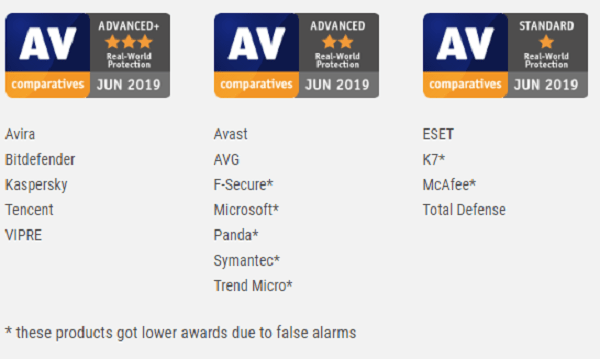 Winner: Kaspersky. Kaspersky is a clear winner here, receiving the highest possible commendations from two different evaluations from separate testing companies.
3. System Performance
In addition to malware defense, excellent antivirus software should also be able to run on your computer without disrupting day-to-day performance.
To determine which of these two companies is better in this regard, we can look to tests from the same two independent testing organizations as we did before.
AV-test.org issued the June 2019 Performance evaluation using the same scoring metric as before. Both AVG and Kaspersky received a perfect 6 out of 6 score, suggesting outstanding performance capabilities.
AVG:
Kaspersky: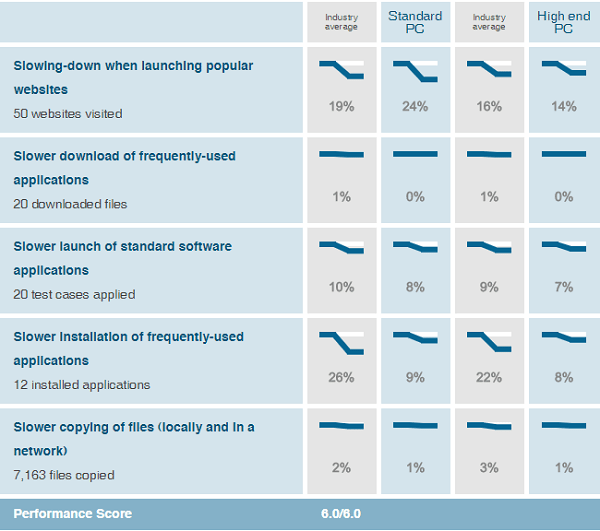 In the AV-Comparatives' April 2019 Performance test, both AVG and Kaspersky received the highest possible ADVANCED+ award.
Winner: Tie. Both companies performed equally well in both tests, indicating that they will run smoothly on standard computers.
4. User-Friendliness
The user interface of an antivirus program can drastically impact how well it is used and how pleasurable your experience is every time you boot it up.
Excellent user interface is intuitive but also allows you to have total control over all the processes that you want to take command of. Let's compare both companies' interfaces.
AVG's interface uses green and white text and gray background that isn't too flashy. All of its text or buttons are easy to see and are stylishly implemented, so it's an excellent pick for people who don't like cluttered interfaces. All of the major features and functions are marked in intuitive positions.
However, any features that you don't have access to are also very easily distinguished to get you to upgrade. There's a lock icon on any function that you can't access. It's better than ads, but it's still a bit annoying to see some great features locked out in front of you despite being a paid user.
Now let's take a look at Kaspersky's interface.
It's a pretty simple dashboard that's dominated by green and white colors as well. One main row has all of the major icons and symbols you'll need to perform most of the significant operations. This will allow even computer newbies to make use of all of the features that Kaspersky has to offer.
Unfortunately, there's also some frustrating design in that any features which you don't have access to as a result of having a lower tier of coverage will be grayed out instead of missing.
This is a way of letting you know what you're missing out on by not upgrading. It's a subtle but constant source of pressure that becomes frustrating after a while.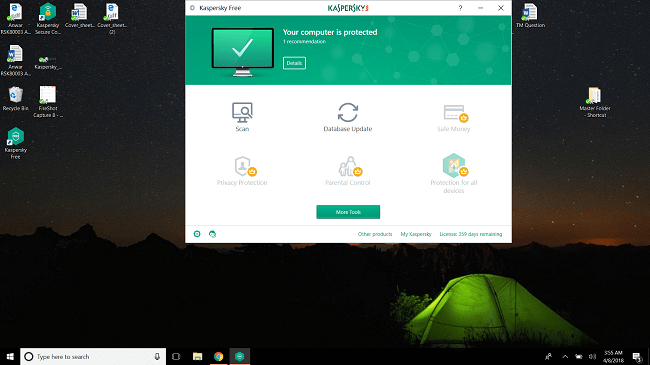 Winner: Tie. Both companies' interfaces are pretty simplistic, with only minor variations between them both. Anyone new to computers will appreciate how easy it is to access all of the major features. However, the interface offered by both companies can be annoying or frustrating due to their attempts to get you to upgrade by showing you which features you're missing out on.
5. Pricing
The pricing point of both antivirus programs will determine which gives you more bang for your buck. Good software has to be affordable and effective.
Let's compare pricing models of both AVG and Kaspersky.
To begin with, AVG AntiVirus Free doesn't cost anything, but it's not worth much either. It does offer defense against all sorts of malware threats, as well as the ability to block unsafe downloads or links, but it lacks advanced features which are hallmarks of paid software.
AVG Internet Security, the first paid coverage by the company, gives you 10 licenses for $79.99 per year. While this is quite a price hike, especially compared to many other antivirus companies, it's pretty good value for money when you consider how many licenses you get for the purchase.
Remember that AVG products only work on PCs or certain mobile devices unless you get the Mac-specific software from AVG.
AVG Ultimate, the premium antivirus software from AVG, gives you an unlimited number of devices and costs $99.99 per year. This is an exceptional value for money, especially for families where each person has a few different devices, even if the upfront cost is a little high.
AVG's Mac software costs $79.99 per year.
| AVG Products | Regular Price | Discounted Price |
| --- | --- | --- |
| AVG Internet Security | $89.99/year | Check here |
| AVG Ultimate | $119.99/year | Check here |
| AVG Business Products | Varies | Check here |
Now, let's see how Kaspersky prices its software.
Kaspersky Free offers protection against several malware threats, but it is nothing compared to its paid versions that provide advanced security-related features and utilities.
Kaspersky Anti-Virus is the first paid coverage from the company, providing you with three PC-only licenses for $29.99 per year.
The next level up is Kaspersky Internet Security, which costs $39.99 for three licenses. These licenses, however, can be used with PCs, Macs and mobile devices.
Kaspersky Total Security, the premium coverage from this company, costs $49.99 for three licenses for all types of computers as well.
Kaspersky Security Cloud comes in two different varieties: Personal or Family. The Personal plan costs about the same as Total Security, coming in at $49.99 per year for three licenses. The Family option provides you with up to 20 different licenses for $149.99 per year.
| Kaspersky Products | Regular Price | Discounted Price |
| --- | --- | --- |
| Kaspersky Anti-Virus | $59.99/year | Check here |
| Kaspersky Internet Security | $79.99/year | Check here |
| Kaspersky Total Security | $99.99/year | Check here |
| Kaspersky Security Cloud (Personal) | $89.99/year | Check here |
| Kaspersky Security Cloud (Family) | $149.99/year | Check here |
| Kaspersky Small Office Security | $149.99/year | Check here |
| Kaspersky End Point Security Cloud | $300.00/year | Check here |
Winner: Kaspersky. While AVG offers exceptional value for money and gives you many licenses for its purchases, Kaspersky offers Mac coverage for a much lower price and still provides enough licenses for most people. The only area where AVG wins is its family package, where its premium software allows for unlimited coverage for less money.
6. Customer Satisfaction
We can also look at how well users rate the companies when it comes to customer service. This can let us know how good each company is at handling potential issues that may arise during the use of their products.
The Better Business Bureau is a review-collecting website that averages customer ratings into a letter-based score from A to F. AVG received an A+ rating, indicating extremely high customer satisfaction. Meanwhile, Kaspersky received a pretty poor F rating from the BBB, showing that its customers are not very happy with its service.
Consumeraffairs.org, which uses a scoring metric between 1 and 5 stars, is another review-collecting website we can look to for a second opinion. AVG got a 3-star rating from this site, whereas Kaspersky received 2.5 stars.
Winner: AVG. AVG has better customer service than Kaspersky, whose low scores indicate that its customer service needs some tune-up.
Final Thoughts
It's a fierce battle, as both companies bring some unique functionality to the table. But overall, Kaspersky is the better choice thanks to its features like parental controls, better malware protection, and good pricing points.
Our recommendations: If you want to get the highest level of security and performance, there's no better choice than Norton, which protects over 50 million users worldwide.
After reviewing dozens of antivirus products from some of the biggest names in the cybersecurity realm, we believe that Norton 360 Deluxe is the best antivirus suite available on the market. It provides flawless anti-malware protection without slowing you down. Plus, you get almost all the advanced features you could ever want.
If you're willing to pay more for advanced identity protection features, we recommend Norton 360 with LifeLock select (only available in the US). It's a bit pricey but worth the price.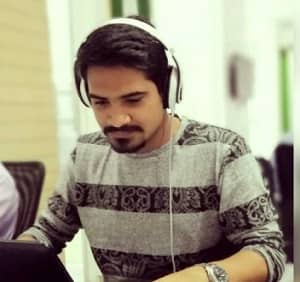 Anas Baig is a consumer privacy advocate and cybersecurity journalist by profession. Has has more than 7 years of professional experience under his belt. Anas has been featured on numerous media publications including The Guardian, Lifehacker, The Next Web, Infosecurity Magazine, Security Boulevard, Hacker Noon, CMS Wire, IAPP, SC Magazine, and many others. His interest includes Digital Privacy Rights, Information Security, Networking, Privacy, and Data Protection.
My Contributions: 
Hacker Noon | TheNextWeb | DevOps.com | GlobalSign | CMS Wire | CSO | Tech.co | Security Boulevard | ITProPortal | MuckRack | Crunchbase