(Last updated on February 28th, 2020)
Webroot or Kaspersky, which software is a better option in 2020?
Read this ultimate Webroot vs. Kaspersky comparison to make a smart choice.
It's getting harder and harder to stay safe from cyber-attacks these days. It's as easy to become a victim of a malware attack as opening an email.
As an article by Security Magazine informs us, one in 50 emails carries some kind of malicious content. This statistic came from a review of 10,072,682 emails, of which 203,000 contained malicious links. Moreover, these emails went undetected by many security systems.
According to Digital Trends, 10% of all malicious emails contain harmful malware like spyware, ransomware, adware, worms, or trojans.
So how to be safe? The answer to that lies with a premium antivirus software. A premium software can detect even the latest malware types and block them before they can harm your device and encrypt your important information.
In this case, you can't rely on a free antivirus tool, though. For the lack of advanced features and sophisticated technology, free software is incapable of providing maximum cybersecurity.
Although, it can get confusing to pick out the best product out there. So, today, we're going to compare two brands against each other to see which is a better product. Our today's antivirus brands are two famous names: Webroot and Kaspersky.
Best Antivirus Suite for 2020
(All the best security products examined)
Editors' Choice Award Winner
Special discount ends in...
30-day money-back guarantee
During the past few months, we examined and reviewed over 50 antivirus suites from the biggest names in cybersecurity. We did this so you can confidently choose the best antivirus software to protect yourself and those you love.
Overall,
Bitdefender
is our
#1 antivirus software
for 2020, because of its excellent, flawless performance in all the recent independent lab evaluations we considered, particularly those conducted by AV-Test and AV-Comparatives.
Right now, we think that
Bitdefender Total Security 2020
(currently at
60% off
) is the best antivirus package available in the market. Apart from providing excellent anti-malware protection, it offers all the advanced premium features and utilities that must be there in a high-end package -- and best of all, it offers excellent value for money. You can protect up to five devices (PCs, Macs, or smartphones) with just one subscription.
If you need protection for more than five devices, we highly recommend
Bitdefender Family Pack 2020
. It will cover all the internet-capable devices in your household with the Total Security suite, so your family will be protected no matter what goes wrong.
We are going to go over different aspects of these programs thoroughly and also analyze them in light of independent tests, reports, and surveys, to see which one takes the lead as better anti-malware software.
In a rush? Below is a quick summary of the comparison, and who comes out as the winner and for what reason.
A Quick Rundown of the Winners in Each Category
1. Features
Winner: Kaspersky. Kaspersky offers a much more extensive feature-set than Webroot.
2. Malware Protection
Winner: Kaspersky. Kaspersky demonstrated exceptional performance on both independent tests receiving the highest ratings. While Webroot gave a poor performance in one assessment and wasn't even present for the other.
3. System Performance
Winner: Kaspersky. Once again, Kaspersky was ahead with a brilliant performance in the independent tests. Webroot, too, received an excellent rating on one test, but it's absence in the other assessment put it at a disadvantage.
4. User-Friendliness
Winner: Webroot. Webroot's interface is more functional compared to Kaspersky's.
5. Pricing
Winner: Kaspersky. Kaspersky offers a higher value vs. money ratio than Webroot.
6. Customer Satisfaction
Winner: Webroot. Both independent websites gave Webroot better rankings than Kaspersky, which shows that Webroot has a superior customer support system.
Short Verdict
Kaspersky is the better option as it offers more security-related features and utilities in its security suites than Webroot. Also, independent tests prove that Kaspersky is better than Webroot in terms of both malware detection and the impact on system performance.
Our recommendations:
If you want to get the highest level of security and performance, there's no better choice than Bitdefender, which protects over 500 million devices worldwide.
We have reviewed, ranked, and rated all the best antivirus software products out there, and we think that
Bitdefender Total Security 2020
(currently at
50% off
) is the best antivirus package you can buy right now. You can protect up to five devices (PCs, Macs, or smartphones) with just a single subscription of this suite.
If you need protection for more than five devices,
Bitdefender Family Pack 2020
is the best option for you.
Looking for Mac-specific protection? Check out
Bitdefender Antivirus for Mac
for complete peace of mind.
1. Features
Features are an important consideration with any software. Because this is where you can pre-assess a product, whether it will serve your needs or not.
That's why here, we're are going to compare the features offered by both our products and you can decide for yourself which one is better suited for you.
Let's first review the features offered by Webroot products.
Webroot's line of products starts with the Webroot Antivirus software. This package protects 1 Windows or Mac device and provides some high-in-demand features, such as:
Advanced malware protection

, including protection against the much-dreaded ransomware attacks.

Identity Protection

is another advanced feature incorporated into the product that keeps your data and identity safe on the internet.

Another cool feature is that you can run

Fast Scans

that take barely 20 seconds to complete.

Anti-Phishing Tool

is another much-coveted feature in today's digital environment to protect your personal information from malicious and fake websites.
Webroot Internet Security Plus is the next product from the company. In addition to all the features from the Antivirus package, this suite also offers:
A

Password Manager

that protects your login information and passwords from being stolen.

This suite comes with

Multi-Platform Protection,

which means it is also compatible with other devices, including smartphones and tablets, and protects 3 devices with a single subscription.
Get Webroot Internet Security +
Webroot Internet Security Complete is the most premium suite from the company. It is the flagship product from Webroot that carries several extra features like:
An

Optimizer Tool

that organizes system resources to enhance the processing power of the system.

A handy tool called;

Smart Security

removes traces of your online activity to prevent hackers from monitoring your web usage.

This product also offers 25GB of secure

Online Storage,

which is accessible anytime and from anywhere.

A single license of this suite protects up to

5 devices

(PCs, Macs, tablets, or smartphones).
Get Webroot Internet Security Complete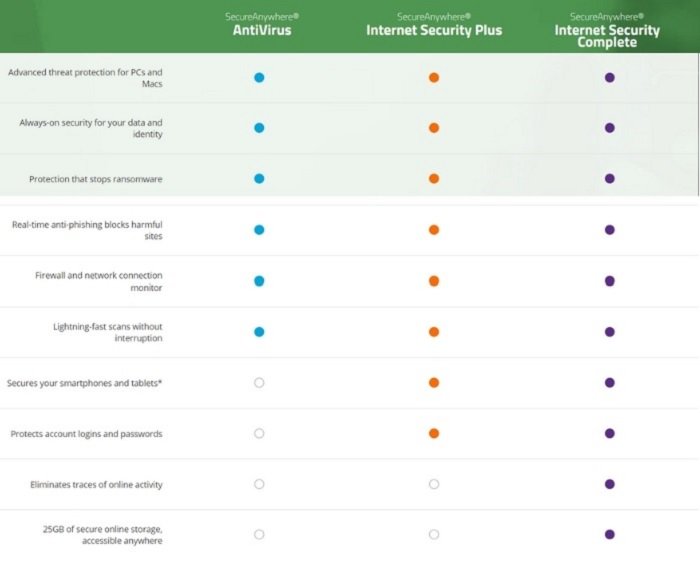 All Webroot customers receive premium 24/7 customer support from the company.
Now let's take a look at Kaspersky products.
The first product from the company is a free software called Kaspersky Free. This product offers barebones protection against some malware types but isn't worth much when it comes to emerging malware threats.
Kaspersky Anti-Virus is the first paid product from the company – a PC-only solution. It includes the following features:
A

cutting-edge firewall

that protects you from all kinds of digital and malware threats.

Multilayer Ransomware Protection

saves you and your family against financial crimes.

A

Gamer Mode

provides uninterrupted gaming or movie time by blocking pop-up notifications.

A

Vulnerability Scanner

checks your network security gaps and fixes them before a virus can harm you.
Kaspersky Internet Security is the next product in the protection tiers. This suite includes everything from the previous package with the addition of the following features:
A

two-way firewall

monitors the inbound and outbound connection requests and prevents your device from connecting to malicious apps.

A

hardened internet browser

that provides security for personal and financial information while you shop online or execute a banking transaction.

A

secure VPN

is also part of the offering, letting you browse anonymously from a virtual location and access region-specific content.

A

Wi-Fi Network Securer

protects your home network against external threats guarding it against hackers trying to tap into your security system.

This suite offers coverage for

Windows, Mac, and Android

devices.
Get Kaspersky Internet Security
Kaspersky Total Security suite offers the highest and most premium tier of protection. This suite also adds a few more features to the mix:
Safe Kids

, a fully equipped parental module, lets you monitor, manage, and control your children's online activities and usage.

A

password manager

saves all your passwords on your device and makes this information inaccessible to unauthorized people.

A

file shredder

permanently deletes any information that you want to remove from your device.

2GB of Dropbox storage

is also part of this product.
Kaspersky Security Cloud is another relatively new addition to the company's line of products. It's a high-end product that includes everything from Total Security suite plus:
An innovative '

Adaptive Technology'

that automatically modifies your software settings if it detects a change in your online usage pattern.

You can also use this feature to manage all your connected devices from a remote location.

Security Cloud has two versions:

Personal and Family

.
Kaspersky also offers business-related security options. You can have a look at them right here.
Winner: Kaspersky. Kaspersky offers a host of advanced features that you don't get with Webroot such as Gamer Mode, Vulnerability Scanner, Secure VPN, and Adaptive Technology.
2. Malware Protection
Premium antivirus products get regular updates for new malware definitions. So, it is expected that they should be able to provide maximum security against all kinds of malware and cyber threats.
Let's see how today's products fare in this area.
To compare our products, we'll take help from independent assessments by AV-Test and Av-Comparatives.
AV-Test rates products on a 1 – 6 scale, 6 being the highest score. While, AV-Comparatives' ranking system involves three awards, starting from the highest: ADVANCED+, ADVANCED, and STANDARD.
Webroot did not appear on the latest AV-Test August 2019 Protection Test. So, for the sake of comparison, we'll consider the June 2019 assessment where it did participate.
Webroot received a mediocre 2 out of 6 score on this test.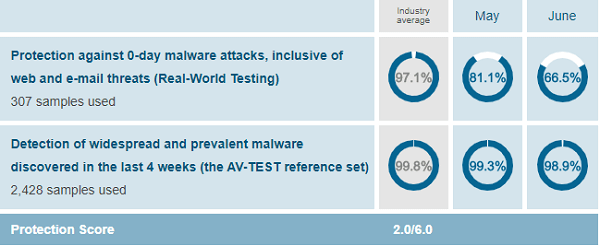 By contrast, Kaspersky received the perfect score with a full 6 out of 6 points.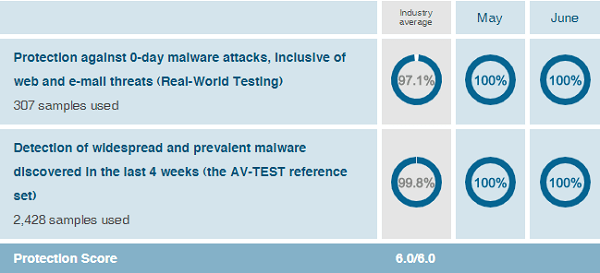 Now, let's see how both companies performed on the AV-Comparatives' Real-World Protection Test. Once again, Kaspersky showed a top performance and notched the highest ADVANCED+ award. However, Webroot did not participate in this evaluation.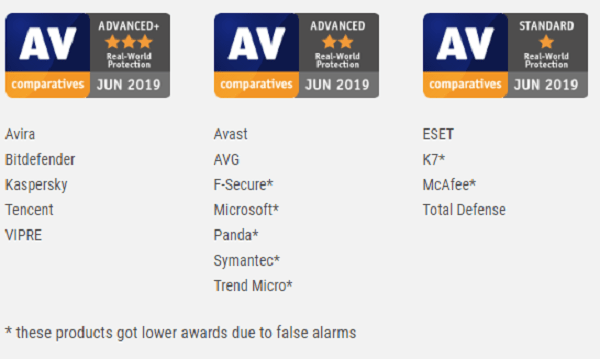 Winner: Kaspersky. Kaspersky demonstrated top performance in both independent tests while Webroot gave a poor performance in one assessment and didn't even participate in the other.
3. System Performance
A decent antivirus program must have minimal impact on the system speed. It is almost just as crucial as malware protection because nobody wants a lagging computer.
So, let's go back to our trusted organizations to see how they rate both our products on system performance.
As per the Performance Test from AV-Test.org, Webroot gave a decent performance on this one and scored an almost perfect 5.5 out of 6 points.
However, Kaspersky was even better and received the perfect 6 out of 6 score.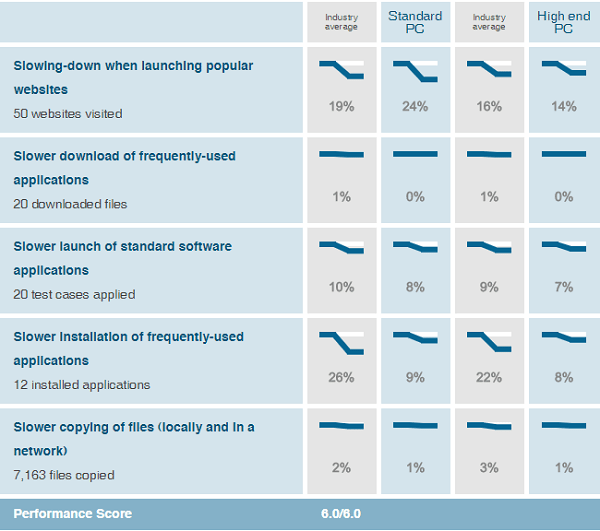 Now, let's consider the Performance Test by AV-Comparatives. Webroot didn't appear on this evaluation whereas, Kaspersky maintained did pretty well, receiving the ADVANCED+ award.
Winner: Kaspersky. Kaspersky gave a top-quality performance on both tests. Webroot also did pretty well on the first test, but it was missing from the second.
4. User-Friendliness
A good interface is to a software as a good first impression to a job candidate. A lot hangs in the air if this first impression is amiss. So, let's see how Webroot and Kaspersky have planned their user interfaces to impress their customers.
Webroot interface is deceptively simple. At first glance, it appears to be complicated, but once you've gone over it, it's pretty easy to operate.
You get all the updates and access buttons right there on the Home screen, so there are no menus to switch on and off. If you don't understand something, you can click on the "Learn more" button to get to know in detail about your software.
Overall, the interface is streamlined and intuitive. The only downside is that it doesn't offer much choice in terms of customization settings.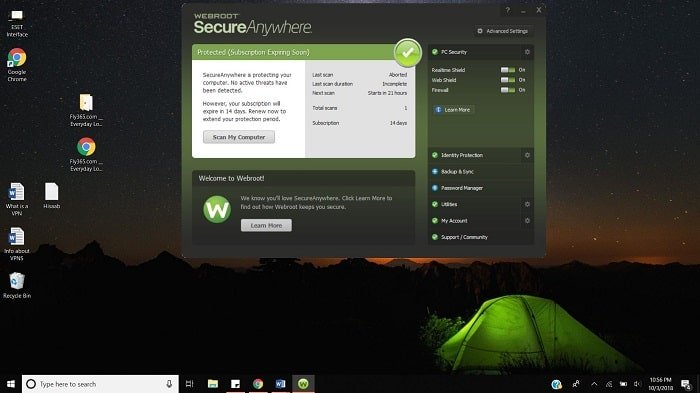 Now let's see how Kaspersky's interface weighs in comparison.
Kaspersky's user interface has an elegant and pleasant look. It is pretty simple in design and has a minimalistic flair to it.
You can access all the key functions – like Scan, Password Manager, Data Encryption, Parental Control, etc. – by clicking on big icons placed across the screen in two rows.
To access other tools, you can simply click on the "Show Additional Tools" button at the bottom right of the screen.
Similarly, to get a detailed security update, you'll have to click on the "Details" button positioned just below the top right corner.
A strip at the bottom of the screen displays your current subscription status and notifies you when it's time for renewal. Overall, the design is easy to operate, intuitive, and very user-friendly.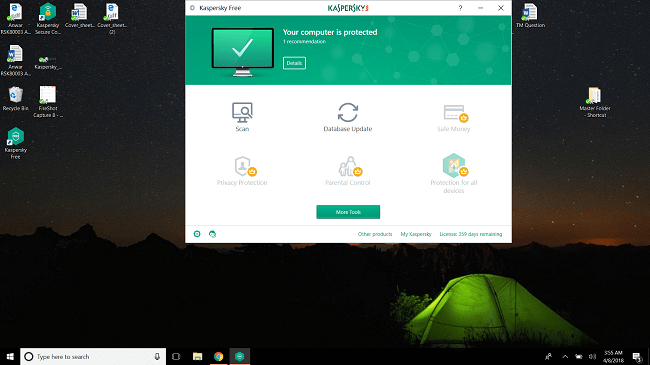 Winner: Webroot. Although both interfaces have their strengths, and the Kaspersky interface is delightful to look at, but it doesn't offer any security updates or summary that you would want the Home screen to display. That's why Webroot wins this category.
5. Pricing
Who can deny the importance of effective pricing? Even the most efficient of products can get bypassed if their price doesn't justify their value in the customer's eye.
So let's compare the pricing plans from both Webroot and Kaspersky to see which one provides more value for your money.
Webroot Antivirus, the entry-level product from the company, costs $29.99 per year for 1 device. Webroot Internet Security Plus comes at the cost of $44.99 per year for 3 Windows and Android devices.
The last product from Webroot, Internet Security Complete, costs $59.99 per year for 5 PCs, Macs, Tablets, or Smartphones.
Now let's take a look at how Kaspersky prices its products.
Kaspersky Antivirus costs $29.99 per year for 3 PC-only licenses, which is the same as Webroot's first product's price but offers more licenses.
Kaspersky Internet Security costs $39.99 per year also for 3 licenses, $5 less than Webroot's second product. However, these licenses are universal and can be used across the three main general-user operating systems (Windows, Mac, and Android).
Next, Kaspersky Total Security costs you $49.99 per year, also for 3 universal licenses. This price is $10 less than Webroot's but also offers 3 licenses, on average costing $16.66 per license. While Webroot offers 5 licenses for $59.99, costing $11.99 per license.
Kaspersky Security Cloud is available in two versions: Personal and Family. The Personal version comes at $49.99 per year, whereas the Family version at $149.99 per year.
The Family pack is priced quite steeply, but it comes with 20 universal licenses, ideal for a big family with each member owning several devices.
Winner: Kaspersky. Both Webroot and Kaspersky have some products that cost higher than the other. But Kaspersky provides more value for your money in terms of its features and top-grade protection and system performance. That's why Kaspersky wins.
6. Customer Satisfaction
Lastly, we'll take into account the opinion of existing customers by using customer satisfaction ratings from feedback collecting websites. These ratings will give us an insight into the actual customer experiences with both our products.
Our first customer feedback collecting website is the Consumeraffairs.com. This site assigns stars to products, 5 stars being the highest rating. Consumeraffairs.com gave Webroot 4 stars, which is a decent score. However, Kaspersky got an average 3-star score on this site.
The other similar organization is G2 that ranks products on two different scales: a 5-star scale and a 1-5 points scale. Webroot got an almost perfect 4.7 score (4+ stars) from G2 for its Threat Intelligence while Kaspersky received a 4.5 rating (also 4+ stars), just a tad bit behind Webroot.
Winner: Webroot. Webroot received better ratings from both sources compared to Kaspersky, indicating that Webroot takes good care of its customers.
Final Thoughts
Kaspersky wins all the major technical categories and pricing section in this comparison. Webroot only managed to get ahead in two categories, i.e., user interface and customer satisfaction. Kaspersky wins for providing excellent value for your money. While Webroot needs to put particular emphasis on its malware protection capacity.
Get Bitdefender at 60% off today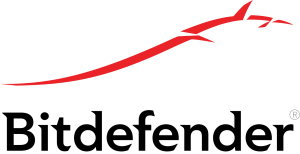 Special offer ends in ...
Editors Choice Award Winner
Our recommendations:
After reviewing 50 antivirus suites from some of the biggest names in the cybersecurity realm, we believe that
Bitdefender Total Security 2020
(currently at
60% off
) is the best antivirus suite for 2020 in terms of value for money. You protect up to five devices (PCs, Macs, and smartphones) with a single license of this suite.
Got more than five internet-capable devices? We found that
Bitdefender Family Pack 2020
is the best option out there in terms of value for money.
If you are still unsure, Bitdefender offers a 30-day money-back guarantee and exceptional customer support, so you there is nothing to lose.
Related Comparisons
Bitdefender vs Avast
Bitdefender vs Kaspersky
Kaspersky vs Avast
McAfee vs Norton
Kaspersky vs Norton
McAfee vs Kaspersky
Bitdefender vs McAfee