(Last updated on January 9th, 2023)
Bitdefender or Total AV, which antivirus software is a better option in 2023?
Read this ultimate Bitdefender versus Total AV comparison to make a smart decision.
The internet brings both ease and danger to our lives. You can simply browse, chat with friends, buy products and receive or transfer money. Or you can be a victim of a notorious cyber or ransomware attack.
Hackers are always finding ways to break into your computer to compromise your sensitive data, breach your privacy, steal your financial information, and so on.
More than 10 billion malware attacks were recorded in 2018, and the number is getting bigger and bigger with each passing day.
The number of ransomware attacks has also gone through the roof in recent years and even big companies aren't safe. Do you know that a new organization is likely to be a ransomware attack target every 14 seconds this year and every 11 seconds by 2021?
And all of this has a cost – a huge cost. Estimates suggest that ransomware is costing businesses more than $75 billion per year.
The statistics convey a loud and clear message: your data and privacy are on the line if you aren't adequately protected.
If you think a free or low-end antivirus program is the solution, you're wrong! Most freeware out there offer limited anti-malware security and lack advanced protection-related features which have become a necessity these days.
What you really need is a premium security product that gives you great value for your money. Besides combating advanced malware threats, a paid antivirus program performs several other helpful tasks, including optimizing your computer performance, protecting passwords, encrypting and shredding your sensitive files, parental controls, and so on.
Best Antivirus Suite for 2021
60-day money-back guarantee
During the past few months, we have ranked, rated, and reviewed 40 premium antivirus suites from the biggest names in cybersecurity. We did this so you can confidently choose the best antivirus software to protect yourself and your family.
Right now, we think that
Norton
is the best antivirus software your money can buy. It regularly earns perfect or near-perfect scores from independent labs and has the least impact on system performance compared to rival products. Its products combine top-notch security with an array of excellent security features and, best of all, offer exceptional value for money.
Overall,
Norton 360 Deluxe
(currently at
70% off
) is our pick for the best antivirus suite in 2021. It is competitively priced and comes with almost everything you could possibly ask for, such as a firewall, a fully integrated VPN, dark web monitoring, cloud backup storage (50GB), a password manager, and parental controls. You can cover up to 5 PCs, Macs, smartphones or tablets with this suite.
If you want full-on identity protection and don't mind paying more,
Norton 360 with LifeLock Select
(currently at
35% off
) gives those in the US a full range of identity protection features, more backup space (100GB), as well as all the above.
In this detailed guide, we will compare Bitdefender and TotalAV and show you which of the two is a better pick.
If you are in a hurry, take a look at the rundown below to find out which software wins in each category.
A Quick Rundown of Winners in Each Category
1. Features
Winner: Bitdefender. A better and more complete feature set makes Bitdefender the winner in this category.
2. Malware Protection
Winner: Bitdefender. Bitdefender performed exceptionally well in independent tests, whereas TotalAV didn't participate.
3. System Performance
Winner: Bitdefender. Once again, TotalAV was absent from independent evaluations, which are essential to gauge the impact an antivirus program has on your system.
4. User-Friendliness
Winner: Tie. Both antivirus companies use modern interfaces, which are intuitive as well as easy to navigate.
5. Pricing
Winner: Bitdefender. TotalAV's starting price of $99.95 makes it a costly choice for most people.
6. Customer Satisfaction
Winner: Tie. It's difficult to point out a winner because an important source hasn't rated TotalAV.
Short Verdict
Bitdefender is the winner as it offers more security-enhancing features and extra utilities in its security suites than Total AV. Independent tests show that Bitdefender is better than Total AV in terms of both malware detection and system performance. Also, Bitdefender's security suites are slightly cheaper than Total AV's.
Best Antivirus for 2023
---
#1 (Excellent)

Robust feature-set
Excellent anti-malware security
Minimal system impact
Easy-to-use interface
Automatic updates
Trusted by 50 million users
100% virus protection promise
60-day money-back guarantee
70% off
#2 (Very Good)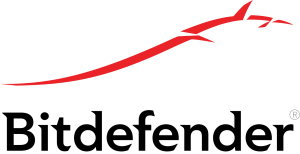 Exceptional malware protection
Little impact on performance
Trusted by millions of users
30-day money-back guarantee
User-friendly interface
50% off
#3 (Very Good)
Good malware protection
Trusted by big corporations
Minimal impact on performance
Good value for money
30-day risk-free guarantee
40% off
Let's go into details.
1. Features
A comprehensive feature set has the power to sway a prospective customer's purchasing decision. If an antivirus program provides several advanced and useful features, it can justify its price.
This section looks at the features offered by Bitdefender and TotalAV at different tiers of coverage.
Let's first have a look at what Bitdefender offers.
The company's freeware is called Bitdefender Antivirus Free. The freeware does protect malicious websites and phishing attacks, but it's not a very good choice when it comes to real-time malware protection. Moreover, the free program is also lacking in several useful features, which can only be found in an excellent premium suite.
Bitdefender Antivirus Plus 2023 is where things start to get interesting. The premium package comes with a host of exciting features, including: 
Solid defense against known malware threats, including viruses, Trojans, worms, ransomware, etc.
A password manager that securely stores all your passwords and lets you log in without a whiff of trouble.
A secure browser for making your online shopping and banking experience extremely safe.
A file shredding tool that irrecoverably removes your sensitive files from the device.
The next level of protection from Bitdefender is Internet Security 2023. It boasts all the features offered in the package mentioned above, plus: 
Privacy Firewall that keeps a vigilant eye on your home network and thwarts intrusions.
A Webcam Protection tool that stops anyone from spying on you through your laptop or phone camera.
Its Microphone Monitor keeps you in control of your PC and smartphone so that you always know which apps are using your device's microphone at any given time.
A limited Parental Control feature to ensure your kids' safety at all times. It also lets you prevent your children from stumbling into age-restricted content.
A File Encryption tool that protects sensitive files on your device by ensuring nobody can access them without a password.
Bitdefender Total Security 2023 is the company's most popular and comprehensive offering. Of all the antivirus products we have reviewed so far, we have found Bitdefender Total Security 2023 to be the best in terms of value for your money.
Its features are as follows:
All features and utilities included in the above-mentioned packages.
Tools like OneClick Optimizer, Disk Cleanup and Startup Optimizer that speed up your PC and smartphones so that you perform your daily operations without any trouble. 
The Anti-Theft utility included in the suite helps you find your device if it gets lost or stolen.
A full-blown Parental Control module.
With a single license of Bitdefender Total Security 2023, you can protect up to 5 devices.
Supports all operating systems, i.e. Windows, Android, Mac and iOS. 
If you have a big family to protect against modern-day digital threats, Bitdefender Family Pack 2023 is the best package out there. Packed with all the features of the "Total Security" suite and even better parental controls, a single license of the family pack covers as many as 15 devices in your household for a year. 
Bitdefender Antivirus for Mac is the company's customized product for Macs. It is specifically designed to thwart Mac-related threats and maximizing system speed. The suite also comes with a VPN for anonymous browsing, an adware removing tool and complete ransomware protection.
Note: Both Bitdefender Total Security 2023 and Bitdefender Family Pack 2023 also run on Macs.
All Bitdefender's premium offerings come with 24/7 customer support.
If you want to learn about Bitdefender's business products, click right here.
Let's see what TotalAV has at our disposal.
TotalAV Free is the company's most basic antivirus tool which you can enjoy without spending a penny. It allows you to perform some malware-detecting and performance-boosting scans, but it lacks the essential features required to give you round-the-clock protection and complete peace of mind.
TotalAV Essential Antivirus is the company's entry-level premium package. This is where you should start if you consider going for TotalAV as your security program. The features included in the package are:
Provides you real-time protection from all sorts of malware, including viruses, worms, trojans, etc.
Protects you against one of the most dangerous kinds of digital threats, i.e. ransomware.
The package comes with Web Shield browser extension which removes annoying adware, prevents you from visiting potentially dangerous websites and helps you manage cookies.
A Disk Cleaner will help you get rid of duplicate and junk files.
A single license of the TotalAV Essential Antivirus suite covers 3 devices.
If you want to protect more than one device, TotalAV Pro Antivirus can be your preferred choice. With a single license of this package, you can protect up to 5 devices. Apart from all the features that come with the Essential package, TotalAV Pro offers:
A password manager that remembers all your passwords and stores them in a secure vault.
A comprehensive antivirus e-book that works as your guide and teaches you how to keep your data and privacy safe from hackers.
Supports all platforms including MacOS, iOS, Android and Windows.
TotalAV Ultimate Antivirus is the maximum-level security package offered by the company. It is an excellent option for families, as you can protect up to 6 devices with a single license. TotalAV Ultimate Antivirus comes with:
All the features included in the previous tier.
A smartphone optimization tool that speeds up your device by freeing up space and memory.
VIP 24/7 customer support.
Supports all operating systems.
Winner: Bitdefender. The comparison makes it clear that Bitdefender comes with a wider range of useful features than TotalAV.
2. Malware Protection
Malware protection is one of the essential capabilities of an antivirus suite. If a security program is not good at detecting malware, no number of extra features can cover that deficiency.
In this section, we will examine the protection capability of both Bitdefender and TotalAV by comparing their scores in independent evaluations. The AV-Test Institute and AV-Comparatives are two such organizations that regularly conduct unbiased tests to determine protection, performance and other qualities of various antivirus products.
The AV-Test Institute uses a scoring rubric of 1 to 6, with 6 being the highest possible score. According to the results of a recently held Performance test, Bitdefender successfully detected all malware samples, bagging a perfect score of 6 out 6.
Total AV didn't participate in the evaluation.
AV-Comparatives is another antivirus testing organization that conducts several exhaustive evaluations to gauge the performance of various antivirus suites.
In the June 2019 Real-World Protection test, Bitdefender received the highest possible ADVANCED+ award thanks to its near-perfect malware protection rate. Bitdefender also showed a very low false positives score, which means it didn't flag clean files and URLs as malicious.
Once again, TotalAV wasn't among the participants.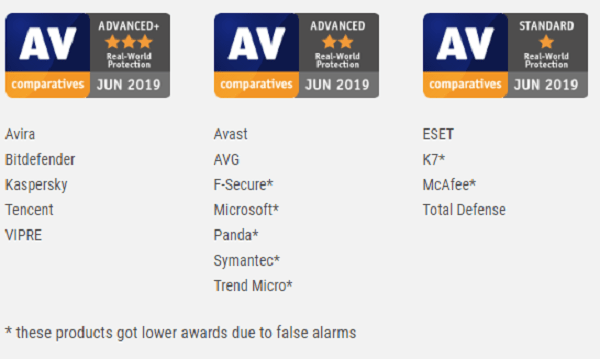 Winner: Bitdefender. TotalAV didn't take part in crucial independent evaluations. In contrast. Bitdefender notches perfect scores in both tests.
3. System Performance
An excellent antivirus has to protect you against all digital threats without affecting system performance. If an antivirus suite significantly impacts your device speed, it isn't worth your money.
To determine which among Bitdefender and TotalAV has minimal impact on system performance, let's look at independent performance tests from the same two testing organizations we mentioned above.
In the March-April 2019 AV-Test's Performance evaluation, Bitdefender scored a perfect 6 out of 6.
Total AV didn't participate in the Performance test as well.
Similarly, according to AV-Comparatives' April 2019 Performance test, Bitdefender received the highest ADVANCED+ award, indicating exceptional performance capabilities. Total AV once again didn't participate for reasons best known to the company.
Winner: Bitdefender. Test results indicate that Bitdefender has no or minimal impact on your device performance, whereas TotalAV once again skipped the evaluations.
4. User-Friendliness
While offering exceptional features and utilities and great malware defense, a security program must provide an intuitive and user-friendly interface.
First, let's delve into the Bitdefender's interface.
Bitdefender perfectly blends black, white and grey colors to come up with a sleek and modern interface.
A black rail on the left side of the interface displays useful options like Dashboard, Protection, Privacy, My Account, Settings, etc.
At the top of the rail is your device's protection status. If everything is okay, you will see a large white checkmark inside a green-bordered shield icon. If there's anything that needs your attention, the checkmark will turn to an exclamation mark and the shield's border will become red.
Whenever you click any feature on the left-hand menu, you will see its sub-options in the main screen in large white blocks.
The Dashboard displays "Quick Scan" and "VPN" buttons, but you can click on the "Add a Quick Action" button to pin your favorite feature on the dashboard.
You can perform a quick scan, complete system scan, custom scan or vulnerability scan under the Protection menu. Other options in this section include a firewall, anti-spam feature, online threat prevention, etc.
Tools like a password manager and webcam protection utility can be found in the Privacy section.
Every tab and section on the Bitdefender's interface is easy to find and self-explanatory. Overall, the interface is intuitive and user-friendly, and you can access all major features with only a few clicks.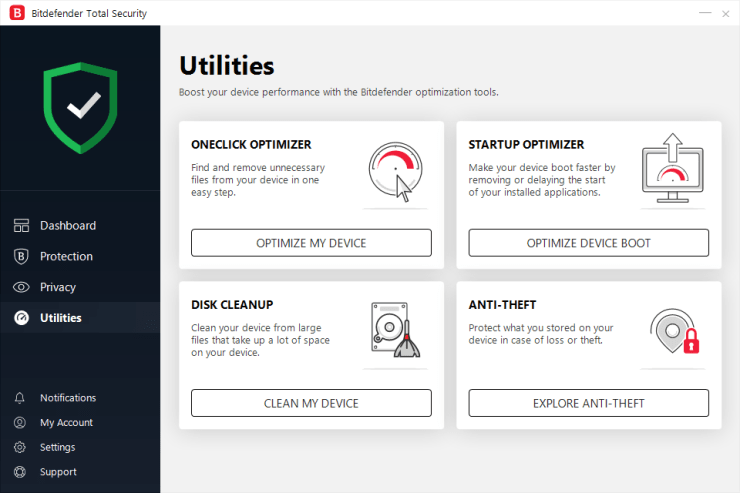 Now let's have a look at TotalAV's interface.
TotalAV pays attention to its visuals and uses a dark and modern theme. The interface is also quite simple, which makes it easy to access options you want to use.
The dashboard prominently displays four options in large boxes, including Antivirus, System Boost, Disk Cleaner and Web Security. The same four options are also featured on the left-hand side rail.
You will have no trouble navigating TotalAV's interface and every menu and its subitems are useful and within close reach.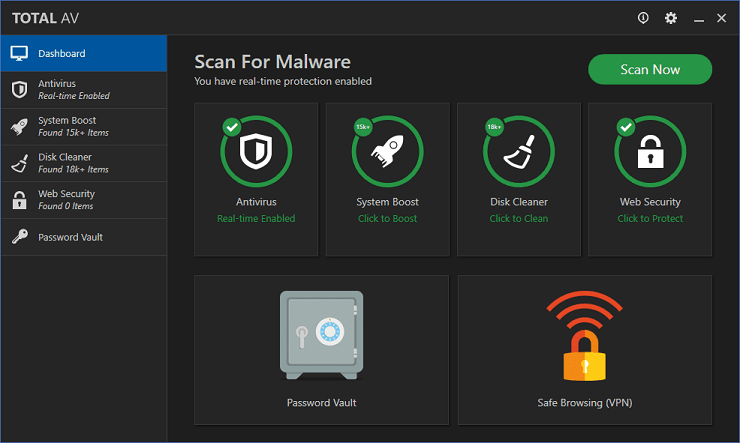 Winner: Tie. There is no overall winner here, as both companies offer modern and easy-to-understand interfaces.
5. Pricing
Another critical aspect that may influence your buying decision is obviously the price of a product or service. If an antivirus has all the necessary features and its single license covers a large number of devices but at the same time it's too pricey, you may think a hundred times before opting for it.
To determine which antivirus program among Bitdefender and TotalAV offers more value for your money, we will now examine their pricing models.
The entry-level product from Bitdefender is its Antivirus Plus suite. A single license of the Windows-only package covers 3 PCs for $39.99 per year.
Bitdefender Internet Security, another Windows-only suite, carries a price tag of $44.99 per year and covers 3 PCs.
The most comprehensive offering from Bitdefender, Total Security, also sells for just $44.99. With a single license of this product, you can cover up to devices. Moreover, you can cover 10 devices with an additional cost of just $5 a year.
If you have a large family, Bitdefender Family Pack can come to your rescue. Its license covers 15 devices (PCs, Macs or smartphones) for $59.99.
| Bitdefender Products | Regular Price | Discounted Price |
| --- | --- | --- |
| Bitdefender Antivirus Plus | $59.99/year | Check here |
| Bitdefender Internet Security | $79.99/year | Check here |
| Bitdefender Total Security | $89.99/year | Check here |
| Bitdefender Family Pack | $119.99/year | Check here |
| Bitdefender Antivirus for Mac | $59.99/year | Check here |
| Bitdefender Small Office Security | Varies | Check here |
| Bitdefender GravityZone Business AV | Varies | Check here |
Let's see the pricing plan of TotalAV.
With TotalAV Essential Antivirus, you can protect 3 devices at the cost of $99.95 per year. The next tier, TotalAV Antivirus Pro, covers 5 devices and is priced at $119.95 per year.
TotalAV Ultimate Antivirus, the company's flagship product, comes at a huge annual price of $149.95 and allows you to cover 6 devices.
| | |
| --- | --- |
| TotalAV Products | Regular Price |
| Antivirus Pro (3 Devices) | $99 |
| Internet Security (5 Devices) | $119 |
| Total Security (6 Devices) | $149 |
Winner: Bitdefender. Bitdefender's packages not only come with more useful features, but they are also extremely inexpensive as compared to TotalAV's suites.
6. Customer Satisfaction
Lastly, we can also consider the customer support provided by the company to look at how it treats its existing customers.
Consumeraffairs.org and the Better Business Bureau (BBB) are two well-known sites that track customer reviews and publish ratings accordingly.
Consumeraffairs.org collects customer feedback and gives 1- to 5-star rating. Bitdefender currently holds a 3-star rating on the site, showing general customer satisfaction. The website doesn't show ratings of TotalAV, perhaps because of two few customer ratings.
On the BBB, which grades companies on an A to F scale, Bitdefender has a C+ rating as compared to the maximum A+ rating of TotalAV.
Winner: Tie. While TotalAV garnered maximum rating by one website, it hasn't been rated by another reputable company. This makes it difficult to declare a winner in this category.
Final Thoughts
Bitdefender offers more features and utilities in its security suites than Total AV. Also, independent tests prove that Bitdefender is better than Total AV in terms of both malware protection and the impact on system performance.
Our recommendations: If you want to get the highest level of security and performance, there's no better choice than Norton, which protects over 50 million users worldwide.
After reviewing dozens of antivirus products from some of the biggest names in the cybersecurity realm, we believe that Norton 360 Deluxe is the best antivirus suite available on the market. It provides flawless anti-malware protection without slowing you down. Plus, you get almost all the advanced features you could ever want.
If you're willing to pay more for advanced identity protection features, we recommend Norton 360 with LifeLock select (only available in the US). It's a bit pricey but worth the price.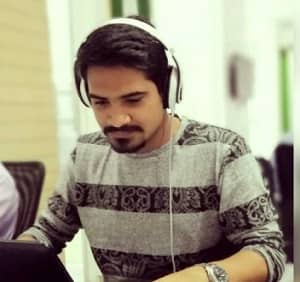 Anas Baig is a consumer privacy advocate and cybersecurity journalist by profession. Has has more than 7 years of professional experience under his belt. Anas has been featured on numerous media publications including The Guardian, Lifehacker, The Next Web, Infosecurity Magazine, Security Boulevard, Hacker Noon, CMS Wire, IAPP, SC Magazine, and many others. His interest includes Digital Privacy Rights, Information Security, Networking, Privacy, and Data Protection.
My Contributions: 
Hacker Noon | TheNextWeb | DevOps.com | GlobalSign | CMS Wire | CSO | Tech.co | Security Boulevard | ITProPortal | MuckRack | Crunchbase