(Last updated on January 9th, 2023)
Webroot or Sophos, which software is a better option in 2023? 
Read this ultimate Webroot vs. Sophos comparison to make a smart choice.
Data breach is one of the biggest nightmares on the cybersecurity spectrum today. The increased use of computing devices in every field of life has also brought an increased risk of data security both for individuals and organizations.
Data is the most crucial component in the most dreaded malware attacks, such as phishing, ransomware, spyware, botnet attacks, etc.
It's no surprise that a ransomware attack takes place every 14 seconds, that's almost four attacks in a single minute. Moreover, phishing attacks present the most significant cybersecurity challenge this year.
We recommend the use of a premium antivirus software to protect you against unknown cyber threats. Premium software integrates the advanced functionalities such as protection against ransomware, phishing websites, exploits, botnets, encrypted attacks, as well as a bunch of advanced tools and utilities.
A free antivirus lacks in these features to provide reliable security against emerging malware attacks. Only through a premium antivirus product can you guarantee complete protection for your self and your loved ones.
Today we have taken to top-ranking brands, Webroot and Sophos, to compare them and see which one provides more comprehensive malware protection along with a small digital print, superior value in terms of advanced features and pricing, etc.
Best Antivirus Suite for 2021
60-day money-back guarantee
During the past few months, we have ranked, rated, and reviewed 40 premium antivirus suites from the biggest names in cybersecurity. We did this so you can confidently choose the best antivirus software to protect yourself and your family.
Right now, we think that
Norton
is the best antivirus software your money can buy. It regularly earns perfect or near-perfect scores from independent labs and has the least impact on system performance compared to rival products. Its products combine top-notch security with an array of excellent security features and, best of all, offer exceptional value for money.
Overall,
Norton 360 Deluxe
(currently at
70% off
) is our pick for the best antivirus suite in 2021. It is competitively priced and comes with almost everything you could possibly ask for, such as a firewall, a fully integrated VPN, dark web monitoring, cloud backup storage (50GB), a password manager, and parental controls. You can cover up to 5 PCs, Macs, smartphones or tablets with this suite.
If you want full-on identity protection and don't mind paying more,
Norton 360 with LifeLock Select
(currently at
35% off
) gives those in the US a full range of identity protection features, more backup space (100GB), as well as all the above.
In a rush? Below is a quick summary of the comparison, and who comes out as the winner and for what reason.
A Quick Rundown of the Winners in Each Category
1. Features
Winner: Sophos. Every customer of Sophos' can enjoy the same features no matter the number of licenses. Whereas, with Webroot, you have to buy the premium products to avail of the most advanced features.
2. Malware Protection
Winner: None. Webroot did participate in one assessment but gave a miserable performance. However, Sophos didn't participate in the independent tests at all. That's why no one wins.
3. System Performance
Winner: Webroot. Webroot got a decent score on the AV-Test while it didn't appear in the evaluations by AV-Comparatives. Whereas Sophos wasn't available for both tests.
4. User-Friendliness
Winner: Both. Both companies offer equally competitive interfaces that are intuitive as well as user-friendly.
5. Pricing
Winner: Sophos. Sophos offers a much higher value for your money compared to Webroot.
6. Customer Satisfaction
Winner: Webroot. Webroot received an excellent rating on both reviewing websites while Sophos' rating wasn't available on one of the sites.
Short Verdict
Sophos has a slight edge over Webroot due to its solid feature-set and good pricing structure, but both software lack in terms of malware protection and did not take part in the recent lab evaluations conducted by independent organizations.
Let's dig into details.
1. Features
Features can make or break an antivirus software. It is based on listed features that users gauge a product's strength against the latest malware threats. So let's see what kind of features we can find with both Webroot and Sophos.
Let's start with Webroot.
Webroot Antivirus is the entry-level product from the company. This product covers protection for 1 PC or 1 Mac and includes the following features:
Comprehensive Malware Protection and Advanced Threat Detection against all kinds of cyber threats.
Ransomware and Webcam Protection are also available to save you and your family from financial loss and webcam related spyware.
Identity Theft Protection is also part and parcel of this suite and protects your usernames, account numbers, and other personal information during online shopping or banking transactions.
There's also a Firewall and Network Monitor that keep a close check on incoming and outgoing requests over the network.
The firewall also receives regular cloud-based updates so that it is always on top of the latest malware threats.
The suite also provides anti-phishing features with real-time monitoring to prevent hackers from planting malware on your device.
Webroot also provides 20 seconds fast scans to check your device for malicious viruses.
Webroot Internet Security Plus is the next antivirus coverage from the company that protects up to 3 devices. This package includes everything from Antivirus suite along with a few extra perks, such as:
Your handheld devices also get Mobile Security with this package, including Android Phones, Tablets as well as iPhone, iPad, and iPod Touch.
A Password Manager uses LastPass® functionality to encrypt all your usernames, passwords, and credit card information to keep you safe online.
Webroot Internet Security Complete is the flag-ship package from the company that offers full-blown protection to your devices with some more advanced features:
You get to protect your important files, documents, and media files with the help of automatic backup and secure online storage.
This suite includes a System Optimizer that enhances your system speed and maintains your privacy by erasing past online history, temporary files, and cookies.
You can protect 5 of your devices (PCs, Macs, tablets, or smartphones) with a single subscription of this suite.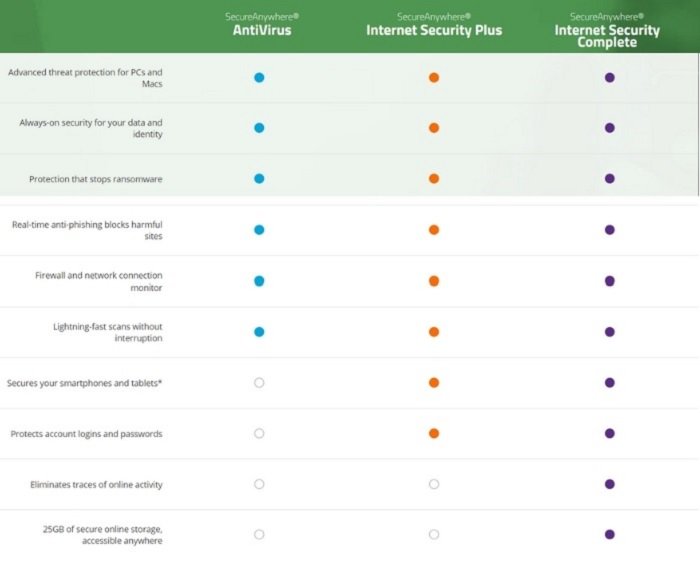 Also, 24/7 premium customer support is available with Webroot products.
Now let's see what Sophos brings to the table in terms of features.
Unlike Webroot, Sophos presents two kinds of products: a free version and a paid premium version.
Sophos Home Free is the free-of-cost program from the company, as is evident from the name. This version does provide some basic protection against different malware types but doesn't include the advanced features of the paid product.
Sophos Home Premium is the comprehensive premium solution from the company that incorporates a host of advanced features such as:
Real-Time Threat Prevention against all kinds of malware and cyber threats, including advanced viruses, exploits as well as ransomware attacks.
Artificial Intelligence aided Threat Detection enables the software to identify and block even unknown, emerging malware types.
The suite also includes ransomware protection to secure your personal files and photos from hackers.
You also get identity protection as the software secures any usernames and passwords stored in your system's memory so nobody can access them and use it to impersonate you.
Remote Security Management is also available for you to manage the security of different devices from anywhere.
A Web Filtering Tool makes it easy for parents to block any content they don't want their kids to watch online.
The package also comes with Web Security to protect against phishing attacks and malicious websites.
Sophos also provides Secure Online Banking by securing your banking and credit card information from third parties.
Complete Privacy Protection is also part of the offer where the software blocks any outside access to your webcam and mic and even encrypts your keystrokes to stop hackers from knowing what you're typing.
You can protect up to 10 devices (Macs included) with a single subscription of this suite.
Sophos offers 24/7 premium customer support to all its users.
Winner: Sophos. Both companies provide almost equally valuable features, and it's a close call between the two. But Sophos wins as all its users get to enjoy the same sort of features. With Webroot, the features are spread over different products, and you have to buy the most premium product to use all the advanced features.
2. Malware Protection
The latest anti-malware technology has made it possible for antivirus software to get regular updates on emerging malware. That's why any software worth its salt today should protect your device from all kinds of malware.
Let's find out what level of protection Webroot and Sophos provide for their devices by looking at some assessments from independent testing organizations.
First, we'll go to AV-Test.org that has a ranking scale of 1-6, 1 being the lowest score. For their Protection Test, Webroot was awarded a disappointing 2/6 score. However, Sophos didn't participate in this evaluation.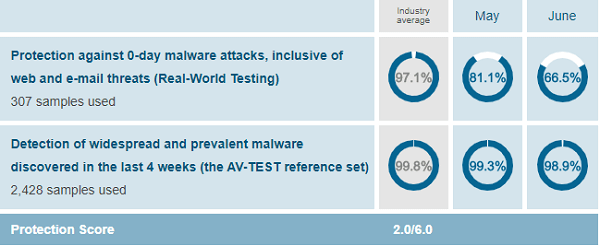 Both companies didn't appear in the evaluations by AV-Comparatives.
Winner: None. Although Webroot participated in the AV-Test assessment, it showed a poor performance while Sophos didn't partake in the independent tests at all.
3. System Performance
Many times, an antivirus ends up becoming a nuisance because it makes your computer system lag. Surely, you'll get rid of a product like that as soon as you possibly can. So let's find out about the impact of our products on a standard computer.
We'll consider the AV-Test Performance Test score for Webroot here. Webroot performed pretty well on this test and received an almost perfect score with 5.5/6 points.
Winner: Webroot. Webroot wins this category for showing excellent performance on the test by AV-Test. However, Sophos has no ratings to compare.
4. User-Friendliness
A lot of times in a customer's mind a software is only as good as its interface. If a user has difficulty operating the interface, they are going to have second thoughts about the entire software as well. It's just psychological.
That's one of the main reasons why a software interface needs to be user-friendly and easy to operate. Let's look at the interfaces from both Webroot and Sophos and see how they compare in user-friendliness.
Webroot interface has a unique design. Without using big blocks or big icons, this interface still makes things pretty simple for users to understand.
You'll find a summary of security updates right there on the Home screen. Next to this infobox, all the features and settings buttons are listed on a vertical panel. You can access everything from here.
This user interface is pretty intuitive, self-explanatory, and easy to operate. However, if you find something confusing, you can learn about it by clicking on the "Learn more" button positioned towards the bottom of the interface.
This design has only one hitch – it offers very little room for personalization, which may leave some users disappointed who like to give their own touch to things.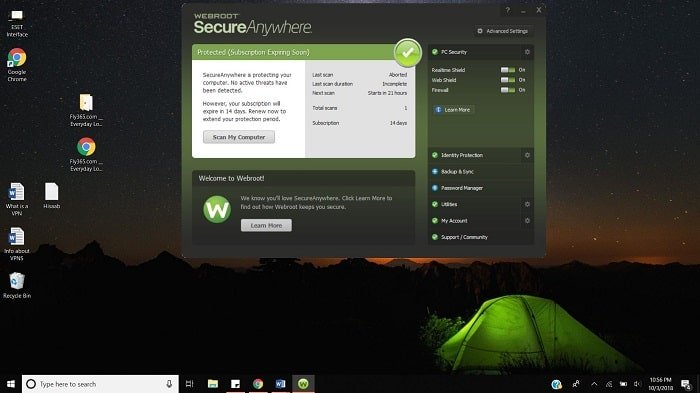 Now let's see what Sophos' interface looks like in comparison.
Sophos uses two separate interfaces. There's one that's installed on your device. This is a minimalistic version and primarily only meant to give you security updates.
The other one is a web-based user interface that is meant for action. Here you can access all the features, settings, etc., and make changes as you like. Being web-based, it looks like a website and incorporates the same functionality.
To access this version, you need to sign in to your account. The Home page displays different buttons to access functions like Antivirus Protection, Web Protection, Ransomware Protection, Privacy Protection, and Malicious Traffic Detection.
You can also retrieve more information by clicking on History, Protection, Web Filtering, and Privacy buttons placed on a strip across the middle of the screen. Sophos interface is pretty streamlined and user-friendly.
Winner: Both. Both interfaces have their strengths, and both are intuitive as well as user-friendly.
5.Pricing
Pricing is probably the most critical non-technical factor that hugely influences a buyer's decision. And it makes sense. When you have to fish out a chunk of money every year from your pocket, you're bound to weigh your options carefully.
So let's see what kind of pricing both our companies propose.
Webroot Antivirus suite costs $29.99 per year for 1 device. Whereas, the cost of Webroot Security Plus takes a sudden hike with $15 at $44.99 per year for 3 Windows and Android devices.
The last product from Webroot, Internet Security Complete, costs $59.99 per year for 5 PCs, Macs, Tablets, or Smartphones.
| | | |
| --- | --- | --- |
| Webroot Products | Regular Price | Discounted Price |
| Webroot Antivirus | $39.99/year | No Discount |
| Webroot Internet Security Plus | $59.99/year | No Discount |
| Webroot Internet Security Complete | $79.99/year | No Discount |
| Webroot Business Products | $150.00/year | No Discount |
Let's now review Sophos' product pricing.
Sophos Home Premium comes at a reasonable cost of $36 for one year and $72 for two years and covers 10 devices. This is much cheaper than Webroot's Security Plus package at $44.99, which only includes three devices compared to Sophos 10 devices.
| Sophos Products | Regular Price | Discounted Price |
| --- | --- | --- |
| Sophos Home Premium | $42.00/year | Check here |
| Sophos Business Antivirus | $63.25/year | Check here |
Winner: Sophos. Sophos has much more reasonable pricing than Webroot and still offers a much higher value for your money.
6. Customer Satisfaction
Existing customers are like insiders. They know the strengths and weaknesses of a product. That's why 'word of mouth' is so powerful. It's straight from the horse's mouth i.e., the customer.
To see how current customers rate both our brands, let's look at customer feedback ratings on two independent websites.
The first of these websites is Consumeraffairs.com that collects customers' responses and averages out the collective feedback on a 5-star scale. Webroot received 4 stars on this website, a pretty reasonable score. Sophos was not rated on this site.
Our next source is another similar service called G2. This website uses two different scales to rate products: a 5-star scale and a 1-5 point-based scale. Webroot received a fantastic 4.7 score (4+ stars) on this website.
Sophos was just a tad bit behind with a 4.5 score.
Winner: Webroot. Webroot got excellent ratings on both websites while Sophos was slightly behind on one site and lacked ratings on the other.
Final Thoughts
No one is a clear winner of today's comparison, having tied in one category and won two categories each. Sophos' features and pricing do make it stand out, but it needs to participate in the independent tests so that users have a way to gauge the software's capabilities. On the other hand, Webroot needs to improve its malware protection ability.
Our recommendations: If you want to get the highest level of security and performance, there's no better choice than Norton, which protects over 50 million users worldwide.
After reviewing dozens of antivirus products from some of the biggest names in the cybersecurity realm, we believe that Norton 360 Deluxe is the best antivirus suite available on the market. It provides flawless anti-malware protection without slowing you down. Plus, you get almost all the advanced features you could ever want.
If you're willing to pay more for advanced identity protection features, we recommend Norton 360 with LifeLock select (only available in the US). It's a bit pricey but worth the price.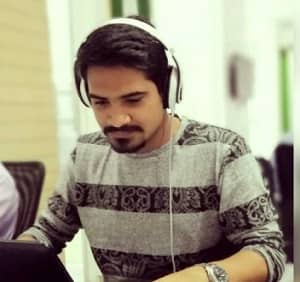 Anas Baig is a consumer privacy advocate and cybersecurity journalist by profession. Has has more than 7 years of professional experience under his belt. Anas has been featured on numerous media publications including The Guardian, Lifehacker, The Next Web, Infosecurity Magazine, Security Boulevard, Hacker Noon, CMS Wire, IAPP, SC Magazine, and many others. His interest includes Digital Privacy Rights, Information Security, Networking, Privacy, and Data Protection.
My Contributions: 
Hacker Noon | TheNextWeb | DevOps.com | GlobalSign | CMS Wire | CSO | Tech.co | Security Boulevard | ITProPortal | MuckRack | Crunchbase