(Last updated on January 9th, 2023)
Webroot or Avast, which antivirus software is a better option in 2023?
Read this ultimate Webroot versus Avast comparison to make a smart decision.
Using the Internet without excellent antivirus protection is like playing with fire. You can easily fall victim to a phishing, ransomware or some other malware attack, losing sensitive data or a substantial amount of money – or both – as a result.
The global malware industry is too big, and it's nearly impossible to defend your data and privacy on your own.
Just think about this: a record-breaking 10.52 billion malware attacks were registered in 2018, according to SonicWall. (Malware, or malicious software, includes all kinds of digital threats, including viruses, worms, Trojan horses, rootkits, etc.) It's no secret that both individuals and organizations are at risk of falling prey to these attacks.
Estimates suggest that a ransomware attack is expected to hit a business every 14 seconds this year. The duration will further drop to 11 seconds by 2021, whereas global ransomware costs will surpass $20 billion by the same year.
As an individual, you should be more worried about this scenario. According to the 2019 Webroot Threat Report, home users are twice as vulnerable to malware infections as business devices.
However, a fully functional premium antivirus suite can be the answer to all your woes.
We lay stress on a premium version because the freeware lacks the advanced features and tools necessary to give you round-the-clock protection and complete peace of mind. You can protect data and privacy of yourself and your loved ones by choosing a premium antivirus package, which comes with several exciting and useful features like ransomware protection, password manager, parental controls, etc.
Best Antivirus Suite for 2021
60-day money-back guarantee
During the past few months, we have ranked, rated, and reviewed 40 premium antivirus suites from the biggest names in cybersecurity. We did this so you can confidently choose the best antivirus software to protect yourself and your family.
Right now, we think that
Norton
is the best antivirus software your money can buy. It regularly earns perfect or near-perfect scores from independent labs and has the least impact on system performance compared to rival products. Its products combine top-notch security with an array of excellent security features and, best of all, offer exceptional value for money.
Overall,
Norton 360 Deluxe
(currently at
70% off
) is our pick for the best antivirus suite in 2021. It is competitively priced and comes with almost everything you could possibly ask for, such as a firewall, a fully integrated VPN, dark web monitoring, cloud backup storage (50GB), a password manager, and parental controls. You can cover up to 5 PCs, Macs, smartphones or tablets with this suite.
If you want full-on identity protection and don't mind paying more,
Norton 360 with LifeLock Select
(currently at
35% off
) gives those in the US a full range of identity protection features, more backup space (100GB), as well as all the above.
In this detailed comparison, we will pit Webroot and Avast against each other and see how they fare in different categories, including features, malware protection, system performance, user interface, and pricing.
In a rush? Have a quick look at the section below to know which of the two antivirus companies is better in each category.
A Quick Rundown of Winners in Each Category
1. Features
Winner: Avast. Avast comes with a more comprehensive feature set than its competitor.
2. Malware Protection
Winner: Avast. Results from independent tests show that Avast is better at protecting your PC against malware threats.
3. System Performance
Winner: Avast. Avast receives better scores than Webroot in independent evaluations in this category as well.
4. User-Friendliness
Winner: Avast. Avast not only offers a more straightforward interface, but it also provides a modern look and feel.
5. Pricing
Winner: Webroot. Webroot is cheaper for new customers and you can protect more devices at lower rates.
6. Customer Satisfaction
Winner: Webroot. Ratings from independent customer review websites show that Webroot's users are generally more satisfied with its customer support.
Short Verdict
The biggest difference between Avast and Webroot is that Avast provides top-notch malware protection without slowing down system performance while Webroot's performance is inconsistent. Avast regularly earns excellent scores on independent tests, whereas Webroot doesn't rate well with the independent testing labs.
Best Antivirus for 2023
---
#1 (Excellent)

Robust feature-set
Excellent anti-malware security
Minimal system impact
Easy-to-use interface
Automatic updates
Trusted by 50 million users
100% virus protection promise
60-day money-back guarantee
70% off
#2 (Very Good)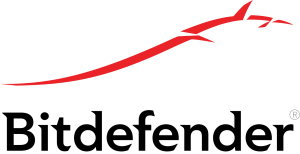 Exceptional malware protection
Little impact on performance
Trusted by millions of users
30-day money-back guarantee
User-friendly interface
50% off
#3 (Very Good)
Good malware protection
Trusted by big corporations
Minimal impact on performance
Good value for money
30-day risk-free guarantee
40% off
1. Features
An excellent premium antivirus suite should offer all the necessary and useful features to give individuals and families complete protection and peace of mind.
Let's see how Webroot and Avast fare in this category.
We will start with Webroot.
The company's product line-up starts with Webroot Antivirus, which protects both PCs and Macs. The suite offers the following features:
Advanced protection from all kinds of malware threats.
Ransomware protection tool to safeguard you against one of the most dangerous kinds of digital threats.
Data and identity-theft protection.
A real-time anti-phishing feature that prevents you from visiting fake or harmful sites and inadvertently giving away your sensitive information.
Extremely fast scans that take just 20 seconds to check your computer for malware.
A single license covers one device (PC or Mac).
Webroot Internet Security Plus is the next tier of protection from the company. The suite offers all the features included the previous package, plus:
A password management tool that you can use to store all your passwords and logins.
Offers protection for smartphones and tablets apart from PCs and Macs.
A single license protects up to three devices.
Next in line is Webroot Internet Security Complete, which is the company's most high-end product. It comes with the following features:
A tool that erases your online activity so that you browse the Internet without any worry.
An optimizer tool that boosts your computer speed.
The suite also comes with 25GB of secure cloud storage, which you can use to store your important files and access them anywhere and on any device.
A single license covers up to five PCs, Macs, tablets or smartphones.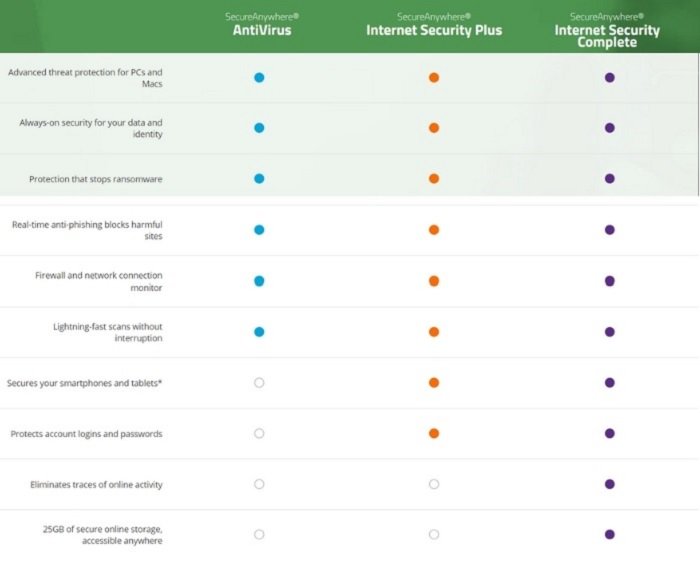 All Webroot products come with premium 24/7 customer support.
Now, let's see which features Avast has to offer.
Unlike Webroot, Avast does offer a free antivirus program, i.e. Avast Free Antivirus.
It's better than nothing, as it provides the necessary malware protection and also offers a password manager. However, it doesn't come with several advanced tools and utilities that are a must for protection against all sorts of digital threats.
Avast Internet Security is the company's first premium tier of coverage. Apart from excellent malware protection, the suite comes with many exciting features, including:
A Wi-Fi security scanner that checks for flaws in your network and alerts you to intruders.
A tool that blocks spam and phishing emails.
The Real Site feature that makes your online shopping experience extremely safe by preventing you from visiting fake websites.
The Sandbox tool that lets you safely run potentially malicious files and applications so that they can't affect other data on your computer.
The next security package offered by the company is Avast Premier, which provides all the features mentioned above, plus:
Webcam protection that stops anyone from spying on you via webcam.
An update tool that keeps all your apps up to date, thus minimizing security risks.
A file shredding utility that permanently deletes your sensitive files so that no one can recover them.
Avast Ultimate is the company's flagship antivirus product. In addition to all the features mentioned so far, the Ultimate suite offers:
A cleanup utility that speeds up your computer and removes junk files.
Avast SecureLine VPN ensures secure and anonymous browsing.
A full-blown password manager that not only stores all your logins in a secure vault, but it also alerts you if your passwords are leaked.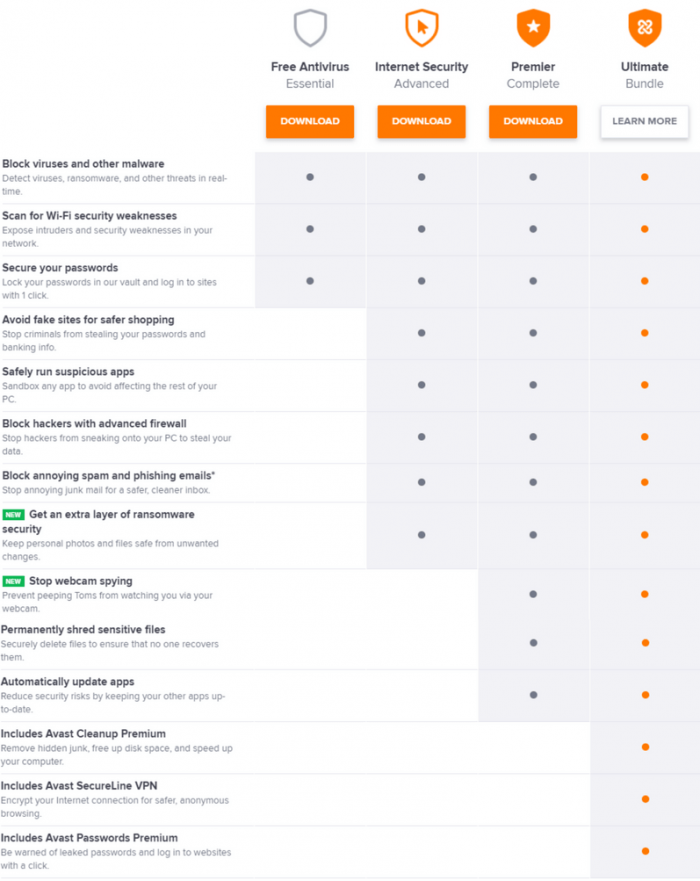 The antivirus suites mentioned above support only Windows.
For Mac users, Avast offers a specialized product called Avast Security for Mac, which has both free and premium editions. The premium package comes with the following features:
The Vulnerability Scanner.
A comprehensive firewall.
Multi-layered ransomware protection.
Interested in Avast's business products? Follow this link for more information.
Winner: Avast. Avast surely has much more to offer than its competitor when it comes to providing features.
2. Malware Protection
The best way to gauge an antivirus program's malware defense capability is to see how it performs in evaluations conducted by independent organizations.
Two of the most reputable names in this regard are the AV-Test Institute and AV-Comparatives.
The AV-Test Institute evaluates dozens of antivirus products and rates them on a scale of 1 to 6, with 6 being the highest score.
In its malware protection test, AV-Test examines how good an antivirus program is at detecting and blocking malware threats, including web and email threats. All products are allowed to use their own settings and are equipped with the latest updates.
In its July-August 2019 Protection evaluation, AV-Test gave Avast a perfect rating of 6 out of 6, which shows Avast is exceptionally good at protecting your PC from malware.
On the other hand, Webroot didn't take part in the latest evaluations. However, in the previous Protection test conducted in May-June 2019, Webroot received a poor score of 2 out of 6.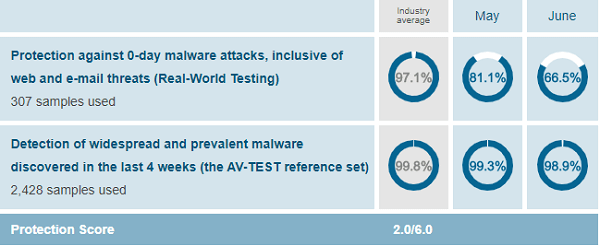 The AV-Comparatives lab also conducts a similar test called the Real-World Protection test during which several antivirus programs are run on malware-infected machines.
The latest evaluation was conducted in June 2019, in which Avast received the second-highest two-star ADVANCED rating, whereas Webroot didn't participate in the assessment.
Winner: Avast. Avast is a clear winner here thanks to its perfect score in one of the evaluations. Besides, Webroot not only performed poorly in one of the tests, but it also didn't participate in the other.
3. System Performance
Let's look at the unbiased tests conducted by the above-mentioned labs once again to find out whether Webroot and Avast affect your PC's performance while running in the background.
In the AV-Test Performance evaluation for July-August 2019, Avast received a near-perfect 5.5 out of 6 score, which indicates it performs its operations in the background with minimal impact on computer speed.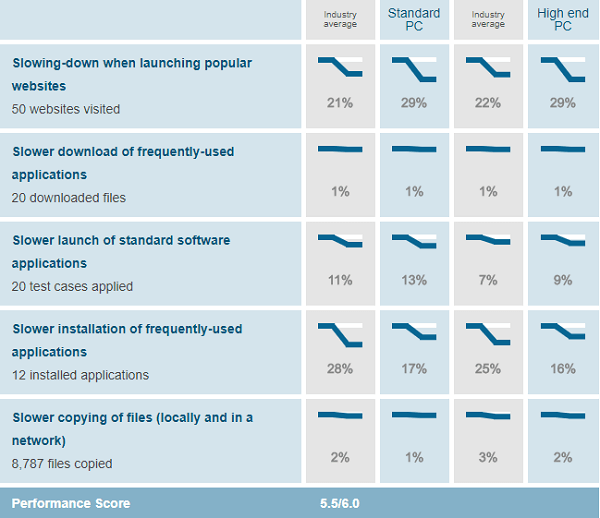 Webroot also got a score of 5.5 out of 6 in the previous evaluations held in May-June this year.
In the AV-Comparatives' April 2019 Performance test, Avast bagged the highest ADVANCED+ award.
Webroot didn't take part in both evaluations.
Winner: Avast. Avast wins this category because of its outstanding performance in both tests and also because of Webroot's absence from the latest evaluations.
4. User-Friendliness
Excellent antivirus software not only has exciting features and solid malware defense, but it also provides a great user experience through its interface.
Let's compare the user interface of both suites.
Webroot uses a dark interface that may not seem modern, but it's straightforward and easy to understand.
Even novice users won't find it challenging to make sense of most of the options, especially with the help of all those tutorials and "learn more" buttons.
It's also quite easy to access all primary features with a few clicks. However, Webroot offers little room for personalization, which can be frustrating for expert users.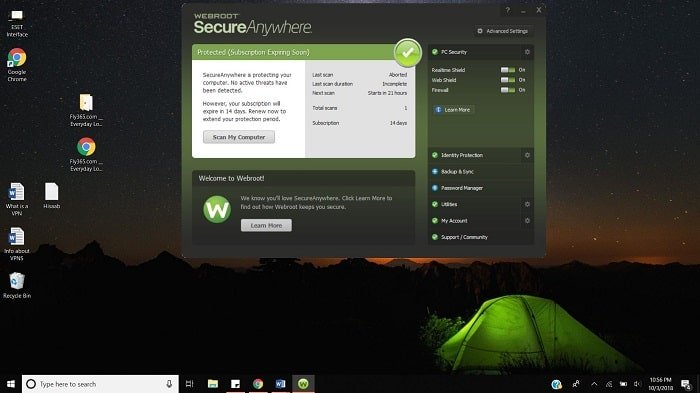 Now, let's see what Avast brings to the table.
Avast also uses a dark-themed interface but, unlike Webroot, it looks sleek and modern.
All major features and utilities are jammed inside four broad categories, which can be found on the left-side rail. These categories include Status, Protection, Privacy and Performance. You will also find Settings at the bottom of the left rail.
Status is the default window where you land after launching the antivirus software. This section tells you about your PC's protection status and lets you run a "Smart Scan".
Overall, Avast's use of large and easy-to-see buttons makes it quite user-friendly.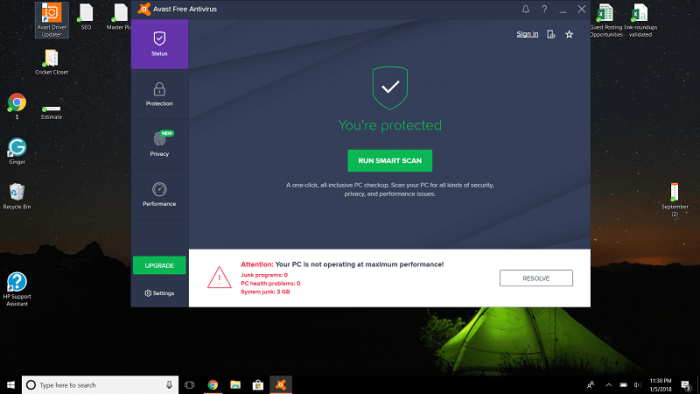 Winner: Avast. While both companies offer an easy-to-understand interface, Avast has a better and more modern interface than its rival.
5. Pricing
Pricing is yet another critical metric to gauge the overall value provided by any product or service.
Let's see how both companies price their suites.
A single license of Avast's first premium product, i.e. Avast Internet Security, costs $59.99 per year.
The next tier of protection from the company, Avast Premier, comes in at $69.99 per year, whereas the company's flagship product, Avast Ultimate, costs $119.99 per year.
Avast Security for Mac carries a price tag of $59.99.
All these packages provide protection for only one PC.
| Avast Products | Regular Price | Discounted Price |
| --- | --- | --- |
| Avast Internet Security | $47.99/year | Check here |
| Avast Premium Security (1 Device) | $69.99/year | Check here |
| Avast Premium Security (Multi-Device) | $89.99/year | Check here |
| Avast Ultimate | $99.99/year | Check here |
| Avast Business Antivirus | Varies | Check here |
Now, let's see how Webroot prices its products.
The company's entry-level offering, Webroot Antivirus, protects one PC or Mac for $29.99 per year.
The next suite, Webroot Internet Security Plus, covers three devices (including PCs, Macs, tablets, and smartphones) and is priced at $44.99 per year.
Webroot Internet Security Complete provides protection for up to five devices at the cost of $59.99 per year.
| | | |
| --- | --- | --- |
| Webroot Products | Regular Price | Discounted Price |
| Webroot Antivirus | $39.99/year | No Discount |
| Webroot Internet Security Plus | $59.99/year | No Discount |
| Webroot Internet Security Complete | $79.99/year | No Discount |
| Webroot Business Products | $150.00/year | No Discount |
Winner: Webroot. With Webroot, you can get protection for your PC at a lower cost. Webroot also helps you cover more devices in fewer dollars.
6. Customer Satisfaction
One last thing to check before making a purchase is to see how the existing users think about the customer support provided by a company.
Consumeraffairs.org and the Better Business Bureau (BBB) are two of the most popular independent review websites that track customer feedback.
Consumeraffairs.org rates products and services on a scale of 1 to 6, with 6 being the top score. On the website, Avast has an average rating of 3 stars (based on 292 customer reviews) while Webroot enjoys 4 stars (based on 220 reviews).
On the BBB, which measures products on an A to F rating scale, both Webroot and Avast have an excellent A+ rating. This suggests that users are satisfied with the customer support provided by both companies.
Winner: Webroot. Webroot edges out Avast in this category as well due to higher ratings on Consumeraffairs.org.
Final Thoughts
Webroot does offer affordable price points than Avast, but it trails in other key metrics. In contrast, Avast proves itself to be a much better product because of its advanced features, reliable malware protection, no impact of system performance and a modern user interface.
Our recommendations: If you want to get the highest level of security and performance, there's no better choice than Norton, which protects over 50 million users worldwide.
After reviewing dozens of antivirus products from some of the biggest names in the cybersecurity realm, we believe that Norton 360 Deluxe is the best antivirus suite available on the market. It provides flawless anti-malware protection without slowing you down. Plus, you get almost all the advanced features you could ever want.
If you're willing to pay more for advanced identity protection features, we recommend Norton 360 with LifeLock select (only available in the US). It's a bit pricey but worth the price.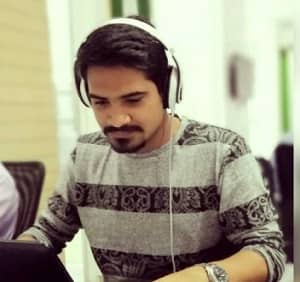 Anas Baig is a consumer privacy advocate and cybersecurity journalist by profession. Has has more than 7 years of professional experience under his belt. Anas has been featured on numerous media publications including The Guardian, Lifehacker, The Next Web, Infosecurity Magazine, Security Boulevard, Hacker Noon, CMS Wire, IAPP, SC Magazine, and many others. His interest includes Digital Privacy Rights, Information Security, Networking, Privacy, and Data Protection.
My Contributions: 
Hacker Noon | TheNextWeb | DevOps.com | GlobalSign | CMS Wire | CSO | Tech.co | Security Boulevard | ITProPortal | MuckRack | Crunchbase