(Last updated on January 9th, 2023)
McAfee or Webroot, which is better for your protection needs? Read this comprehensive, data-driven comparison to make a smart decision.
In this ultimate guide, you'll see what's included in the security suites offered by McAfee and Webroot, as well as how both software compare to each other in terms of malware protection, system impact, user interface, cost, and popularity.
Do you know the AV-Test institute registers over 350,000 new malware samples every day? It is hard to imagine a digital life without a reliable antivirus software suite.
Antivirus software is an important tool that protects your data, privacy, and identity from a range of dangerous malware threats, like viruses, worms, exploits, ransomware, Trojans, etc. (all collectively called malware).
And if you're wondering what malware can do, it can corrupt/slow down your system, steal your sensitive details, breach your privacy, drain your bank account, and more.
According to experts, it is dangerous to think that you don't need a security program. Even if you only visit well-known sites, avoid shady links, download from trusted sources, you still playing with danger if don't have antivirus protection on your computer.
It's always better to be safe than sorry.
Now that you know why antivirus software is important, let's start the detailed comparison between McAfee and Webroot.
Best Antivirus Suite for 2021
60-day money-back guarantee
During the past few months, we have ranked, rated, and reviewed 40 premium antivirus suites from the biggest names in cybersecurity. We did this so you can confidently choose the best antivirus software to protect yourself and your family.
Right now, we think that
Norton
is the best antivirus software your money can buy. It regularly earns perfect or near-perfect scores from independent labs and has the least impact on system performance compared to rival products. Its products combine top-notch security with an array of excellent security features and, best of all, offer exceptional value for money.
Overall,
Norton 360 Deluxe
(currently at
70% off
) is our pick for the best antivirus suite in 2021. It is competitively priced and comes with almost everything you could possibly ask for, such as a firewall, a fully integrated VPN, dark web monitoring, cloud backup storage (50GB), a password manager, and parental controls. You can cover up to 5 PCs, Macs, smartphones or tablets with this suite.
If you want full-on identity protection and don't mind paying more,
Norton 360 with LifeLock Select
(currently at
35% off
) gives those in the US a full range of identity protection features, more backup space (100GB), as well as all the above.
First, let's look at the security suites both companies offer.
McAfee Security Suites
McAfee Total Protection (Windows & Mac)
McAfee LiveSafe (Windows and Mac)
Webroot Security Suites
Webroot Antivirus (Windows & Mac)
Webroot Internet Security Plus (Windows & Mac)
Webroot Internet Security Complete (Windows & Mac)
If you don't have time to read this whole comparison and want the answer straight away, check out the graphic below and also read our short verdict to make a decision.
The Verdict
The bottom line is that both McAfee and Webroot are excellent antivirus software, but when you consider features, price, interface, performance, and protection, McAfee emerges as the better software compared to Webroot.
Best Antivirus for 2023
---
#1 (Excellent)

Robust feature-set
Excellent anti-malware security
Minimal system impact
Easy-to-use interface
Automatic updates
Trusted by 50 million users
100% virus protection promise
60-day money-back guarantee
70% off
#2 (Very Good)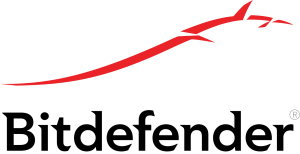 Exceptional malware protection
Little impact on performance
Trusted by millions of users
30-day money-back guarantee
User-friendly interface
50% off
#3 (Very Good)
Good malware protection
Trusted by big corporations
Minimal impact on performance
Good value for money
30-day risk-free guarantee
40% off
Now, let's begin the detailed comparison.
What's Included in McAfee's Antivirus Suites?
Back in the day, McAfee – like other antivirus companies — used to offer a progressively stronger range of antivirus suites, which included McAfee Antivirus Plus and McAfee Internet Security.
These days, the company offers two security suites (McAfee Total Protection and McAfee LiveSafe) on its official website.
McAfee Total Protection is the company's most popular and best-selling antivirus package. It includes almost all the premium protection-related features/tools that are found in most high-end security packages.
Beside excellent protection against all kinds of malware threats (including ransomware, spyware, viruses, worms, Trojans, rootkits), it offers an advanced two-way firewall (proactively guards your network against hijacking attempts), a file shredder (lets you securely delete your confidential files so no one can recover them), a File Lock feature (helps you create encrypted drives on your computer where you can store your sensitive files), and a Vulnerability Scanner (checks for vulneraries that hackers can potentially exploit).
A parental control module (helps control what sites your children can visit, how much time they can spend online, etc.), a Network Manager (protects you WiFi network against malicious attempts and intruders), and an anti-spam filter (blocks junk/phishing emails) are also part of the "Total Protection" suite.
For online protection, McAfee offers a browser extension, called WebAdvisor. It blocks malicious websites, protects you on social media, and automatically scans every file you download from the internet.
The great thing about this suite is that it lets you protect up to 10 Windows, Mac, Android, or iOS devices (in any combination) with just one license.
McAfee also offers the Virus Protection Pledge with the "Total Security" suite if you subscribe for its auto-renewal service. The promise is that in the event of malware infection, a McAfee expert will remotely access your computer to remove malware or give you a full refund.
Another suite that the company offers is McAfee LiveSafe. It includes everything jammed into the "Total Protection" package, plus 1GB of secure cloud storage.
Note: Both McAfee Total Protection and McAfee LiveSafe are compatible with Windows, Mac, Android, and iOS devices.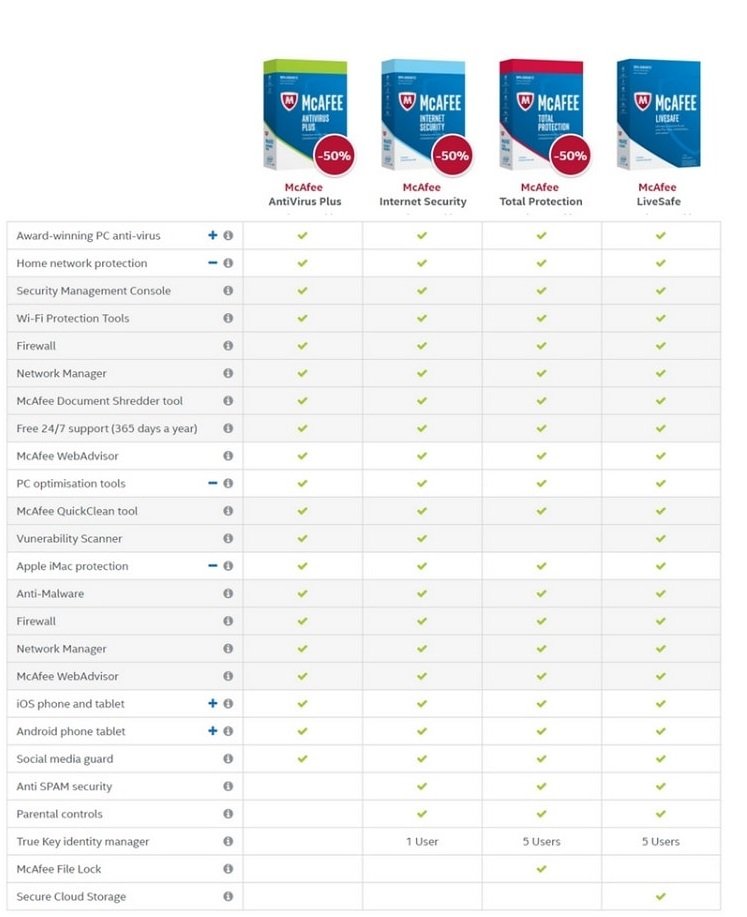 What's Included in Webroot's Antivirus Suite?
The company's entry-level premium antivirus package is called Webroot Antivirus (compatible with both Windows and Mac platforms). Besides providing excellent protection against all kinds of malware threats, the package offers a Network Connection Monitor (keeps an eye on your WiFi network), an advanced firewall, and webcam protection.
Protection against malicious/phishing websites that try to steal your sensitive financial data is also incorporated into the suite.
Another level up is the more advanced Webroot Internet Security Plus. It offers everything included in the entry-level suite, plus an advanced password manager (encrypts all usernames, passwords, and credit card details stored on your computer) and protection for tablets/smartphones.
Next up is Webroot Internet Security Complete. It includes everything found in the "Plus" suite, plus a System Optimizer (improves system performance and erases browsing activity) and an automatic backup utility (comes with 25 GB of secure online storage).
Note that all Webroot security suites are compatible with Windows and Mac platforms.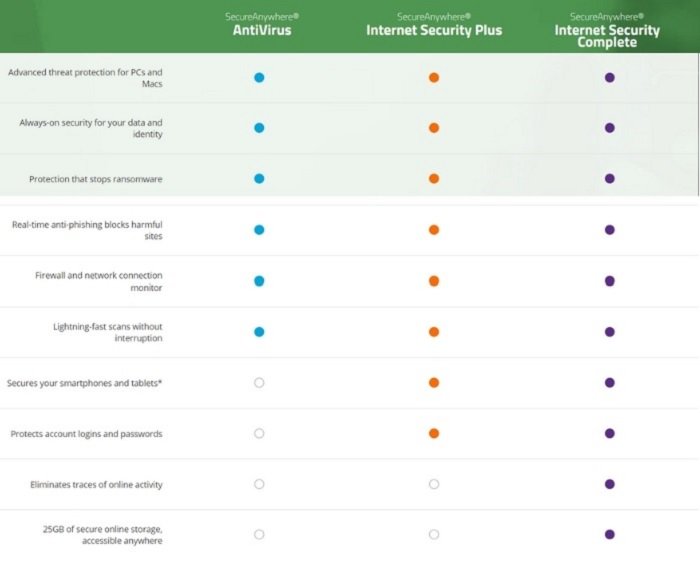 All Webroot security packages come at different price points depending on the number of devices you want to protect. (I will cover the pricing information later in this guide.)
McAfee vs Webroot: Which Software Provides Better Malware Protection?
Malware protection component (also called detection engine) is the most important part of a security suite. After all, it is the component that protects you against viruses, spyware, ransomware, rootkits, worms, and other threats (all collectively called 'malware').
To see which of the two product is better in terms of malware protection, I will see the most recent lab tests conducted by AV-Test and AV-Comparatives – two well-known and respected independent security laboratories.
AV-Test's most recent two-round examinations were conducted in July and August 2018. Participating products were tested against 275 samples of zero-day malware and 19,474 samples of widespread malware.
McAfee was one of the few antivirus products that received the highest 6 out 6 rating in the examination, due to its flawless 100% detection rate against both types of malware samples during both rounds of testing.
Webroot didn't participate in the AV-Test's most evaluations.
The experts at AV-Comparatives conduct a range of tests to see how well a security product identifies and prevents against malware-infected files/URLs, but the two main tests are Real-World Protection Test and Malware Protection Test.
The most recent Real-World Protection Test report published by AV-Comparatives includes combined results of all the tests conducted between February and June 2018.
McAfee received the highest ADVANCED+ award because of its near-perfect 99.6% protection rate and low false positives' count.
***False positive is counted when a security product falsely identifies a clean file or URL sample as malware-infected.
In the most recent Malware Protection Test — which was held in March 2018 — McAfee blocked 99.95% malicious samples with 10 false detections. It received the second-best ADVANCED award in this test.
On the other hand, Webroot's performance is unknown as it no longer participates in the AV-Comparatives tests, too.
Overall, McAfee is our pick in this category as it offers excellent protection against all sorts of malware threats.
Winner: McAfee
McAfee vs Webroot: Which Software Puts Less Impact on System?
Another important point of comparison between both software is the impact they put on system performance.
Antivirus software, like other computer programs, needs some percentage of system resources to do their job, which means your computer performance (or computer speed) may suffer if your security product is resource-intensive.
I will once again look at the most recent independent lab tests to see how much impact both products put on computer performance.
AV-Test's examination measures the average impact a security product puts on computer performance while carrying out everyday computer tasks, such as visiting popular websites, downloading/installing applications, launching applications, copying files, and more. The impact of each security product is measured in terms of the slowdown it caused on a standard and a high-end PC.
McAfee was among the few products that received the highest 6/6 rating from the AV-Test experts in this test.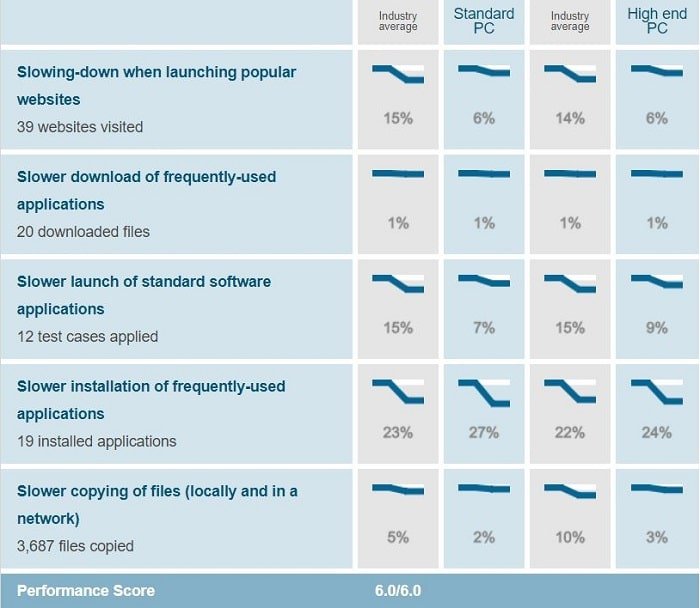 The experts at AV-Comparatives also conduct a similar study, called Performance Test. They execute few common computer operations and assign an impact score (the lower, the better) to each participating product depending on the negative impact exerted during the test.
In the most recent Performance Test, which was held in April 2018, McAfee received the highest ADVANCED+ award from the experts, due to its impressively low impact score of 6.9.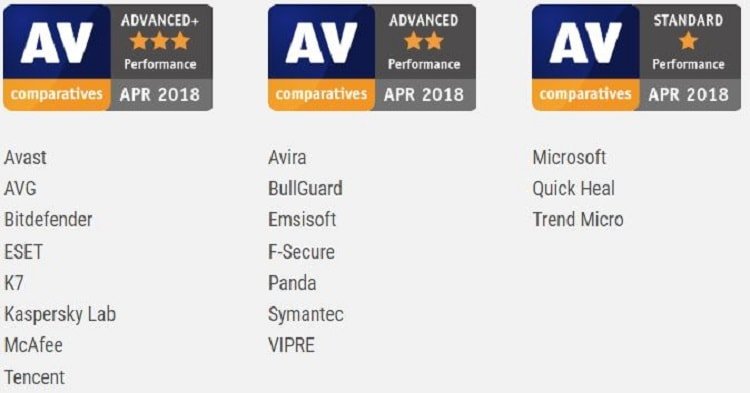 Webroot, on the other hand, did not participate in any of the mentioned lab tests.
McAfee is our pick in this category as it received perfect results in the independent performance tests.
Winner: McAfee
McAfee vs Webroot: Which Software Offers Better User Experience?
First, let's delve into the McAfee's interface.
Recently, McAfee's interface, which used to slightly old-fashioned and complicated, has gone through a major facelift. The newly released interface is simple, light, and bright – in colors of light blue, white, and grey.
Along the top is a horizontal menu with five modules, namely Home, PC Security, Identity, Privacy, and Account. Quick links for Settings, Support, Alerts, and Tips are also available on the right side of the bar.
Home, which is the default view, tells you your protection status and has buttons for running different types of scans. At the bottom, you'll find either 2 or 4 tiles to do different things, like setting up the True Key Identity Manager, clearing your browser cookies and more.
PC Security, Identity, and Privacy tabs contain relevant features and their settings. Accounts window contains information about your subscription plan.
Now, let's go over the Webroot's interface.
At first glance, Webroot's interface seems crowded and complicated. The amount of information available on the main screen may overwhelm you, it is by far the busiest antivirus program interface I have come across.
A prominent, rectangular-shaped section shows your protection status, along with information about when the last scan took place and when the next scan is scheduled to run. A button to launch a quick scan is also available in the section.
Below the section is a button that takes to the Webroot Community where you can learn more about the product.
On the left side, you will find different modules arranged in a vertical manner. Each module contains relevant features/tools.
Clicking the Advanced Settings button, which is placed at the top-right corner of the interface, takes you to a page with all the advanced options.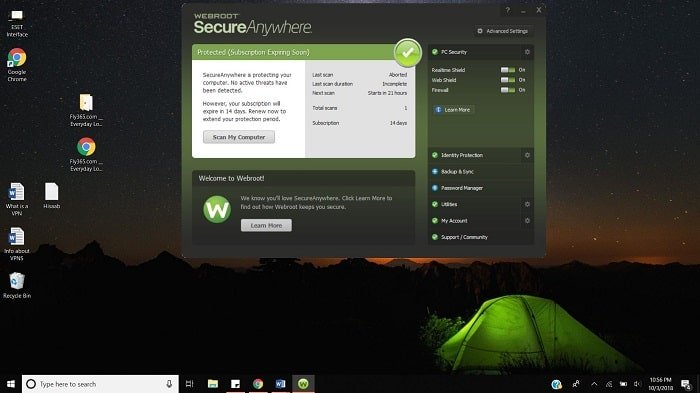 Overall, McAfee offers a better and more intuitive user experience than Webroot.
Winner: McAfee
McAfee vs Webroot: Which Software is Less Expensive?
| McAfee Products | Regular Price | Discounted Price |
| --- | --- | --- |
| McAfee Total Protection (1 Device) | $79.99/year | Check here |
| McAfee Total Protection (5 Device) | $99.99/year | Check here |
| McAfee Total Protection (10 Device) | $119.99/year | Check here |
| | | |
| --- | --- | --- |
| Webroot Products | Regular Price | Discounted Price |
| Webroot Antivirus | $39.99/year | No Discount |
| Webroot Internet Security Plus | $59.99/year | No Discount |
| Webroot Internet Security Complete | $79.99/year | No Discount |
| Webroot Business Products | $150.00/year | No Discount |
McAfee's security products are slightly cheaper than Webroot's.
Winner: McAfee
McAfee vs Webroot: Which Software is More Popular?
Now, let's see which software is more popular among the antivirus community.
Statista is an independent company that regularly reports on the market share held by leading anti-malware (or antivirus) products. According to their most recent report, which was released in August 2018, McAfee is third on the list of top antivirus products (sorted by market share captured) with 11.73% market share. Webroot, on the other hand, takes the seventh spot with close to 7% market share.
OPSWAT also provides insights and updates on the market share held by leading antivirus products. Their findings, which were was updated in September 2018, were more or less the same as Statista's.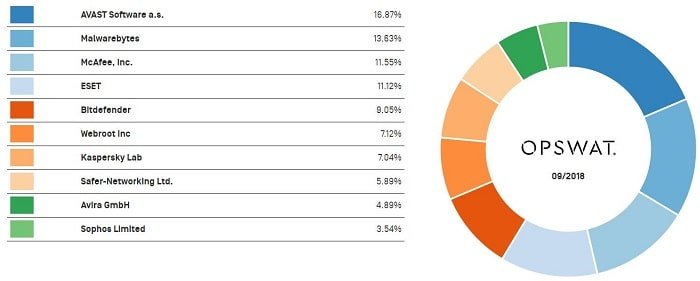 It is clear that McAfee is more popular than Webroot.
Winner: McAfee
Final Thoughts
Both McAfee and Webroot offer a range of antivirus suites to match your protection needs.
Independent lab tests prove that McAfee offers near-perfect malware protection with minimal impact on system performance. On the other hand, Webroot's performance is unknown as it no longer participates in the independently conducted examinations. Also, McAfee offers more security-related features and utility tools in its security products than Webroot.
Our recommendations: If you want to get the highest level of security and performance, there's no better choice than Norton, which protects over 50 million users worldwide.
After reviewing dozens of antivirus products from some of the biggest names in the cybersecurity realm, we believe that Norton 360 Deluxe is the best antivirus suite available on the market. It provides flawless anti-malware protection without slowing you down. Plus, you get almost all the advanced features you could ever want.
If you're willing to pay more for advanced identity protection features, we recommend Norton 360 with LifeLock select (only available in the US). It's a bit pricey but worth the price.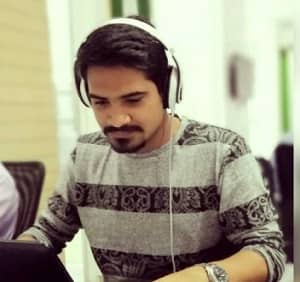 Anas Baig is a consumer privacy advocate and cybersecurity journalist by profession. Has has more than 7 years of professional experience under his belt. Anas has been featured on numerous media publications including The Guardian, Lifehacker, The Next Web, Infosecurity Magazine, Security Boulevard, Hacker Noon, CMS Wire, IAPP, SC Magazine, and many others. His interest includes Digital Privacy Rights, Information Security, Networking, Privacy, and Data Protection.
My Contributions: 
Hacker Noon | TheNextWeb | DevOps.com | GlobalSign | CMS Wire | CSO | Tech.co | Security Boulevard | ITProPortal | MuckRack | Crunchbase