(Last updated on December 30th, 2019)
McAfee or Comodo, which antivirus software is a better option in 2020?
Read this ultimate McAfee versus Comodo comparison to make a smart decision.
Do you know that around 4.8 billion malware attacks surfaced the world over in just the first half of this year?
These attacks comprised infected sites, cryptojacking tools, ransomware attacks, etc.
At the same time, hackers are getting more and more sophisticated with their attacks, targeting individuals and businesses alike.
In fact, most business executives are more concerned about cyberattacks than economic uncertainty or regulation, according to the 2019 Global Cyber Risk Perception Survey conducted by tech giant Microsoft and insurance consultancy Marsh.
As an individual, you have to be more concerned about the situation, especially if you don't have reliable malware protection. Without an excellent antivirus suite, your data and privacy are always at risk.
However, excellent malware defense comes at a cost, which is only a few dollars per month. Numerous free antivirus programs are indeed available out there, but they only give you basic malware protection and lack advanced features.
What you need is a premium security suite that is always one step – in fact, several steps – ahead of hackers.
Excellent antivirus software doesn't only protect you against all sorts of malware threats, but it also provides useful features like parental controls, AI threat detection, password manager, ransomware protection, file shredder, and much more.
Best Antivirus Suite for 2020
(All the best security products examined)
Editors' Choice Award Winner
Special discount ends in...
30-day money-back guarantee
During the past few months, we examined and reviewed over 50 antivirus suites from the biggest names in cybersecurity. We did this so you can confidently choose the best antivirus software to protect yourself and those you love.
Overall,
Bitdefender
is our
#1 antivirus software
for 2020, because of its excellent, flawless performance in all the recent independent lab evaluations we considered, particularly those conducted by AV-Test and AV-Comparatives.
Right now, we think that
Bitdefender Total Security 2020
(currently at
60% off
) is the best antivirus package available in the market. Apart from providing excellent anti-malware protection, it offers all the advanced premium features and utilities that must be there in a high-end package -- and best of all, it offers excellent value for money. You can protect up to five devices (PCs, Macs, or smartphones) with just one subscription.
If you need protection for more than five devices, we highly recommend
Bitdefender Family Pack 2020
. It will cover all the internet-capable devices in your household with the Total Security suite, so your family will be protected no matter what goes wrong.
In this comprehensive guide, we will compare McAfee and Comodo and tell you which antivirus company is better in terms of features, malware protection, and more value for money.
In a rush? Take a quick look at the following section to find out which antivirus suite performs better in different categories.
A Quick Rundown of Winners in Each Category
1. Features
Winner: McAfee. McAfee's flagship suite comes with all the necessary features that should be present in an excellent antivirus package.
2. Malware Protection
Winner: Tie. Both companies performed exceptionally well in independent malware protection tests.
3. System Performance
Winner: McAfee. McAfee received excellent scores in independent performance evaluations.
4. User-Friendliness
Winner: Tie. Both antivirus products provide intuitive user interfaces.
5. Pricing
Winner: McAfee. While Comodo is affordable for new customers, McAfee's prices are more reasonable in the long run, especially if you need to cover a large number of devices.
6. Customer Satisfaction
Winner: McAfee. McAfee generally enjoys more favorable reviews from its users as far as its customer support is concerned.
Short Verdict
McAfee offers more security-enhancing features and extra utilities with its security suites compared to Comodo. Also, independent tests prove that McAfee is better than Comodo in terms of both malware protection and system performance.
Our recommendations:
If you want to get the highest level of security and performance, there's no better choice than Bitdefender, which protects over 500 million devices worldwide.
We have reviewed, ranked, and rated all the best antivirus software products out there, and we think that
Bitdefender Total Security 2020
(currently at
50% off
) is the best antivirus package you can buy right now. You can protect up to five devices (PCs, Macs, or smartphones) with just a single subscription of this suite.
If you need protection for more than five devices,
Bitdefender Family Pack 2020
is the best option for you.
Looking for Mac-specific protection? Check out
Bitdefender Antivirus for Mac
for complete peace of mind.
1. Features
A major characteristic of an excellent antivirus product is that it brings a comprehensive feature set to the table.
Let's examine both McAfee and Comodo in this regard and find out which of them offers more useful features at each tier of coverage.
McAfee, unlike the past, primarily offers only one flagship product: McAfee Total Protection. The package comes at various price points, depending on the number of devices and years covered.
The suite is a one-stop-shop for all your security needs, as it offers all the advanced features. Its salient features are given below:
The package includes McAfee's

"award-winning" virus protection

that thwarts all kinds of digital threats.

It keeps your

PC's performance at optimum levels

all the time.

A

safe web browsing

tool that alerts you to malicious websites and links.

A

secure vault

for keeping sensitive files on your PC so that nobody can access them without your permission.

A comprehensive

password manager

that securely stores all your passwords in a single location, so that you don't have to enter your login details every time.

A

home network safety

tool that prevents bad guys from accessing your home network.

The suite's

parental controls

help you provide your children with a secure online environment.

Licensing options for

one

,

five

and

10 devices

(see the pricing section below for more information).

Protection for

all platforms

, i.e. Windows, macOS, Android and iOS.
Another excellent offering from the company is McAfee LiveSafe. The suite has all the features of the Total Protection suite, plus:
Secure cloud storage of 1GB

, where you can put all your sensitive documents and access them anywhere, anytime.

Cloud-based protection

from all kinds of digital threats, including ransomware.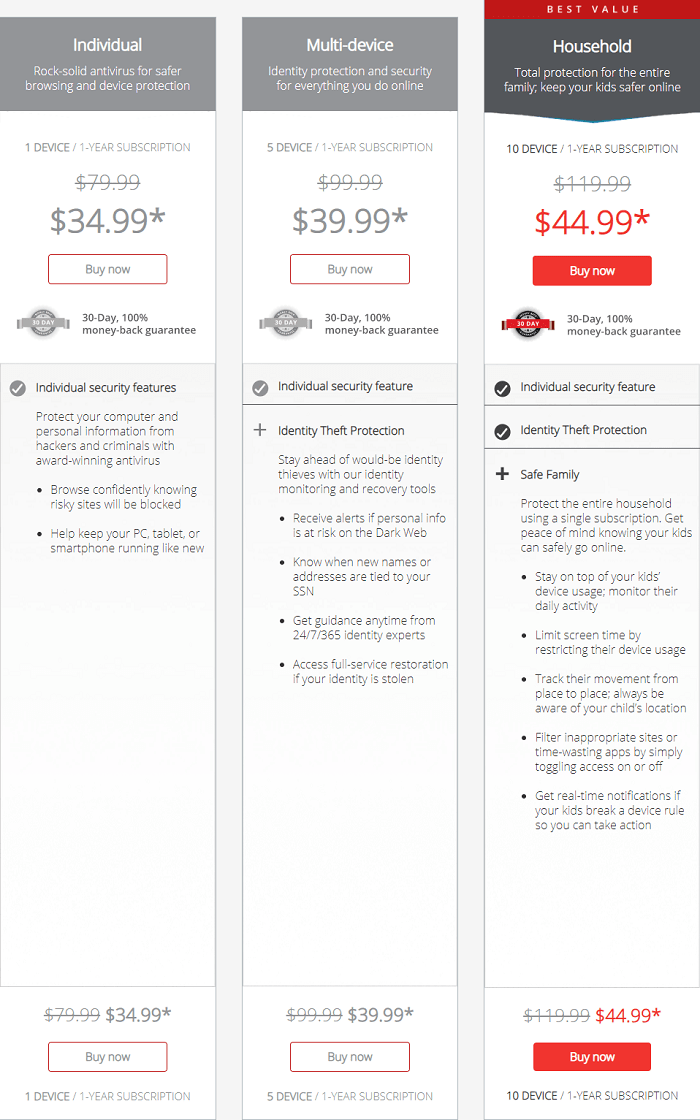 Let's see what Comodo has in comparison.
Like many antivirus companies, Comodo has also moved towards offering a single powerful suite that provides almost all the advanced features necessary to give you complete protection.
The company's flagship product, Comodo Antivirus, comes with the following features:
Automatically

blocks all kinds of malware threats

from executing and harming your computer.

The

Sandbox

feature included in the package identifies all potentially malicious applications on your computer and stores them in a separate place. This helps isolate such programs, preventing them from harming your PC.

A

safe shopping and banking

feature that safeguards your financial information from hackers.

Cloud-based virus protection

that helps you block even newly emerging malware threats.

A

silent gamer mode

that blocks all kinds of pop-ups, notifications and updates to give you an interruption-free experience while you enjoy video games.

One-click easy scanning

to make sure your computer always remains under protection.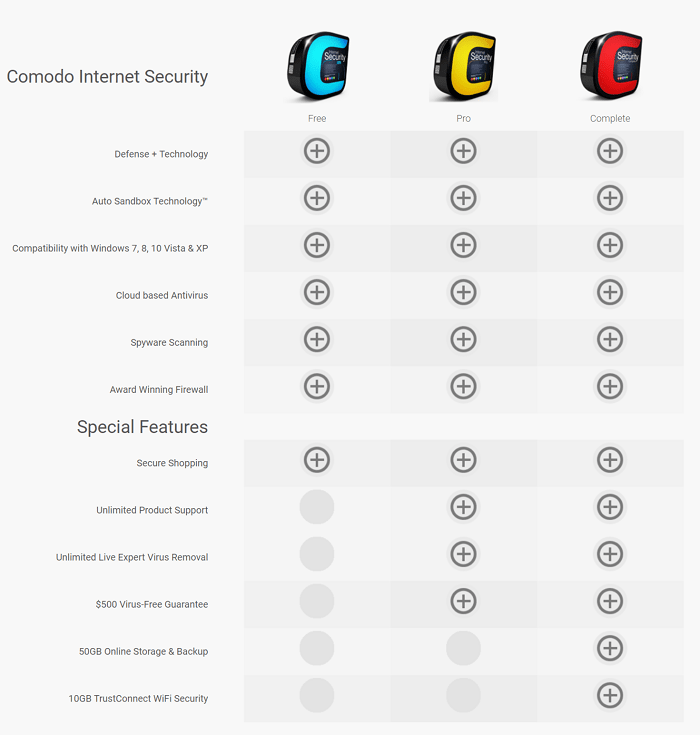 Winner: McAfee. Comodo does offer some excellent tools, but McAfee's feature set is much more comprehensive as a whole.
2. Malware Protection
Protecting your PC against all kinds of malware attacks is the primary job of a security package.
Several third-party testing labs regularly conduct evaluations and rate the participating antivirus products according to their performance.
In this section, we are going to see the recent tests conducted by two well-known and reputable testing labs, i.e. the AV-Test Institute and AV-Comparatives.
AV-Test conducts different evaluations every two months and gives ratings on a scale of 1 to 6, with 6 being the highest score.
In its August 2019 Protection test, AV-Test awarded both McAfee and Comodo with a perfect 6 out of 6 rating, indicating both competitors offer top-of-the-line protection from malware threats (such as trojans, viruses, worms, rootkits, etc.)
McAfee: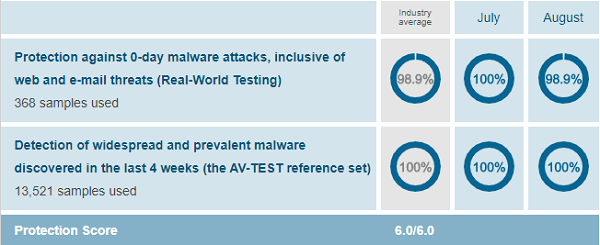 Comodo: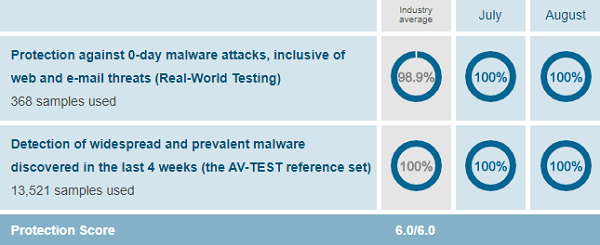 AV-Comparatives also conducts its malware protection test to examine an antivirus product's performance when it comes to protecting your computer against malicious programs, websites and zero-day attacks.
In its latest Real-World Protection test, conducted during February and May, AV-Comparatives gave McAfee the lowest STANDARD rating.
In comparison, Comodo didn't participate in that test for reasons best known to the company.
Winner: Tie. Ratings from independent labs show that none of the two antivirus products is better than the other in the malware protection category.
3. System Performance
An antivirus suite that offers excellent protection but at the same time significantly reduces your computer speed is not something you want to invest in.
Let's take a look at the recent independent evaluations from the same test labs mentioned above and find out which among McAfee and Comodo has less impact on system performance.
In the August 2019 AV-Test Performance evaluation, McAfee notched the perfect 6/6 score, showing its exceptional brilliance when it comes to letting your PC work at maximum speed while the antivirus software runs in the background.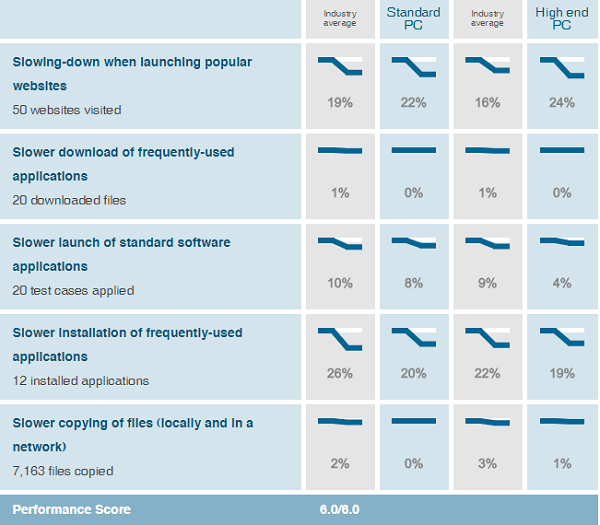 Comodo wasn't too far, receiving a score of 5.5 out of 6 from AV-Test.
In a similar test conducted by AV-Comparatives in April this year, McAfee clinched another maximum rating by receiving the lab's three-star ADVANCED+ award.
Once again, Comodo wasn't among the participants in the AV-Comparatives' evaluations.
Winner: McAfee. McAfee notched perfect scores in both independent test results, whereas Comodo didn't take part in one evaluation.
4. User-Friendliness
Let's analyze the interfaces of both McAfee and Comodo to find out which one is more intuitive and easier to navigate.
McAfee's interface offers a nice look and feel by blending colors like white, grey and blue. Also, its interface is quite intuitive and straightforward.
Options like PC Security, Identity, Privacy, Account, Notifications and Settings are within your easy reach at the top bar.
On the Home screen, you will see a white check mark inside a green circle if your PC's protection status is not at risk. In case of a problem, you will see an exclamation mark inside a red triangle.
The Home screen also allows you to run a quick or full scan, in addition to displaying some quick links – such as removing cookies and trackers from your browser – at the bottom.
Options like real-time scanning, firewall, auto-updates and scheduled scans can be found on the PC Security screen, whereas in the Identity tab you will find options like McAfee Web Advisor and file shredder.
Overall, McAfee's interface doesn't confuse you at any point and even a user who is new to the antivirus world can adjust quickly.
Now, let's take a look at Comodo's interface.
Comodo also offers a simple interface that presents a sleek look with its white, green and dark gray colors.
A large block on the left side of the homepage displays your PC's protection status. The box remains green if everything is okay, but it turns to yellow and red is there's something that needs your attention.
On the right side of the home screen are four smaller blocks, displaying features like Scan, Unblock Applications, Update and Secure Shopping.
The top bar displays four options: Tasks, Settings and Live Support on the left hand and Advanced View on the right.
If you click on the Advanced View, the simple home screen will turn to an elaborate window showing numerous options, including an area where you can drag and drop files to scan.
Winner: Tie. You will appreciate the interfaces of both McAfee and Comodo for their simplicity and ease of navigation.
5. Pricing
Let's see how McAfee and Comodo fare when it comes to pricing their products.
McAfee's all-in-one Total Protection suite comes with different licensing options, depending on the number of devices you want to protect.
The single-device license carries a price tag of $34.99, whereas you can get coverage for five and 10 devices at $39.99 and $44.99, respectively.
Let's check out Comodo's pricing.
Comodo is currently selling its home antivirus suite at an unusually low first-year price of $4.99 for a single-device license. However, you will be charged $39.99 annually from the second year.
The license for three devices is available at $9.99 for new customers.
| Comodo Security Products | Prices |
| --- | --- |
| Comodo Advanced Antivirus | $34.99 per year |
| Comodo Internet Security Pro | $39.99 per year |
| Comodo Internet Security Complete | $89.99 per year |
| Comodo Business Products | See Full Range |
Winner: McAfee. Comodo's prices may seem quite lower for the first year, McAfee is actually more affordable in the long run, especially if you want to protect a large number of devices.
6. Customer Satisfaction
In order to find out how existing customers rate McAfee and Comodo, let's see user feedback on independent review websites like the Better Business Bureau (BBB) and Consumeraffairs.org.
On the BBB, which awards ratings in the range of A+ to F-, McAfee enjoys the highest A+ score. In contrast, Comodo has a terrible D- rating on the website.
Another source is reputable customer feedback site Consumeraffairs.org, which gives ratings on a scale of 1 to 5 (with 5 being the highest).
On this website, McAfee holds a 3-star rating based on 823 reviews. On the other hand, Comodo has not been rated by the website.
Winner: McAfee. Comodo has yet to be rated by one of the two sources while McAfee has a better score on the other.
Final Thoughts
Comodo does offer extremely enticing price points to new customers, but McAfee is a better product as a whole and gives more value for your money in the long run. Its features are more advanced and are in line with today's security needs. And although both McAfee and Comodo performed equally well in an independent malware protection evaluation, McAfee achieved a better score in system performance tests.
Get Bitdefender at 60% off today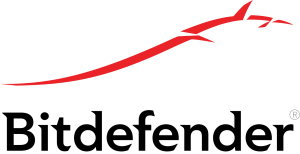 Special offer ends in ...
Editors Choice Award Winner
Our recommendations:
After reviewing 50 antivirus suites from some of the biggest names in the cybersecurity realm, we believe that
Bitdefender Total Security 2020
(currently at
60% off
) is the best antivirus suite for 2020 in terms of value for money. You protect up to five devices (PCs, Macs, and smartphones) with a single license of this suite.
Got more than five internet-capable devices? We found that
Bitdefender Family Pack 2020
is the best option out there in terms of value for money.
If you are still unsure, Bitdefender offers a 30-day money-back guarantee and exceptional customer support, so you there is nothing to lose.
Related Comparisons
Bitdefender vs Avast
Bitdefender vs Kaspersky
Kaspersky vs Avast
McAfee vs Norton
McAfee vs F-Secure
McAfee vs Panda
McAfee vs BullGuard
McAfee vs Kaspersky
Bitdefender vs McAfee
Bitdefender vs Norton
Windows Defender vs McAfee