(Last updated on January 9th, 2023)
Bitdefender or F-Secure, which software is a better option in 2023? 
Read this ultimate Bitdefender versus F-Secure comparison to make a smart choice.
There was a day and age when robbers meticulously planned and physically executed bank robberies. But those were the old days.
In the digital age, hackers are the new robbers. They can remotely plant malware inside a system or network, and directly access bank accounts without having to move an inch. In the words of the famous bank robber, Willie Sutton," Because that's where the money is."
Did you know that a ransomware attack happens every 14 seconds in 2019? That the AV-TEST Institute registers as many as 350,000 new malware samples every single day?
The thing is, in the wake of social media and eCommerce platforms, there's just way too much sensitive information we're putting out there. And if you are not well-protected, it's likely that your data and privacy will be compromised sooner or later. That's why it's important to have an excellent security program for all your internet-capable devices, including tablets and smartphones.
But don't even think of relying on free antivirus software. Freeware doesn't have the advanced features and utilities required to fend off advanced digital and malware attacks. Only a premium antivirus software can provide you the protection and peace of mind that you deserve. Premium antivirus comes packed with robust mechanisms to identify and prevent the existing as well as emerging malware types from attacking your computers.
Best Antivirus Suite for 2021
60-day money-back guarantee
During the past few months, we have ranked, rated, and reviewed 40 premium antivirus suites from the biggest names in cybersecurity. We did this so you can confidently choose the best antivirus software to protect yourself and your family.
Right now, we think that
Norton
is the best antivirus software your money can buy. It regularly earns perfect or near-perfect scores from independent labs and has the least impact on system performance compared to rival products. Its products combine top-notch security with an array of excellent security features and, best of all, offer exceptional value for money.
Overall,
Norton 360 Deluxe
(currently at
70% off
) is our pick for the best antivirus suite in 2021. It is competitively priced and comes with almost everything you could possibly ask for, such as a firewall, a fully integrated VPN, dark web monitoring, cloud backup storage (50GB), a password manager, and parental controls. You can cover up to 5 PCs, Macs, smartphones or tablets with this suite.
If you want full-on identity protection and don't mind paying more,
Norton 360 with LifeLock Select
(currently at
35% off
) gives those in the US a full range of identity protection features, more backup space (100GB), as well as all the above.
Since choosing the right antivirus product can be tricky; we have many guides to help you with your decision. In our guide today, we are going to compare two famous antivirus brands: Bitdefender and F-Secure.
We are going to look at the feature-set of each brand as well as their performance statistics, availed from independent testing organizations. We'll also include our conclusive remarks to provide you a summary of our comparison.
In a rush? Below is a quick summary of the comparison, and who comes out as the winner and for what reason.
A Quick Rundown of the Winners in Each Category
1. Features
Winner: Bitdefender. Bitdefender has much more feature-rich products compared to F-Secure. That's why Bitdefender wins this category.
2. Malware Protection
Winner: Bitdefender. Both companies performed equally well on the first independent test, but Bitdefender beat F-Secure in the second evaluation. That's why Bitdefender is the winner here.
3. System Performance
Winner: Bitdefender. Just as in Protection Tests, F-Secure was behind Bitdefender in the second performance evaluation, making Bitdefender the winner of this category as well.
4. User-Friendliness
Winner: Bitdefender. Bitdefender has a more intuitive and customizable interface compared to F-Secure. So, this category also goes to Bitdefender.
5. Pricing
Winner: Bitdefender. Bitdefender pricing structure is more competitive than F-Secure's.
6. Customer Satisfaction
Winner: Bitdefender. F-Secure was behind in one independent ranking while unavailable for the other. That's why Bitdefender wins this category as well.
Short Verdict
Bitdefender is the overall winner as it offers more security-enhancing features and extra utilities in its security suites than F-Secure. Also, independent tests show that Bitdefender is better than F-Secure in terms of both malware detection and system performance.
Best Antivirus for 2023
---
#1 (Excellent)

Robust feature-set
Excellent anti-malware security
Minimal system impact
Easy-to-use interface
Automatic updates
Trusted by 50 million users
100% virus protection promise
60-day money-back guarantee
70% off
#2 (Very Good)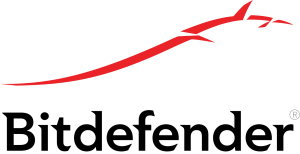 Exceptional malware protection
Little impact on performance
Trusted by millions of users
30-day money-back guarantee
User-friendly interface
50% off
#3 (Very Good)
Good malware protection
Trusted by big corporations
Minimal impact on performance
Good value for money
30-day risk-free guarantee
40% off
Now let's get our hands on more detailed facts and figures.
1. Features
An antivirus software needs to have an assortment of different inbuilt features and utilities for it to provide complete multi-layer protection. This is also the way to offer maximum value to customers for their bucks.
Let's go through different products from Bitdefender and F-Secure and see what kind of features they offer.
Let's start with Bitdefender.
The free software from Bitdefender is called Bitdefender Free Edition, which is only compatible with Windows. Other than providing limited security against some types of malware, the software doesn't have much to offer.
For more advanced features, let's look at the paid options from the company.
Bitdefender Antivirus Plus 2023, is the entry-level product from Bitdefender. This package offers protection for up to 3 PCs, but you can add more PCs if required. Antivirus Plus has many useful features that make it an excellent entry-level product, such as:
Comprehensive protection against all kinds of cyber and malware attacks.
A password manager that stores all your sensitive information in a secure digital vault, so it cannot be accessed by cybercriminals while you're online.
A lot of times you hear about deleted files being retrieved and worry about your own deleted confidential data. To save you from this worry the suite offers a File Shredder that permanently deletes your files from the device.
An Anti-Fraud utility offers safe online shopping and banking experience for you and protects your financial information from misuse.
A limited-use VPN tool saves you from malicious activities of hackers by providing you anonymous surfing and shopping experience.
The product includes a Vulnerability Scanner to ensure your protection by fixing security loopholes within your home network.
The next level of protection comes in the form of Bitdefender Internet Security 2023. This suite is also Windows-only and protects up to 3 PCs. It includes everything from the previous suite plus some more features:
A limited Parental Control module keeps track of your children's online usage habits, restricting their access to age-inappropriate websites. This module is a great feature to ensure safe browsing habits for your kids.
Two functions provide much-needed security from spying activities of hackers: WebCam Shield and Microphone Monitor. These modules restrict access to camera and microphone by unwanted apps.
There's a two-way firewall that monitors your home network for any inbound or outbound requests so that the suspicious ones can be filtered out and blocked.
A Fire Vault Feature protects your sensitive information that is saved on your device and makes sure that only you can access it.
Next comes the full-scale suite from the company, Bitdefender Total Security 2023, which protects up to 5 devices. Along with everything from previous products, this suite offers features like:
The Anti-Theft module that can locate devices under the subscription of this suite, should you happen to lose them or if they get stolen.
Multi-layer ransomware protection that prevents hackers from accessing and encrypting your private data, including personal files, important documents, pictures, and videos.
The suite also offers some useful performance enhancement tools that speed up the processing power for your system, allowing you to perform your daily tasks without disturbance.
This product also covers other devices like your macOS, Android, and iOS devices.
The family version of the Total Security suite goes by the name, Bitdefender Family Pack 2023. This package protects up to 15 devices and includes some extensions to existing features, such as:
A comprehensive parental control module comes with this package that also monitors your children's contacts (in addition to previously mentioned functions). With the help of this function, you can choose who can contact your children while they're online.
The module includes some more extensive features to ensure safe browsing time for your family and allows access to age-appropriate content only. It also lets you control how much time you want to allow children to spend online.
Bitdefender Antivirus for Mac is a separate product meant for protecting Mac devices. This suite includes features like:
Complete malware protection against all digital and related threats.
Extensive multi-layer ransomware protection that saves your computer from becoming hostage at the hands of hackers by blocking corrupt files, apps, or software from entering your system.
Another great utility comes in the form of cross-platform protection which protects your Mac devices from any transferable malware threats from Windows devices.
Performance optimization features are also part of this product that enhance the speed and processing power of your system, so you face no issues during your routine activities.
A VPN tool lets you surf the internet anonymously keeping you untraceable by hackers. This utility ensures a secure browsing experience for you.
Similarly, a Traffic Light browser extension is part of this product. This particular feature provides you complete security as you shop online or make banking transactions.
Bitdefender provides premium customer support for all Bitdefender users via chat, phone calls, or emails.
Bitdefender also offers business-specific solutions. Click here for more information.
Now let's look at the range of antivirus products from F-Secure.
The entry-level product from F-Secure is called F-Secure Anti-Virus. This product comes with the following features:
Full-on malware protection, including viruses, spyware, and other cyber threats.
There's a Malware Removal module that rids your computer system of any rogue elements that might have infected it before the installation of this software.
The antivirus software is set on automatic updates, so you always have the latest protection available against emerging malware threats.
This is a windows-only product that protects 1 PC, with the option to add 2 more devices.
Next in line is the F-Secure SAFE suite. Along with everything from the previous package, this suite also provides:
Complete Browsing and Banking Protection which means you can surf the internet, shop online, or make banking transactions without worrying about losing your information to hackers.
There's a parental control module called Family Rules that provides your children with safe browsing while they are online. You can limit their internet time and access to unwanted content and apps they use. You can even locate their devices while they are away.
The suite also provides ransomware protection and saves your important files and folders from being encrypted by hackers.
This product protects 3 devices, including Windows, iOS, and Android devices, with the option to extend up to 7.
F-Secure FREEDOME is the next tier of protection. This suite includes everything from previous product plus:
A safe VPN utility provides you anonymous browsing experience allowing online privacy as well as access to region-specific content.
This suite also includes the utility to block online tracking by hackers or even by your internet service provider so nobody can trace you online.
You also get protection while you're connected to a public network as the VPN tool encrypts your data as soon as you log into a public Wi-Fi.
This product comes with a universal license to protect up to 7 devices.
F-Secure TOTAL is the most premium product from the company. It includes everything from previous packages in addition to:
A KEY password manager that allows you to store your credentials securely in a digital space and access them from any device.
The package comes with a SENSE home protection that provides advanced security to all devices connected to your security router.
This product also comes with a universal license to protect up to 7 devices.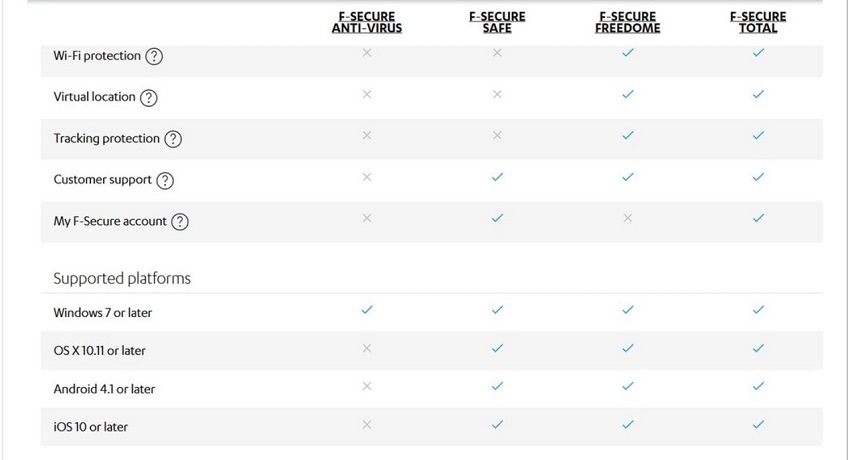 F-Secure offers customer support to all its premium products via online chat or phone call.
F-Secure has many business-specific security solutions. Visit here to find out more.
Winner: Bitdefender. F-Secure provides many fabulous features, but Bitdefender has its features much more thoroughly distributed across different products. It also offers more advanced features than F-Secure. That's why Bitdefender is the winner here.
2. Malware Protection
Different testing organizations put antivirus products through various malware tests and gauge them on their ability to protect sensitive information, devices, and even networks. Malware protection is, after all, the underlying objective of an antivirus product.
We are going to look at evaluation from two independent testing organizations to see which of our competing brands is a better contender in this realm.
We'll first look at the Protection Test evaluation from AV-test.org. This organization also tests antivirus products on performance and usability features. Their Protection Test results for April 2019 awarded Bitdefender with an exceptional 6 out of 6 score. (detailed results)
F-Secure also matched Bitdefender on this test with a 6 out of 6 score of its own. (detailed results)
Our other testing organization is called AV-Comparatives that conducts its Real-World Protection Test. According to their recent evaluation in June 2019, Bitdefender scored the highest ADVANCED+ award from the organization. However, F-Secure was behind with the second-best ADVANCED award mainly due to a higher number of false alarms.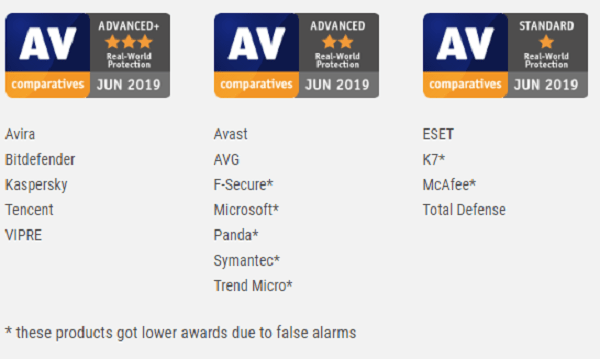 Winner: Bitdefender. Both companies performed equally well on the first test, but F-Secure was a little behind on the second test. So, Bitdefender wins this category.
3. System Performance
A lot of times, antivirus software does a good job of protecting a system but an equally poor job of letting it do its own thing. This is where the frustration starts. Let's look at some recent performance tests.
AV-test.org also gave out their Performance Test results in April 2019. Bitdefender once again gave an amazing performance on this test and bagged a perfect 6 out of 6 score.
F-Secure was on par with Bitdefender on this evaluation from AV-test too and scored a fantastic 6 out of 6 score.
AV-Comparatives also issued their version of Performance evaluations in April 2019. Here too, Bitdefender went home with the ADVANCED+ award. Once again on this test too, F-Secure was only able to bag the ADVANCED award.
Winner: Bitdefender. Bitdefender and F-Secure were both head-to-head in the first evaluation. But Bitdefender surpassed F-Secure in the second evaluation, becoming the winner of this category.
4. User-Friendliness
Providing a good user experience is a pre-requisite of any user interface. This is especially true for an antivirus software because you don't want to get caught up in complex procedures trying to understand or specify your security settings.
Let's see how the interfaces of both Bitdefender and F-Secure function.
Bitdefender's interface has a striking design that is both simplistic and intuitive. This interface uses black, light grey and white as primary colors to divide the screen into distinct sections.
The left-hand side of the interface is commanded by a black rail which displays the system status and several buttons that provide access to different setting options. The right-hand side is taken up by a light grey screen that contains big white blocks. Each block gives access to a different function.
Bitdefender interface has an extremely user-friendly design as it lets you completely customize the look and settings of the screen side. You can choose to show the most frequently used features on here.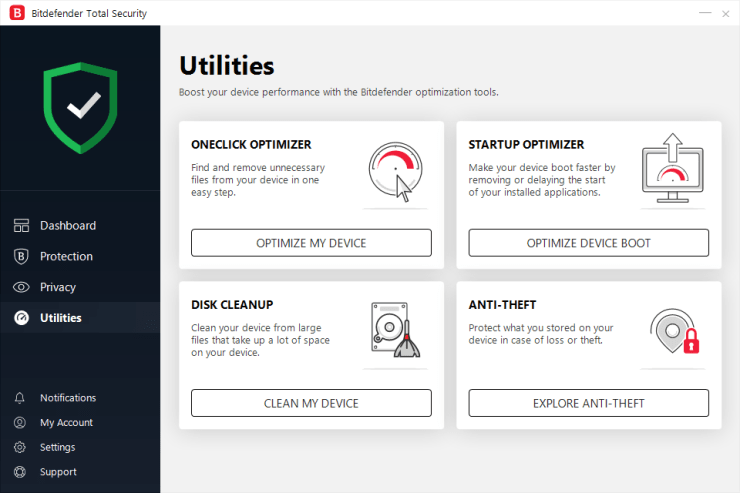 Now we'll have a look at F-Secure's interface.
F-Secure has an extremely simple interface that uses blue and white as primary colors. The home screen is dominated by information about security status. You can instantly start a scan by clicking on a "Virus scan" button here.
On the right side of the interface, there's a light grey panel that contains buttons to access different features. You can access any function by clicking on the "Tools" button on this panel. The interface is quite user-friendly and easy to navigate. Even novice users will find it easy to use.
Winner: Bitdefender. Both companies have simplistic and intuitive interface designs, but Bitdefender offers more room for personalization for both casual and seasoned users. That's why Bitdefender is the winner here.
5. Pricing
Pricing is one of the most crucial characteristics of a product since it is a pain point with many. That's why it's imperative for an antivirus product to offer a good value vs. dollar ratio.
Let's compare the pricing plans of both Bitdefender and F-Secure to see which one has priced its products more appropriately.
The first paid product from the company, Bitdefender Antivirus Plus comes with 3 Windows-compatible licenses. This product costs you $34.99 per year. The second premium suite, also a Windows-only product, Bitdefender Internet Security costs $39.98 per year and covers up to 3 licenses.
Then comes Bitdefender Total Security which offers 5 licenses at $44.99 per year. Finally, Bitdefender Family Pack costs $69.98 per year for an unlimited number of licenses. Both these premium products are universally compatible (including PCs, Macs, and mobile devices).
| Bitdefender Products | Regular Price | Discounted Price |
| --- | --- | --- |
| Bitdefender Antivirus Plus | $59.99/year | Check here |
| Bitdefender Internet Security | $79.99/year | Check here |
| Bitdefender Total Security | $89.99/year | Check here |
| Bitdefender Family Pack | $119.99/year | Check here |
| Bitdefender Antivirus for Mac | $59.99/year | Check here |
| Bitdefender Small Office Security | Varies | Check here |
| Bitdefender GravityZone Business AV | Varies | Check here |
Now let's see what F-Secure charges for its products.
F-Secure charges $35.99 per year for its Anti-Virus suite. You can add protection for 2 more devices with just $4, at $39.99 per year. F-Secure SAFE costs $34.99 per year for 3 devices. You will have to pay $10 or $20 more per year for adding 2 or 4 devices, respectively.
(Note: These are discounted prices. Original prices are $69.99, $89.99 & $109.99 for 3, 5 & 7 devices)
Next up, F-Secure FREEDOME comes at a cost of $34.99 per year for 3 devices. You can protect up to 7 devices for $69.99 per year or $89.99 for two years. (also discounted prices.)
Finally, F-Secure TOTAL costs you $99.99, $109.99 & $129.99 per year for 3, 5 and 7 devices respectively.
| F-Secure Products | Regular Price | Discounted Price |
| --- | --- | --- |
| F-Secure Anti-Virus | $35.99/year | No Discount |
| F-Secure SAFE | $49.99/year | No Discount |
| F-Secure FREEDOME | $89.99/year | No Discount |
| F-Secure TOTAL | $89.99/year | No Discount |
| F-Secure Business Products | Varies | No Discount |
Winner: Bitdefender. Although both companies have the same price range for entry-level products, Bitdefender prices its premium products much more reasonably than Bitdefender.
6. Customer Satisfaction
Customer satisfaction ratings are an excellent way to find out what to expect from a company if you ever face an issue that only the service provider can resolve.
We're going to look at customer feedback evaluations from two different unbiased organizations and see how our brands fare on their rating scales.
Our first customer feedback based ranking organization is the Consumeraffairs.org. They collect customer responses and rank the collective feedback of a product on a 5-star scale. As per their recent findings, Bitdefender scored a modest rating of 3 stars.
While F-Secure does not feature on this website, probably for not releasing customer responses to them.
The second similar service is called G2, which ranks the customer feedback on a 1-5 scale (with 5 being the highest). According to this organization, Bitdefender scored an almost perfect 4.8 out of a total of 5 score. Whereas, F-Secure was only a little behind with a 4.6 rating.
Winner: Bitdefender. Bitdefender wins this category with better overall customer satisfaction scores than F-Secure.
Final Thoughts
F-Secure is a good brand. But the winner of our comparison today is Bitdefender. Bitdefender outshone F-Secure in all the categories thanks to its excellent anti-malware and system performance capabilities as well as more meticulously planned products, pricing, and interface design.
Our recommendations: If you want to get the highest level of security and performance, there's no better choice than Norton, which protects over 50 million users worldwide.
After reviewing dozens of antivirus products from some of the biggest names in the cybersecurity realm, we believe that Norton 360 Deluxe is the best antivirus suite available on the market. It provides flawless anti-malware protection without slowing you down. Plus, you get almost all the advanced features you could ever want.
If you're willing to pay more for advanced identity protection features, we recommend Norton 360 with LifeLock select (only available in the US). It's a bit pricey but worth the price.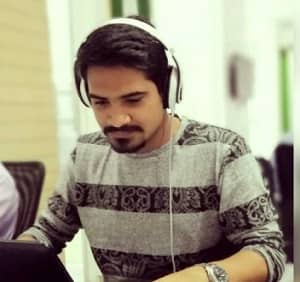 Anas Baig is a consumer privacy advocate and cybersecurity journalist by profession. Has has more than 7 years of professional experience under his belt. Anas has been featured on numerous media publications including The Guardian, Lifehacker, The Next Web, Infosecurity Magazine, Security Boulevard, Hacker Noon, CMS Wire, IAPP, SC Magazine, and many others. His interest includes Digital Privacy Rights, Information Security, Networking, Privacy, and Data Protection.
My Contributions: 
Hacker Noon | TheNextWeb | DevOps.com | GlobalSign | CMS Wire | CSO | Tech.co | Security Boulevard | ITProPortal | MuckRack | Crunchbase