(Last updated on January 9th, 2023)
AVG or Avira, which antivirus software is a better option in 2023?
Read this comprehensive AVG versus Avira comparison to make an informed decision.
We spend a good part of our day using the Internet, performing different tasks that range from simply browsing the Internet to sending emails to making online payments. This makes you vulnerable to a lot of dangerous security threats, no matter how sensibly you use the Internet.
The bad guys of the cyberspace, i.e. hackers, are always in pursuit of our data and personal information, and a device without a solid antivirus programs makes their quest a walk in the park.
In 2018, more than 10 billion malware attacks occurred, and over 800 million new malware samples were created and surfaced on the Internet. In the United States alone, more than 8 million different computers were infected with malware last year. That number is expected to go up, especially when you consider that over 7 million new JavaScript malware or viruses were found during the same year.
It's a lot easier for hackers to steal our information these days, as they are coming up with more and more sophisticated malware than ever before. Therefore, an antivirus program with an equally robust set of features is essential to fight today's complex malware threats.
You can't just rely on free antivirus software and think that your data and privacy are protected. In fact, free software can lure you into a false sense of security because their defenses aren't comprehensive enough to defend you against most malware attacks.
Paid antivirus suite is a much safer bet; it provides top-notch anti-malware defense as well as a host of advanced security-related features that bolster your security and privacy.
Best Antivirus Suite for 2021
60-day money-back guarantee
During the past few months, we have ranked, rated, and reviewed 40 premium antivirus suites from the biggest names in cybersecurity. We did this so you can confidently choose the best antivirus software to protect yourself and your family.
Right now, we think that
Norton
is the best antivirus software your money can buy. It regularly earns perfect or near-perfect scores from independent labs and has the least impact on system performance compared to rival products. Its products combine top-notch security with an array of excellent security features and, best of all, offer exceptional value for money.
Overall,
Norton 360 Deluxe
(currently at
70% off
) is our pick for the best antivirus suite in 2021. It is competitively priced and comes with almost everything you could possibly ask for, such as a firewall, a fully integrated VPN, dark web monitoring, cloud backup storage (50GB), a password manager, and parental controls. You can cover up to 5 PCs, Macs, smartphones or tablets with this suite.
If you want full-on identity protection and don't mind paying more,
Norton 360 with LifeLock Select
(currently at
35% off
) gives those in the US a full range of identity protection features, more backup space (100GB), as well as all the above.
To figure out which antivirus software to go with, keep reading this guide. We'll take a look at two giants in the antivirus industry, AVG and Avira, and you'll know which one is more worthwhile.
In a rush? Take a quick look at the results from each major competitive category to see who software is better in each aspect.
A Quick Rundown of Winners in Each Category
1. Features
Winner: Avira. Avira's catalog of features is more exciting and innovative than AVG's. Avira lets you do more with your computer while keeping you safe on the Internet.
2. Malware Protection
Winner: Avira. Avira fared slightly better than AVG in independent malware protection tests.
3. System Performance
Winner: Tie. Both Avira and AVG performed equally well in terms of the strain that they put on computer performance.
4. User-Friendliness
Winner: AVG. Both antivirus programs use simple, intuitive interfaces. While both try to persuade you to upgrade, AVG does this in a less frustrating way and without ads.
5. Pricing
Winner: AVG. While the first price point for AVG is more expensive, you get more licenses per dollar that you spend with AVG as opposed to Avira. If you only need to protect one computer, however, Avira is the right choice.
6. Customer Satisfaction
Winner: AVG. AVG's customer service is better than Avira's and leads to better results, according to customer satisfaction websites.
Short Verdict
Avira offers a more comprehensive feature-set and better malware defense, but AVG has more reasonable pricing points and better customer satisfaction ratings from independent sources. Also, AVG's interface is less complex and more user-friendly that Avira's.
Best Antivirus for 2023
---
#1 (Excellent)

Robust feature-set
Excellent anti-malware security
Minimal system impact
Easy-to-use interface
Automatic updates
Trusted by 50 million users
100% virus protection promise
60-day money-back guarantee
70% off
#2 (Very Good)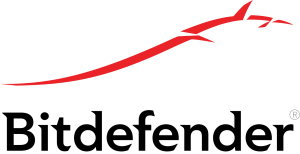 Exceptional malware protection
Little impact on performance
Trusted by millions of users
30-day money-back guarantee
User-friendly interface
50% off
#3 (Very Good)
Good malware protection
Trusted by big corporations
Minimal impact on performance
Good value for money
30-day risk-free guarantee
40% off
Let's go into details.
1. Features
Let's take a detailed look at which features you get from each tier of coverage offered by both companies.
We'll start with AVG.
It offers a free version of its software called AVG AntiVirus Free, which has a few interesting features like the ability to block unsafe links and downloads and to protect your computer from moderate malware threats. However, with its limited features and protection capability, the freeware doesn't go too far, and paid options are much better.
The first paid option from the company is called AVG Internet Security. The package is compatible with both Windows and Mac and offers an excellent firewall that can protect you against all sorts of digital threats, such as viruses, spyware, and ransomware.
The security suite also comes with a file shredder that securely deletes your confidential files and an encryption utility to encrypt private files and folders.
Other functions included in the Internet Security suite are real-time security updates, the ability to secure particular files on your computer, webcam protection, a fake-website detector to make sure that you don't fall prey to a scammer, and an Android app called Antivirus Pro.
The next level up is the company's premium software called AVG Ultimate. You'll get everything featured in AVG Internet Security, plus a few more features including live phone or chat support, and advanced antivirus and tune-up package that can help your computer run more smoothly.
AVG Ultimate also allows you to secure and tune up all of the connected PCs from a single screen.
Both AVG Internet Security and AVG Ultimate are compatible with Windows and Mac platforms.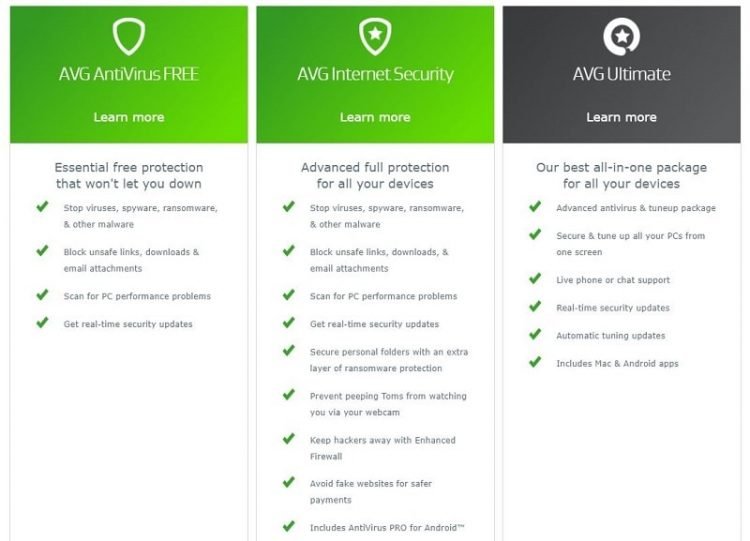 If you are interested in AVG's business-specific products, you can click right here to know more about these products.
Now let's see what Avira brings to the table.
Avira offers a free version of its software called Avira Free Antivirus.
It does offer a couple of perks like a phantom VPN for anonymous browsing and a password manager in the browser extension, but its firewall isn't too secure. Therefore, you'll have better luck investing in paid antivirus software.
To that end, Avira's entry-level paid software suite is called Avira Antivirus Pro. It comes with only one license for a computer, either PC or Mac. Antivirus Pro brings a much better firewall than the one included with the free version.
With Antivirus Pro, you also get an ad blocker for your web browser to reduce the amount of annoying spam you have to sit through. The package also offers the HomeGuard tool that can find any vulnerabilities that might be present in your home network.
The next software package is Avira Internet Security. The package has everything offered with Antivirus Pro in addition to some extra features including a password generator that is attached to the password manager. This can help you craft strong passwords that have a low chance of being guessed.
Avira Internet Security also boasts a software update tool that can check software installed on your computer and update it automatically. The tool can also patch vulnerabilities in your software once they are discovered by a skin. This includes drivers, which are vital components for smooth hardware performance.
Avira Prime is the most premium tier of coverage you can get from this company. Apart from everything included in the Internet Security suite, Prime also offers an Optimizer tool that removes junk files and reorganizes temporary files to help your computer run more smoothly.
A file shredder utility is also included in the package that can permanently delete any sensitive files that you don't want to be in the hands of others.
Prime's premium VPN tool lets you surf the web anonymously for much longer and access websites that you are restricted from viewing due to your geographic location.
Prime also allows you to install mobile apps to extend the security to mobile devices. Besides, you'll get to check out every new product that Avira makes for no additional cost.
While all Avira products get 24/7 customer service, Avira Prime owners will get exclusive VIP customer service.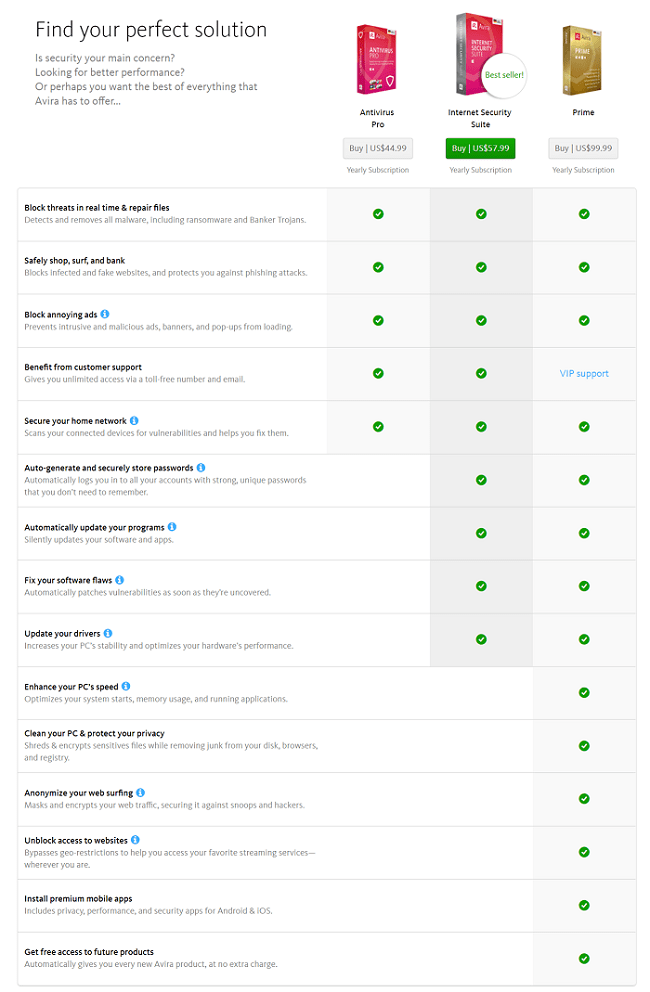 Winner: Avira. AVG has some exciting features, but Avira's collection of perks is much more comprehensive. You'll gain many more abilities and potential users out of your computer with Avira.
2. Malware Protection
The ability to protect your computer from all of the potential harms that can be found on the Internet is key for any antivirus software.
To determine which of these two companies is truly superior, we can look at unbiased results from independent testing organizations.
AV-test.org is one such testing organization. They offer a protection test that uses a scoring rubric from 1 to 6, with six being the highest possible score. In a July 2019 Protection test, both AVG and Avira scored 5.5 out of 6.
AVG's results:
Avira's results: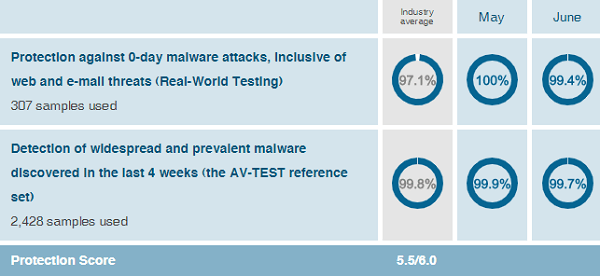 AV-Comparatives is another reliable testing organization that we can look at to find out how these software programs perform when it comes to anti-malware defense.
For its June 2019 Real-World Protection test, AVG received the ADVANCED award, the second-highest given out by the organization. Avira received the ADVANCED+ award, the highest rating given out by AV-Comparatives.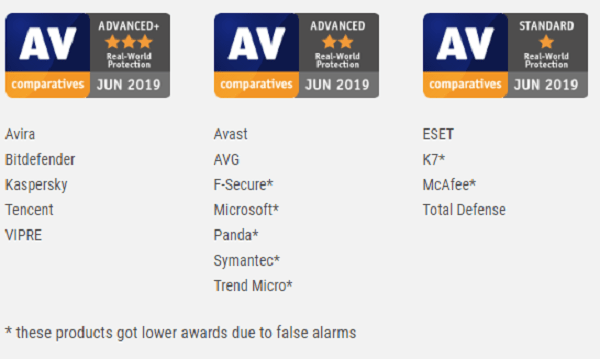 Winner: Avira. While they tied on the first test, Avira bested AVG on the second. This means that Avira likely has better anti-malware capabilities than AVG.
3. System Performance
Defense is undoubtedly critical, but an antivirus program that protects your computer while slowing its performance to a crawl isn't going to be worth your money either. Therefore, we must check to see how both antivirus tools run on a standard computer.
The same independent testing organizations that we checked to see each company's protection ability can also be used to see how well each antivirus software measures up in terms of performance.
In the AV-test.org's June 2019 Performance test, AVG earned 6 out of 6 score.
Avira scored 5.5 out of 6, just shy of perfect.
In AV-Comparatives Performance test for April 2019, AVG received the ADVANCED+ award, whereas Avira received the second-highest ADVANCED award.
Winner: Tie. AVG is a clear winner here, as it bested Avira in both independent evaluations, suggesting it runs more smoothly on a standard computer.
4. User-Friendliness
Knowing how easy and intuitive the interface of an antivirus program is a great deal when it comes to going for paid software.
Apart from exceptional malware protection and performance capabilities, an excellent antivirus should have a user interface that is easy to understand and allows you to implement its operations without trouble.
First, let's take a look at AVG's interface.
AVG uses a simplistic and clear interface that uses green and white text on a gray background. This allows you to see text and buttons easily, and therefore it is an excellent choice for people who don't like cluttered interfaces.
All essential features and functions are clearly marked, but free features are distinguished from features that you have to pay for.
Rather than relying on intrusive ads, AVG's interface inspires you to upgrade by displaying a lock icon on features not covered by your current package. This may feel frustrating, but it's a lot better than intrusive ads.
Now, let's take a look at Avira's interface.
Avira uses a clean and modular interface that's devoid of many colors. There's a lot of space to be found in its dashboard, but this also means that locating all of its operations and functions is relatively easy.
There isn't a lot of clutter to get confused about. Using its drop-down menus or buttons is intuitive and user-friendly.
The downside is that all of the space can make you feel as if you're missing out if you use some of the lower tiers of coverage.
You'll very clearly see the functions that you aren't able to access as a result of not purchasing the highest software package offered by Avira. This can be annoying or frustrating.
Besides, if you use the free version of Avira, you'll have to bear some ads.
Winner: AVG. Both antivirus tools offer simplistic, intuitive interfaces, but AVG's interface is a little less annoying.
5. Pricing
One key aspect of excellent antivirus software is the price. AVG and Avira differ significantly in terms of how many licenses they offer and how expensive those licenses are.
Let's see how they directly compare.
AVG's first tier of coverage, Internet Security, provides you with 10 licenses for $79.99 per year.
AVG Ultimate, the highest form of paid protection from AVG, allows you to install the software on an unlimited number of devices and costs $99.99 per year. This is a ton of value and might be perfect for families, even if the upfront cost is a little high.
| AVG Products | Regular Price | Discounted Price |
| --- | --- | --- |
| AVG Internet Security | $89.99/year | Check here |
| AVG Ultimate | $119.99/year | Check here |
| AVG Business Products | Varies | Check here |
Now let's see what Avira costs.
The first paid package from Avira, Antivirus Pro, costs $44.99 per year and it only gives you one license.
Avira Internet Security is the next tier of coverage and also provides you with one license for $57.99 per year.
Avira Prime, the full-blown offering by the company, comes with five licenses for $99.99 per year.
This is a relatively close category since you can get paid Internet protection from Avira for cheaper, although you only get one license for the purchase.
| Avira Products | Regular Price | Discounted Price |
| --- | --- | --- |
| Avira Antivirus Pro | $44.99/year | No Discount |
| Avira Internet Security | $57.99/year | No Discount |
| Avira Optimization Suite | $57.99/year | No Discount |
| Avira Total Security Suite | $98.99/year | No Discount |
| Avira Prime | $99.99/year | No Discount |
| Avira Business Products | Varies | No Discount |
Winner: AVG. The value for money you get from AVG is far more significant than what Avira offers since you get more licenses per dollar spent with AVG's pricing model. Anyone with a family or a high number of computers or devices that need protection will better appreciate the lower price point offered by AVG. However, Avira might be a smarter choice if you need protection for only one computer.
6. Customer Satisfaction
How well users rate a company's customer service matters a lot when buying an antivirus package. This might be a choice factor to consider since the odds are good that at some point you'll need to contact the company with a technical issue or get an answer to a question.
The Better Business Bureau is a review-collecting site that averages customer feedback into a single letter grade from A to F. The BBB gives AVG an A+ rating as a result of collective feedback, while Avira received a C rating.
Consumeraffairs.org, another rating company, uses a scoring rubric of 1 to 6, with 6 being the highest rating. AVG managed a rating of 3 stars from Consumeraffairs.org, whereas Avira received 2 stars from this website.
Winner: AVG. AVG's scores on both customer review sites indicate that its customer service is generally better and more effective.
Final Thoughts
Avira has some high points, such as its feature spread. However, AVG is a better product overall and a better choice for anyone who has more than one or two computers to protect. While Avira has a slightly better protective ability that AVG, both companies are pretty sophisticated in this aspect. You'll be protected well enough with AVG, and can enjoy its better interface and the much more reasonable pricing plan that will allow you to get all the licenses you need for you and your entire family.
Our recommendations: If you want to get the highest level of security and performance, there's no better choice than Norton, which protects over 50 million users worldwide.
After reviewing dozens of antivirus products from some of the biggest names in the cybersecurity realm, we believe that Norton 360 Deluxe is the best antivirus suite available on the market. It provides flawless anti-malware protection without slowing you down. Plus, you get almost all the advanced features you could ever want.
If you're willing to pay more for advanced identity protection features, we recommend Norton 360 with LifeLock select (only available in the US). It's a bit pricey but worth the price.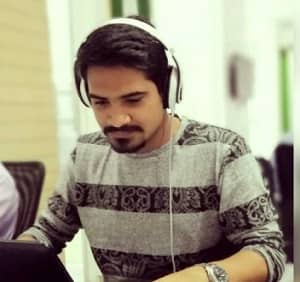 Anas Baig is a consumer privacy advocate and cybersecurity journalist by profession. Has has more than 7 years of professional experience under his belt. Anas has been featured on numerous media publications including The Guardian, Lifehacker, The Next Web, Infosecurity Magazine, Security Boulevard, Hacker Noon, CMS Wire, IAPP, SC Magazine, and many others. His interest includes Digital Privacy Rights, Information Security, Networking, Privacy, and Data Protection.
My Contributions: 
Hacker Noon | TheNextWeb | DevOps.com | GlobalSign | CMS Wire | CSO | Tech.co | Security Boulevard | ITProPortal | MuckRack | Crunchbase