(Last updated on February 7th, 2019)
Struggling to promote your content (or business)? Maybe you need to employ outreach marketing. From what is outreach marketing to what tools and strategies you should use, this guide will explain everything you need to know.
You're putting in countless hours every week to create impeccable content to attract potential customers. You are sharing it on Facebook, Twitter, Google Plus, Linkedin, and wherever you can. You are even sending out emails to your list of subscribers every time you publish a piece of content.
But you're still struggling to grow your website's traffic. And the content that took you hours to create goes unnoticed amidst a sea of blog posts, videos, infographics, and podcasts that are being published every day.
Let's face it, it's difficult to build a credible, authoritative online brand. And it is especially true when you're in a highly competitive niche where big players are already dominating the game and search traffic is incredibly tough to acquire.
So, how do you attract visitors to your website in a noisy online world? The answer is outreach marketing (also sometimes called influencer marketing).
"What is outreach marketing?", you may ask.
What is Outreach Marketing?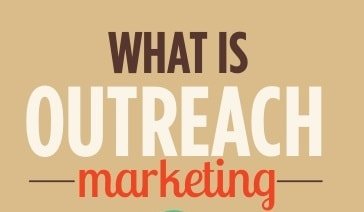 Outreach marketing focuses on pitching content to influential people who have a strong connection (and relationship) with your target audience. It involves the practice of searching for individuals and organizations whose audiences share similar interest than yours and then reaching out to them with the goal of getting them to promote your content.
Simply put, the goal of outreach marketing campaign is to persuade influencers – who act as a bridge between you or your brand and target customers – to share or link out to your content.
When someone with hundreds of thousands of social fans or a popular blog mentions your piece of work, it not only drives targeted traffic to your website and but also promotes credibility and brand awareness. Also, according to research, 83% of people trust recommendations from their peers over advertising.
Apart from content amplification, outreach marketing also helps build invaluable relationships and natural links, which carry great SEO value and will help you get more organic search traffic.
How to Create an Outreach Marketing Strategy That Works
An effective outreach marketing strategy usually involves the following four steps:
Step #1 – Define Goals & Objectives
Many marketers don't pay attention to this part, which I believe is the most crucial step.
You should define clear goals and objectives for your outreach marketing campaign. That way it will be easier for you to determine whether or not your campaign was a success.
When you have a definite goal to focus on, it becomes easier to figure out what kind of influencers and mediums you should target for best results.
You should also select a few KPI's that you will use monitor your progress.
Let's say you have a written an in-depth guide to "content marketing" and your promotional objective is to develop a large social following. In this case, the KPI's you can focus on are social shares, article page views, or link clicks.
Now that we have got that out of the way, let's look at the hardest part: finding influencers for your campaign.
Step #2 – Find Influencers to Target
Identifying ideal influencers to promote your content is a challenging task.
If you're confused as to which influencers you should and shouldn't target (which is not the scope of this guide), read this post. In this guide, I am going to show you the exact strategies and tools that I personally use to find influencers.
The tools I recommend using are Buzzsumo and BuzzStream.
Using Buzzsumo to find influential people:
Buzzsumo lets you do many amazing things, and one of them is influencer search. Just click on 'Influencers' section on the top bar to search for influencers.
Let's suppose you've just created an infographic on "inbound marketing" and you want to find people who might be interested in it. Just type in "inbound marketing" (inverted commas to find exact phrase) and Buzzsumo returns a comprehensive list of influencers who have mentioned 'inbound marketing' in their Twitter bios.
You can sort them out by twitter followers, domain authority, average retweets, and more. Click on 'View Links Shared' button to see the recent links they've shared. You can use this information to personalize your outreach and also determine whether or not they're a good fit for your campaign.
Hang on! Your job is not done yet.
Buzzsumo has another great feature that you can leverage to promote your content. Go to 'Content Research' tab and click on 'Most Shared' section in the menu. Type in "inbound marketing" and sort the results by Twitter Sharers.
Now click on 'View Sharers' button to find all the people who have shared a particular piece of content. Sort them by 'Number of Twitter Followers' and there you have a long list of people who might be interested in your infographic.
Repeat the same procedure for the top 5 or 10 results and you'll have a huge list of people you can reach out to.
Using BuzzStream to hunt for influencers:
We all know BuzzStream is a great platform for managing outreach and building relationships, but not many people use it to find influencers.
Click on the menu that is located in the upper-left corner and go to 'Discovery' tool.
Enter "inbound marketing" in the search box (and sort them by Twitter followers), and it will show the list of people who have written about your search term.
Not only that, you'll also see content that they've written in the past around your search term, which is my favorite feature as it helps you to craft a highly personalized email.
Now create a spreadsheet like this one:
You can import this excel file into your outreach tool.
You've made a list of influencers who might be interested in your content. Now what? You need to find and verify their email addresses.
Find & verify influencers' email addresses:
Tools like Hunter and Clearbit (chromo extension) will help you find the email addresses of most influencers, but if you'd still like to know more, see this comprehensive guide on how to find influencers' email addresses.
You've got email addresses? Great!
You now only need to validate them to make sure your emails don't bounce. There are several free and paid tools that will get the job done, but I prefer EmailListVerify.
All you have to do is to put all the email addresses in a CSV file and upload it to EmailListVerify. It will clean the list without much fuss.
Now that you have made a list of influencers and found (and validated) their email addresses, you're ready for outreach.
Step #3 – Pitch Your Content to Influencers
Now comes the most important part of outreach marketing: reaching out and letting influencers know about your content.
I recommend using a tool for influencer outreach as it greatly streamlines the whole process. Tools like NinjaOutreach or BuzzStream are a breeze to use and will save you hours of work every week.
You can connect with influencers via either email or social platforms.
I can't stress this enough: you need to write a compelling (and personalized) email to get high response rates. Your message should be tailored to the influencer you're approaching, and that doesn't mean you can't use templates.
I've read (and heard) people say that you should never use templates when pitching your content to influencers, which, I believe, is completely wrong.
See this email which I sent to Matthew Cook at SalesHub.
Hello Matthew,
I have been following your updates on twitter (@MattCookSales) for a while now and what I've noticed is that you like to talk about "inbound marketing" and how businesses can leverage it to achieve great outcomes. I massively enjoyed reading your piece (which you wrote a while back) titled "Why Market Research Is so Important When Starting a New Business."
Since we share a common interest, I thought you'd love reading my recent in-depth guide that covers the concepts of inbound and outbound marketing in great detail.
Here it is: https://www.proficientblogging.com/inbound-vs-outbound-marketing/
Would you be interested in sharing this on your twitter or facebook? It would literally make my day 🙂
Since you're someone I greatly admire and look up to, I'd absolutely welcome your feedback.
Keep up the awesome work at saleshub.com.
Talk soon,
Umair Anwar
Does it sound like a templated email? I don't think so.
Here is his reply:
The key here is to keep your email as personal as you can. I believe you can send the same approach email to 100 influencers while still keeping it highly personal and relevant.
And that's where the spreadsheet that we had created earlier comes in handy. All you need to do is to import it to a tool like NinjaOutreach, and you're ready to a create a template for your outreach campaign.
If you're emailing top influencers in your niche or industry, there is every chance that most of them just won't respond. At times it is better to grab their attention with a simple tweet.
For instance, I wrote a post on "personal branding" a little while back in which I mentioned Leonard Kim, who is one of the top personal branding expert – recognized by Forbes, Entrepreneur Magazine, and others.
When I tried contacting him, he didn't reply. But when I mentioned him in one of my tweets letting him know that I featured him, he immediately retweeted it to his massive Twitter following.
And even if the influencer you've mentioned in your tweet doesn't respond, you can still drive value out of it.
Don't believe me? See this tweet:
Hi @BoKnowsMarkting, As a marketer yourself I think you'd enjoy reading (and perhaps sharing) my recent guide that covers inbound & outbound marketing in great depth. https://t.co/3cY36mvUXy

— Umair Anwar (@Umairtheguy) November 24, 2017

Even though Bo Woloshyn didn't respond to my tweet, I still managed to get a few likes and retweets. Not bad.
So, contacting influencers via social media puts you in a win-win situation, but make sure you don't overdo it.
Step #4 – Build Relationships
One of the great benefits of outreach marketing (or influencer marketing) is that you get to communicate with top people in your industry, and you can avail this opportunity to build lasting relationships.
Decide to love influencers and their work as a part of your marketing strategy. In order to get on their radar and capture their attention, you need to promote their work in whatever little capacity you can. It could a comment on their blog or a tweet that mentions them. See how Ana Hoffman, founder at Traffic Generation Café, does it.
There are several ways to build long-term influencer relationships: follow them on social media, share their content, engage them in a conversation, or offer them an incentive in return.
Once you have cultivated strong relationships with a few top-notch influencers in your niche, it will open more doors for your business.
Final Thoughts
Nobody is going to read your content if you don't make an effort to promote it.
If you want to get more out of your content marketing efforts, you need to invest in outreach marketing to let the world know that you exist.
If you enjoyed reading this post, feel free to share it. It would be a huge favor to me 🙂
What outreach marketing strategies are you going to implement in future? I'd love to know. Let me know in the comments.
Related: Inbound vs Outbound Marketing | All You Need To Know