(Last updated on January 9th, 2023)
Trend Micro or Norton, which antivirus software is a better option in 2023?
Read this ultimate Trend Micro versus Norton comparison to make a smart decision.
Ensuring that your data and privacy remain in safe hands is of paramount importance if you want to protect your data, privacy and hard-earned money. And who doesn't want that?
The problem is that we are putting more and more information online these days, making ourselves more vulnerable to cyberattacks. Such information may include our photos, sensitive documents, credit card information, etc. This means that if a hacker succeeds in stealing this information, we are doomed.
According to SonicWall's latest mid-year report, the number of malware attacks registered across the globe during the first six months of this year was a whopping 4.8 billion.
Besides, 2 trillion intrusion attempts, 110.9 million ransomware attacks and 13.5 million attacks targeting the Internet of Things (IoT) devices were also recorded.
Now, you may be thinking about leaving the Internet for good but hold on. A life without the Internet is impossible these days. You can limit its usage, but you can't abandon it. Moreover, antivirus companies like Bitdefender, McAfee, and Kaspersky are here to protect the data and privacy of you and your loved ones.
While choosing an antivirus package, it's tempting to go for the free version as it doesn't cost you a dime. However, most free antivirus programs don't offer reliable malware protection due to their flimsy firewalls. Moreover, they don't have advanced features like password manager, VPN, parental controls and file encryption, to name but a few.
Therefore, the best course of action is to invest in a premium antivirus program, as it goes far beyond just malware protection. Paid software comes with tools that not only protect you and your family's data and privacy but, more importantly, they bring you peace of mind.
Best Antivirus Suite for 2021
60-day money-back guarantee
During the past few months, we have ranked, rated, and reviewed 40 premium antivirus suites from the biggest names in cybersecurity. We did this so you can confidently choose the best antivirus software to protect yourself and your family.
Right now, we think that
Norton
is the best antivirus software your money can buy. It regularly earns perfect or near-perfect scores from independent labs and has the least impact on system performance compared to rival products. Its products combine top-notch security with an array of excellent security features and, best of all, offer exceptional value for money.
Overall,
Norton 360 Deluxe
(currently at
70% off
) is our pick for the best antivirus suite in 2021. It is competitively priced and comes with almost everything you could possibly ask for, such as a firewall, a fully integrated VPN, dark web monitoring, cloud backup storage (50GB), a password manager, and parental controls. You can cover up to 5 PCs, Macs, smartphones or tablets with this suite.
If you want full-on identity protection and don't mind paying more,
Norton 360 with LifeLock Select
(currently at
35% off
) gives those in the US a full range of identity protection features, more backup space (100GB), as well as all the above.
In this comprehensive article, we are going to compare Trend Micro and Norton in six different categories.
In a rush? Take a quick look at the section below that summarizes the whole comparison.
A Quick Rundown of Winners in Each Category
1. Features
Winner: Norton. Norton's highly advanced features make it the winner in this category.
2. Malware Protection
Winner: Both. Independent tests show that both Trend Micro and Norton are equally good in the malware protection area.
3. System Performance
Winner: Norton. Norton achieved higher scores in independent evaluations.
4. User-Friendliness
Winner: Norton. Norton offers a more modern and intuitive interface.
5. Pricing
Winner: Trend Micro. Norton's high-priced packages make Trend Micro a winner in this category.
6. Customer Satisfaction
Winner: Both. Both companies enjoy positive ratings from one of the two independent review websites.
Short Verdict
Trend Micro is more affordable than Norton, but Norton is far ahead of Trend Micro in other key metrics. Norton boasts an impressive feature set and robust malware defense. Also, independent tests show that Norton is better than Trend Micro in terms of both malware protection and system performance.
1. Features
An impressive array of features is what sets an excellent antivirus suite apart from the ordinary ones.
Let's take a look at the range of products offered by Trend Micro and Norton and see which features they include.
The first paid offering by Trend Micro is Trend Micro Antivirus+ Security. Its salient features include:
Complete malware defense, including protection against ransomware.
Advanced AI learning to protect your device against emerging digital threats.
A tool that safeguards you against email scams.
A handy feature called Pay Guard, which protects your financial information while you shop or bank online.
A single license covers 1 PC.
Trend Micro Internet Security is the next level of antivirus protection from the company. In addition to everything from the previous packages, this suite includes:
Parental controls to prevent your kids from accessing age-restricted content and track their online activity.
Secures your privacy on social media sites like Facebook and Twitter.
An optimizer utility that boosts your system speed by fixing issues and removing junk files.
One license covers 3 Windows devices.
The highest level of protection from the company is Trend Micro Maximum Security. This package boasts everything from the previous suites, plus:
An advanced password manager that keeps all your logins in a secure digital vault. The utility lets you access and prefills your passwords from any device.
Multi-platform protection for Windows, Mac, Android and iOS.
A single license covers up to 5 devices.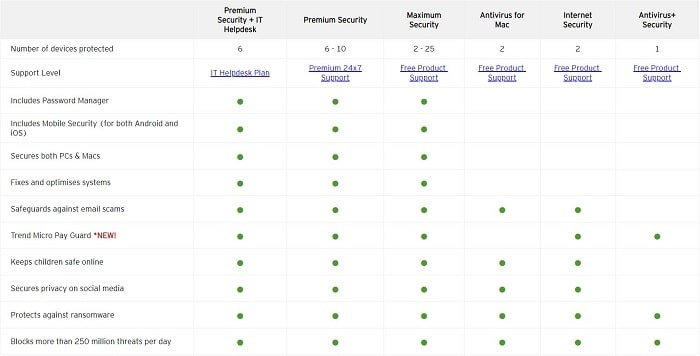 If you are interested in Trend Micro's business products, click here for more information.
Let's see what Norton has in comparison.
Norton AntiVirus Plus is the first security product offered by this company. It has the following features:
Protection against ransomware, spyware, viruses and other types of malware.
Online threat protection to prevent hackers from stealing your private and financial information.
2GB automatic cloud backup.
Norton's signature smart firewall, which protects your data by keeping an eye on your network traffic.
A money-back guarantee from Norton LifeLock in case your Norton antivirus suite can't remove a virus.
A single license covers 1 PC or Mac.
The next tier of protection from the company is Norton 360 Standard. Besides all the features mentioned above, this antivirus package includes:
A password manager that stores all your passwords so that you don't need to remember them or write them down.
Norton's SafeCam protection to prevent anyone from taking control of your webcam.
10GB automatic cloud backup.
A limited VPN (for 1 PC, 1 Mac or 1 smartphone or tablet) that encrypts your Internet connection, thus protecting you from attacks when you use public or shared Wi-Fi network.
A single license offers protection for 1 PC, 1 Mac or 1 smartphone or tablet.
Next up is the Norton 360 Deluxe suite, which comes with some useful additional features like:
A comprehensive parental control suite that helps you track your kids both in the online and real world. The feature lets you know what videos your children watch and what apps they download. GPS location monitoring is also available on Android and iOS.
50GB cloud storage.
Secure VPN for up to 5 PCs, Macs, smartphones or tablets.
Then there is Norton 360 Deluxe with LifeLock Select, which is one of the most comprehensive home antivirus suites available on the planet right now. In addition to the features mentioned so far, this package comes with several advanced features, including:
Norton's LifeLock Identity Alert System alerts you (via text, phone, email or mobile app) in case there is any threat to your identity.
A dedicated identity restoration specialist is assigned to you if your identity is stolen.
The Lost Wallet Protection feature that helps you cancel or replace valuable belongings like credit cards and driver's license in case your wallet is lost or stolen.
Million Dollar Protection Package that provides you reimbursement for identity theft losses and expenses. Besides a cover for personal costs resulting from identity theft, Norton will pay experts and lawyers up to $1 million if need be.
Data breach notifications from Norton if an organization that stores your personal information faces a large-scale data breach.
Interested in Norton's business products? Click here to check out business solutions offered by the company.
Winner: Norton. Norton is the winner hands down, as it offers highly advanced features that go beyond just virus detection and removal.
2. Malware Protection
As cyberattacks become more and more sophisticated, a modern antivirus has to offer several advanced tools and utilities to outsmart the bad guys. However, malware protection remains one of the primary jobs of a security program.
Let's find out how Trend Micro and Norton fare in independent tests conducted by reputable third-party labs like the AV-Test Institute and AV-Comparatives.
The AV-Test conducts evaluations in three different categories: protection, performance, and usability. The tests are conducted every two months and a rating is issued on a scale of 1 to 6 (with 6 being the highest score).
The latest Protection test was conducted in July-August 2019, in which both Trend Micro and Norton received the perfect 6/6 score.
The AV-Comparatives ran its Real-World Protection Test during the February-May 2019 period, and the results were announced in June.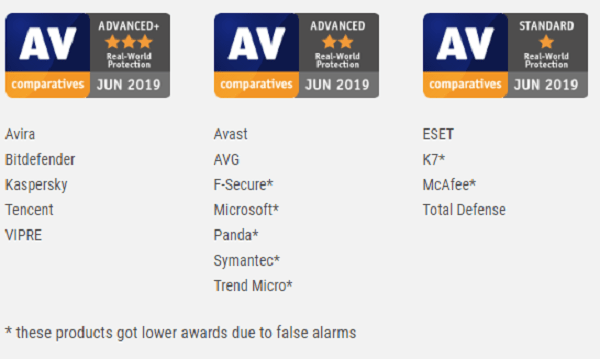 Once again, both Trend Micro and Norton were in the same league, receiving the second-highest, 2-star ADVANCED award. Both the contenders received lower ratings mainly because of false alarms, meaning they wrongly flagged clean files and URLs.
Winner: Both. It is evident from independent test results that both the contestants are in the same league when it comes to malware protection.
3. System Performance
An excellent antivirus product isn't resource-intensive. In simple words, it shouldn't slow down your system while running in the background.
Let's look at the test results from the same two independent organizations mentioned in the above section to determine which among Trend Micro and Norton puts less strain on system resources.
According to AV-Test's latest Performance evaluations, Norton notched the highest-possible score of 6 out of 6.
Trend Micro wasn't far behind either, receiving a near-perfect score of 5.5 out of 6.
In the Performance test conducted by AV-Comparatives, Norton was among the top performers, receiving the 3-star ADVANCED+ award, the highest rating bestowed by the testing organization.
In comparison, Trend Micro was in the lower tier, as it managed to receive the 2-star ADVANCED award.
Winner: Norton. Norton performed better than its competitor in both evaluations, indicating that it puts a minimal impact on your PC's computing resources.
4. User-Friendliness
The number of useful features an antivirus program offers, and its protection and performance capabilities are of paramount importance. But the interface of an antivirus product should also be taken into account before making the purchase decision.
The interface dictates how you interact with any software, and therefore it can make your experience excellent or awful.
Let's see what Trend Micro and Norton bring to the table when it comes to user experience.
We will examine the Trend Micro's interface first.
Trend Micro offers a straightforward and intuitive interface, and only a casual tour is enough to learn about everything the antivirus suite has to offer.
On the dashboard, a large round Scan button is given in the middle of the screen. You can start a quick scan by clicking on the button, or you can start a full or custom scan by clicking a small arrow adjacent to the button.
Just below the button is given your protection status. If it shows a green checkmark, it indicates that you don't have to worry about anything and your PC is safe.
Prominent features are clubbed into broad categories and are presented at the top of the screen. These tabs include Device, Privacy, Data and Family.
Overall, Trend Micro's interface is user-friendly, and even non-expert users won't face any difficulty while using the software.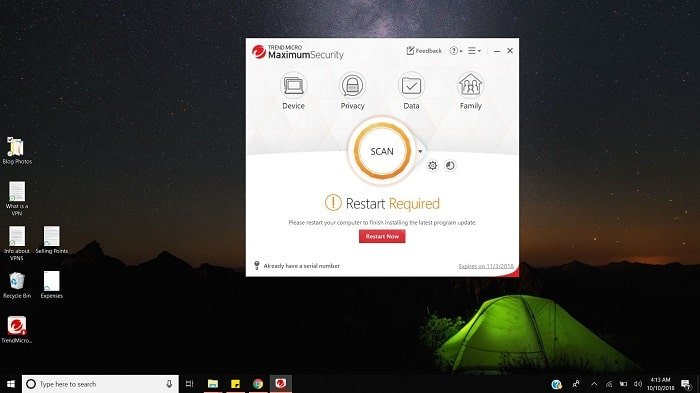 Now, let's have a look at Norton's interface.
Norton also uses a straightforward interface, which works equally well on PCs and mobile devices.
When you open the software, the main dashboard that you land on is the Security area. Here, you can see your PC's protection status, run scans, see your license information, etc.
A big, green checkmark at the top of the window suggests that you are good to go, as your PC is protected.
Towards the bottom of the screen are given other major features, which can be expanded. These tabs include Identity, Backup, Performance and More Norton.
Clicking on any tab will show its option on the main window. For instance, the Performance feature displays a live count of overall Norton CPU usage and CPU system usage.
Overall, Norton's interface is intuitive and logical, and even new users can quickly get where they want to go.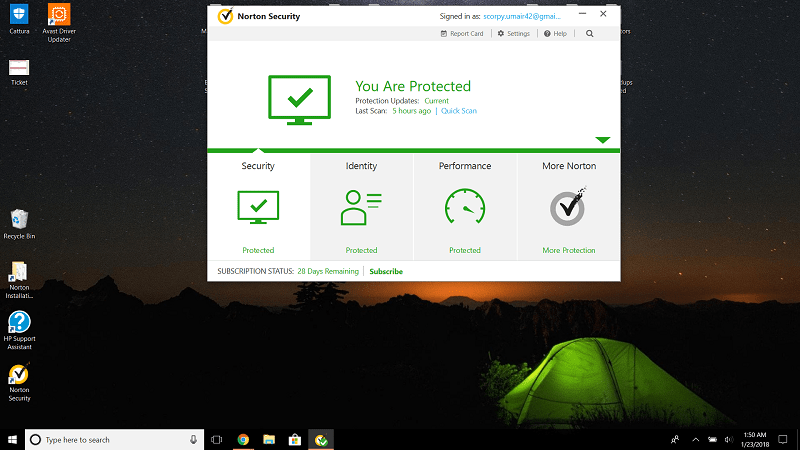 Winner: Norton. Trend Micro does offer a straightforward interface, but Norton is the winner here because of its more modern and intuitive look and feel.
5. Pricing
Pricing is yet another critical factor that can turn a person's decision for or against purchasing any product/service. Exorbitant prices are a major turn-off for prospective buyers.
Therefore, an excellent antivirus program should offer advanced features and reliable protection at reasonable prices.
Let's see how Trend Micro and Norton fare in this category.
Trend Micro Antivirus+ Security and Antivirus for Mac cost $39.95 per year for 1 PC. Next up is Trend Micro Internet Security, which costs $79.95 per year and protects 3 PCs.
Trend Micro Maximum Security, the company's flagship product, costs $89.95 per year and covers 5 devices (PCs, Macs, Android and iOS). However, you can protect up to 10 devices for an additional $10.
| Trend Micro Products | Regular Price | Discounted Price |
| --- | --- | --- |
| Trend Micro Antivirus+ Security | $39.95/year | Check here |
| Trend Micro Internet Security | $79.95/year | Check here |
| Trend Micro Maximum Security | $89.95/year | Check here |
Now, let's see what Norton has in comparison.
Norton Antivirus Plus costs $59.99 per year for 1 PC or Mac.
Norton 360 Standard costs $79.99 per year for 1 device (PC, Mac, smartphone or tablet), whereas Norton 360 Deluxe is priced at $99.99 per year for 5 devices.
Norton 360 Deluxe with LifeLock Select covers 5 devices at the cost of $149.99.
| Norton Products | Regular Price | Discounted Price |
| --- | --- | --- |
| Norton Antivirus Plus | $59.99/year | Check here |
| Norton 360 Standard | $79.99/year | Check here |
| Norton 360 Deluxe | $99.99/year | Check here |
| Norton 360 with Lifelock Select | $149.99/year | Check here |
| Norton 360 with Utimate Plus | $349.99/year | Check here |
| Norton Small Business Security | Varies | Check here |
Winner: Trend Micro. Norton does offer extraordinary features, but they come at a higher price.
6. Customer Satisfaction
Another key aspect that we shouldn't forget while comparing two products or services is the feedback from existing users.
Let's see how two of the most reputable independent review websites rate Trend Micro and Norton when it comes to customer feedback.
Our first source is the Better Business Bureau (BBB), which rates companies on a scale of A+ to F-.
According to the BBB, Norton holds an excellent A+ rating, indicating its professional handling of customers. In comparison, Trend Micro has not yet been rated by the bureau, which may be because of fewer or no complaints.
The other reliable source is Consumeraffairs.org, which collects customer feedback and issues ratings on a scale of 1 to 5 stars.
On this website, the tables are turned and Norton gets a poor 1-star rating, whereas Trend Micro holds a rating of above 3 stars.
Winner: Both. Both antivirus companies got a positive rating from one of the sources, which is why declaring a winner in this section could be unfair.
Final Thoughts
Norton is our overall winner here because of its excellent performance in most categories. Trend Micro does offer slightly better price points, but it is bested by Norton in other important categories like features, performance and user interface.
Our recommendations: If you want to get the highest level of security and performance, there's no better choice than Norton, which protects over 50 million users worldwide.
After reviewing dozens of antivirus products from some of the biggest names in the cybersecurity realm, we believe that Norton 360 Deluxe is the best antivirus suite available on the market. It provides flawless anti-malware protection without slowing you down. Plus, you get almost all the advanced features you could ever want.
If you're willing to pay more for advanced identity protection features, we recommend Norton 360 with LifeLock select (only available in the US). It's a bit pricey but worth the price.
Related Comparisons
Bitdefender vs Avast
Bitdefender vs Kaspersky
Kaspersky vs Avast
McAfee vs Norton
Kaspersky vs Norton
McAfee vs Kaspersky
Bitdefender vs McAfee
Bitdefender vs Norton
Windows Defender vs McAfee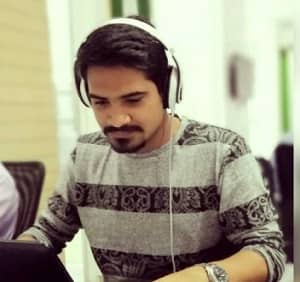 Anas Baig is a consumer privacy advocate and cybersecurity journalist by profession. Has has more than 7 years of professional experience under his belt. Anas has been featured on numerous media publications including The Guardian, Lifehacker, The Next Web, Infosecurity Magazine, Security Boulevard, Hacker Noon, CMS Wire, IAPP, SC Magazine, and many others. His interest includes Digital Privacy Rights, Information Security, Networking, Privacy, and Data Protection.
My Contributions: 
Hacker Noon | TheNextWeb | DevOps.com | GlobalSign | CMS Wire | CSO | Tech.co | Security Boulevard | ITProPortal | MuckRack | Crunchbase