(Last updated on January 9th, 2023)
Sophos or Malwarebytes, which software is a better option in 2023?
Read this ultimate Sophos vs. Malwarebytes comparison to make a smart choice.
As the dependence on technology continues to grow, it seems that the tried and tested approach of "caution over cure" becomes increasingly relevant as well. For instance, the emergence of IoT devices has opened up a whole new chapter in cybercrimes.
A recent research study has shown that Alexa and Google Home devices can be tricked into opening attacker-owned apps instead of legitimate ones. A malware planted in the system only has to get the user to say the password, and then everything else is history.
In a world that is predominantly being defined by technology, it is impossible not to get involved with innovative solutions. But we can protect ourselves and our families well if we use the right kind of premium protection.
Advanced threats call for the application of superior security products that come with paid tiers. Free software that doesn't offer any advanced features can not protect your devices and your family's privacy at all.
Premium products offer a complete set of solutions with multiple layers of security with features like real-time threat prevention, behavioral engines, anti-phishing protection, exploit protection, spyware protection, etc.
Best Antivirus Suite for 2021
60-day money-back guarantee
During the past few months, we have ranked, rated, and reviewed 40 premium antivirus suites from the biggest names in cybersecurity. We did this so you can confidently choose the best antivirus software to protect yourself and your family.
Right now, we think that
Norton
is the best antivirus software your money can buy. It regularly earns perfect or near-perfect scores from independent labs and has the least impact on system performance compared to rival products. Its products combine top-notch security with an array of excellent security features and, best of all, offer exceptional value for money.
Overall,
Norton 360 Deluxe
(currently at
70% off
) is our pick for the best antivirus suite in 2021. It is competitively priced and comes with almost everything you could possibly ask for, such as a firewall, a fully integrated VPN, dark web monitoring, cloud backup storage (50GB), a password manager, and parental controls. You can cover up to 5 PCs, Macs, smartphones or tablets with this suite.
If you want full-on identity protection and don't mind paying more,
Norton 360 with LifeLock Select
(currently at
35% off
) gives those in the US a full range of identity protection features, more backup space (100GB), as well as all the above.
It does get overwhelming to choose the right product from the variety of antivirus software out there. That's why we've done the work for you.
In this guide, we compare two antivirus brands, Sophos and Malwarebytes, against each other to see which one is a better security option this year. We'll back up our observations with the latest lab tests from trusted organizations, as we continue to compare different aspects.
In a rush? Below is a quick summary of the comparison, and who comes out as the winner and for what reason.
A Quick Rundown of the Winners in Each Category
1. Features
Winner: Sophos. Sophos offers a more extensive set of features compared to Malwarebytes.
2. Malware Protection
Winner: Malwarebytes. Sophos didn't show up for any of the independent tests, whereas Malwarebytes took part in at least one assessment from the AV-Test Institute.
3. System Performance
Winner: Malwarebytes. Here as well, Sophos was not available for both independent evaluations.
4. User-Friendliness
Winner: Both. Both companies have equally competitive interfaces.
5. Pricing
Winner: Sophos. Sophos prices its suites much more affordably compared to both Malwarebytes products.
6. Customer Satisfaction
Winner: Malwarebytes. Once again, despite a good rating from one of the review websites, Sophos lacked rating on the other site. Malwarebytes was still slightly ahead of Sophos on the G2 website, where both companies were rated.
Short Verdict
Sophos offers a nice spread of features and a competitive pricing structure. However, its lack of participation in independent lab tests for protection and performance puts it at a disadvantage in terms of visibility and creditability. Overall, Malwarebytes is a better option than Sophos.
Let's dig deeper now.
1. Features
Features are important because the more features there are, the more rounded protection there will be. So let's find out what features we get from both Sophos and Malwarebytes.
We'll start with Sophos.
Sophos offers two products:
A free version called Sophos Home Free.
And a paid premium product called Sophos Home Premium.
Like the majority of free products, Sophos Home Free only provides cursory protection against malware threats. It doesn't include any advanced features that you find with paid products.
By contrast, Sophos Home Premium is a complete security solution that incorporates many advanced features:
This product protects you against all kinds of malware and digital threats. Using Real-Time Threat Prevention, it blocks harmful attacks from sophisticated viruses, exploits, and ransomware.
Sophos uses Artificial Intelligence aided Threat Detection, which enables it to provide ample protection even against unknown malware types.
Security against phishing attacks and malicious websites is also incorporated into this package called the Web Security feature.
You can enjoy complete peace of mind about the security of your family since Sophos offers total Privacy Protection. This feature blocks all outside access to your webcam, microphone, and typing activity so that hackers can't track you in any way.
Identity Protection is also part of this package. The software encrypts your personal data such as usernames, passwords, and bank details to protect it from hackers.
Parents also get the benefits of a Web Filtering Tool that filters out any content parents don't want their kids to access online.
Sophos secures all your banking and credit card information from third parties so you can experience Secure Online Banking.
Finally, Remote Security Management enables you to manage all your devices from anywhere.
A single subscription of this product provides security for up to 10 devices, including your Macs.
Now let's move on to Malwarebytes.
Malwarebytes offers three different products:
Malwarebytes Free
Malwarebytes Premium
Malwarebytes Premium for Home
Like the freeware from Sophos, Malwarebytes Free is also only a basic protection tool and lacks all advanced features of premium products.
On the other hand, the first paid offering from the company Malwarebytes Premium for You comes with many advanced features:
An advanced firewall protects your devices in real-time and blocks all kinds of malware and cyber-attacks.
The firewall receives regular updates from the company, so it is always updated on the latest malware definitions.
Once the software is installed on your device, the Remediation Tool thoroughly scans your system for any pre-existing viruses and effectively removes them.
Your Windows and Android devices can enjoy complete Anti-Phishing and Identity Protection if you come across a malicious website.
You also get ample protection from serious hacking activities, including botnet protection and spyware protection, among others. However, this function is only pertinent to Windows devices.
There's an on-going Threat Detection utility available for your Android and Chrome devices. This function prevents all kinds of malicious applications from interacting with your device. Even if a virus does manage to get through, the added layers of security instantly remove it before it can make changes to your system.
You can either use the option of automatic scans or schedule them around your own routine.
Unlike many entry-level products, this suite provides multi-platform protection and covers Windows, Android, and Chrome OS devices.
Malwarebytes Premium for Home is the family version of the company. This package offers the same features as the previous product, but it covers up to 10 devices.
Malwarebytes offers many business-specific security products such as Malwarebytes for Teams, Malwarebytes Endpoint Protection for companywide servers, and Malwarebytes Endpoint Protection and Response. Follow this link for more information.
Winner: Sophos. Both companies offer a nice set of features. But Sophos is better than Malwarebytes in that some of Malwarebytes features are not applicable to Windows devices. Besides, Sophos also offers features like parental controls and secure banking, which aren't available with Malwarebytes.
2. Malware Protection
Malware protection is central to any antivirus product. If this area is weak, everything else becomes irrelevant. Here we'll look at some independent tests from AV-Test and AV-Comparatives to measure the protection ratings of our products.
First, we'll look at the Protection Test results from AV-Test. Sophos was not available for this evaluation or the one by AV-Comparatives, while Malwarebytes received a modest 4/6 score from AV-Test.
Malwarebytes also did not participate in the AV-Comparatives' protection assessment.
Winner: Malwarebytes. Malwarebytes wins here because it did show up for at least one independent evaluation, but Sophos wasn't present in both.
3. System Performance
System performance is as important as malware protection. Because nobody wants to use software that slows down their computer's speed. Let's see how Sophos and Malwarebytes impact a system's performance.
Since we turn to the same organizations for the performance category as we did for malware protection. The only available results are from AV-Test for Malwarebytes. Here, it received a more decent 5/6 score.
Winner: Malwarebytes. Once again, Malwarebytes was only available for one assessment, where it showed a pretty good performance. However, Sophos wasn't available for both evaluations.
4. User-Friendliness
A user-friendly interface is generally preferred because it caters to a broader audience of casual users. Let's take a look at both Sophos and Malwarebytes' interfaces and see how user-friendly they are.
Sophos offers two interfaces, one for your device, and another one is accessed online. The installed version only gives current updates about the security status of your device.
The online version is the fully functional interface. It displays all the features and functions on the home page like Antivirus Protection, Web Protection, History, Web Filtering, etc., just as in a website. You can click on different features to get to further settings.
This interface is easy to use and doesn't offer any challenges for the users.
Next, let's have a look at Malwarebytes' interface.
This company offers a user interface that is a world apart from Sophos in functionality. However, it is also well-organized and becomes quite easy to operate once you get familiarized with it.
Malwarebytes' interface displays almost all the important updates and information on the Home screen. All the features and utilities are also accessible from here. If required, you can run a quick scan from this screen by clicking on the "Scan Now" button.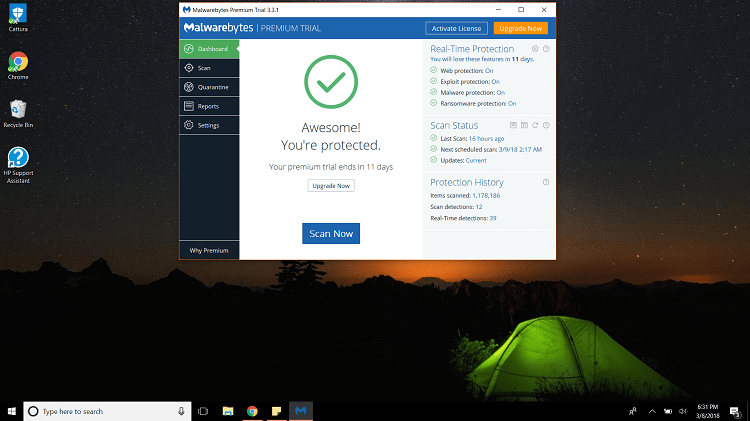 Winner: Both. Both interfaces do their jobs well. It depends upon the end-user which layout they prefer. But both interfaces are equally good.
5. Pricing
Pricing is as crucial as it gets. People like to get their money's worth, and if it isn't delivered, they're not going to stick around for long. That's why a reasonable pricing strategy always works.
Sophos charges an amount of $36 for 1 year and $72 for 2 years' subscription, covering a total of 10 devices. This is a pretty reasonable charge for a premium level product that protects so many devices.
| Sophos Products | Regular Price | Discounted Price |
| --- | --- | --- |
| Sophos Home Premium | $42.00/year | Check here |
| Sophos Business Antivirus | $63.25/year | Check here |
Now let's compare that to Malwarebytes' product pricing.
Malwarebytes Premium for You costs $39.99 per year and covers 1 device (PC, Mac, Chromebook, or Android), which is much steeper compared to the Premium for Home suite that comes at $59.99 per year for up to 10 devices.
Malwarebytes Premium for Home charges you $59.99 per year for up to 10 devices.
To find out about the prices of Malwarebytes' business products, see the table below.
| Malwarebytes Products | Regular Price | Discounted Price |
| --- | --- | --- |
| Malwarebytes Premium for PCs | $39.99/year | Check here |
| Malwarebytes Premium for Mac | $39.99/year | Check here |
| Malwarebytes Business Products | Varies | Check here |
Winner: Sophos. Sophos offers better value for your money compared to both Malwarebytes' products.
6. Customer Satisfaction
Finally, we come to the customer satisfaction ratings for both products. For which, we'll turn to two review websites called Consumeraffairs.com and G2.
Consumeraffairs.com rates tested products on a 5-star scale. This website did not rate Sophos. However, Malwarebytes received just under 4 stars on this site.
The other website G2 ranks product using a 1 – 5 points system, where 5 is the highest score. Both companies received decent ratings on this website with Sophos at a score of 4.5 and Malwarebytes at 4.6.
Winner: Malwarebytes. Malwarebytes achieved decent scores on both websites indicating customers are generally happy with its support services. Sophos also got an excellent score from G2 but lacked a rating on Consumaffairs.com, which puts it at a disadvantage.
Final Thoughts
Both products performed well on different criteria. However, Malwarebytes is the winner today, having left Sophos behind in three categories. Sophos put up a good competition, winning two categories and tying Malwarebytes in one. However, the verdict could have been much different if Sophos had appeared in the independent evaluations where it lacked ratings.
Our recommendations: If you want to get the highest level of security and performance, there's no better choice than Norton, which protects over 50 million users worldwide.
After reviewing dozens of antivirus products from some of the biggest names in the cybersecurity realm, we believe that Norton 360 Deluxe is the best antivirus suite available on the market. It provides flawless anti-malware protection without slowing you down. Plus, you get almost all the advanced features you could ever want.
If you're willing to pay more for advanced identity protection features, we recommend Norton 360 with LifeLock select (only available in the US). It's a bit pricey but worth the price.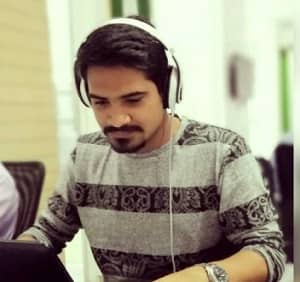 Anas Baig is a consumer privacy advocate and cybersecurity journalist by profession. Has has more than 7 years of professional experience under his belt. Anas has been featured on numerous media publications including The Guardian, Lifehacker, The Next Web, Infosecurity Magazine, Security Boulevard, Hacker Noon, CMS Wire, IAPP, SC Magazine, and many others. His interest includes Digital Privacy Rights, Information Security, Networking, Privacy, and Data Protection.
My Contributions: 
Hacker Noon | TheNextWeb | DevOps.com | GlobalSign | CMS Wire | CSO | Tech.co | Security Boulevard | ITProPortal | MuckRack | Crunchbase