(Last updated on June 17th, 2019)
Are MVMT watches (also called Movement Watches) worth the hype? Read this detailed guide to make a smart decision.
In this comprehensive MVMT Watches review, you'll see the pros and cons of buying an MVMT timepiece, as well as some of the most popular watches the company has produced to date.
I think you'll agree with me when I say watches have become more of a fashion statement these days.
Back in the day, I used to wonder why people pay thousands of dollars for a luxurious watch, and what it is that separates a high-quality watch from a cheap one. Out of ignorance, I used to think all timepieces are the same, and it is just the brand name that you are paying for when you purchase a premium watch.
And since I could not afford a $1000 watch, I also used to think that luxe watches are only for people who happen to have a LOT of money.
Today, after having done comprehensive research on almost all kinds of watches that are out there in the market, I must confess I was totally wrong back then.
My perception about watches changed last year when I bought the Chrono Gunmetal Sandstone masterpiece by MVMT, after a recommendation from a friend who was full of praise. Initially, I was hesitant to make the purchase, but after seeing big media outlets vouching for MVMT's products, I decided to give it a go.
I quickly fell in love with the watch because of its simplistic but modern style, timeless design, and comfortable straps, which are made from 100% genuine sandstone leather.
Now, back to the review …
In this detailed MVMT review, I will look at the pros and cons in detail (based on my own experience with the company), along with providing a brief overview of some of the best-selling watches.
(Out of the 6 watches that reside in my closet, 4 of them are from the MVMT; two from the Revolver range and one each from the 40 Series and Classic collection.)
For those who are not aware of MVMT Watches, here is a brief introduction to the company.
Background Information about MVMT Watches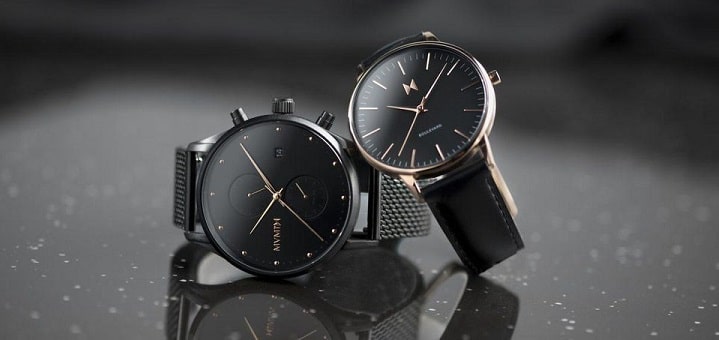 Based in Los Angeles, USA, MVMT Watches (also called Movement Watches) is a crowdfunded fashion watch company that is committed to providing luxurious, minimalistic watches at an affordable price. The company, which was founded in 2013, is based on a principle that you don't have to break the bank to a get a premium, high-quality watch for yourself.
In simple terms, MVMT's mantra is to make luxury watches 'affordable' so that common people – like you — can have to access to them, without having to spend a fortune.
The company directly ships products from its Los Angeles factory to your doorsteps, which means there are no markup costs imposed by retailers or distributors.
MVMT Watches Collections
First, let see the collections MVMT offers for both men and women.
| | |
| --- | --- |
| Men's Collections | Women's Collections |
| 40 Series | Avenue |
| Chrono | Bloom |
| Voyager | Boulevard |
| Modern Sport | Gala |
| Blacktop | Marble |
| Classic | Mod |
| Revolver | Nova |
| – | Signature I |
| – | Signature II |
Last year, MVMT added a range of sleek and stylish sunglasses and power glasses to its ever-growing arsenal of quality products. Both sunglasses and power glasses are available in different designs for both men and women.
Pros of MVMT Watches
Here are the few pros of MVMT Watches:
High-quality watches at an affordable price point
It is not unusual to see a high-end designer timepiece priced at $10,000, or even more than that. Luxury watches aren't a cheap thing!
Today, MVMT Watches is the world's fastest-growing fashion watch brand. Since its inception in 2013, the company has been committed to its core principle of providing quality timepieces at "radically fair prices." The idea of making luxury 'affordable' without compromising quality is what separates MVMT from the rest of the pack.
MVMT uses the same premium materials (like brushed stainless steel, hardened mineral crystal, and genuine leather) that some of the top watch-maker brands use, but the difference is that its products are less expensive when compared to the other branded fashion watches in the market.
Aesthetic and simplistic designs
It is essential for a fashion watch to look great from an aesthetic point of view. Some watches have intimidating faces, while others have bold numbers that seem to kick you in the face every time you glance at them.
MVMT's Watches are in an entirely different league when it comes to simplicity and style. In fact, I wouldn't be wrong if I say 'simplicity is the style with MVMT.' Each collection boasts several elegant, beautiful and timeless pieces of impeccable quality that are worth a look.
If you're a minimalist person like me, rest assured that MVMT won't disappoint you in this regard.
Diverse range of products
MVMT's offering spans across seven men collections and nine women collections. Each collection represents a signature style and consists of products that are in line with the style. You can choose from different colors and sizes.
Also, all MVMT watches come with interchangeable straps, which means you can easily change the look of your watch in a matter of minutes. Just make sure to grab an extra strap of your choice when you are making the purchase.
Last year, the company expanded its offering by releasing a new line of sleek sunglasses and power glasses for both men and women.
Exceptional customer support
It is vital for businesses to provide seamless customer service.
To say that MVMT provides good customer support would be an understatement. From my interactions with their support, I can say that their customer service is very knowledgeable and willing to help. You can reach out to them via email, live chat or call.
Here're few independent reviews about MVMT products (taken from Trustpilot):
MVMT Watches is among one of the few fashion watch brands that offer free worldwide shipping. However, you order value must be $50 or over to be eligible for free shipping.
After your payment is authorized, MVMT takes up to 24 hours to approve and ship your order.
Here is more information about shipping times for the US residents.
If you live outside of the US, refer to this page for information about international shipping.
Another great thing about MVMT is that all of their products come with a generous free return policy.
You can return the product for free within 60 days of the delivery to get a full refund or store credit — just in case you change your mind. All you have to do is to contact their support, and they will guide through the return procedure – it is that easy.
And if that's not enough for you, MVMT also offers an unrivalled two-year guarantee on all of their products. So even if something goes wrong after the 60-day return period, rest assured that MVMT will take care of it.
Great shopping experience
Some fashion watch brands do not really pay a lot of attention to what their customers have to go through when making a purchase, but MVMT is different in this regard.
From ordering the product on the website to receiving it in the mailbox, MVMT ensures that its customers get exclusive and seamless shopping experience throughout their buying journey.
The moment you get your hands on the watch — which comes packed inside an exclusive black box with a metallic red MVMT logo printed on it — you get a feeling that you have spent your hard-earned money on getting something truly amazing. From the packaging to the product itself, everything looks neat and impeccable.
If you buy an extra strap, MVMT will also send you a simple three-step instruction pamphlet so that you can easily change the strap without having you to go to a shop and pay someone to do it for you.
Trusted brand with massive social media presence
At the time of this writing, MVMT is the world fastest-growing watch brands and the second most-funded startup in the Indiegogo history.
The company has seen massive progress in a relatively short span of time. It now boasts 1.5 million MVMT owners (and growing) in over 160 countries and more than 5 million supporters across all social media channels.
Cons of MVMT Watches
Below are the few drawbacks of MVMT Watches, but none of them is a deal-breaker.
Leather straps are prone to staining
One thing I have experienced is that the leather straps – especially those that come with the 40 Series watches — are susceptible to staining. After months of using this 40 Series watch as my daily watch-wear, I noticed a few small stains on the leather, but I was able to get rid of them using leather polish.
Fashion watches are meant to look nice, so I think the company should pay more attention to the quality of the leather straps. You don't have to deal with this issue with steel or metal bracelets.
Shipping time is more for people outside the US
MVMT's shipping time for people who live outside the United States is a bit more than what you would expect. It may put some people off, but it shouldn't be a big issue, as the shipment arrives on time and you can track your purchase at every stage.
While all MVMT ranges are worth a look, let's look at some of the best-selling timepieces for both men and women.
Best-selling Watches for Men
It's hard to create a fashion watch with few design features, but MVMT has done exceptionally well with the Gunmetal Sandstone timepiece.
Designed to maximize style without compromising simplicity, it comes with a gunmetal stainless steel case (available in 40mm and 45mm sizes), a gunmetal dial and gunmetal hands and markers. A comfortable 22mm sandstone strap (made from 100% genuine leather) adds to the overall beauty of this masterpiece.
Think luxury combined with elegance. Featuring a 42mm black stainless steel case, black hands and markers, and a mesh steel strap, the Slate is another beautiful timepiece which demands your attention.
It can be worn on any occasion – whether it's a birthday party or a business meetup. Mesh steel strap is cosy and gives you the same manly look of a metal bracelet. The dual-time zone feature adds the classic touch to this watch.
Another stunning piece from MVMT is the Starlight Black, which belongs to the newly released Blacktip series.
Boasting a matte black polished steel case, grey front and gunmetal hands with black markers, the Starlight Black is a versatile option for a gentleman. The steel strap, which is also matte black, adds flair to the overall appearance of this classic but modern timepiece.
View Complete Men's Collection
Best-selling Watches for Women
A trendy style paired with a minimalist design, the Santa Monica timepiece is the top-selling women fashion watch at MVMT. Featuring a rose gold stainless steel case and a black dial with rose gold hands and markers, it will add extra shine to your outfit.
The strap is made from 100% genuine leather and will seamlessly fit your wrist.
The Lexington strikes a perfect balance between style and elegance.
Feature a plain white dial with rose gold hands & markers, this watch will go along with pretty much any outfit – whether formal or informal. The brushed 28mm rose gold stainless steel case is complemented with a comfortable rose gold steel strap to complete the watch.
The Ghost Iris, which belongs to the Bloom series, is another gem from MVMT.
Featuring a 36mm polished stainless steel case, a white dial with rose gold hands & markers, and a cozy grey leather strap, the Ghost Iris timepiece will rock any complexion or outfit color.
View Complete Women's Collection
Final Thoughts
It can be expensive to jump into the world of fashion watches, but MVMT is challenging the status quo and disrupting the fashion industry by making premium timepieces that are super affordable.
If you want to have the freedom to browse different stylish collections without having to set foot in a store and deal with a salesperson, then MVMT Watches are totally worth it.
A sale is currently on at MVMT, and I am not sure how long it will last, so grab a stunning watch for yourself or someone else who needs an epic gift – before it's too late.
Additional Notes
I hope you enjoyed reading my experience with MVMT Watches. If you think there's something I have stated incorrectly in this MVMT Watches review, or if you'd like to share your experience with the company, let me know in the comments' section.